2011 Pinhoti Trail
Sunday, March 6th, 2011
After I rode the bus all night from Pensacola, we shopped around Birmingham for equipment and supplies. I got a 20°F synthetic fill sleeping bag for $30: a great deal, plus boots and socks. George helped me get my iPod Touch working so I could update the website more easily and often.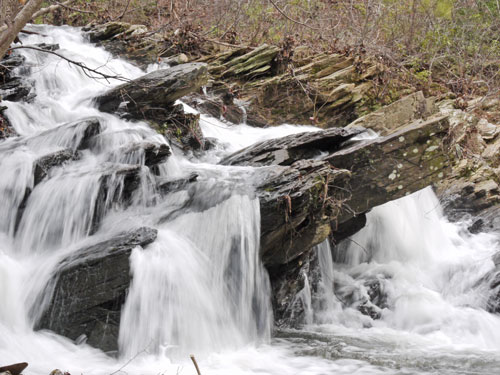 Monday, March 7th, 2011
John, Tin Cup, Neil, George, Mike, Daisy the pit bull, and I started hiking the Pinhoti Trail northbound from Bull Gap. It was a nice day with breaks for the Sherman and Wormy's Pulpit views. We camped at Scott's Lake and fixed hotdogs and marshmallows over a campfire.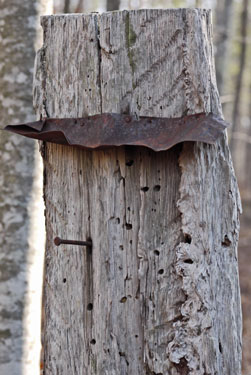 Tuesday, March 8th, 2011
With chilly winds and possible rain, we pushed toward our camp at Double Creek, sometimes walking the dirt road paralleling the trail. Neil and I saw a catfaced tree, or one that had long ago been cut to bleed sap for naval stores. Rain started before dark and continued all night.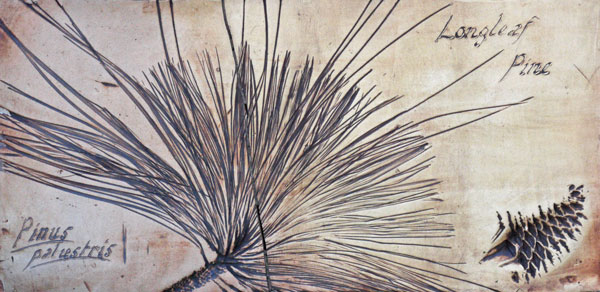 Wednesday, March 9th, 2011
Last night's rain and lightning continued all day, so we walked to Cheaha State Park and got motel rooms.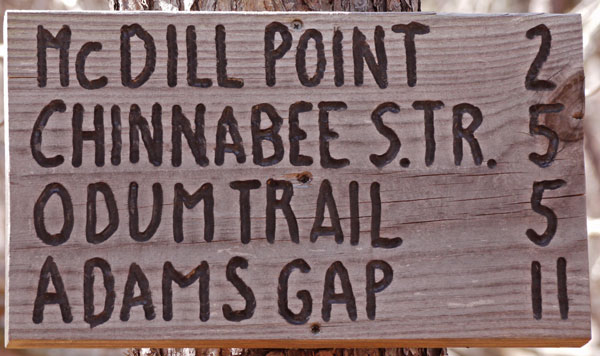 Thursday, March 10th, 2011
As a favor to the park superintendent, I inspected the Pulpit Rock and Rock Garden Trails and found them in good shape. I hiked all day alone before catching the group at their camp south of US431. I saw several White Tail Deer and several nice waterfalls. Mike left the trail due to back problems.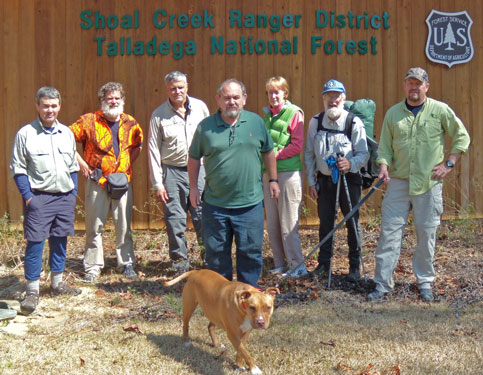 Friday, March 11th, 2011
This was a day of gluttony, with stops at the gas station store on US431 and a burger stand and grocer in Heflin. Neil and Daisy left the trail at the forest service work center. I found an interesting tree gall, which looked like aerosol foam, and had tidy rows of bugs inside. As is usual when hiking with John, a campfire was the focus of the evening. On this trip, I brought plenty of marshmallows to complement the fires. Both helped fight the chilly weather of this hike.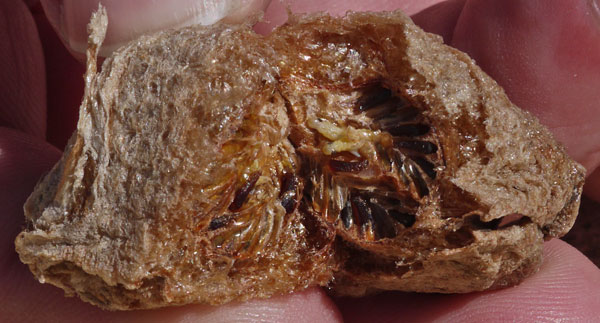 Saturday, March 12th, 2011
We had to bushwhack around the Sweetwater Flood Control Reservoir due to high water from the rains. We ran into many hikers on this fair weather Saturday. John saw a water snake, a ringneck snake, and a garter snake. We camped at Laurel Shelter.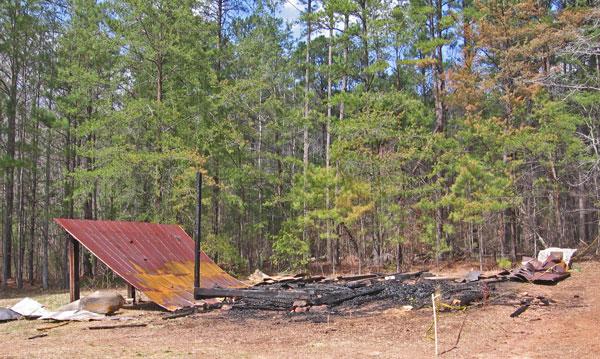 Sunday, March 13th, 2011
We visited the Shoal Creek Church, the center of a thriving community before the national forest acquired all the land. John saw a ringneck snake, a smooth earth snake, and a water moccasin. We flushed 4 turkeys. At Pinky Burns Place, most of the buildings of the historic farmstead had been burned by arsonists. Too bad. We took Jones Branch Road into the Dugger Wilderness, and stayed at the Dugger Shelter.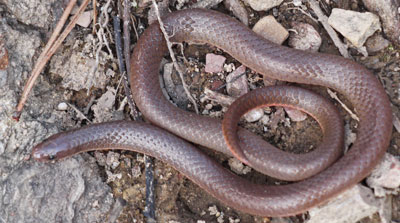 Monday, March 14th, 2011
With rain threatening, we elected to end our trip by hiking west on the Chief Ladiga Trail into Peidmont, where Rusty drove us back to John's place. It rained all night, but we were warm and dry inside. I gave myself a short haircut.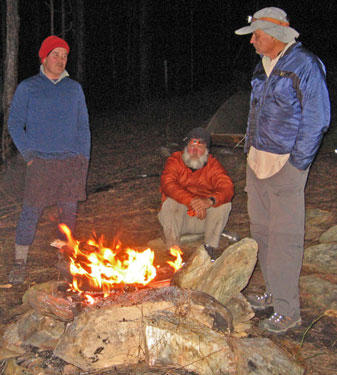 Monday - Friday, March 15th - 18th, 2011
I spent a few days at John and Sale's place resting, resupplying, writing the website, marking the property boundaries, and playing with the dog and cat. As I'm packing for a canoe trip, the weather is supposed to be clear and 49 - 80°F until several days after we're finished.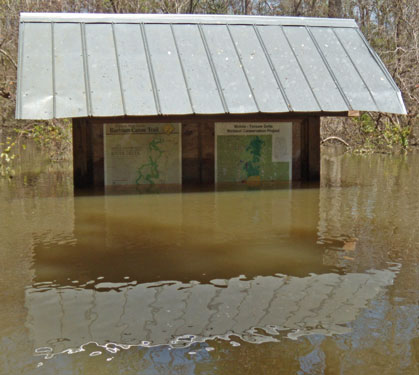 Saturday, March 19th, 2011
John and I drove to Mobile, hoping to canoe camp in the Mobile - Tensaw Delta along the Bartram Trail. Several put-ins were flooded, as were our intended campsites. The river was over 20 feet above the boating danger flood level. Apparently, the runoff from our big Pinhoti rainstorm was just arriving in the delta. I guess we should have checked the river flood levels while we were looking at the weather. Nearby was Fort Mims, the site of an Indian wars era battle in which hundreds died. There were good interpretive signs and some reconstructed fort walls. We visited our hiking and trail maintenance friends Marion and Emily to seek advice and regroup.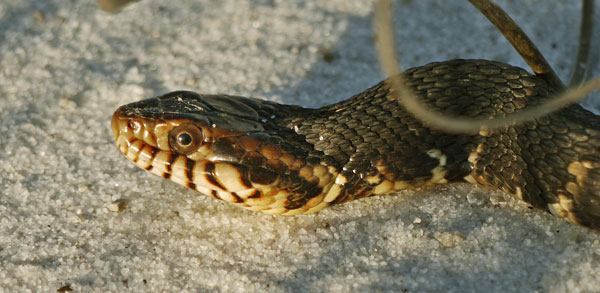 Sunday, March 20th, 2011
We visited the Bon Secour NWR on th Gulf Coast, hiking the Jeff Friend, Centenial, and Pine Beach Trails. Along the way, we saw catfaced trees, sidewinding snake tracks, a nesting osprey, and a water snake.

Monday, March 21st, 2011
Byrnes Lake was quite deeply flooded, with docks completely submerged. We enjoyed paddling the lake, but decided to turn back when we saw the swift currents and swirling eddies of the main channel. At Rice Creek, wooded areas were submerged with a sheet of floodwaters rushing through. As a result, water sometimes flowed upstream, sometimes down, and occasionally sideways, across the streambed. We again turned back after seeing the swift waters in the main channels. We drove a few hours north to the Coosa WMA, where new Pinhoti tread was under construction. There we canoed Lake Mitchell, were sand was floating in large patches, and saw Great Blue Herons and Belted Kingfishers.
Tuesday, March 22nd, 2011
John and I picked up Needles at the airport and took him to Flagg Mountain to continue his hike on the Eastern Continental Trail. There are a stone CCC fire tower and cabins there, as there are at Cheaha, but the state park has long been closed. The CCC structures were earlier crumbling to dust, but now someone was slowly restoring them. I had helped build future Pinhoti Trail tread there, and a new trail corridor from Flagg almost to Weogufka has been purchased. It was a privledge over the past years to be a tiny part of the effort to build an interstate trail system through Alabama. Needles and Gordon, driving a support van, headed north.
Wednesday, March 23rd, 2011
John walked up Rebecca Mountain with Needles and me, then went home. Then we walked in nice weather to Bull Gap and met Gordon to camp for the day.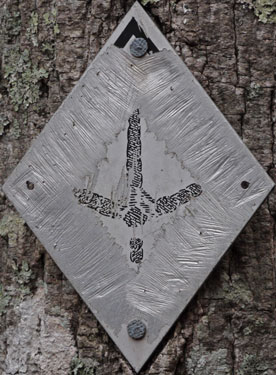 Thursday, March 24th, 2011
Spring had sprung at the lower elevations (~900ft) between Scott's Lake and Porter Gap. Wildflowers were blooming, and hardwood trees were leafing out. I saw Eastern Fence Lizards, Green Anoles, and Skinks with brilliant blue tails out sunning themselves. Birds and frogs were singing. Up on the ridgeline (1500-2000ft) spring had not arrived. Just a little elevation makes a big difference.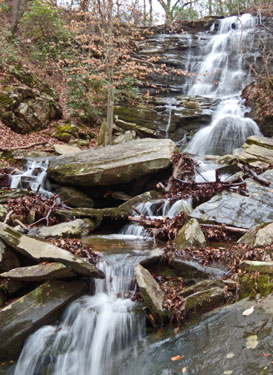 I quit hiking at Porter Gap and went to camp with Gordon at Clairmont Gap. Gordon has been helping long distance hikers for years. It's his retirement entertainment. He meets hikers at each road crossing and drives their packs so the hiking can be done with day packs (slack-packing). I'm very thankful for such great assistance.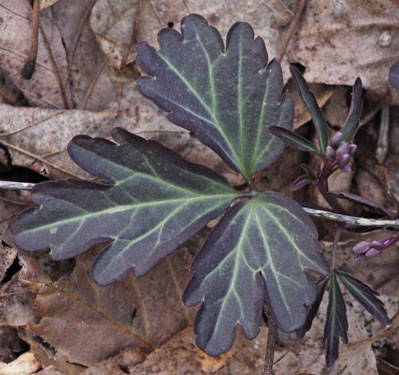 Friday, March 25th, 2011
As I walked from Clairmont Gap to the sculpture gate, I had many memories of old hikes and trail maintenance I had done on the half dozen years I had lived nearby in Marietta. There were many types of butterflies. We stayed in the Cheaha State Park Motel.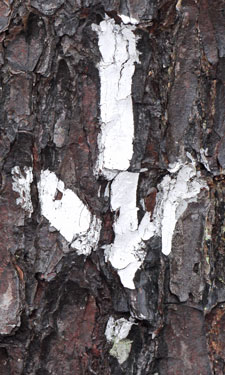 Saturday, March 26th, 2011
With several days of thundershowers predicted, I returned to the home of my friend John and packed to go hike the Ouachita Trail in Arkansas. John is a Triple Crown super long distance hiker and a trail maintainer of the first rank. I'll miss him.
Some Pinhoti Trail and Alabama Locations
Date
Latitude
Degrees
Longitude
Degrees
Description
March 7th
33.497410
-86.635518
John Calhouns place
33.335154
-86.058456
Scotts Lake Camp
March 8th
33.397285
-85.888989
Double Creek Camp
March 9th
33.478709
-85.809031
Cheaha State Park Motel
March 10th
33.576585
-85.695693
Camp South of US431
March 11th
33.662099
-85.633571
Birds in the Pines Camp
March 12th
33.685772
-85.623726
Lower Shoals Shelter
33.743587
-85.583677
Sweetwater Reservoir
33.760699
-85.579070
Laurel Shelter
March 13th
33.776596
-85.564607
Shoal Creek Church
33.878759
-85.548671
Dugger Mountain Shelter
2011-03-19T20:29:59Z
31.135759
-87.845161
Frenchs Lake Landing
2011-03-19T21:14:23Z
31.015286
-87.878764
Rice Creek Landing
2011-03-20T14:22:25Z
30.833714
-88.097509
Marions Place
2011-03-20T16:58:12Z
30.244579
-87.787207
Jeff Friend Trail
2011-03-20T20:26:01Z
30.247134
-87.828776
Pine Beach Trailhead
2011-03-20T21:07:39Z
30.241007
-87.819646
Trail Junction
2011-03-21T13:56:26Z
30.793014
-87.899954
Byrnes Lake Put In
2011-03-21T14:58:45Z
30.795193
-87.916065
Byrnes Outlet
2011-03-21T22:07:04Z
32.861960
-86.339550
Mitchell Lake Put In
2011-03-23T15:40:35Z
33.138716
-86.189582
Road 603A Trailhead
2011-03-23T18:15:03Z
33.157437
-86.150815
Rebbeca Mountain
2011-03-23T20:13:45Z
33.172196
-86.093595
White Gap
2011-03-24T17:12:56Z
33.297930
-86.074705
Horn Mountain
2011-03-24T18:00:23Z
33.311614
-86.069551
Wormy's Pulpit
2011-03-24T23:17:53Z
33.360844
-85.931947
Clairmont Gap
2011-03-24T23:21:19Z
33.404016
-85.874376
Adams Gap
Date
Latitude
Degrees
Longitude
Degrees
Description