2011 Ouachita Trail
Sunday, March 27th, 2011
Last night near Birmingham there were tornados, thunderstorms, and hail. As I approached Little Rock, Arkansas, thunderstorms and hail started again. Many rivers, fields, and woodlands were flooded. So I wondered about my walk west tomorrow. But rain is predicted for only Tuesday, especially the afternoon and evening, and perhaps Thursday out of the next 7 days, so I'll go.
The long distance buses always seem to have one or more nuts aboard. Today's was very afraid of imaginary rainbows and enemy helicopters, and loudly cursed them, called out 'Kill Them!', and made imaginary radio calls for military assistance. This was constant and impossible to ignore for over an hour. Simultaneously, he was laying down and sometimes furiously searching the floor of the bus or pointing through the opaque roof to show us the threatening rainbows and helicopters. But it was him the rest of us were afraid of, especially when he started counting down from 10. Well, at least he didn't hurt himself or anyone else.
On the train to Miami, a guy peed in front of other passengers in a public area of the bar car and was kicked off. They don't usually kick the nuts off...
The Ouachita Trail runs west from Pinnacle Mountain State Park near Little Rock, Arkansas, 223 miles to Talimena State Park in Oklahoma. Tomorrow I'll start walking in downtown Little Rock, adding about 17 miles. I'll show miles from the west end in (parentheses).
Monday, March 28th, 2011
As I walked the Arkansas River Trail west or upstream from Little Rock (240), I saw turtles, Canadian Geese, Turkeys, Black Vultures, and Beavers. I walked over the spectacular Big Dam Bridge, completed in 2006. The trail ended at

430 (231), but another expensive bridge was just about finished there to allow pedestrians and cyclists to continue west to 2 Rivers Park. That would have saved me some of the 8+ miles of road walk I did next. At Pinnacle Mountain State Park (223), I enjoyed the views and started on the Ouachita Trail. Trees included pines, Sycamores, Sweetgums, Hack Berries, and Birches. Trees were leafing out, and there were a few wildflowers blooming.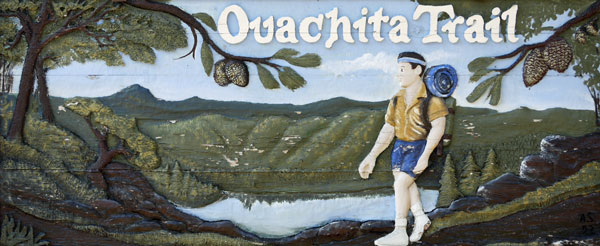 Tuesday, March 29th, 2011
The morning was grey and occasionally drizzly. I camped at noon at the Penney (208) site before the predicted afternoon and evening thunder storms. There was no lightning, but plenty of rain.
Wednesday, March 30th, 2011
I enjoyed the view of the lake and Pinnacle Mountain from the hill above the camp before starting this chilly, overcast day of hiking. There were several White Tail Deer, a Turkey, and some woodpeckers. I camped at the Nancy Mountain Shelter (190). I saw no other hikers since Pinnacle Park.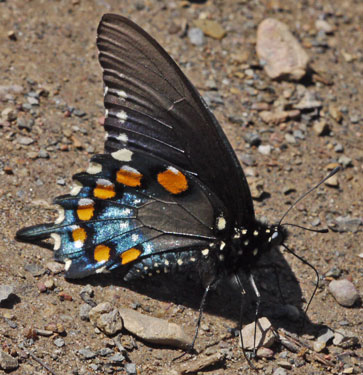 Thursday, March 31th, 2011
I took a short day, walking only to the Brown Creek Shelter (182). On the way, I took a side hike for the view from North Fork Pinnacle. I saw 3 eastbound hikers. It was quite chilly, and a lot of rain fell after I reached the shelter.
Friday, April 1st, 2011
The day went from drizzly and cold to clear, sunny, and warm as I hiked to Oak Mountain Shelter (167). I enjoyed Flatside Pinnacle and the Flatside Wilderness. I saw no other hikers on the trail, but Joel and Nathan hiked in to the shelter after I arrived. We had good conversations, and they shared their campfire broiled beef and chicken chunks, so thanks! They recommended that if I ever get around to hiking the Ozarks, I should hike the Buffalo River Trail.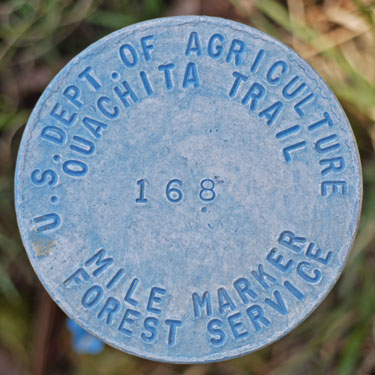 History
Hernando de Soto explored the Ouachita Range, and of course the Indians were there before that. Ouachita is an Indian word meaning 'Good Hunting Ground'. I've seen White Tail Deer and Turkey, so I'm sure the hunting was good. Along the trail, many springs have been dammed to make ponds. The ponds were built by a teenage Job Corps in the 1920's. East of the national forest, the woods are full of old washtubs, buckets, and other leavings of former homesteaders. So just hiking through, one can't help but see the history in the woods.
Saturday, April 2nd, 2011
I hiked to Scenic Highway 7 and walked south to Jessieville to resupply. For part of the walk I followed the Hunt's Loop Trail to Iron Springs, with historic improvements by the CCC. I stayed at the Mountain Thyme B&B, a very nice place between the trail and town. Potential through hikers should note that hitching was quite difficult, there are not many supplies in Jessieville, and the B&B is kind of pricy for the typical hiker's budget. 10 miles south on 7 is a full grocery store and Walmart, though.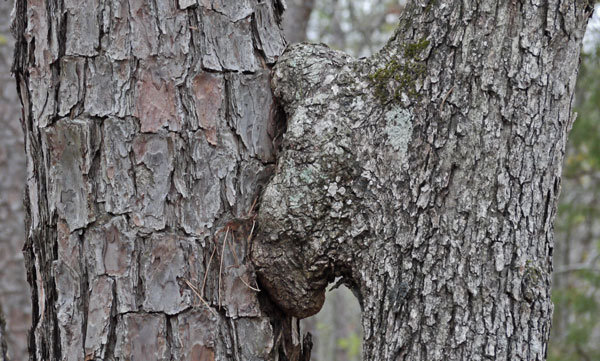 Predicted Weather
Sunday Windy 79/55
Monday Rain Lightning 82/61
Tuesday Sunny 70/57
Wednesday Sunny 68/56
Thursday Chance of Rain 72/59
Friday Sun Rain
Saturday Sunny
Sunday, April 3rd, 2011
A nice couple I met at the B&B gave me a ride back to the trail: Many Thanks!!

With a stiff breeze and sun, the weather was quite nice for hiking. There was some haze, so mountain ridge views faded in the distance. I stayed at the Oak Mountain Shelter (143).
I hiked FR107 from FR122 to Ouachita Pinnacle rather than the trail because it followed the ridgeline rather than the flank of the mountain. I like following the ridgelines because I can see distant views as I walk along. There were not too many leaves on the trees yet, so I could see through them. A fire was burning somewhere to the south; sometimes I could smell it or see the smoke column. I like walking on old, disused dirt roads because the texture of the footing is nice. It's flat, but soft, crunchy, gravelly, sometimes with some stick and leaf litter. It's easy on the foot and different than trail tread. Sometimes variety is nice. Walking on dirt roads is also different from trails because they let more light into the woods and everything seems brighter.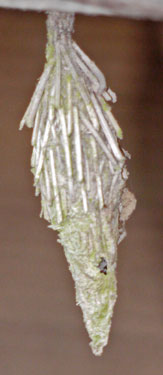 Water
The guidebook says that water can be difficult to find on this trail, but I've found plenty. It's been fairly rainy, and my experience hiking in deserts makes me more attuned to finding water than most. I'm always looking, listening, and even smelling for water.
Some sort of algae grows in the water here that makes deep pools and streams have a beautiful, dusty, aqua color.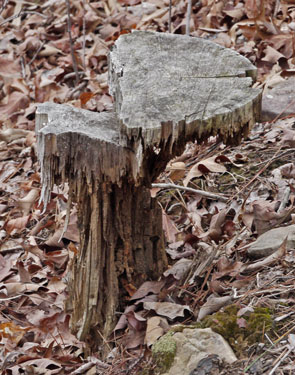 I met John today. He's hiking the entire trail westbound as am I, except he has two packs of gear. He carries one at a time, then goes back for the second. So each trail segment he walks three times. At every shelter, he stays a full rest day. I probably won't copy the two pack method, but I like his relaxed pace. He says there is bus and train service from McAlester, 60 miles west of the trail along roads 271 and 1. The train won't take large bags, but I could take the bus to Dallas and change to the train there, or continue on the bus to New Mexico for my CDT hike.
John is an audio engineer for concerts and whatnot, so I asked a few questions about an idea I had to use my iPod to record interesting sounds from the trail and make them available on the website. For a fairly directional mike, he recommended a Shure Beta 81. For audio files that nearly any computer could play, he mentioned .wma or .mp3 formats. For sure, developing this idea will have to wait until sometime when I'm not on the trail.
Monday, April 4th, 2011
Rain, lightning, and hail started at 3AM. Around 10 it stopped, so I packed and left. A little rain fell later, but it was mostly dry and cold, and the sun was out for most of the afternoon. I hiked to the Uncle Bill Potter Shelter (127) and quit.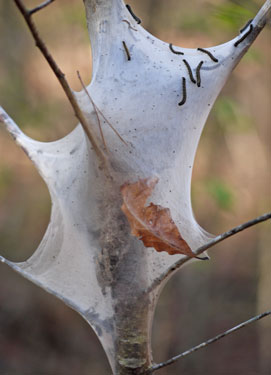 I ate some tasty, fragrant Mint. Tent Caterpillars were living in the craws of Cherry Trees. Grape and Raspberry vines were leafing. Dogwood Trees were in bloom. I saw some paper sack like cocoons, another with sticks for camouflage, and a foam-like gall.
Tuesday, April 5th, 2011
On this sunny, pleasant day, I was walking from before sunrise until almost sunset at the slowest pace possible. I stopped for every interesting sight, sound, and smell. I found 2 ticks, one tiny and one of normal size. One stream crossing had both claw leftovers of a meal and scat from River Otters. It was warm enough to wash up, which was a great pleasure. I camped just west of mile 110. A pack of coyotes howled and yipped less than a mile away as I prepared for sleep.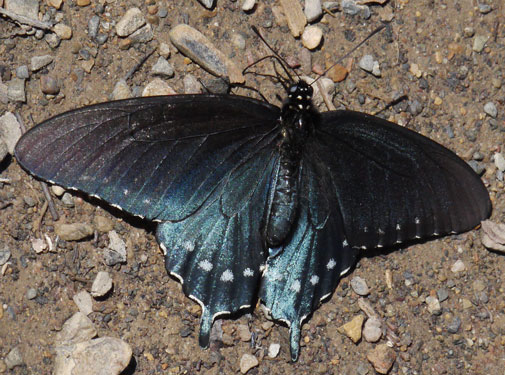 Wednesday, April 6th, 2011
The day was sunny and windy. Cirrus clouds showed high winds aloft: weather coming in? I saw an 8" snake, with a black back and red stripes down low on the sides. He was off in the leaf litter before the camera was ready. I found an orange near some lean-tos a group had built. Fresh fruit is a great luxury on the trail. I camped near mile 90.
Thursday, April 7th, 2011
The day was overcast and windy. Drizzle fell in my last hour of hiking and a few hours into the night. Blue Mountain had a brilliant green carpet of lush grass and wildflowers. Cherry and Dogwood trees were in bloom. There were old iron radio-telephone wires strung in the trees along some of the trail. I met an eastbound through hiker. I camped near mile 70.
Friday, April 8th, 2011
It was foggy, but not rainy. I resupplied and had a burger at the country store at 270 & 272, then walked up the hill to Queen Wilhelmina State Park (51), and had the catfish, and a nice dessert. It's good to eat well when possible, and my hiking energy level always seems higher after a town stop. Rain was predicted for Sunday. An eastbound through hiker introduced himself in the lodge lobby, and we swapped useful information for our trips. I camped near mile 49, a half mile west of an old cemetery.

Saturday, April 9th, 2011
It was foggy in the morning, then sunny through the afternoon. Footing was poor, and I got a hotspot on my left heel. I met a group of 7 car supported eastbound throughhikers, but they seemed to be hurrying, so we didn't talk much. Over the last few days, poison ivy has been almost constant. My camp was around mile 30. Gusts flapped my tarp a lot, plus I woke many times for sneezing fits. Not the best of rest. In the morning, the tarp was coated in pollen: spring is here.
Sunday, April 10th, 2011
The predicted rain never materialized, so I had a nice day for hiking. On the way up Winding Stair Mountain, some group had dumped two brand new tents and a brand new sleeping bag. I guess they tried backpacking and decided they didn't like it. The hike was tough west of Horsethief Spring, with rocky footing and crazy routing, often climbing steeply and then dropping back to nearly the same spot for no discernible reason. Maybe it had something to do with the endangered slit-mouth snail. I found plenty of water, even though every one else complained how dry the day's route was. Even former PCT and CDT hikers had complained. But there was plenty of water right on the trail. I saw a Rough Green Snake and some White Tail Deer, and camped near mile 10.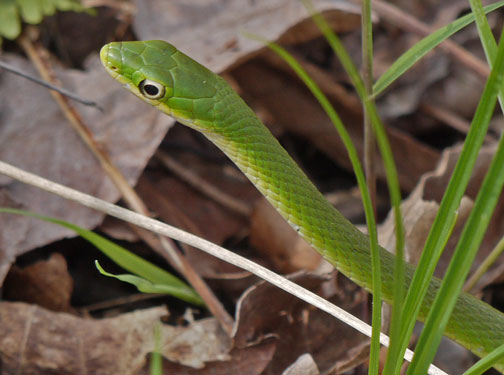 Monday, April 11th, 2011
Between 2 and 5am a thunderstorm dropped quite a bit of rain. The rain was over by when I started hiking, though. After mile 8, where the trail crossed to the south side of the mountain, the trail was in much better condition, so I really enjoyed the end of my hike. I saw a turkey and another of the black backed, solid salmon bellied snakes like I'd seen a few days before. I walked out to Talihina, got a motel room, resupplied, laundered, showered, etc. What a relief to be clean. Tomorrow I'll be taking KiBois Area Transit to McAlester, there connecting with bus or train service to Deming, New Mexico and the Continental Divide Trail.
I think I timed this trip well. Trees were nearly bare and just staring to leaf at the beginning, and were a brilliant, new, green by the end. There were many wildflowers. Water was plentiful. So maybe I should hike the Ozark Highlands Trail at the same time some future year.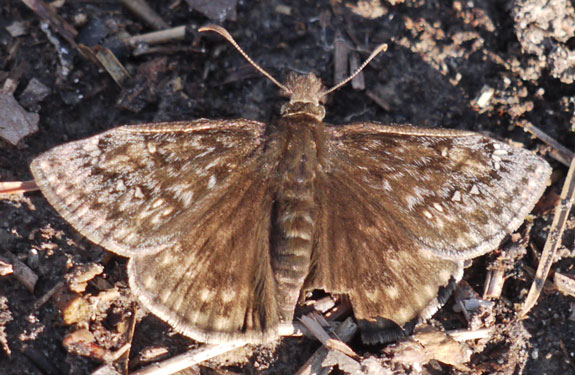 Tuesday, April 12th, 2011
The ride to McAlester went well and cost $20. The bus to Deming, New Mexico cost $149 and will arrive at 9:10 tomorrow morning.
Some Locations along the Ouachita Trail
| Place | Latitude | Longitude | Elevation | Date & Time | Comment |
| --- | --- | --- | --- | --- | --- |
| Brown Creek Shelter | 34.874057 | -92.868761 | 292 | 2011-03-31T19:04:51Z | |
| North Fork Pinnacle | 34.860048 | -92.851038 | ? | 2011-03-31T19:08:26Z | |
| Pinnacle Mountain Visito | 34.843462 | -92.459757 | ? | 2011-03-31T19:12:59Z | |
| +Arkansas River Trail I430 | 34.797413 | -92.381523 | ? | 2011-03-31T19:15:07Z | |
| Little Rock Start | 34.752827 | -92.269487 | ? | 2011-03-31T19:19:11Z | |
| Flatside Pinnacle, 1460 | 34.873180 | -92.909575 | ? | 2011-04-01T14:33:33Z | |
| Oak Mountain Shelter | 34.819786 | -93.033204 | 538 | 2011-04-01T21:47:39Z | |
| Ouachita 7 Trailhead | 34.774258 | -93.087779 | 246 | 2011-04-02T15:19:33Z | |
| Iron Spring Roadside Par | 34.762030 | -93.070765 | ? | 2011-04-02T22:47:53Z | |
| Mountain Thyme B&B | 34.751614 | -93.059461 | 259 | 2011-04-02T22:49:19Z | |
| OT 107 Crossing | 34.736682 | -93.164706 | 522 | 2011-04-03T18:59:10Z | |
| Blue Mountain Shelter | 34.716427 | -93.289615 | 533 | 2011-04-03T23:04:46Z | |
| Ouachita Pinnacle | 34.730101 | -93.226547 | 1952 | 2011-04-03T23:07:37Z | |
| Uncle Bill Potter Shelter | 34.743517 | -93.427610 | 226 | 2011-04-04T23:18:45Z | |
| Womble TrailIntersection | 34.726438 | -93.535143 | 301 | 2011-04-05T18:12:58Z | |
| Round Top Trail Intersection | 34.704989 | -93.569211 | 424 | 2011-04-05T21:12:54Z | |
| Mile 110 Camp | 34.719794 | -93.619338 | 355 | 2011-04-06T00:13:26Z | |
| Blue Mountain | 34.686241 | -94.048290 | 2612 | 2011-04-07T18:51:34Z | |
| Mile 70 Camp | 34.685126 | -94.164013 | 556 | 2011-04-07T22:54:22Z | |
| Pioneer Cemetery | 34.688730 | -94.399939 | ? | 2011-04-09T00:01:44Z | |
| Queen Wilhelmina State P | 34.685640 | -94.369898 | ? | 2011-04-09T00:02:27Z | |
| Rich Mountain | 34.689846 | -94.337454 | ? | 2011-04-09T00:03:23Z | |
| Mile 49 Camp | 34.688737 | -94.404277 | 792 | 2011-04-09T00:04:29Z | |
| Mile 10 Camp | 34.767197 | -94.845069 | 468 | 2011-04-11T00:18:19Z | |
| Horse Thief Springs | 34.737568 | -94.727211 | ? | 2011-04-11T00:21:23Z | |
| Winding Stair Mountain | 34.709244 | -94.677429 | ? | 2011-04-11T00:22:28Z | |
| Talihina Motel | 34.750127 | -95.046783 | 181 | 2011-04-12T01:45:43Z | |
| Place | Latitude | Longitude | Elevation | Date & Time | Comment |