Fashionplate Dan Bedore's Florida Trail Hike
January 13 - February 7, 2006
I hiked the Florida National Scenic Trail from the Tamiami Trail in Big Cypress National Preserve starting January 13 and ending near Lake City, Florida February 7, 2006. (That's 547 miles of walking; I skipped 34 miles of highway walks by riding in cars.) I hiked the western route around Lake Okeechobee and the eastern route near Orlando the hike. I have also walked some parts of the trail at other times.
Perhaps the best thing about the Florida Trail is the phenomenal density and diversity of interesting wildlife in the subtropical regions of Florida, say Lake Okeechobee and south. North of that, geology, animals and plants are more typical of the rest of the United States. Another advantage is that the trail is always near sea level, so there are no problems with altitude sickness and energy spent climbing hills is not significant.
On the negative side, much of the water available to hikers for drinking either looks or tastes terrible. Some sections of the trail had not yet been built, and hikers were routed down busy roads. 130 miles of the section I hiked was routed on roads where people drove 60 or more miles per hour. I tried to hitchhike these highway sections, but had little luck getting rides. Oddly enough, though I got only one ride while hitchhiking, I got 5 rides from people who just saw me walking down the road and felt sorry for me. Finally, many sections of the trail were flooded with water. This can radically exacerbate the normal problems hikers may have with skin chafing and other skin conditions during long distance hikes. In the last week of my hike, between rain and puddles, my legs and feet were soaking wet every day.
| Sunday | Monday | Tuesday | Wednesday | Thursday | Friday | Saturday |
| --- | --- | --- | --- | --- | --- | --- |
| January 8th | 9 | 10 | 11 | 12 Flew to Miami after work. | 13 Oasis Visitor Center off Tamiami Trail. | 14 Ivy Camp |
| 15 Alligator Alley (Interstate 75), Seminole Reservation | 16 Deerfence Canal, Levees 3,2,1 | 17 Levees L1, L1E, Miami Canal, South Lake Okeechobee, Clewiston | 18 Moore Haven | 19 Lakeport, Harney Pond, Indian Prairie Canal, Buckhead Ridge | 20 North Lake Okeechobee, Kissimmee River, Basinger Camp | 21 Hickory Hammock, Boney Marsh |
| 22 Avon Air Force Park, Kicco WMA | 23 River Ranch, Prairie Lakes / Three Lakes | 24 Split with western route, Forever Florida | 25 Bull Creek | 26 Tosohatchee State Preserve | 27 Christmas, Seminole Ranch | 28 Orlando Wetlands, Chuluota, Flagler Rail Trail, Little-Big Econ |
| 29 Oviedo, Winter Springs, Longwood | 30 Big Tree Park, Interstate 4, Lake Mary | January 31st Seminole State Forest, South Ocala National Forest | February 1st Paisley, Alexander Springs | 2 Hidden Pond, Hopkins Prairie | 3 Junction with the western route, 88 Store, Penner Ponds | 4 North Ocala National Forest, Buckman Lock, Rice Creek |
| 5 Gold Head Branch State Park | 6 Lake Butler | 7 US Route 90, Olustee Battlefield, Lake City | 8 Took Greyhound Bus home | 9 Returned to Work | 10 | February 11th |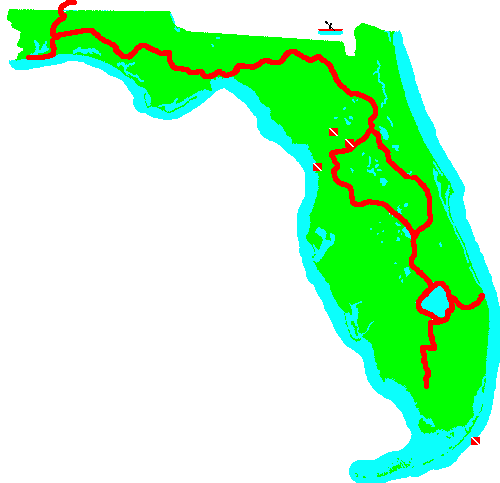 Thursday, January 12, 2006
I said goodbye to the people at work, and Doug drove me to the airport. I then flew to Miami and stayed in a hotel near the airport.
Friday, January 13, 2006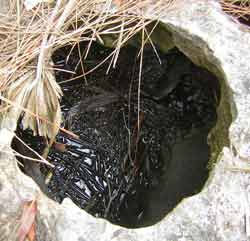 On my 135 dollar cab ride to Big Cypress, the Peruvian cab driver talked all about the US National Park system as well as the South American rain forests, the Amazon, and the Andes. The trail was about 40 percent slippery ankle deep mud with occasional slippery, solution hole ridden limestone, but with little standing water. Forested parts of the trail were often hard to follow due to blown down trees and bushes growing over the trail and obscuring the trail blazes. I saw frogs and Crows, as well as shells of 2 types of snails, clams, and Crayfish. There was light rain for about 10 minutes during the day, but the hiking weather was otherwise very pleasant. The first half of the night featured a blustery thundershower and my sleeping bag got a little wet from the wind blown rain, but dry wind for the rest of the night dried it back out.
Camp: 11 miles north of Tamiami Trail.
Miles Walked: 11

Saturday, January 14, 2006
I saw a Black Racer snake, and many Bear tracks. There were lots of Crows, but I met no other people all day. The same type of trail conditions continued, but with the addition of water up to a few inches below the knee for most of the day. I camped at Ivy Camp, 11 miles was about all the wading I could handle. I thought my feet were swollen, but it turned out there was so much mud packed under my arches, between my toes, around my ankles, and etcetera, that my feet just felt wedged in place.
Camp: Ivy Camp
Miles Walked: 11
Sunday, January 15, 2006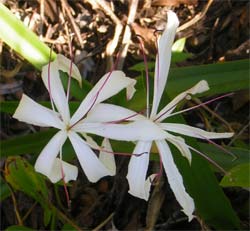 At the rest stop on Interstate 75 / Alligator Alley, I made friends with a flock of Boat Tail Grackles for the price of a few peanuts. After the rest stop, I saw Little Blue Herons, Great Blue Herons, Green Herons, Great Egrets, Alligators and Turtles. There were lots of butterflies of many types including Buckeye, Peacock, and Queen, some flying mated, and I saw bear scat. The trail was different there; rather than walking directly through swamp, I walked on roads built up with dirt from adjacent borrow ditches. The borrow ditches attracted a lot of gators, turtles, and fishing birds. I met Jim and Christy while they and I were both looking for the Billie Swamp restaurant. I ate dinner next to them and eventually they invited me to share their campsite. We had an eclectic conversation late into the night. I saw a satellite and 4 meteors.
Camp: Seminole Reservation Big Cypress Campground
Miles Walked: 17 Miles By Car: 4
| | |
| --- | --- |
| | |
Monday, January 16, 2006
Unfortunately, the Ah-tha-thi-ki Museum was not open on Mondays, so I had to skip this. I used the campground facilities to shower, wash my swamp socks, and brush my teeth, and set out. I found a store a few miles later with a breakfast bar, and had eggs, bacon, and beans. Later, a guy saw me walking north on CR833 and gave me a ride to the Deerfence canal. I saw Red Wing Blackbirds, Belted Kingfishers, Mourning Doves, Little and Great Blue Herons, Hawks, Gators, Black Vultures, Eastern Meadowlarks, and Cabbage White Butterflies. I watched a Sugarcane harvest. From far south on the L3 levee, I could see the rising black smoke of the burning cane field. As I reached the field, giant hopper and harvesting equipment was collecting the cane. There was a burnt caramel smoky aroma. Then, after I'd passed, semi trailers were hauling the cane away. I grabbed a piece that I saw fall off a truck as it was turning onto the highway. It was about an inch in diameter and eight long. It didn't smell of caramel, but more of cut grass. I managed to bite off the tough outer layer and chew the pithy, sugary inner part. Pretty tasty. I camped in a great little clump of trees just north of CR 835. There were no other trees to camp in for miles along the trail.
Camp: North of CR 835
Miles Walked: 23 Miles By Car: 5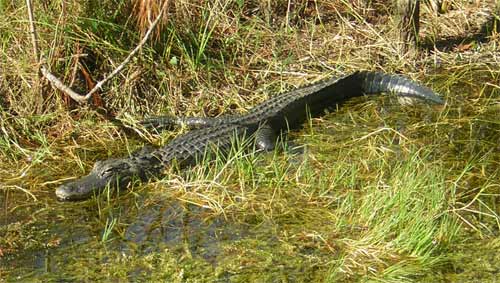 Tuesday, January 17, 2006
I started walking about 5 AM. It was a few days past the full moon, so there was plenty of moonlight, and walking the white dirt road atop the L1 Levee didn't require much light anyway. There was a gorgeous sunrise while I was on the L1E Levee. Huge flocks of Redwing Blackbirds flew in and out of the canefields. Lots of times I smelt the burnt caramel smell of the harvesting. Near the Miami Canal I saw a dead Everglades Racer Snake. At the Post Office just before reaching Lake Okeechobee, I found out two other hikers (Camo and Powerstroke) were just a couple hours ahead. But would they go east or west around the lake? I never met them, so they must have gone east. On the Herbert Hoover Dike around the lake, I saw an American Kestrel and lots of Tree Swallows. I slept in the Relax Inn in Clewiston. The hot water in the shower didn't work, but I managed to get a warm shower by turning on both cold and hot water in the sink and the cold water tap in the shower. The TV got only one channel, BET, and the remote wasn't even for that brand of TV. Basically, I recommend other hikers find a different hotel. I got a great Mexican dinner at the grocery store across the street. There were rain downpours during the night.
Hotel: Clewiston
Miles Walked: 24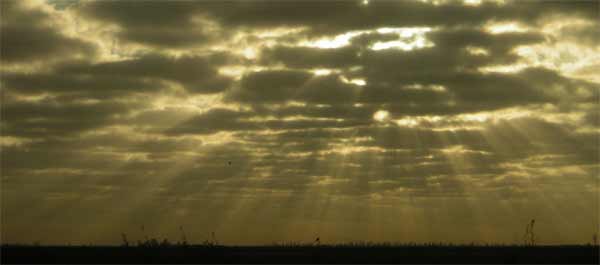 Wednesday, January 18, 2006
At 6 AM, I went around looking for a cash machine and a paper for a weather report. With a prediction of light rain this morning and cloudy but dry for the coming week, I headed out about 7:30. I found a dead Copperhead Snake and a dead Peninsula Ribbon Snake on the path. I saw White Ibis, Bald Eagles, beehives, and a turtle nest. The weather cleared by afternoon. There were hundreds of Black and Turkey Vultures on the dike top and soaring above. Among them I saw 2 Crested Caracaras. I saw both American White Pelicans and Brown Pelicans, as well as gulls and a Red Bellied Woodpecker. I camped at the C5A campsite, with hundreds of Little Blue Herons and Great Egrets overnighting nearby.
Camp: C5A campsite
Miles Walked: 21
Thursday, January 19, 2006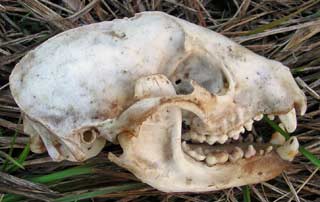 I awoke at 5:30, cold and bored, so I got up and walking by 6. The first brightening of the eastern sky had just begun. Walking along SR 78, I saw a road killed Bobcat, then later, just before I reached Vance Whiddel Park, I saw another bobcat run across the highway. Well before I could get my camera going, he was into the bushes and gone. I had breakfast in Lakeport, an omelet with ham, onions, bell peppers, plus hash browns, sausage, and orange juice. Better than a sack of nuts by a long shot. Around 2 PM I saw a Raccoon rooting around in the grass on the dike, then 2 turtles climbing eastbound over the dike, then a small gator by the canal to the west. There were several Sandhill Cranes, Redwing Blackbirds, House Sparrows, and lots of Vultures. I saw a turtle digging a nest atop the dike just next to the bike path. There was a Nine Banded Armadillo, and many Queen Butterflies, some mating. I saw an Eastern Meadowlark and lots of Cattle Egrets. I tried camping in three different sites near Buckhead; all of them had so much mosquito and bird noise it was difficult to sleep. At each site, nasty sharp burrs got all over my gear and stabbed into me. It was a long night.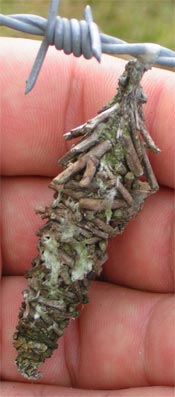 Camp: East of Buckhead
Miles Walked: 25
Friday, January 20, 2006
There were lots of dog, Bobcat, and Raccoon tracks along the Kissimmee River levee. I found interesting bug cocoons woven with bits of sticks hanging from the barb wire fences along FL 70. Along CR 721, I saw a Black Racer snake, Sandhill Cranes, a road killed Coyote, Cattle Egrets, Eastern Meadowlarks, and a River Otter in a canal. Thanks for the recent trailwork in the small Basinger area.
Camp: Basinger Camp
Miles Walked: 25
Saturday, January 21, 2006
I saw a family of Red Bellied Woodpeckers, including 1 immature. There were Cattle Egrets, Sandhill Cranes, many vultures, and a Crested Caracara along the highway. I got a picture of one Black Racer Snake by chasing him through the grass. Later, while chasing another, I came upon a third of this species. I camped in the aptly named Mosquito Hammock.
Camp: Mosquito Hammock
Miles Walked: 18
Sunday, January 22, 2006
I saw 5 Whitetail Deer, a black racer, and an Armadillo. The were lots of bromeliads in the mixed oak and pine forest, and a palmetto understory.
Camp: Rattlesnake Hammock
Miles Walked: 20
Monday, January 23, 2006
I saw flocks of Turkeys, and some walking alone. There were 3 Black Racers, Bison at River Ranch, Glossy Ibis and Muscovy Ducks at Lake Kissimmee, Eastern Meadowlarks, Bald Eagles, and Sandhill Cranes. A guy from Georgia gave me a ride for the last couple of highway miles, and even offered to drive me all the way back to Georgia. But I was just having too good of a time for that. Just before dark, I saw a River Otter running along the trail out in the woods, away from the water. I camped at the unnamed designated 3 Lakes campsite near the boat ramp. Three fishermen told me there was a cold front coming in.
Camp: 3 Lakes
Miles Walked: 29 Miles By Car: 2
Tuesday, January 24, 2006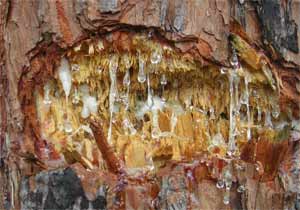 I noticed that my PUR water filter, supposedly filtering out germs, had passed through algae floaties and sand, and was pumping much easier. This meant it was worthless, but worse, it meant I had been drinking unfiltered swamp water for perhaps 24 hours, when I first thought pumping was too easy. There were no sources for this type of gear out there, I would have to boil and improvise for water. Though I hadn't seen a Cypress Dome for some time, they appeared again, I even waded through one. I saw a skinny iridescent lizard. I had a late afternoon club sandwich at the Forever Florida Restaurant, and camped at their backcountry site. I bought 6 bottles of Gatorade so I could carry water from potable water sources. There were lots of Deer and Turkeys on the FF property. There were lots of cirrostratus clouds and contrails, and a light rain in the afternoon.
Camp: Forever Florida
Miles Walked: 28
Wednesday, January 25, 2006
I started the day with a solar powered shower at the awesome Forever Florida campsite. In the Bull Creek area, I saw a flock of Turkeys, a Black Racer, and lots of hunt stands. Good water was available from the pitcher pumps at Little Scrub and Jane Green Campsites. I repaired the shoulder straps on my pack.
Camp: Jane Green Campsite
Miles Walked: 17
Thursday, January 26, 2006
It was very cold this morning, and the afternoon had many cumulus clouds, some dark. The wind shifted in all directions all day, and the sky cleared by nightfall. I walked CR 419 to Nova Road, then got a ride to the Beeline Expressway / 528. The guy who drove me made his living digging up palm trees in the back woods of ranches and selling them wholesale. There are certainly plenty of trees there to dig up. He offered me a ride all the way to Lake City. No Thanks!!! I met a couple hiking south from Canada to Key West in sections. There were many road killed Hogs, but interestingly, I didn't see any areas they had rooted up. I saw an Armadillo, Eastern Meadowlarks, Sandhill Cranes, and a dark green mottled snake with a light green back stripe (Eastern Garter Snake). My camera died, the lens had been grinding and then couldn't focus. I hiked a few extra miles exploring Tosohatchee State Preserve and looking for the Sabal Palm designated campsite, which I found had been deactivated.
Camp: Tiger Branch site
Miles Walked: 22 Miles By Car: 13
Friday, January 27, 2006
I got to the Post Office in Christmas and got rid of some excess gear and souvenirs, then picked up groceries. I got some bleach to disinfect water where I could not get potable water. I saw another snake like the previous day's, and 2 hawks with reddish shoulders and breasts. There were fish fry in the water of lots of culverts, and brown cattle in Seminole Ranch. I saw many Great Blue Herons, and big flocks of Great Egrets whooshing over to the Orlando Wetlands Park. I removed an attached but not engorged tick from my left front rib cage area.
Camp: Seminole Ranch
Miles Walked: 18
Saturday, January 28, 2006
Just after I entered the Orlando Wetlands, I saw a pair of wild Hogs on the dirt road ahead of me. With a fence on one side of the road, and the outflow creek on the other, they had no choice but to run straight down the road, and I got a good long look. There were lots of Black Vultures at the main outflow, and I decided to walk the dikes in the wetlands rather than the Florida Trail route. There was an awesome sunrise. I saw a River Otter, Muscovy Ducks, a snail with an orange striped shell, Pileated Woodpeckers, Tree Swallows, Great Egrets, Great Blue Herons, and White Ibis. I will definitely visit this facility again. Although it's a sewage treatment plant, it's well done, with extremely high wildlife diversity and density. On Fort Christmas Road, I walked by about 4 feet from a pair of Sandhill Cranes, what a great sight. they seemed mesmerized, and paced along with me for several paces. Somehow, I missed the turn for the Fort Christmas Museum. Later, I saw a 3 foot yellow mottled snake with 2 light brown stripes down each side (Yellow Rat Snake) on the Flagler Rail Trail. I camped in the last Little-Big Econ campsite, and a Hash Run appeared there for extra entertainment.
Camp: Western Little-Big Econ State Forest
Miles Walked: 21
Sunday, January 29, 2006
I saw a Cardinal and an Anhinga. When asking for directions to a hotel from a cop, he looked at me like I was insane and wanted know Why Would Anyone Ever Hike So Far???? I got a hotel a couple miles south of the trail on US 17 / 92, and did some desperately needed showering and laundry. It rained overnight. Light rain was predicted for Monday, heavy over Monday night, dry Tuesday and Wednesday, light rain Thursday, dry Friday, heavy rain Saturday. Rain or not, at least it wasn't 37 degrees like at home in Marietta, GA.
Hotel: Longwood
Miles Walked: 14
Monday, January 30, 2006
I walked out of my Longwood hotel in occasional very light rain. On the way to the Big Tree Park, I saw two Black Vultures snacking on an Opossum. The two Pond Cypress trees truly were impressively huge. As I left the park, a pair of hawks squawked at me from high on a tree. Then I came to the Lake Mary Library and did some typing on this journal. I managed to buy a new camera, and found a full grocery store where I resupplied. Just after I crossed Interstate 4, I was wondering if any more hotels could be found to get out of the rain, when I came to a Marriott, and checked in. I was able to get this journal up to date there.
Hotel: Lake Mary
Miles Walked: 10
Tuesday, January 31, 2006
I saw Sandhill Cranes, Squirrels, Bear Scat, and tracks of raccoons, deer, and snakes. The trail was overgrown from Royal Trails to Maggie Jones Road, but recently cleared afterwards.
Camp: One mile into the Ocala National Forest.

Wednesday, February 1, 2006
I saw Sandhill Cranes, Squirrels, Deer, and tracks of Deer, Raccoons, Bobcats, and dogs, as well as Bear scat. I restitched the belt attachments on my pack, as the seams were pulling out. I saw the water upwelling at Alexander Springs, as well as many types of large and and small fish jumping and swimming in the crystal clear pool. A sign there said that rays, Blue Crabs, and other salt water species were able to live in the springs due to the high mineral content, but I didn't see any. I tried to hang my food in the trees, but the lower branches were all rotten and would not support the weight, and the healthy branches could not be reached through the tangle of rotten ones.
Camp: One mile past FR 599.
Miles Walked: 22
Thursday, February 2, 2006
I met a group of 8 guys from AR15.com hiking in to Hidden Pond for the long weekend. The trail along Hopkins Prairie was under a foot of water for 4 miles. Occasionally, I had to wade waist deep to get around fallen trees blocking the trail. The map describes this section as dry, it seems like a glaring omission to not mention 4 miles of swamp slogging. There was no rain, but I could see cumulus and cirrostratus clouds all day. Another hiker told me rain was predicted for Friday and Saturday.
Camp: One mile north of FR 90.
Miles Walked: 21
Friday, February 3, 2006
Thunder, lightning, and rain started about 4 AM. It was still raining, but with less lightning around 10:30 at the 88 Store, where I resupplied and ordered a great pizza for lunch. I stayed there a couple of hours, talking with the locals, and took a side trip to visit Elvis, Annie the bartender's giant hog. I saw a coyote and heard another big animal crashing away through the bushes. I saw a Red Bellied Woodpecker and later, a flock of Grackles squawking in a tree, as well as Mourning Doves and 2 deer. There was a turtle nest in the middle of the trail, probably belonging to a Gopher Tortoise. A violent thundershower began at 6pm and blasted nonstop until 8 the next morning. Powerful winds drove gallons of rainwater into my hammock and completely soaked me and my sleeping bag. There was actually a pool of water in the bottom of the hammock in the morning.
Camp: Between Penner Ponds and Rodman Reservoir.
Miles Walked: 22
Saturday, February 4, 2006
I got a little lost following tape flags on the way to Buckman Lock. At the Lock, I had nice conversations with the three employees and watched some videos in the visitor center. Unfortunately, they told me about a double murder that had occurred in the Ocala NF January 3rd, in which Leo Lancing Boatman, 19, had gone out looking for random people to kill, and Amber Beck, 24, and John Parker, 26, camping in the Ocala NF, were the innocent victims he found. I was told that 6 inches of rain had fallen in the last 48 hours. There was a lot of rainwater to wade through on the trails, at times to hip depth. There were lots of fish, pollywogs, and at least 2 species of frogs swimming on the trail, I picked up and examined some. On the Plum Creek land there was a 4 wheel drive mud festival going strong with hundreds, perhaps thousands of people driving through the mud puddles on about 4 miles of the trail. In the late afternoon there were lots of bird, frog, and insect noises. Around 3pm, solid cumulus clouds cleared to a few mare's tails. I dried my gear in the Caravelle Ranch WMA from 2:30 till 4. There was an intermittent hydrogen sulfide smell in the Rice Creek Sanctuary. I saw some Turkeys and a Barred Owl.
Camp: Rice Creek Sanctuary.
Miles Walked: 22
| | |
| --- | --- |
| | There was 6 inches of water over much of the trail to Old Starke Road. I saw Cardinals, Black Vultures, and lots of clear tracks in the wet sand on Old Starke Road. There were a few silos there, old and falling down. I wondered what might have grown there that required silos, grain? It was all tree plantations as I passed through. The weather was dry, clear, and sunny, with a cold wind from the west all day. In Goldhead State Park, I saw Deer. There was a tent blown over and apparently abandoned in the primitive camp, but the owners returned to it around 11pm. |
Camp: Goldhead State Park primitive camp.
Miles Walked: 27

Monday, February 6, 2006
The morning was cold and frosty. There were Deer, Cardinals, Squirrels, and fish fry in the rain ditches. Two guys gave me a ride west on State Route 100 to Lake Butler.
Camp: A mile into the Lake Butler Forest.
Miles Walked: 33 Miles By Car: 10
| | |
| --- | --- |
| | |
Tuesday, February 7, 2006
I saw little wildlife on this overcast day with intermittent rain. The hike was through the pine farms of the Lake Butler Forest (Plum Creek property). I saw various turpentine pot fragments. These were used perhaps 100 and more years ago to collect pine sap to make turpentine and pitch for wooden shipbuilding. There were wicked thorny sticks that would catch and tangle up in both pantlegs, getting rid of them was a nuisance. At the Olustee Civil War Battlefield Monument, I met Toby, an employee, who gave me a ride to Lake City after his shift. I had a few hours at the monument, and thoroughly explored the interpretive trail, the museum, and the adjacent graveyard. The sky cleared as I waited. In Lake City I bought a Greyhound bus ticket to take me home the next day, and got dinner, a hotel, shower, laundry, etc.
Camp: Hotel in Lake City.
Miles Walked: 18
More Florida Trail Hiking:
February 24-6, 2006
Friday, I walked from the Turkey Run Trailhead to the Olustee Battlefield Monument, and returned by CR250A and dirt roads along Ocean Pond. I saw in the Osceola Shelter logbook that Roni from Israel, and Camo and Powerstroke, three hikers I managed to pass by without meeting early in my big hike, had passed through since I finished my big hike 2 weeks ago. It was good to see they were doing well. Saturday, I hiked from Turkey Run to West Fire Tower and returned via roads 236 and 263. There were prints of birds, bobcats, dogs, deer, raccoons, and armadillos on road 263. Sunday, I walked from Deep Creek Trailhead to the fire tower then returned on road 236. All three days there were dragonflies, grasshoppers, butterflies, and small birds and mammals. There were also various colonies of Red Cockaded Woodpecker nests. The terrain was flat sand and pine forests with palmetto or berry bush understories. It never rained on me while hiking, but there was plenty of overnight rain, and the trails had lots of ankle deep water, and occasional knee deep segments. I was on the tail end of a cold, so I felt stiff and lethargic by the end of each day.
November 17-19, 2006
Alabama Trail in Conecuh NF
I day hiked this extension of the Florida Trail through the Conecuh NF, and a loop of the Conecuh Trail and slept in a hotel in Andalusia, Alabama. The trail was mostly dirt roads, and since there were plenty of hunter's trucks parked along the road, I didn't stray from the route. The trail was about 28 miles, which I hiked both ways, plus the Conecuh Trail and a bit of the Florida Trail, so I guess a little more than 60 miles that weekend.
December 1-3, 2006
Barrier Islands south of Pensacola
Friday, Mother Nature's Son and I walked from the west end of Pensacola Beach to Fort Pickens and back, stopping to explore the many World War II and earlier gun batteries. Saturday, we walked from the Navarre Beach Causeway to our hotel in Pensacola Beach. Both on Friday and Saturday, we saw lots of damage from Hurricanes Ivan and Dennis, such as roads and structures destroyed, etc. Sunday, we finished the bit between our hotel and where we finished Friday, then took a loop hike in the Naval Live Oaks Area of the Gulf Islands National Seashore, then finished our day walking Perdido Key to the ruins of the gun batteries there. I'd guess this was over 50 miles for the 3 days, with lots of interesting stuff to look at.
The Gear I started my big 2006 Trip with:
Things I Wore
Ounces
Pounds
Post Trip Comments
Long Pants
10.5
0.7
Long Sleeved T-Shirt
9.5
0.6
Sun Hat
1.9
0.1
Chapstick and Flashlight on Neck Cord
0.8
0.1
Lost near Lake Mary
Shoes, New Balance trail running, logos and tongues removed for ventilation
24.0
1.5
Worn out at end of hike, 1 pair good for ~500 miles
Socks, Good REI plastic hiking ankle socks
2.5
0.2
Worn out at end of hike, 1 pair good for ~250 miles
Underwear
2.5
0.2
Camera Nikon Coolpix 2200
6.0
0.4
Fine grit ubiquitous in southern Florida ruined lens mechanism, replaced in Lake Mary with Nikon Coolpix 4600.
Wallet
4.0
0.3
Total Weight on my Person
61.7
3.9
Things in My Pack
Ounces
Pounds
Post Trip Comments
Bear Rope
3.5
0.2
Many pine trees in Florida had rotten lower branches which would not support bear bagging, I often slept with the food in my hammock.
Compass
3.0
0.2
Mailed home at Christmas, didn't feel it was needed after Big Cypress.
Maps
9.4
0.6
Mailed home used maps from Christmas and from Lake Mary.
James Joyce "A Portrait of the Young Man as an Artist"
5.0
0.3
Didn't read much, ditched at Forever Florida
Homer "The Iliad"
5.4
0.3
Didn't read much, ditched at Clewiston
Notepad
2.2
0.1
Camera Memory and Batteries
2.0
0.1
Mailed home loaded memory chips from town of Christmas
Hygiene
Toilet Paper
3.0
0.2
Lost near Lake Mary, replaced with Wet Wipes.
Toothpaste
1.0
0.1
Toothbrush
0.5
0.0
Floss
0.5
0.0
Tylenol
0.7
0.0
Sunscreen
1.0
0.1
Tape for Blisters
0.5
0.0
Cooking Gear
2 Cigarette Lighters
1.0
0.1
Pot
2.0
0.1
Didn't cook much, probably could have been left home.
PUR Water Filter
19.5
1.2
Broke at 3 Lakes WMA, allowed sand and algae through into drinking water, ditched at Forever Florida.
Stove
3.7
0.2
Didn't cook much, probably could have been left home.
Spoon
1.0
0.1
Didn't cook much, probably could have been left home.
Sleeping Gear
Hennessy Hammock
21.0
1.3
Two nights there were no trees to which to tie the hammock.
Hammock Rainfly
7.6
0.5
Wind driven rain got my sleeping bag wet twice.
Sleeping Bag
64.0
4.0
Backpack
Backpack GVP G4
14.5
0.9
Sewn with weak thread, several seams pulled out and required re-stitching on the trail.
Plastic garbage bag to keep gear dry
2.5
0.2
Clothing
Extra Socks, Good REI plastic hiking ankle socks
2.5
0.2
Worn out at end of hike, 1 pair good for ~250 miles
Overshirt
9.4
0.6
Fashion Shirt
4.0
0.3
Mailed home from town of Christmas, didn't need warm weather gear in north Florida.
Rain Jacket
7.5
0.5
Rain Pants
8.0
0.5
Head Mosquito Net
2.0
0.1
Mailed home from town of Christmas, didn't need mosquito gear in north Florida due to cold.
Fleece Shirt
8.5
0.5
Fleece Balaclava
3.0
0.2
Lycra Shorts
3.5
0.2
Mailed home from town of Christmas, didn't need warm weather gear in north Florida.
Base Pack Weight
222.9
13.9
Food
32.0
2.0
Water
16.0
1.0
Fuel
8.0
0.5
Total Pack Weight
278.9
17.4
Training and Preparation for my big 2006 Trip
Friday-Sunday, December 16-18, 2005
Friday, I walked about 17 miles in Kennesaw Battlefield Park and saw one three point buck. When I got home I raked a lot of leaves. On Saturday, I walked the Silver Comet Trail between mile 9 and 16, then finished raking the leaves at home. On Sunday, I walked from mile 16 to 27 on the Silver Comet Trail, but luckily, there were no leaves left to rake. (Raking is brutal exercise. That's why they wrote that song "Raking up is hard to do".) I moved a Green Anole Lizard off the path so he wouldn't be run over or stepped on. He was so cold that when I picked him up he didn't even move more than to open his mouth in a threatening manner. That totals 53 miles (plus the leaves) in three days without too much pain; I guess I was in decent condition for the hike.
Friday, December 23, 2005
Yesterday, after work, I drove down to Lake City, Florida, and got a hotel room. This morning, it was so cold and frosty that after I scraped my windows and drove away, the frost reformed and I had to drive into a gas station almost blind to let the engine warm up and clear the frost from my windshield. Then I drove around town to find the Greyhound station and out US Route 90 to see if my planned egress from the trail was workable. I found that the route would be 15 miles along 4 lane highway past 2 prisons, and decided to find a better way. Fortunately, I found that I could hike 19.2 miles further north to Forest Road 237, where I could walk 5 miles on dirt forest roads, then 5 miles along 2 lane highway (US 441), much of it on sidewalks, a much more satisfactory route. Along the Tamiami Trail, I saw 6 baby gators and the usual assortment of giant birds and adult alligators. I arrived in Everglades National Park just after dark and set up for 4 nights of camping in the Long Pine Campground.
Saturday, December 24, 2005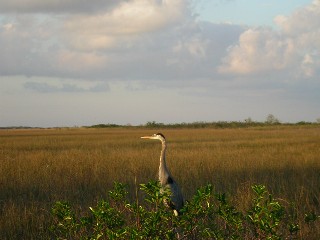 I hiked from my campsite down Old Ingraham Highway until downed trees made progress slow, and saw many gators between 18 inches and 12 feet long. I also saw Red Bellied Turtles with shells up to a foot long, one with scars where a gator had pretty much bitten through the shell before the turtle escaped. There were a lot of birds there, and I even saw some Roseate Spoonbills up close. I then walked to the Anhinga Trail,

where I saw Anhingas both swimming under the crystal clear water searching crevices for food, and with their wings spread warming in the sun (see video). There was an eight foot Gator who had half swallowed a 3 inch diameter Burmese Python. The story was that he was full after eating half the python, and would have to digest it for days before swallowing more. So in the meantime, about 6 feet of the python was still hanging from the gator's mouth. Quite a sight for the tourists like me, standing just a few feet away, to see. There were plenty of Gar and other fish to see there, as well as turtles, gators, and birds of every description. Some of the birds were building nests, and I was able to watch their progress over the coming days. This was probably a 25 mile walk, and I got one blister on the ball of my left foot between the big toe and the next one over. Back at the campsite, I saw Fireflies, a meteor, and some satellites, even though some low clouds were drifting through.
Christmas, Sunday, December 25, 2005
Hours before dawn, I started tossing and turning, and got up at 5 minutes of 6, well before dawn. Other long distance hikers had recommended that I start my big hike at Key West, since walking over the bridges between the keys was a unique hiking experience. But it would require a lot of walking on busy roads to do this, which I don't like. Instead, I decided to drive down and walk as many of the abandoned highway bridges as I could in a day. Between the northern keys I had a birdseye view of beds of sea grass and coral, and the southern keys also have mangroves under the bridges. The water was quite clear, and I could see crabs (including a Horseshoe Crab) and small fish going about their daily business. One beautiful ray was 4 feet across, deep brown with white spots, his a long tail slinking back and forth as he swam along. There were many pelicans and Great Egrets fishing along the way. The human fishermen I shared the old bridges with had left all kinds of coral and reef plants on the bridges, these were interesting to look at. I saved one interesting shell, but later it had stunk up the car so much I threw it away. There is a lot of human junk stuck in the mangroves from the recent hurricanes. It rained twice. It's hard to say how far I walked, since there was a lot of driving from bridge to bridge, but I walked almost all of the abandoned bridges, some twice, and it took all day. 15 miles would be a conservative estimate.
| | |
| --- | --- |
| | |
Monday, December 26, 2005
Today I visited the main visitor center, walked all the short nature trails on the main Everglades road, and hiked the Bear Lake, Snake Bight, and Rowdy Bend trails. I'd guess 15 miles.
Tuesday, December 27, 2005
| | |
| --- | --- |
| | I walked the Shark Valley Loop, probably 14 miles. I saw lots of birds catching fish, plus turtles and gators. There was a deer wading in the sawgrass slough. I camped on the Big Cypress Loop Road, and the bugs ate me alive. |
Wednesday, December 28, 2005


I checked the Loop Road Trailhead for the Florida Trail, and decided the dirt road was good enough that a cab would probably take me there, and if not, the road would be interesting enough to walk. Therefore, I decided to leave the Loop Road to Tamiami Trail section for the big hike. I discovered that the Miccosuki General Store nearby sells Sterno, so that could be my fuel until I got to Lake Okeechobee. I then drove to Clewiston, the first big resupply town I will use on the big hike. I discovered that it is a long distance hiker's dream town, with several hotels, 3 hardware stores, and a humongous grocery store within 6 blocks of the trail. Any other desired service is probably also available in the town. I walked only a couple of miles.
Thursday, December 29, 2005
On the big hike, I'll go west around Lake Okeechobee, so today I walked a little on the east side so I wouldn't miss anything. I went from the South Bay launch ramp to Pahokee, about 20 miles round trip. In rock piles on the levees there were lots of shell and coral fossils to entertain me. Birds had also left the bones of many of their meals on the levee top path. There were 2 Bald Eagles soaring, 2 Great Blue Herons fishing, turtle shells, and turtle nests with hatched eggs. To the west, there were wetlands, and then the lake extending to the horizon, while to the east sugar cane fields stretched from the levee to the sky. It rained a few times.
Friday, December 30, 2005
| | |
| --- | --- |
| | I walked in the Depuis Management Area from Gate 2 to the south campsite on the Corbett Trail. Though the first few miles were mowed, after that, the trail tread was indistinct and overgrown, and the blazes were often on trees that had blown down or burned. Many times, I veered off course on game trails that were better than the real tread. It took me six hours to make 12 miles, not very impressive. There were lots of areas rooted by pigs, and also lots of armadillo rooting sites. |
Saturday, December 31, 2005
I decided it would be easier and quicker to navigate by the sun than to follow the blazed route back. After a short cross country hike, I reached a series of roads that each more or less headed in the right direction and followed them. I eventually hooked up with the blazed route only about a mile short of the mowed section. I took me only 4 hours to return the 12 miles, a much more respectable pace. The sandy soil had lots of bird, pig, deer, and raccoon tracks. I saw an Eastern Indigo Snake about 3 1/2 feet long.
Sunday, January 1, 2006
I hiked about 18 miles in the Green Swamp West WMA. I walked from the SR 471 trailhead up Thrasher Ridge Road about 9 miles and returned via the Florida Trail. I saw another Eastern Indigo Snake, this one about 5 1/2 feet long, as well as several species of frogs less than an inch long. There were also two very shy armadillos running into the bushes.
Monday, January 2, 2006
I hiked on the Florida Trail across the Cross Florida Greenway from the CR 475A Trailhead to CR484 and returned via the wagon road and the blue blazed Florida Trail alternate route east of Interstate 75, about 15 miles. I saw a Southern Black Racer snake a little over 3 feet long. There was a turtle with an eight inch shell at the west end of the interstate 75 bridge, and a 15 inch owl flew right over me.
That's about 168 miles in my 11 day Christmas break, plus a whole lot of driving.
Thursday, January 5, 2006
The Florida Trail Association sent me an email saying the trail from Loop Road to Tamiami Trail was impassible, so I should start at Tamiami Trail.
Saturday and Sunday, January 7 & 8, 2006
On Saturday I walked the Silver Comet Trail from McPherson Church Road (Mile 27) to the Rockmart Slate Quarry (Mile 37). I got a blister on the ball of my right foot. Sunday's walk was from mile zero to mile 9, with side excursions on the Wildhorse Trail and in Heritage Park. That's about 40 miles in 2 days.