Finger Lakes Trail
Crystal Hills Branch
Great Eastern Trail
New York, 2017
New York State Long Trails
The Finger Lakes Trail System and the NCT connect the four corners of Upstate New York with about 1,000 miles of treadway. The North Country National Scenic Trail in New York is mostly on Finger Lakes tread, but to connect with the Adirondacks uses the Link Trail, Erie Canal State Park, the Black River Canal, and the Black River Feeder Canal. The 133 mile Northville-Placid Trail runs north south across the Adirondacks. The Long Path connects the Adirondacks, Catskills, Delaware Water Gap, AT, and New York City. A bike path runs east west across the state on the Erie Canal. A Northern Forest Canoe Trail connects into Vermont, New Hampshire, and Maine. The Appalachian Trail crosses New York near Delaware Water Gap.
Thursday, June 29, 2017
Most Woodchucks run into a handy burrow, but one treed today. I saw several more on the New York road walk. On the rail berm on the north shore of Cowanesque Lake I saw a Turtle laying eggs and a Fox. There were many White Tail Deer. I crossed from Pennsylvania's Mid State Trail to the Crystal Hills Branch of New York's Finger Lake Trail System in early afternoon.
Camp: McCarthy Hill State Forest
Miles: 20 1695
Map: MST temporary pdf printout 20.4, MST Book, CH3

Rain on Leaf
Friday, June 30, 2017
Addison was a nice town stop, with two convenience stores and a Historical Society Barbecue for eating stops, a dollar store, WIFI outside the library, and pretty old homes and cemetary steles. Painted Post might have been nice too, but I was exhausted after a long, hot road walk, and needed to hurry through. I picked up a few groceries, permethrin, and a head net. I've been finding ticks so small I can barely see them, and can only differentiate them from dirt by the difficulty and method of removal. The net was cheap and it's become common on hard working ascents for clouds of CO2 seeking flies to surround my head and enter my ears and eyes. I'll probably cut a hole for my eyes, and see if the net is comfortable to wear or worth the bother, etcetera. I eventually cut a hole for my entire face, and held the net in place with my baseball cap. This was comfortable and kept bugs from entering my ears and biting through my hair. I saw several spotted deer fawns, some Woodchucks, and a few rabbits. I listened a while to a loud, prolonged argument between a couple of ravens and some songbirds.
Camp: Erwin Hollow State Forest
Miles: 20 1715
Map: CH2, CH1
Saturday, July 1, 2017
Heavy thunderstorms began hours before dawn and continued until 9am. I stayed in my hammock and catnapped. Rain returned occasionally and the hiking was sloppy with mud, standing water, and wet grasses and bushes. I saw Deer, Rabbits, and Groundhogs. At one beaver pond there was a large lodge and many recently felled trees. Dakota had never seen anyone at Moss Hill Shelter, but kindly shared beer, pasta, and pears, as well as conversation. I found Hillbilly Bart and Someday Jo's entries in the logbook. They were the first to through hike the Great Eastern Trail, and their finishing comments were interesting. This is the northern GET terminus, though one could easily find a more interesting finish along the various branches of the Finger Lakes Trail System.
Camp: Moss Hill Shelter, South Bradford State Forest
Miles: 17 1732
Map: CH1
Finger Lakes Trail
North Country Trail
New York, 2017
Sunday, July 2, 2017
I became quite ill hours before dawn, with vomiting and diarrhea. I had to wash my shorts before walking out, adding wet clothes on a cold morning to the discomfort. There were many sprints to the woods. The slow pace, though, allowed me to take a few more pictures of interesting Fungi. Since Pennsylvania, I have been taking many pictures of various species of mushrooms in various stages of growth and decay. There are lots of types, and some are quite pretty. I quit walking in mid afternoon, as I had used up my energy and enthusiasm for the day. The skin on my toes can also use an extra bit of time off.
Camp: Beyond Powerline / Pipeline Cut, Sugar Hill? State Forest
Miles: 8 1740
Map: M13
Monday, July 3, 2017
I recovered fairly well from yesterday's illness. The trail was often mud inches deep. I camped early to recover more, but mostly because there was 12 miles with dubious or illegal camping, and the resupply town of Watkins Glen, ahead. I need to resupply for ~125 miles or 6+ days to McGraw, map M20. From McGraw I will reach the Finger Lakes Onandaga Branch, the Erie Canal, and some roadwalking to the Adirondacks. The end destination approaches... My Garmin 650t gps announced today I had taken too many pictures. I'll have to find a computer and download them to a thumb drive. But tomorrow is the fourth of July, and the next town is in a week. Aaarrrgg!! I noticed a few register entries from eastbound FLT throughhiker Lindsey, who walked thru the area June 16, 2017.
Camp: before Van Zandt Hollow Road, Sugar Hill State Forest
Miles: 13 1752
Map: M13, M14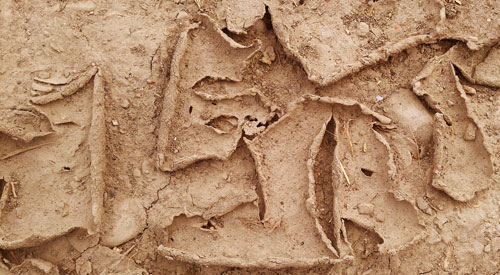 Cracked Mud
Tuesday, July 4, 2017
I would recommend printing / carrying a Watkins Glen park map to have enough detail to hike the most scenic route. I resupplied in Watkins Glen and was able to load the website, email, and surf the web. Thru hiker Lindsey stayed at and recommended The Local hostel, $20. A train ticket from Lake Placid to San Diego August 5-8 would cost $323. The weather looks pretty good for a week. Between mud, wet grass, waterproof boots, etcetera, fungi are tearing my feet apart. the balls are pitted, there is peeling between my toes, and the top of my feet, especially the tops of my toes, are rubbing raw. An intensive sock washing and rinsing campain has helped, but I bought athlete's foot cream to experiment with today. A new stretch metal watchband will replace a cracking rubber version. No luck on cleaning excess photo files from my gps. I saw a Great Blue Heron, the first I've seen in weeks. Seneca Lake had a few ducks and many swimmers and boaters. A cat print seemed more likely to belong to a stout farm cat than a small Bobcat. There were many Deer and a few Raccoon tracks. Several utility poles had scary amounts of woodpecker cavity damage.
Camp: Texas Hollow State Forest Mosquitoes!!!
Miles: 20 1772
Map: M14, M15
Wednesday, July 5, 2017
Atypically, I saw no Deer. I saw 3 Grouse and a Turkey. While descending from Connecticut Hill, Ryan and Gina filled me in all all sorts of details about the trail and places ahead of and behind me while also filling me with gourmet leftovers. Double thanks!! Connecticut Hill is so named because many Connecticut Revolutionary War Soldiers were granted land there. Life was tough and many left after 4 years. New York State bought the land and created a unique Land Management Area. Cornell U is the second largest land owner in the state after the state. Cayuta Creek, where I hiked, was once a shipping canal: I was on the towpath.
Camp: Locust Lean To
Miles: 21 1793
Map: M15, M16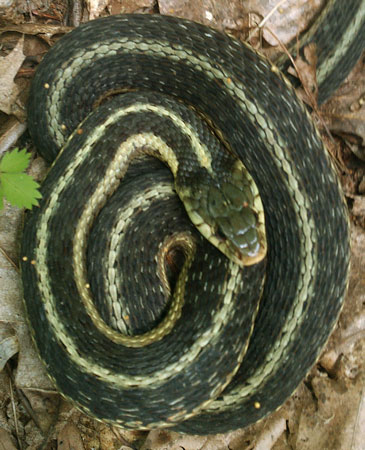 Garter Snake
Thursday, July 6, 2017
Again, I saw no Deer. I saw 2 Grouse and 4 Turkeys. Treman State Park had a mostly intact flour mill, and CCC built stone trails, bridges, and buildings in a waterfall filled gorge. I would recommend printing / carrying a park map to have enough detail to hike the most scenic route through the park. A shower and potable water were nice too. An ornithologist was studying whether a severe drought last year affected learning of bird songs. She had a $140 recorder with hinged stereo microphones that was directional enough to reject most background noise, except for wind noise. Two gals at Tamarack Lean To shared their s'mores: thank you!!
Camp: Tamarack Lean To
Miles: 21 1814
Map: M16, M17
Friday, July 7, 2017
I saw a Deer doe with three fawns. On the rail causeway were hatched turtle nests and large bird dust baths. I have often found wild mulberries, cherries, blackberries, mint, and onions to eat in the last week.
Camp: Kimmie Lean To
Miles: 19 1833
Map: M17, M18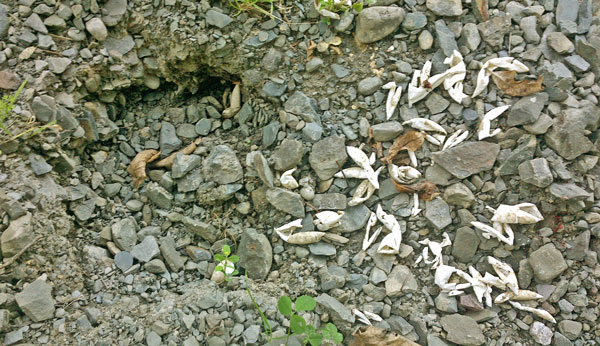 Hatched Turtle Nest
Saturday, July 8, 2017
The well groomed Schug Rail Trail was one I would have liked more info and time on. I saw there ducklings, big frogs, turtles, turtle nests, etcetera. It continues 3.5 miles northwest of where I left it and might connect to resupply via lakes, scenery, etcetera. I later saw a 14" Garter Snake and a hawk. At mid afternoon I met an invasive species ecologist at Foxfire Lean To. He explained that all local earthworms are invasive. Inside an exclosure fence, earthworm activity ceases quickly and duff biodegrades by other means, perhaps by the pre earthworm method. He currently is doing lab studies of an invasive mat algae and an insect that might be used to control it. Many of his friends arrived for a cookout / campout / reunion. There were also a couple training and trying gear and food in preparation for a September John Muir Trail hike. The socializing was good, so I quit early.
Camp: Foxfire Lean To
Miles: 17 1850
Map: M18, M19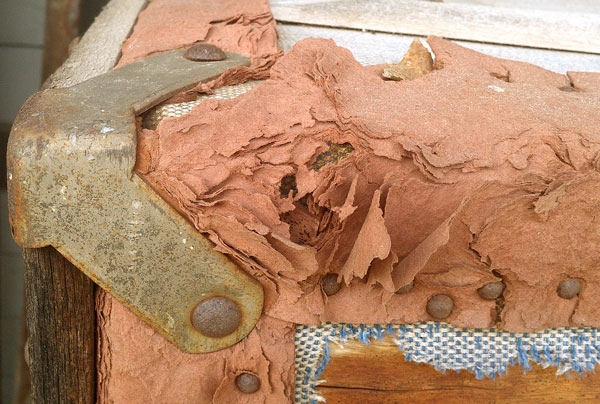 Rail Trunk Corner
Sunday, July 9, 2017
I saw two Woodchucks. A tailless house cat had me stumped when he was eating something in tall grass, but was easily identified as he ran down the gravel road. His prints were skid smears from the running and the poor track taking media. In mud I saw coon, rodent, bird, deer, dog, and hiker prints. Lindesy signed in the 23rd of June needing to leave her FLT thru hike early. Westbound North Country Trail hikers Tara and Craig signed a local register May 21, and have signed a few others.
Camp: Hoxie Gorge Freetown Road
Miles: 24 1874
Map: M19, M20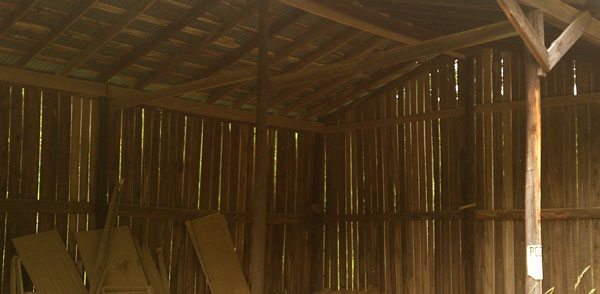 Shed
Monday, July 10, 2017
McGraw is a good resupply town. The small grocer has a deli, and there are Chinese and pizza restaurants as well. A laundromat may be my first since Hancock, Maryland, though I've laundered by hand many times. A post office, a library and a historical society are also present. The librarian had seen only one other Finger Lakes or Long Distance Hiker in her entire career. But I pulled 2005 photos and many waypoints off my GPS, and it now can take photos again. All these enterprises were within 100 yards. Map M20 mentions a hotel I didn't see. Some tall grass allowed me to observe a Turkey eating from a recently plowed field from as close as 10 yards. Other turkeys made many interesting calls and left, but also allowed suprisingly close approaches. I saw an 8" roadkilled Garter Snake. Some bushwhacking in overgrowth tore my shirt and socks. I walked ¼ mile of muddy marsh after Trout Brook barefoot.
Camp: Mount Tego
Miles: 13 1887
Map: M20
Finger Lakes Trail
Onondaga Branch
North Country Trail
New York, 2017
Tuesday, July 11, 2017
I saw fossil imprints of Crinoid Stems, and possibly other crinoid parts or other seashells. There were many excellent Raspberries, but Strawberries tasted less fuity and more astringent. There were many powerful Onions. I saw Red Wing Blackbirds and many songbirds. Two fawns ran off without my seeing the deer doe.
Camp: Campbell Hill, Maxon Creek SF
Miles: 19 1906
Map: M21, O1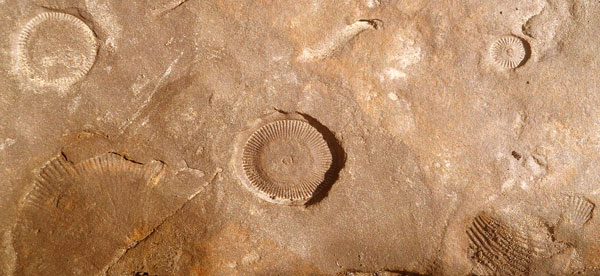 Fossils
Wednesday, July 12, 2017
A breakfast in the Lynn's Diner in Cuyler was filling and tasty. I went below Tinker Falls, where there is a trail in the cavern behind the curtain of water. It was a beautiful and memorable falls. A road was gravelled with 1-2" round river cobble. Amongst it all, I saw one stone with a hole through it. I dug it out, and washed it in the roadside ditch. The stone was a little over an inch in diameter, and a little flatter than a ball shape. One side was concave, and in the dished area, an Indian had started a hole and drilled through. The entry side of the hole is larger than the exit: The shape of the hole is the frustum of a cone. Too, the stone had a natural groove on the edge, which also had been ground, to a semi cylindrical deeper groove. I figure it to be an arrow shaft straightener, long ago lost among similar round stones, and then quarried to gravel the road. I'll need to check my pictures against a book sometime.
Camp: end of Morgan Hill SF
Miles: 18 1924
Map: O1
Thursday, July 13, 2017
I found a banana on a road walk this morning, a local guy shared his lunch with me (Thanks!!), and I bought pizza and chocolate milk in the afternoon - quite a day for eating! An owl, quite large, attracted my attention with several whoop whoop and eee eee calls. It sounded like the cockpit of a crashing plane. I saw several Grouse, one ruffing its neck. There were many Red Wing Blackbirds, one flying and chirping above me in what I believe to be a distraction display. Rain has been pouring off and on since yesterday, so the trail is drowned in water and mud. I've been amazed over the last week just how much standing water and slime can accumulate on a steep trail or on a traverse of a steep slope. When I stand still, I'm often oozing downhill. Creeks are above the boot but not difficult to cross. I came in to New Woodstock to be out of the rain for a bit, to sugar up, and to use the library internet. At the end of the Onondaga Branch and the Finger Lakes Trail System, signs had 2 interesting figures: 23 miles, or about a day, to the Canastota Erie Canal Museum, and 224 miles (11 days) to the end of the North Country Trail at Fort Point on Lake Champlain. Such figures are always in play in my mind, but to see them on a sign assures me the end is near. The Link Trail is well marked, mowed, etcetera, at least for the 2½ miles I walked today. DeRuyter Lake was dammed to keep the Erie Canal filled.
Camp: West Shore Railroad / Nelson Swamp
Miles: 21 1945
Map: O2, Link Trail PDF Printout
Link Trail
North Country Trail
New York, 2017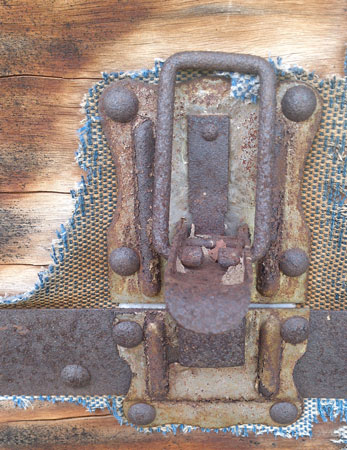 Trunk Latch
Friday, July 14, 2017
The Quarry Hill Art Park had many nice works. Cazenovia offered breakfast, stores, a library with a mummy, and a few locally informative maps from the Chamber of Commerce. I had three very informative conversations. Two local cyclists told me about today's route, and that the Erie Canal Bike Path is mostly off road and would be interesting to me as a bike ride. The Chamber of Commerce lady was quite knowledgable. A photographer and rail history buff showed me his caboose full of railroad antiques, and had many interesting tips and ideas.
Camp: before Schied Park
Miles: 19 1964
Map: Link Trail PDF Printout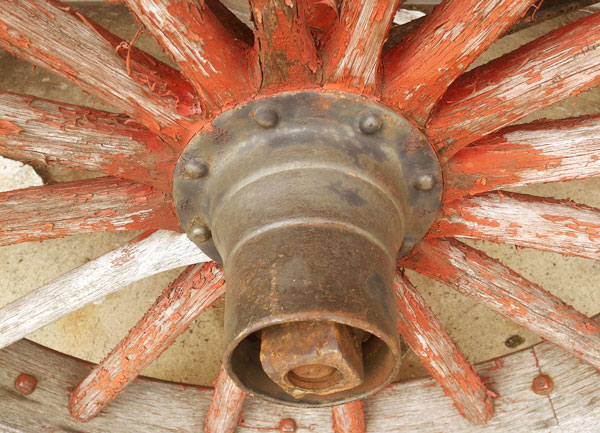 Wheel
Erie Canal State Park
North Country Trail
New York, 2017
Saturday, July 15, 2017
The route of the Erie Canal from Rome to Syracuse was flat enough to not need locks. It was therefore built first. It was tremendously successful, so was soon rebuilt wider, deeper, and straighter, and was extended to the Hudson River and Great Lakes, with many spurs. Later, it was rebuilt for bigger boats yet again. Today's walk visited all phases of development. There were many good interpretive displays in Canastota, but just a few elsewhere. With no old locks or lockhouses, there isn't much to showcase as compared to the Chesapeake and Ohio Canal, for example. I saw 3 cabin cruiser boats pass through Lock 21 of the newest version of the canal. It sees industrial traffic only occasionally now. Low bridges, growth, debris, etcetera, would block even a kayak from going through on the old canal. The stonework on some culverts was excellent, and I was impressed with the masonry where a stone wall twisted from vertical at a bridge abutment to slanted for the canal prism. There were many turtles and turtle nests. Some turtle nests seemed to me to have hatched normally, while some seemed opened by predators. But I should seek pictures from some expert, as I'm not really sure. Many frogs croaked. Canada Geese and Redwing Blackbirds were plentiful. I saw several Water Snakes of various sizes with two tone grey patterns, and a snakeskin. I saw a Groundhog and a few Whitetail Deer. There was a Bobcat scat.
Camp: before Erie Canal Village
Miles: 25 1989
Map: Link Trail PDF Printout, Erie Canal SP PDF Printout, Bike Route PDF printouts
Rome, New York
Highway 46 Road Walk
Sunday, July 16, 2017
Erie Canal Village wasn't open and didn't look too exciting anyway. I bought a cheap camera at Walmart since the power switch on my 650t GPS/Camera died. I also got a few extra duffle bags since I'll need to tree food in the Adirondacks. DEET because mosquitos and biting flies completely ignore the can of Permethrin I soaked my clothes in a week ago. A laundromat was a nice luxury. Fort Pixley was a nice stop, as was the Rome Fish Hatchery. A liitle store in Westernville offered snacks and WIFI. I saw bits of canal prism and locks from the road. I stopped again in North Western at the Half Way Tavern, so called since canal days when draft horses would be switched, passengers would eat, etcetera half way between Boonville and Rome. I told my tales, and was offered a ride to Boonville by Dave and Deb. I took the ride as far as the start of the Black River Canal Trail. The area is steep, and there were several locks. Old locks had smooth faced stone walls, as opposed to the rough faced blocks common on the C&O and Erie Canals. Newer locks were concrete. An old barn had interesting woodpecker holes in the exterior facing boards.
Camp: Black River Canal Trail
Miles: 14 2003
Map: Erie Canal SP PDF Printout, Bike Route PDF printouts
Black River Canal
Black River Feeder Canal
North Country Trail
New York, 2017
Monday, July 17, 2017
Many frogs were croaking and basking in the Black River Canal. Locks were built with smooth or rough stone, or concrete, indicating different eras of construction and repair, I suppose. No gates were left: The only wood was bits of the lock bumper lining. I walked into Boonville in heavy, cold rain. It would be an excellent resupply town, with a full grocer and two dollar stores, fast food and other eateries, a museum and library, and a B&B and pricey hotel. The museum was excellent, showcasing all of Boonville history, and the industries that shipped by canal. In addition to many good photos, maps, and antiques, there was a play area for kids with boats and a water filled canal with locks. The Feeder Canal is alternately called the Erie Feeder, the Erie Canal, or the Black River Feeder Canal. It is nearly level, has no locks, and feeds Adirondack water into both the Erie Canal southbound from Boonville along the Mohawk River and northbound along the Black River in the Black River Canal, putting Boonville at the high point of the canal. The feeder had deer, a few ducks and a turtle, but fairly little wildlife. Cold rainshowers came frequently: I wore my tarp and sat out heavier downpours.
Camp: Black River Feeder Canal Trail
Miles: 17 2020
Map: Bike Route PDF printouts
Adirondacks
New York, 2017
Tuesday, July 18, 2017
Forestport had a diner with many happy locals poking fun at each others and an excellent breakfast. There is also a small grocer with deli, suitable only for a minor resupply. Sheila and Reggie, off to kayak North Lake, gave me a ride to Stone Dam Lake Trail. Conversation distracted me, and we had to turn back to find the trail. This happens occasionally. I had decided not to follow the future North Country Trail course, as bushwhaching in heavy rain, deep mud, and swift streams seemed dumb. There are several unbuilt sections miles in length. So I'll hike near it here in western Adirondack Park for a couple of days, then hitch over to and walk the Northville Placid Trail. 106 had many blowdowns and much overgrowth. All the trails had many flooded and deep mud sections. Buzzing and biting bugs of many types were abundant, and paid little attention to DEET or Permethrin.
Camp: Sand Lake Falls Lean To
Miles: 21 2041
Map: Bike Route PDF printouts, 745
Route: Feeder Canal, Forestport, (rode North Lake Road), Stone Dam Lake Trail 106, Chub Pond, 103, 102, Gull Lake, Bear Creek or Woodhull Road, 101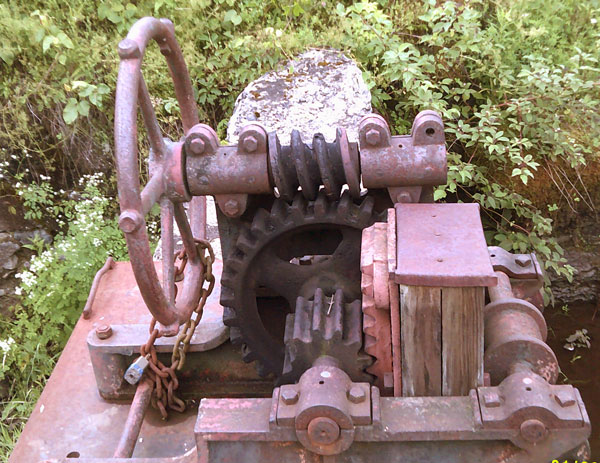 Dam Gate Gearbox
Wednesday, July 19, 2017
The Feeder Canal and all of my route since Chub Pond are snowmobile routes. Snowmobile registration fees pay to clear blowdowns and overgrowth, and to install bridges, signs, etcetera. The posted route numbers, destination names, directional / mileage signs, etcetera do not correlate well with any of my maps. It would have been useful to have had snowmobile maps. There were few blazes or mileage / direction signs aimed at hikers. The Stone Lake Trail 106 to Chub Lake (for hikers) had many blowdowns and much overgrowth, but was blazed well. I saw many small frogs, a few orange newts, and some Canada Geese. The water is often tannic but tastes clean. It is a nice swimming temperature. A doe White Tail browsed around my hammock, occasionally glancing warily at me. An hour before dawn, a nearby large tree fell, making a dozen loud reports. In the morning, I found it blocking the road. It was 22" diameter at chest height, and healthy looking, but rotten near the base.
Camp: a mile before Highway 8
Miles: 22 2063
Map: 745
Route: 101, North Lake, South Lake Road, South Lake, 109, 113, Haskell Road / West Canada Creek
Northville-Placid Trail
The Northville Placid Trail was made by the Adirondack Mountain Club in 1922 and 23, but is now maintained by the New York State Depatment of Environmental Conservation. It is 133 miles long, and connects the southern foothills with the High Peaks Area and Lake Placid.
Thursday, July 20, 2017
Speculator had several eateries and lodgings. The medium sized grocer was stocked for full, long term resupply, and sold many books and hardware items, but was pricey. I was not aware of 2013 and 2015 reroutes that replaced the long road walk on Highway 30 and Benson Road of the Northville Placid Trail, but found my way to the Woods Lake Trailhead for the 2013 reroute anyway. (So I skipped the 2015 section from Northville to Benson Road.) The trail was well marked and well cleared. There were enough stepping stones in mud holes to keep my boots fairly dry. The trail visited pretty lakes and creeks.
Camp: Silver Lake Lean To
Miles: 15 2078
Map: 745, 744s
Route: Haskell Road, Highway 8, hitch, Speculator, hitch, Northville Placid Trail from Benson Road Woods Lake Trailhead
Friday, July 21, 2017
The NPT is nice. The area is full of beaver ponds, dams, lodges, chewed trees, etcetera. I watched one work on his dam from 15' away today. Rodent tunnels here have many tidy exit holes. Some were deep tunnels, while others were shallow tunnels with pushed out roofs. Usually, I see few exit holes, and those are plugged with loose soil, especially on pushed up shallow tunnels. The store at Highway 8 has closed, but a restaurant is a little further east, and a new store has opened at the west end of Piseco Lake. I reached the Irondequoit Inn in time for dinner. I decided to celebrate a long and tough but successful hike from Alabama. Salad, steak, potatoes, squash, and cheesecake were an excellent treat. I plan to reach Lake Placid August 3rd and may not find wifi before then.
Camp: 4 miles past Piseco
Miles: 21 2099
Map: 744s
Route: Northville Placid Trail
Saturday, July 22, 2017
I had not seen hikers on tthe NPT since the Woods Lake area, 20 minutes after starting the NPT. But around 8am I ran into Thorny and Kremlin, southbound. I met Thorny last year on the Tuscarora Trail and again on the Appalachian Trail at Abol Bridge. As I walked away, I said "If I can remember your name tonight, I'll include it on the website." A moment later I heard exclaimed "Give a shout out to Kremlin, too!!" It was funny enough to stay remembered for days. Through the day I met 15 or 20 more hikers, and chatted with many. I learned much about various trails and their traffic levels and patterns (weekday versus weekend). I also found out about services available in Blue Lake Village, Long Lake, and Lake Placid, all of which will be very helpful in the coming two weeks. Loons and Gulls were calling and were visible at some lakes. I saw a 26" x 1" black Garter Snake with a red dorsal stripe. For many days, I have seen many small and a few large frogs.
Camp: Brooktrout Lake Lean To
Miles: 19 2118
Map: 744n
Route: Northville Placid Trail, Trail 50
North Country Loop
For this side trip I hiked clockwise west then east of the NPT using various trails which may one day form part of the North Country National Scenic Trail.
Sunday, July 23, 2017
I saw prints of a bear cub, some Moose, a cougar, and many deer. Old machinery and tires from a lumber camp were interesting. While crossing a beaver bog I found a few blueberries and a Garter Snake, perhaps 18" and black with a red dorsal stripe.There were bear clawed trees and calling Loons at Pillsbury Lake. Biting bugs included mosquitoes, black, deer, and horse flies, and several small types. There were many Bear scratches in the trees at camp. Beavers slapped and Loons called through the night. A shelter mouse had to be shooed away occasionally.
Camp: Pillsbury Lake Lean To
Miles: 20 2138
Map: 744n
Route: 50 northwest to Otter Brook, 51 east ascending Otter Brook and southeast past Beaver Pond, Northville Placid Trail, 46 southeast, French Louie Trail 47 southwest
Monday, July 24, 2017
Heavy rain started before dawn and continued through mid morning. I stayed in the shelter until the rain slowed. The day was cold, with occasional rain and sometimes gusty winds. It was cold enough that few bugs flew or bit - just a few tough mosquitos. I stopped at any lean to or viewpoint, but left soon to stay warm. Warm lake waters and cold breezes sent swirling mists over the water. A Ruffed Grouse did a distraction display with lots of vocalization.
Camp: North Cedar Lakes Lean To
Miles: 13 2151
Map: 744n
Route: 48 west, Sampsom Lake, Northville Placid Trail north
Tuesday, July 25, 2017
Cloud base remained below hilltops as yesterday, but there was less rain and less cold. A few biting bugs came back, but not like warm days. Towards evening I heard Barred Owl oo oo oo oo calls, then minutes later saw an Owl fly and settle on a high branch. I dropped my pack and watched for 10 minutes. He remained on the same perch, making ocasional quiet ssooook calls, and occasionally preening wing feathers.
Camp: Stephens Pond Lean To
Miles: 19 2170
Map: 744n
Route: Northville Placid Trail north, Carry Lean To, Cedar River Flow, Wakely Pond
Wednesday, July 26, 2017
A hot shower at Lake Durant (34th Flow) was great. Clean hot water and soap just do so much more than tannic creek rinses... West on 28/30 at the highway Y was a gas station store suitable for minor resupply, but I skipped this town of Blue Mountain Lake. I instead resupplied in late afternoon in Long Lake (road 28N). The medium grocer was suitable for full long term resupply, but choices would be limited and prices high. There is a hardware store, gear stores, eateries, gas stations, boat or seaplane rides, hotels, etcetera. The library was closed, but I used the wifi for email, weather, and to buy my train ticket from Lake Placid. A diner provided a big turkey dinner. On the Tarbell Road section, I saw 6 adult Turkeys and one half sized chick.
Camp: beyond Catlin Bay
Miles: 20 2190
Map: 744n, 742w
Route: Northville Placid Trail north
A 740 mile 4 state Northern Forests Canoe Trail passes through Long Lake. It promises portaging, poling, lining, whitewater, etcetera. Long Lake is a resupply town. I also ran across this trail while on the Appalachian Trail at Flagstaff Lake, Maine, June 30, 2016, with more canoe route notes July 1. The Mountaineers publishes 13 $10 maps and a $25 guidebook that seem to have enough info for a through paddler, except that info on towns / resupply is skimpy. Printing town maps or brochures or finding a town guide would be adviseable. Other maps or guidebooks might be useful supplements or allow interesting side trips. Catherine Frank's Lake Champlain seems good. The NYDEC has some sort of Adirondack water route guide or map. Pennsylvania had a water route map too. www.paddlesportpress.com sells several local canoe maps. There is a Connecticut River Canoe Map.


Bridge Cable Tensioner
Thursday, July 27, 2017
I saw a Great Blue Heron and a 2' Garter Snake of more typical beige speckles and stripes. There were several rain storms. I stopped for a good patch of Blueberries. I have found a few patches with less fruit along the NPT. The blueberries are just barely sweet enough to enjoy. There are Dogwood berries, but other summer edible berries are not out. Too cold and wet this summer, the locals tell me.
Camp: Ouluska Lean To
Miles: 17 2207
Map: 742w
Route: Northville Placid Trail north
Adirondacks High Peaks
Friday, July 28, 2017
I saw 2 2' Garter Snakes with beige speckles and stripes, one high on Adams. At Upper Works was an Iron Furnace and many interpretive displays. The furnace was large compared to others I've seen, and with later technology. It was still burning charcoal when most competitors had switched to coked coal. One house is standing, boarded up. Several other foundations later had new houses built on them: The new houses are now demolition rubble piles. I gave my water filter to a camp group of 6 teens and two guides. Their filter had clogged and they had no backup. I guessed they would need to make 24 gallons of treated water to make their trip, so this made the most sense. I gave them Potable Aqua iodine tablets as a backup. I will be using my chlorine dioxide drops backup to finish the trip.
Camp: north of Upper Works
Miles: 18 2225
Map: 742w
Route: Northville Placid Trail north, 127, Duck Hole, Lower Pond, Hunter Pond, Henderson Lake, 125, Upper Works, 124, Mount Adams (3520, lookout tower), Upper Works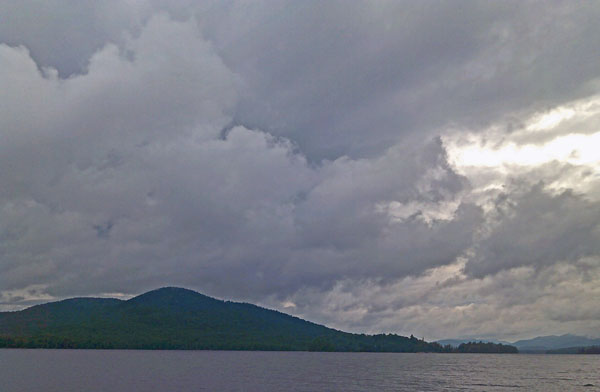 Lake
Saturday, July 29, 2017
There were many weekend hikers out. The tree cover and ecosystems changed significantly as I gained altitude. I explored some high lakes then bagged Mount Colden. The view was excellent. I could just barely see the Mount Adams fire tower I had climbed last night.
Camp: Feldspar
Miles: 15 2240
Map: 742w
Route: 121, Livingston Pond, East side Lake Colden, 68, Avalanche Lake, Avalanche Pass, 73, Lake Arnold, 74, Mount Colden, 73, Feldspar
Sunday, July 30, 2017
With a third sunny day I did some peak bagging. I saw Lake Champlain and the Green Range behind it, which I hiked last year on the Appalachian and Long Trails. Many hikers were out in the morning, but I saw no one after descending from the Haystacks.
Camp: Ore Bed
Miles: 11 2251
Map: 742w
Route / Peaks: 121, Gray 4840, 122, Skylight 4926, 1, Marcy 5344, 9, 10, Little Haystack, Haystack 4960, 9, Basin 4826, Saddleback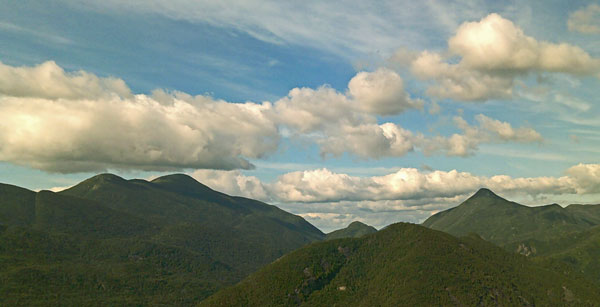 Peaks and Clouds
Monday, July 31, 2017
The tall, bald peaks seem unvisited by rodents or birds, but forested peaks have small birds flitting about. Continuing north on the great range would take me over forested, viewless peaks, so I headed west for higher peaks tomorrow. I flushed single grouse several times along Marcy Dam Road. They flew straight away, not doing distraction displays. At the lodge, my pack weighed 33 pounds, with 2 quarts of water, a day's worth of food, and maps and guidebooks back to Pennsylvania.
Camp: MacIntyre Brook, Ascent to Algonquin
Miles: 14 2265
Map: 742w
Route / Peaks: Gothics, Armstrong 4400, Upper Wolfjaw 4203, Johns Brook Lodge, Klondike Notch, Marcy Dam Road, Marcy Dam, MacIntyre Brook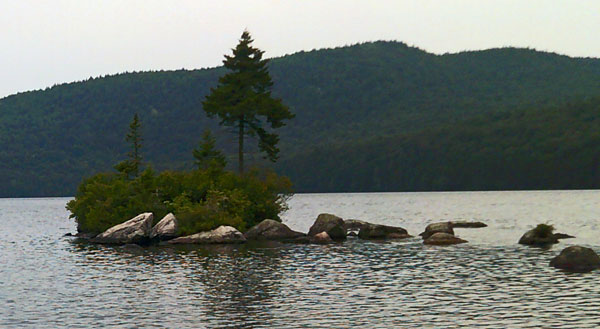 Lake
Tuesday, August 1, 2017
The peak views were still great, though the distant features were a little less clear than on Sunday. I was debating walking out early due to diminishing food supplies and increasing hunger, but Jon kindly gave me some food, even heating water so I could have biscuits and gravy for lunch. Thank you so much!! He cooks with hexamine tablets on a wire mesh stove of his own design so flames can burn from below the tablet, as well as from the other 5 faces. The hexamine leaves a sticky residue on the metal cup he cooks in. There are many 1" beige frogs, but a hansome green 3" frog was quite eye catching. The tread of my left Merrel Moab boot is separating from the foam padding under the heel, 742 miles from their purchase at Woolrich. The boots have been almost constantly somewhat wet, and the treadway is often boulder walking - tough duty for a boot.
Camp: east of Henderson Lean To
Miles: 11 2276
Map: 742w
Route / Peaks: 64, 65, Wright 4587, Algonquin 5114, 66, Boundary, Iroquois 4840, 71, 121 south then west, Lake Colden, Henderson Pond, 126 north
Lake Placid
Wednesday, August 2, 2017
I dwaddled as much as I could, savoring views and swims, but still got to the trailhead by mid afternoon, and decided to head for town. I bought food and cotton clothes for the train ride home. I ran my laundry through the washer twice: only the socks still stank. I scrubbed myself down twice, with dirt tattoos remaining on my inner calves and feet. I was unable to switch my train reservations to tomorrow, so I'll spend two nights in Lake Placid.
Motel: Lake Placid
Miles: 11 2287
Map: 742w
Route / Peaks: Wallface, Indian Pass, Rocky Falls, Heart Lake
Thursday, August 3, 2017
I visited the bus stop, several stores, Mirror Lake, and the library as I explored the town. I had thought I might buy a book about Adirondack history, geology, ecosystems, and etcetera, but one store stocked 40' of shelf space not including hiking guides or picture books. I was too tired to sort through them all. Rain began at noon, so I hid in the motel room and edited this journal.
Motel: Lake Placid
Miles: 1 2288
Train to San Diego
Friday, August 4, 2017
Lake Champlain south of Westport had 2' swell and whitecaps on a fairly calm day. Paddling would be pretty, though. South of Ticonderoga, the dredged river navigation channel was brown with silt. There were pretty and probably wildlife rich wetlands all through: I saw several Great Blue Herons. West of Scenectady, clouds above the reflecting Erie Barge Canal were pretty.
Train: Bus: Lake Placid to Westport
Train 68 Adirondack: Westport, NY - Schenectady, NY
Train 49 Lake Shore Limited: Schenectady, NY - Chicago, IL
Saturday, August 5, 2017
In Chicago Union Station I met a guy who had just hiked the Appalachian Trail southbound from New York to 50 miles south of Shenandoah NP. At Front Royal, he had foot problems and exchanged his boots for a pair in the hiker box. A few days later, the guy who had left the boots recognized them and struck up a conversation. Still later, the guy I met recognized the shoes he had left behind on a young fast guy...
Train: Train 49 Lake Shore Limited: Schenectady, NY - Chicago, IL
Train 3 Southwest Chief: Chicago, IL - Los Angeles, CA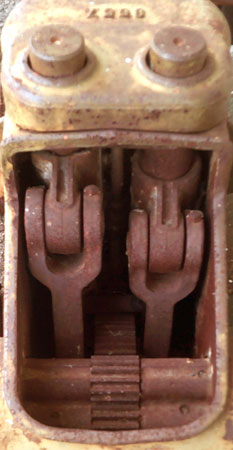 Compressor
Sunday, August 6, 2017
Much of the route was along the historic Santa Fe NHT. In a National Park System trivia contest, I won a booklet about the trail. I saw Mule Deer, Elk, Pronghorn Antelope, Prarie Dogs, Hawks, and a Great Blue Heron. Many boy scouts got on or off the train at Raton for Philmont.
Train: Train 3 Southwest Chief: Chicago, IL - Los Angeles, CA
San Diego
Monday, August 7, 2017
I reached San Diego mid afternoon and met Don. We hung out, ate taco stand food, began my resupply at Costco, and eventually drove up to Gene's Ranch. I learned with great sadness of the passing of my friend Doctor Nip Shah, an engineer who loved both the analyasis and the building of things. He was my top partner in the Human Powered Submarine Design Contests, and in the Water Bottle Rocket events. I saw an Owl.
Train: Train 3 Southwest Chief: Chicago, IL - Los Angeles, CA
Train 768 Pacific Surfliner: Los Angeles, CA - San Diego (Downtown), CA
Tuesday - Wednesday, August 8 - 9, 2017
A stiff breeze from the Pacific Ocean kept Jamul from being uncomfortably hot. I began gathering gear for my upcoming Sierra Nevada trip. I also began the editing of the files and photos for this website.
Thursday, August 10, 2017
Don W and I shopped for hiking food and equipment in El Cajon, then split a rack of ribs for a late lunch.
I picked up beach stuff at Marie's in Carlsbad, bought some food, and headed for a family reunion in a beach house south of the Oceanside Pier. There was plenty of good conversation and carne asada tacos, corn on the cob, and rice for dinner.
Attendees:
Mom/Lauralynn
Lisa, Jorge, Jorge, Afaf
Julie, Michael
Dan/Me
Marie, Roy, Kate , Puffy Dog
Bob, Jodie, Bodie
Friday, August 11, 2017
I walked north to Oceanside Pier with Jorge Senior. For a few blocks we used the sidewalk as the surf was up to the seawall. I took several swims. The water was 68°F but the surf form was sloppy. The day was mostly cloudy. We had a pinata for Eva, Roy's niece. We visited REI, where I bought boots, maps, and socks for upcoming trips.
Miles: 3 2291
Saturday, August 12, 2017
I awoke well before dawn and walked south to the power plant inlet. We later went paddleboarding at Agua Hedionda Lagoon on Marie's inflatable boards. It was the first time stand up paddleboarding for me and for a few others. Snowy and Great Egrets were hunting quite successfully in boils of bait fish adjacent to the marsh grasses at the east end of the lagoon. Tammy, Vicky, and Dorothy visited, and later Barb C. We again ate home cooked California Mexican food and 'smores. On this weekend many Dolphins swam within a couple of hundred yards of the shore, and many Pelicans flew by. Birds feeding in the sand and surfline were fewer than I might expect. MODIS shows Butte, Indian, and Empire fires burning in Sierra Nevada areas I plan to hike through soon.
Miles: 6 2297
Sunday, August 13, 2017
I again woke early and walked south to the power plant inlet. We packed up, walked the beach, swam one last time, and headed to Vista and an excellent lamb barbacoa lunch with my mom. I continued the Mexican food theme by getting tamales, pastries, etcetera to feed myself for a few days in Jamul.
Miles: 6 2303
Monday - Tuesday, August 14-15, 2017
I added photos to all my web pages for the east coast / completed hikes, and packed and planned for the upcoming Sierra Nevada hiking.
Wednesday, August 16, 2017
I had some errands to run near the coast, but with plenty of extra time, I walked along the mud flats of the San Diego River, around the west side of Mission Bay and in the surf wash of Mission Beach, through Torrey Pines and in the surf wash, and several trails in the delta area of the San Dieguito River.
Miles: 18 2321
Thursday, August 17, 2017
I walked around the east side of Mission Bay, ran a few more errands, and stayed with Jim in Del Mar.
Miles: 8 2329
Friday, August 18, 2017
Jim, Judy, and I kayaked from South Mission Bay. The ocean had too much chop, and motor traffic in the bay was heavy, so the paddle wasn't much to brag about.
Miles Walked: 1 2330
Miles Kayaked: 4
Saturday, August 19, 2017
Jim and I kayaked from South Mission Bay to Crystal Pier. A Harbor Seal popped up to check us out, Dolpins were feeding at a lazy pace, and Brown Pelicans were flying and feeding several places.
Miles Walked: 10 2340
Miles Kayaked: 10 14
Sunday - Monday, August 20 - 21, 2017
I packed for my upcoming Sierra Nevada trip and cleaned up the trailer in Jamul. I then headed to Del Mar to meet Jim, so that tomorrow we could drive north and start my next trip in the Sierra Nevada.
Brutality:
2017 Eastern States Hike Thoughts
Hiking Trail Quality
A few trails were of excellent quality, with easily walked tread, cleared of overgrowth and fallen trees, with good signage and current maps, etcetera. Many were nothing but miles of loose boulder piles, covered with foot tangling vines, blowdowns, etcetera. Or had one 50 yard long mud hole after another for days. It was usually difficult simply to walk on the trails. But there were almost always plenty of blazes, and I was almost never lost for more than a few minutes. The maps I brought were enough to navigate, resupply, etcetera. I always supplement the directions I carry with locally obtained brochures and with conversations with locals. These rarely result in accurate navigation information, but often are a treasure trove of ideas on local resupply businesses, and local history, natural history, interesting sites to visit, etcetera. There were many interesting sites along the trails.
Weather
Rain was a major issue on this hike. Most of the trip, it rained hard for hours two days out of three. Humidity was usually near 100%, making drying of gear difficult. Clothing and bedding often had potent mildew smells. Skin often had rashes from moisture and friction. My feet had pitting on the soles, athlete's foot, skin worn shiny, infected hangnails, etcetera, all largely caused by walking wet and muddy throughout the trip. Boot soles were delaminating from uppers. High humidity kept my reading glasses foggy for days at a time, limiting reading to checking maps or other navigation data.
GPS Garmin 650t
For the first half of the trip, the GPS had the annoying habit of resetting many options at random, often requiring 10-15 minutes of surfing menus trying to return the device to a working, useful configuration. Later, it refused to take pictures after 2000 were in storage, and I had to find a computer to resolve the issue. Finally, the power button rubber cover wore through and fell out.