Sierra Nevada Range, California, 2017
Between August 21st and about September 30th, I plan to be hiking in the Sierra Nevada Range. I'll first hike with Jim, a friend from my engineering days, and then I hope to hike from the Dome Lands Wilderness at the south end of the range to Lake Tahoe, mostly on lesser used trails west of the Pacific Crest Trail.
I'll want to buy USFS maps Dome Lands Wilderness and possibly South Sierra Wilderness.
Monday, August 21, 2017
Gene and I watched the Solar Eclipse from Jamul. We projected the eclipse on a sheet of cardboard with the spotting scope of a parabolic reflecting telescope. I also projected a good image just making a crude pinhole by curling my thumb and forefinger in a tight OK sign shape. We had lunch in El Cajon with Don, then Gene dropped me at Jim's place in Del Mar Heights. Gene got the tour of Jim's Machine and Electronics Shops.
Tuesday, August 22, 2017
Jim and I drove to the Taboose Creek Trailhead, picking up a permit but not finding the Dome Lands Wilderness Map I'll want after Jim leaves in a week. We visited the Cottonwood Charcoal Kilns. There were Bats and Dragonflies around the camp. There were many old can dumps.
Camp: Taboose Creek Corrals, +11s04 11s103
Maps: 205n
Wednesday, August 23, 2017
We needed to adjust to altitude, so we took many long breaks. The trail ascends continuously from the Owens Valley floor at 5200 feet to Taboose Pass at 11,400'. It starts in Sagebrush and tops out in fairly sterile alpine terrain. There is plenty of loose footing and overgrowth. The trail is usually high above the creek. By the top I was short of breath, and had a headache, nausea, compromised visual processing, reduced balance, and reduced mental acuity. We saw a Yellow Bellied Marmot and a Jackrabbit. I heard Pika, and saw scat of Bighorn Sheep.
Camp: West of Taboose Pass
Maps: 205n
Route: Taboose Creek and Pass
Miles: 8
Thursday, August 24, 2017
We saw a Mule Deer Doe. Hiker traffic on the PCJMT was nearly continuous. We headed to a lake between Mount Ruskin and Peak 12,212' which Jim remembered fondly from a previous hike. A large boulder there has sheltered spots beneath it. I had lessened altitude issues, but breathed hard on the final ascent and threw up soon after reaching camp, though I hadn't felt sick until just before arriving.
Camp: Lake between Mount Ruskin and Peak 12,212'
Maps: 205n
Route: Taboose Pass Trail, PCJMT, Cross Country
Miles: 6 14
Friday, August 25, 2017
We enjoyed the high country and lake swims. Jim found a large balanced slab. Vennacher Pass is easy enough to follow westbound, but looked like it might be hard to find the right ledges eastbound. We saw scat of marmots everywhere, and a few jackrabbit tracks.
Camp: Lakes Basin north of Cartridge Pass
Maps: 205n
Route: Cross Country above camp, then desending to a lake, ascending to another lake, over the pass south of Vennacher Needle, and descending into Lakes Basin
Miles: 5 19
Saturday, August 26, 2017
After crossing Cartridge Pass, Jim wanted to explore the ridgeline to the west and camp high. I wanted to wander the beautiful lakes below. So we separated for the night. The west lake had interesting ice bergs calved from snow banks, and I enjoyed watching the light refracted through waves projected on lake bottom stones. In one case, a bug buzzing on the water's surface caused concentric waves.
Camp: Westernmost Lake South of Cartridge Pass
Maps: 205n
Route: Cartridge Pass, XC
Miles: 3 22
Sunday, August 27, 2017
It was easy enough to bushwhack along the South Fork Kings - maybe one could walk down to Woods Creek confluence and Trail. I got a nice picture of a speckled trout. A hummingbird hovered less than an inch away to check out my red jacket.
Camp: Westernmost Lower Lake a mile west of Striped Mountain
Maps: 205n
Route: XC, Old John Muir Trail / South Fork Kings River, JMPCT, Taboose Pass Trail, XC
Miles: 9 31
Monday, August 28, 2017
We walked cross country on the south side of the pass, and visited the lakes and cliffs southeast of Taboose Pass. We then descended and drove to Lone Pine for a filling Mexican dinner. Elevation (store) had not located a Dome Lands Wilderness Map. I laundered, showered, and repacked with a large food supply we had taken up from San Diego. I was hard at work until the other guests went to bed about 9pm.
Camp: Hostel in Lone Pine
Maps: 205n
Route: XC beyond Taboose Pass, Taboose Pass Trail
Miles: 10 41
Mount Whitney Forecast
Tuesday
A 20 percent chance of showers and thunderstorms after 11am. Partly sunny, with a high near 66. South southwest wind around 8 mph.
Tuesday Night
A 20 percent chance of showers and thunderstorms. Mostly cloudy, with a low around 39. West southwest wind 6 to 8 mph.
Wednesday
A 40 percent chance of showers and thunderstorms. Partly sunny, with a high near 69. West wind 6 to 9 mph becoming south in the morning.
Wednesday Night
A 40 percent chance of showers and thunderstorms, mainly before 11pm. Partly cloudy, with a low around 41. West wind 6 to 8 mph.
Thursday
A 20 percent chance of showers and thunderstorms after 11am. Mostly sunny, with a high near 70. West southwest wind 6 to 8 mph becoming southeast in the afternoon.
Thursday Night
Partly cloudy, with a low around 43.
Friday
Mostly sunny, with a high near 70.
Friday Night
Partly cloudy, with a low around 43.
Saturday
Mostly sunny, with a high near 68.
Saturday Night
Partly cloudy, with a low around 42.
Sunday
Mostly sunny, with a high near 67.
Sunday Night
Mostly cloudy, with a low around 43.
Labor Day
Partly sunny, with a high near 65.
Empire Fire Aug 29
Trail Closures: Ostrander Trail is closed starting at Glacier Point Road, Bridalveil Creek campground to the second junction with the Ostrander trail. Additionally, from Westfall Meadow to the Turner junction, along Alder Creek remains closed. Bridalveil Trail to Turner Meadow Junction is closed. Signs are placed at the affected trails. There are no threats at this time to infrastructure at Bridalveil Campground. The smoke will be visible from the high country and may be seen from multiple viewpoints in the immediate area off Glacier Point Road. Bridalveil Camp Ground is open to the public.
Indian Fire Aug 29
There is direct and indirect handline around the entire perimeter of the fire. Pumps and hoselays are in place to continue securing handlines and protect nearby cabins in Long Canyon and Ninemile Creeks if needed. Mop-up operations continue on hot spots on the interior of the fire to further secure the handline.
Crews have begun fire suppression rehabilitation to mitigate or eliminate environmental resource impacts caused by the fire suppression effort and rehab the area to as natural conditions as possible.
The forest has ordered a closure of the following trails due to the fire and the substantial hazard created by falling snags:
· Casa Vieja to Redrock Meadows via Jordan Hot Springs
· Casa Vieja to Redrock Meadows via Lost Trout Creek (Beer Keg Meadow)
· Redrock Meadows to Templeton Cow Camp
· Redrock Meadows to Little Whitney Meadow
Butte Fire inactive and trail closures lifted.
There are 4 lightning spot fires in the Jennie Lakes Wilderness with no trail closures.
Tuesday, August 29, 2017
The ricketty bunkbed sqeaked and swayed whenever the guy on the lower bunk rolled. The other beds did the same. I was across the wall from the noisy truck trsffic on US395. It was not the greatest night of sleep. At dawn I went out for breakfast. Most guests had left by the time I returned. There were some great hiker box food supplements, and I bought bread, fruit, and cheese at the grocer. There was much work to be done before 10am checkout, plus going 1½ miles south for permits. The permit computer system is coded for people who walk a few miles in. Each time I get a long trip permit on back trails is a difficult process of the ranger rejecting one campsite after another because it's not coded as an option. It's frustrating and takes much longer than other people's permits. I got a two stage hitch to Horseshoe Meadows. Icy rain, hail, and lightning stopped me in early afternoon. I had cut all the rotten old shock cord guy lines from my hammock and silnylon tarps last night, thinking installing new line would be a pleasant afternoon break. But I ended up with the tarp draped over me and my gear while I tied on lines from below. Then I found and set a camp, only to see the rain end. It looked like it might restart, so I decided this would be a resting and chores day.
Camp: East of Big Whitney Meadow
Maps: THGTW, 205s
Route: Horseshoe Meadows, Cottonwood Pass
Miles: 6 47
Wednesday, August 30, 2017
Rain fell off and on through the night. The sky began to clear during breakfast, so I headed west. Thunder began at noon and continued frequently until two, when the sky was dark and rain began. I set a camp, but the rain and skies cleared. I hiked on, with just one more short rain shower. I am well north of the Indian Fire and its trail closures. But smoke and haze were present all day. Perhaps because of the fire, some blowdowns had been cleared from these remote and little maintained trails. I saw many 5⁄8" frogs of many colors and patterns, and a hawk. There were wooly sunflowers in Big Whitney Meadow. A horse party was using Little Whitney Cow Camp.
Camp: West of Natural Bridge
Maps: THGTW, 205s
Route: Big Whitney Meadow, Little Whitney Meadow, Natural Bridge
Miles: 15 62
Thursday, August 31, 2017
The soda water was great. A large crew was camped at the ranger cabin. They were removing invasive velvet grass from Kern Canyon. Smoke from the Indian Fire was present as haze, orange sunlight, and a strong scent most of the day. I saw a dead Marmot, and many Black Bear scratched trees. Many bats flew over my camp.
Camp: Saddle Between Rifle and Pistol Creeks
Maps: THGTW, 205s
Route: Golden Trout Creek, Soda Spring, Kern Ranger Station, Coyote Creek / Coyote Pass Trail, Coyote Pass
Miles: 10 72 (Hard earned miles!!)
Friday, September 1, 2017
Overnight, a little rain fell, and there was much lightning to the east. There was thunder and some rain through the afternoon. North of Broders Cabin Site, there was much snow in the canyon or the trail to Mineral King road end. There are still many snow plants with live stalks, but the bracts are long gone and the flowers are drying up. A Snow Survey tower along Wet Meadow Creek was on its side. A cabin ruin on ascent from Wet Meadow had some wood shingle sheathing intact, and some glass bottles.
Camp: Hunter Creek (Excellent Black Bear habitat, lots of dry scat, two excavated bear beds)
Maps: THGTW, 205s
Route: Broders Cabin, Wet Meadow, Hunter Creek
Miles: 11 83
Saturday, September 2, 2017
I saw a Yellow Bellied Marmot and several Mule Deer. One was a buck with large antlers in velvet. Stellers Jays were common on the ascent from Atwell. 1½ miles east of Atwell is the Silver City Resort with groceries, meals, and lodging, but I didn't visit. Atwell Campground has trash, potable water, bear lockers, and toilets. It is built among the stumps of many Giant Sequoias, and there is a pump and pullleys from the mill. I passed through the East Fork and Atwell Groves of Sequoias, and saw many large trees. It's amazing to me how much of the base can burn away and still leave a heathy looking tree. One reddish brown Hornet was digging a tunnel in the trail. She rotated between digging deep in the tunnel, closer to the mouth, and outside the tunnel. Inside the tunnel, she threw dirt up the tunnel between her legs, like a dog. Then she backed to the pile she had just made and started again. Outside the tunnel, she threw the pile in all directions, I suppose to keep the pile from advertising her presence. There were many Ant Lion funnels, including several in a bird dust bath.
Camp: Beyond Paradise Ridge
Maps: THGTW, 205s
Route: South Fork Kaweah Meadow, Sand Meadow, Hockett Meadow, Atwell-Hockett Trail, Atwell Mill, Paradise Ridge Trail
Miles: 18 101
Sunday, September 3, 2017
Yesterday's ascent to Paradise Ridge was pretty and on well maintained and continuously steep switchbacks, but today's decent on the Paradise Ridge Trail to Redwood Meadows Grove was a pointless and endless grind up and down deep, dusty sandy grooves. I see no need ever to repeat it. Redwood Meadow Grove has many beautiful big Sequoias, and is always worthy of visiting. All today's route after Redwood Meadows was a rich, lush version of San Diego's Oak, Pine, and Chapparral lands, so I feel quite at home. I saw several Deer. One grapefruit sized underground Hornet nest had been dug out, with paper and combs laying about, but the yellow and black striped colony were hard at work on a new chamber with a tunnel from the back of the old chamber. There was a great deal of smoke from a new 4000+ acre fire south of here. Rain fell off and on through the afternoon. Hoards of bugs flew in front of my face, and I had to wave my hand like a windshield wiper constantly to keep from inhaling them and to keep them from landing in my eyes.
Camp: Middle Fork Kaweah Trail
Maps: 205s
Route: Paradise Ridge Trail, Middle Fork Kaweah Trail
Miles: 16 117
Monday, September 4, 2017 (Labor Day Craziness)
I walked down to the highway and Hospital Rock. This site of an Indian Village has many morteros in a large boulder above the river. The area is rich in nut bearing pines, acorn bearing oaks, and heavily fruited manzanita. The Kaweah probably has many fish, and deer are abundant. A huge rock slab with several supports makes a large shaded area almost high enough to stand in. On it are red pigment pictographs. A nice Chinese couple gave me a ride up the hill. We climbed Moro Rock, and discussed similarities to hiking on Hua Shan and the Hreat Wall of China. The view was great, and I could see Moro Rock most of yesterday. The museums at Giant Forest and Lodgepole displayed mostly storyboards, and few interesting artifacts, so someone who had done their reading beforehand could skip them. Lodgepole is a fine place to resupply. There is a post office, and the visitor center had a backcountry permit desk with a ranger who was conversant with most wildfires and happy and quick to look up others towards Yosemite. The new wildfire to the southwest of Hockett Meadow is called Pier. The spot fires in the Jennie Lakes Wildernes I'll visit tomorrow are still of little concern. The fires in the west of Yosemite are still big. There are perhaps 4 small fires with no area / trail closures and limited potential for spreading along my route. At Lodgepole, one can buy pizza, sandwiches, and burgers, and take showers and do laundry. The store is of medium size but the stock is hiker friendly and I could easily resupply for a week or more. There is no wifi or cell service, and not many electric outlets. A bear locker south of my camp had been condemned due to hantavirus risk. A mule Deer doe let me walk within 10'.
Camp: Junction JO Pass and Twin Lakes Trails
Maps: 205s, n
Route: Middle Fork Kaweah Trail, rides, Moro Rock, Northbound from Lodgepole
Miles: 8 125
Tuesday, September 5, 2017
I saw Woodpeckers, Chipmunks, and a Lizard. I found some thimbleberries and one great strawberry.
Camp: Marvin Pass
Maps: 205s, n
Route: JO Pass, Jennie Lake, Poop Out Pass, Poison Meadow, Weaver Lake (swim), Rowell Meadow, Marvin Pass
Miles: 16 141
Wednesday, September 6, 2017
Mitchell Peak had great views and foundations for a fire tower. All trails were recently cleared of blowdowns and in good shape. The Commanche Meadows area had many old standing and fallen dead trees, and good regrowth. It might be the place Jim and I saw burning from the top of the Copper Canyon Trail years ago. I should check the wildfire history. I saw a Mule Deer Doe.
Camp: Lookout Peak
Maps: 205s, n
Route: Mitchell Peak, Kanawyer Gap, Williams Meadow, Commanche Meadow, Pond Meadow, Rowell Meadow, Marvin Pass, 13s12, Horse Corral Meadow (insulators), Summit Meadow
Miles: 18 159
Thursday, September 7, 2017
Cedar Grove has a smaller store than Lodgepole, but has all categories of food and could be used for a one week resupply easily enough. I had breakfast and lunch at the order window. I loaded my website and checked email and weather on the wifi there. There were showers, laundry, hotel, and a visitor center. I met two other hikers who had walked from Cottonwood Pass!! They are on a Soloman Route, which terminates at Glacier Point on the south rim of Yosemite Valley, and is named after a progentor of the John Muir Trail. The ascent from Cedar Grove had burned recently, but had probably been a pleasant pine / oak / chapparral system before the fire. In spite of the corrals at Cedar Grove, none of today's trails had been excessively beaten by stock use.
Camp: Frypan Meadow
Maps: 205n
Route: Lookout Peak, Cecil Trail, Cedar Grove Village (resupply), Hotel Creek Trail, Lewis Creek Trail, Frypan Meadow
Miles: 13 172
Friday, September 8, 2017
Kennedy Canyon was desolate and beautiful. The cairned route disappeared in places, but cross country walking was easy and pretty. There were many mosquitoes, and in the stream were many small trout.I saw a buck deer. Ascending and descending Dead Pine Ridge there were intermittant drizzle, light hail, and thunder. A double rainbow formed. Heavy hail started at West Fork Dougherty Creek, so I set my camp. Blue skies returned as soon as my hammock was ready, but with an hour of daylight left, I climbed in my bag for the night.
Camp: West Fork Dougherty Creek / Pond
Maps: 205n
Route: Kennedy Pass, Kennedy Canyon Trail, Dead Pine Ridge
Miles: 12 184
Saturday, September 9, 2017
My tablet turned itself on and wasted most of its battery life in my pack today. A trail crew in Simpson Meadow has fixed the trail all the way up the Tehipite switchbacks - many thanks. I saw a Mule Deer Doe.
Camp: Middle Fork Kings River
Maps: 205n
Route: Glacier Valley, State Lakes, Simpson Meadow
Miles: 18 202
Sunday, September 10, 2017
My tablet again turned itself on and wasted more of its battery life. I met the Le Conte ranger on a loop through the Ionian Basin, down Blue Canyon Trail, and returning through Tehipite and Simpson. The Ionian and Blue Canyon route were Class 2+ with lots of brush on the trail. The Enchanted Gorge route from Middle fork Kings to Ionian Basin is also Class 2-3 and brushy. The Pier Fire is now 17,000+ acres. There are no new fires along my route. I climbed from the Middle Fork Kings at ¼ of 4 over ther crest at ¼ of 7, perfect but accidental timing to hike in the shade.
Camp: ~Gnat Meadow Plenty of gnats all day!!
Maps: 205n
Route: Tehepite Valley, Switchbacks
Miles: 10 212
Monday, September 11, 2017
The trail north of Crown Meadow disappeared often. Eventually, I decided just to ramble eastward and enjoy the day. I ran into bits of trail occasionally. There were two thunder and rain storms, one after dark. Both batteries for my camera are dead.
Camp: Kettle Ridge
Maps: 205n
Route: Crown Valley, cross country
Miles: 10 222
Tuesday, September 12, 2017
Kettle Ridge had great views, a Deer, Pika, and Grey Jays. Blackcap Trail had recently been cleared of blowdowns and waterbars were repaired. I saw a hawk.
Camp: South Post Corral
Maps: 205n, 809s
Route: Kettle Ridge, Hummingbird Lake, Crown Basin, Blackcap Trail 29e03, Big Maxon Meadow Cabins pix 2015, Gaging Station and Snow Survey Cabin
Miles: 15 237
Wednesday, September 13, 2017
I saw a hawk and some grouse. Burnt Corral and Thompson Lake Trails were disapearing from neglect. Florence Lake Picnic Area had toilets and trash. The store doesn't sell food and was closed for the season anyway. The lake is empty while the dam is being coated on the lake side.
Camp: Hooper Diversion Road / South For San Joaquin River
Maps: 809s
Route: Blackcap Trail 29e03, Post Corral Meadow, Burnt Corral Meadow Trail, Thompson Lake Trail, Florence Lake Trail, Roads, Hooper Diversion Road.
Miles: 20 257
Thursday, September 14, 2017
The trail to Poison Meadow could be followed with care, but northbound from there I didn't find it. I cross countried to Bear Creek Diversion Dam easily enough. Two guys camped there had many questions and shared some orange juice and beer, making a great rest break. I headed up Bear Creek Trail, and looked usuccessfuly for the Poison Meadow Trail. Two guys hunting were trying to find it and the ? Lake Trail, which other hunters said could be hiked once they had found it. The Bear Creek and Bear Creek Cutoff Trails were in good shape. I got to work at Vermillion Valley, charging batteries, searching the hiker box for food, showering, laundering, and eating a steak, salad, potato, broccoli, strawberry pie, and ice cream, all the whiletalking with other hikers. The campfire was nice. I reviewed Aria Zoner's The Hot Springs Trail Official Guidbook. The trail descriptions, maps, and resupply information all seem well written and useful. I reviewed Tom Harrison's Sierra National Forest Map. Huntington Lake is between Dinkey Lakes, Adams, and Kaiser Wilderness Areas, all with good hiking. I need to acquire a map of the area.
Camp: Vermilion Valley Resort
Maps: 809s
Route: Hooper Diversion Road, Poison Meadow Trail, Poison Meadow, Cross Country, Bear Creek Diversion Dam, Bear Creek Trail, Bear Creek Cutoff Trail, Roads below Lake Edison Dam
Miles: 11 268
Friday, September 15, 2017
The night was bitterly cold. I was able to assemble 5-6 days worth of balaced nutrition from the hiker box, including fresh bagels and tortillas, with good options left behind. I added an apple and a cheese block from the store. I had steak, eggs, hash browns, and biscuits and gravy for breakfast, and fish and chips for lunch. In spite of generous portions at three meals, I never felt full. That surprised me because I was pretty happy with how much I was eating on the trail. There were many trucks at the trailhead, probably for the deer and bear gun season, starting tomorrow. I stopped early and sewed orange and pink flagging to my hat. A JMT hiker and former Coast Guard helicopter paramedic had done much research and testing on his gear and had some interesting comments. On the AT south of the Smokies in a side by side test, a SPOT was not able to push a location to satelite for over 6 hours, while the Garmin In Reach pushed a location through every two minutes for 24 hours consistently. He had a system using standard Lithium Ion cells, the diamter of a penny and a few inches long, to charge electronic devices. He had several cells, a flashlight, and chargers for AC-cell, solar-cell, and cell-USB. He claimed that since the cell could accept the full current availble from the solar panel, whereas a phone or similar device might limit the charge current, he could recover more solar energy with the cells. But efficiencies of voltage conversion and charging circuits, and of the cells, ought to be considered. He said 3800 mAH cells were state of the art, and recent 5000 mAH claims were dubious.
Camp: Ascent from Hendrick Meadow, Creek, 9500'
Maps: 809n
Route: Onion Spring Road, Margaret Lake Trail
Miles: 8 276
Saturday, September 16, 2017
Arch Rock was close to the trail. Nearby were several balacing rocks, interesting holes in granite, sedimentary slabs that rang nicely, and foamy lava. Beyond Arch Rock most trails were disappearing: following them was often less efficient than cross country. Many trees and a somtimes featureless horizon made navigation tougher. I saw some Grouse and talked with one hunter. Glass, aluminum, and iron remained at a cabin site east of Rube Meadow.
Camp: Bluff east of Middle Fork San Joaquin River, Balloon Dome to South
Maps: 809n
Route: Margaret Lake Trail, Arch Rock, Muir-Adams Divide, Pincushion, Miller Crossing Trail, Rube Meadow (cabin site), Cross Country
Miles: 20 296
Sunday, September 17, 2017
There was a great deal of gear, trash, and food of every type and age abandoned at Miller Crossing campsites and in the broken into and decrepit SC Edison cabin. I hauled out some of the stuff that would cause nuisance animal problems. The ascent was uneventful and took 4 hours to the bridge and road. There were many blowdowns, but the trail was easy enough to find and much better than on the east side of the river. Many hunters were driving about.
Camp: a few mile up the Walton Trail
Maps: 809n, 206s
Route: XC, Miller Crossing Trail, Roads, Clover Meadow (trash, potable water), Walton Trail
Miles: 14 310
Monday, September 18, 2017
A hunter showed me a heathy looking buck he had shot, still in tidy velvet. He said western bucks tend to develop two big fork tines, while other points remain small. Once in Moraine Meadow, there was pleasant smelling smoke from the fires, and some haze. It gave me a small headache, which I controlled with aspirin. There are some trail closures along Glacier Point Road. I saw some Grouse, two Mule Deer does, and Black Bear fresh footprints.
Camp: Illouette Trail
Maps: 206s, THYHC
Route: Walton Trail, Fernandez Trail, Fernandez Pass, Moraine Meadow, Merced Pass, Illouette Creek Trail
Miles: 19 329
Tuesday, September 19, 2017
Yosemite Valley Craziness
A grouse let me take photos from a few feet away. Yosemite craziness started when I was 5 miles from the trailhead and realized the John Muir Trail had once been paved with asphalt. On the Mist Trail were many hiker jams, as well as frightened or exhausted people. The valley and the busses were jammed with people. The Wilderness Permit Ranger got a big smile when I outlined my route and he pointed out the locations of several insignificant fires. There are no closures. A few bears have started approaching hikers as fall hyperphagy sets in. The permit was free and much easier than in Lone Pine, as I had only to specify beginning and ending points and dates, not to negotiate a camp site for every night. At the grocer, a half roast chicken, about a pound, and ice cream, did not satiate my appetite, so I got a cheeseburger as well. In addition to a full load of staples, I packed out a tomato, an avocado, an Itallian sub, a big burrito, a loaf of wheat bread, and a wedge of cheese. I saw a 30" black snake with beige stripes near Mirror Lake. From the switchbacks, I could see a column of smoke was rising across the valley.
Camp: Snow Creek Trail
Maps: 206s, THYHC
Route: Illouette Creek Trail, JMT, Nevada Falls, Vernal Falls, Busses, Mirror Lake Trail, Snow Creek Trail Switchbacks
Miles: 14 343
Wednesday, September 20, 2017
Yosemite North Wall Viewpoints
Indian Rock is a nice arch, and views north are nice. On descent to Norh dome I met ? who told me much about the Israeli National Trail, which he had done three times. He and his son ? are hiking here for a week. I hiked out to all the viewpoints, named or not. It was a great hiking day. I could see the smoke plumes beyond the south rim, and concluded they were small and distant enough I should have done the same on the south rim before resupplying. The canyon is quite a spectacle. Eagle Peak was the best view, with Nevada Falls and all of today's hike in view.
Camp: El Capitan Gulch
Maps: 206s, THYHC
Route: Snow Creek Trail, Indian Rock, Indian Ridge, North Dome, Yosemite Point, Yosemite Falls, Eagle Peak, El Capitan
Miles: 20 363
Thursday, September 21, 2017
It snowed through the night, accumulating an inch of wet, sticky snow. The sky cleared at dawn, but the clouds returned, with corn snow falling through the afternoon into the night. Before setting out, I walked back to El Capitan for one last view. The snow didn't make clear, photogenic footprints, but there were many small and medium rodent gait tracks, bird and deer tracks, and tracks of three Black Bears. Where the trails were overgrown, beaded ice water kept my pants and shoes soaked. North of Aspen Valley, in burns, the NNW trail past Bald Mountain was so overgrown and wet I cross countried to Long Gulch Creek Trail, an old road and hopefully better route. The evening snow is really falling hard...
Camp: Long Gulch Creek Trail
Maps: 206s, THYHC
Route: El Capitan, Tamarack Flats, Aspen Valley, Bald Mtn Trail, Long Gulch Creek Trail
Miles: 18 381
Friday, September 22, 2017
Last night the storm cleared soon after I went to sleep, leaving a sky totally clear of smoke, with the most brilliant and numerous stars of the trip. My shoes and socks froze solid, so I began my morning walking barefoot across snow, sharp stick litter, and logs to the creek, where I massaged them until they thawed. It took a while because the water in the creek was near freezing too. My tarp was covered in ice which would not shake off, and the lines were frozen solid, so untying knots required carefully unwinding each one. It was a long, cold process to pack up. Though clouds came and went all day, no more snow fell. I saw all of yesterday's tracks, plus rabbits and dogs. I met a guy who hiked the Appalachian Trail last year, and hiked with him the rest of the day. We had a nice camp fire.
Camp: Pate Valley
Maps: 206s, n, THYHC
Route: Long Gulch Creek Trail, Harden Lake, Pate Valley
Miles: 15 396
Saturday, September 23, 2017
Though it hasn't snowed in a couple of days, patches remain, up to 3" deep. I noted the same types of tracks in the snow as the past couple of days. I saw a half dozen Mule Deer does who allowed me to be fairly close.
Camp: Burn East of Le Conte Point, Bats
Maps: 206n, THYHC
Route: Pate Valley, Pleasant Valley, WSW
Miles: 18 414
Sunday, September 24, 2017
Snow patches and comments remain the same. The air was cold, and there were thin ice clouds of many types: contrails, mares tails, cottage cheese, etcetera. But it was sunny and someone told me six + days of sun are predicted. I met five people, but there are always fresh boot prints in the snow.
Camp: Junction of Pacific Crest Trail and trail between Bailey and MacComb Ridges
Maps: 206n, THYHC
Route: Rancheria Falls, Tiltill Valley, trail between Bailey and MacComb Ridges
Miles: 15 429
Monday, September 25, 2017
Overnight cold had frozen many ponds and cause patches of frost heave. The day was warmer than yesterday. Snowmelt had flooded and mudded many bits of the PCT. I saw a Mule Deer spike buck, and just one other hiker. Montezuma Mine ruins included a few collapsed tunnels and tailing heaps, low walls of a collapsed stone cabin, and various iron bits, but not much that was really interesting. A piece of spliced blasting wire tangled my feet as I set my camp.
Camp: Snow Lake
Maps: 206n, THYHC, 807s
Route: trail between Bailey and MacComb Ridges to Tilden Lake, outlet trail to PCT, PCT, Jack Main Canyon, Grace Meadow, Bond Pass, Summit Meadow, Snow Lake, Montezuma Mine
Miles: 15 444
Tuesday, September 26, 2017
Stiff cold winds overnight and in the morning blew whitecaps and foam streaks on Bigelow Lake. Crashing waves at Upper Twin Lake sprayed me at my lunch spot 20' from the shore. The mine ruins were more recent, with good continuous arc welds on large tanks. A crushing mill in ruin had much machinery left. Large air hoses were still fairly intact. Lakes this afternoon had many small bedrock islands, and were quite pretty. I saw no one all day.
Camp: Upper Buck Lake
Maps: 206n, THYHC, 807s
Route: Bigelow Lake, Black Bear Lake, Upper Twin Lake, Prospect, Huckleberry Lake, Cow Lake, Buck Lakes
Miles: 15 459
Wednesday, September 27, 2017
I saw an owl, a covey of quail, and Coyote tracks in snow and mud.
Camp: West Walker River
Maps: 206n, THYHC, 807s
Route: Emigrant Lake, Blackbird Lake, Middle Emigrant Lake, Emigrant Meadow Lake, Grizzly Meadow, Emigrant Pass, Long Lakes, Chain of Lakes, West Walker River
Miles: 20 479
Thursday, September 28, 2017
A big Marine excercise was underway on the road to Sonora Pass, with helicopters and many guys hiking near the highway. There is a base just east to support these events. There was not a lot of traffic on Sonora Pass road, but after an hour I got a ride with a nice couple driving to Lone Pine to climb Mount Whitney tomorrow. I visited my brother and his family.
Camp: Bishop
Maps: 206n, THYHC, 807s
Route: Leavitt Meadow, hitch to Bishop
Miles: 479
Friday, September 29, 2017
I walked Dior up Lower Rock Creek, and continued visiting Bob, Chette, Bodie, and Jodie. Late in the evening, Marie, Roy, and Katie arrived.
Camp: Bishop
Maps:
Miles: 479
Saturday, September 30, 2017
We all climbed boulders in the Buttermilk Range.
Camp: Bishop
Maps:
Miles: 479
Sunday, October 1, 2017
We had a great breakfast and headed to Horseshoe Lake for paddleboarding. Marie's family then started for home.
Camp: Bishop
Maps:
Miles: 479
Monday, October 2, 2017
I said goodbye to all and Chette dropped me at the Bishop bus stop. The Eastern Sierra Transit bus took me to Lancaster ($32, 8:45-12:45). 2 LA Metrolink Trains took me to Union Station and then Oceanside ($27.50, 1:45-6:37). Jim picked me up there. The Lancaster train crosses the Pacific Crest Trail in Soledad Canyon, south of Agua Dulce, between the Acton Hills and Via Princessa train stations.
Camp: Jim's Place
Maps:
Miles: 479
Planned Itinerary after hike with Jim
3 nights Golden Trout Wilderness
2 nights Sequoia NP
3 nights Kings Canyon NP
3 nights Sierra NF
5 nights Yosemite NP
4 nights Emigrant Wilderness
Tahoe Yosemite Trail
Tahoe Rim Trail
Continueing to and around Lake Tahoe until about October 3.
Updated status at www.bedore.org
Books
Fire Mountains of the West: The Cascade And Mono Lake Volcanoes, Stephen L. Harris
I reread the chapter on the Mono Lake / Long Valley area before the hike.
The Pacific Crest Trail: A Hiker's Companion, Karen Berger and Daniel R. Smith
I reviewed the sections from Walker to Donner Passes. This book is a little too basic for me.
The Pacific Crest Trailside Reader, California, Rees Hughes and Corey Lewis

I read the Sierra sections. Sierra Nevada Natural History, Tracy I. Storer, Robert L. Usinger
History of the Sierra Nevada, Francis P. Farquhar
Fire Summaries August 15
MODIS Fire Map August 15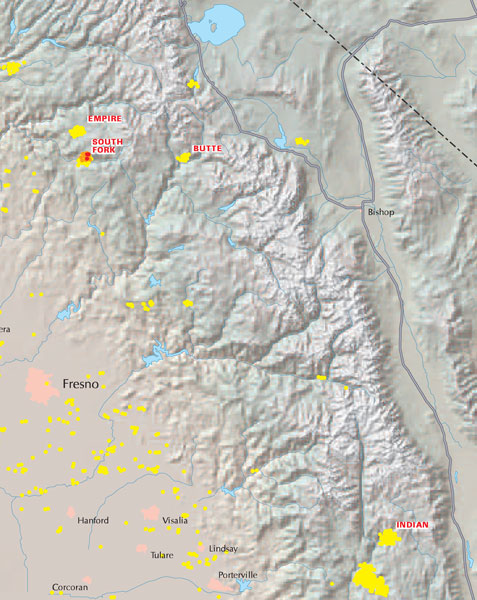 MODIS Fire Map August 15
Indian Fire
The Indian Fire is estimated to be 2,536 acres and 10% contained. It continues to grow slowly to the north and east.
Fire crews have started constructing indirect and direct handline on the north end of the fire where the fire has moved out of the 2002 McNally Fire footprint and its associated snag fields. Snags (standing dead trees) remain a substantial safety concern. Crews are taking all necessary measures to avoid this hazard.
Crews are using trail systems and natural barriers for containment using Minimum Impact Suppression Tactics (MIST) to help protect wilderness character in the Golden Trout Wilderness. Crews are being supported by US Forest Service pack stock. There is currently no threat to life or property.
Current as of 8/14/2017, 8:15:38 PM
Incident Type Wildfire
Cause Lightning
Date of Origin Wednesday August 02nd, 2017 approx. 06:00 PM
Location North of Jordan Hot Springs
Incident Commander Todd McDivitt
Total Personnel 254
Size 2,536 Acres
Percent of Perimeter Contained 10%
Fuels Involved
Whitethorn and Jeffrey pine
Burning in 2002 McNally Fire footprint. Snags are a substantial safety concern.
Empire Fire
Yosemite National Park fire and aviation crews have responded to multiple lightning-caused wildfires located within the park boundary.
Lightning-caused wildfires are a common occurrence. There have been a total of 10 lightning-caused wildfires since July 31, 2017. One fire currently in monitor status is the Empire Wildfire. Which is currently being managed for resource and protection objectives.
Monitoring a wildfire is a fire management tactic used by fire managers when strategizing an incident response, and contributing factors that help steer this decision-making process are often incident specific. Location, available resources, predicted weather, topography, air quality and predicted fire behavior are all factors that contribute to fire management decisions.
Current as of 8/14/2017, 5:59:41 PM
Incident Type Wildfire
Cause Lightning/natural
Date of Origin Tuesday August 01st, 2017 approx. 08:45 AM
Location 1 Mile South of Bridalveil Campground in Yosemite's Wilderness
Incident Commander Stephen Grater ICT3
Incident Description Management
Current Situation
Total Personnel 33
Size 1,320 Acres
Fuels Involve
Red Fir Timber (Litter and Understory), Dormant Brush, Hardwood Slash
Pockets of green leaf manzanita and chinquapin brush as well as heavy dead and down material
Significant Events
Trails are closed from Bridalveil Creek campground to the second junction with the Ostrander trail. Additionally, from Westfall Meadow to the Deer Camp junction, along Alder Creek remains closed. Signs are placed at the affected trails. There are no threats at this time to infrastructure at Bridalveil Campground and the remainder of hiking trails in the area remain open at this time.
Planned Actions
Continue to hold and improve existing trails and lines.
Projected Incident Activity
12 hours: The southwest side of the fire continues to work it's way south along Alder Creek Drainage.
24 hours: Crews are checking fire spread at Alder Creek
48 hours: Same
72 hours: Continue to improve contingency lines along Alder Creek Trail
Current Weather
Weather Concerns
Little diurnal change in temperatures and humidities, winds will be light and terrain driven through this period.
Butte Fire
The fire is located in the Ansel Adams Wilderness. Suppression resources are at scene and engaged. A Temporary Flight Restriction (TFR) is in place over the fire.
Crews continue to make excellent progress towards containment. They are expected to make 100% containment by Thursday the 17th. Smoke impact from the Butte has been significantly reduced.
Current as of 8/15/2017, 8:19:32 AM
Incident Type Wildfire
Cause Lightning
Date of Origin Monday August 07th, 2017 approx. 12:00 AM
Location Ansel Adams Wilderness
Incident Commander Mark Smith
Current Situation
Total Personnel 145
Size 635 Acres
Percent of Perimeter Contained 60%
Fuels Involved
Mixed Conifer and Red Fir. Heavy dead and down fuels.
Current Weather
Weather Concerns
Continued warm and dry
South Fork Fire
The South Fork Fire is burning in the South Fork of the Merced River, 1 mile upstream from Swinging Bridge. It is on a south south-west aspect in steep, rocky, inaccessible terrain. The fire is burning in an area of heavy tree mortality due to bark beetle infestation and poor forest health. Due to the proximity of the community of Wawona, as well as the challenging terrain, the primary objective is firefighter and public safety.
Current as of 8/14/2017, 6:40:25 PM
Incident Type Wildfire
Cause Unknown
Date of Origin Sunday August 13th, 2017 approx. 02:30 AM
Location 1.5 miles east of the community of Wawona
Incident Commander Jeff Pirog
Incident Description Supression
Current Situation
Total Personnel 148
Size 1,613 Acres
Fuels Involved
Timber (Litter and Understory) Brush (2 feet)
Significant Events
Group tree torching, Uphill Runs, Short-Range Spotting
Planned Actions
Continue to utilize air resources and tie fire into natural barriers. Assess need for trail closures.
Projected Incident Activity
12 hours: Continue to aggressively suppress fire spread toward community of Wawona on west flank of fire. Camp Wawona and homes on Chilnualna Falls Ridge, voluntary evacuation.
24 hours: Prepare community for potential evacuations.
48 hours: Direct line construction on west edge of fire and actively monitor potential spread to avoid fire getting south of the South Fork of the Merced river. Aggressively suppress any spot fires in that area.
72 hours: Secure south edge of the fire and keep contained to South fork of Merced, secure west flank.
Priority is protection of life and property of Wawona and Mariposa Grove of Giant Sequoias