Sierra Nevada Range, California, 2017
Between about August 20th and September 30th, I plan to be hiking in the Sierra Nevada Range. I'll first hike with Jim, a friend from my engineering days, and then I hope to hike from the Dome Lands Wilderness at the south end of the range to Lake Tahoe, mostly on lesser used trails west of the Pacific Crest Trail.
I'll want to buy USFS maps Dome Lands Wilderness and possibly South Sierra Wilderness.
day, August , 2017

Camp:
Maps:
Route:
Miles:
Planned Itinerary after hike with Jim
2 nights Dome Land Wilderness
3 nights Golden Trout Wilderness
2 nights Sequoia NP
3 nights Kings Canyon NP
3 nights Sierra NF
5 nights Yosemite NP
4 nights Emigrant Wilderness
Tahoe Yosemite Trail
Tahoe Rim Trail
Continueing to and around Lake Tahoe until October 3.
Updated status at www.bedore.org
Books
Fire Mountains of the West: The Cascade And Mono Lake Volcanoes, Stephen L. Harris
I reread the chapter on the Mono Lake / Long Valley area before the hike.
The Pacific Crest Trail: A Hiker's Companion, Karen Berger and Daniel R. Smith
The Pacific Crest Trailside Reader, California, Rees Hughes and Corey Lewis
Sierra Nevada Natural History, Tracy I. Storer, Robert L. Usinger
History of the Sierra Nevada, Francis P. Farquhar
Fire Summaries August 15
MODIS Fire Map August 15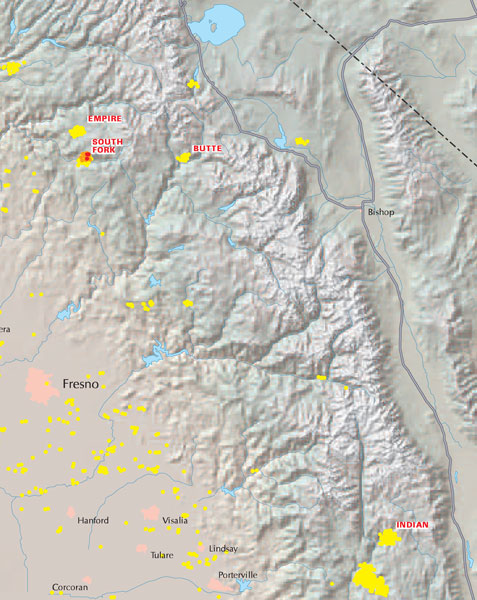 MODIS Fire Map August 15
Indian Fire
The Indian Fire is estimated to be 2,536 acres and 10% contained. It continues to grow slowly to the north and east.
Fire crews have started constructing indirect and direct handline on the north end of the fire where the fire has moved out of the 2002 McNally Fire footprint and its associated snag fields. Snags (standing dead trees) remain a substantial safety concern. Crews are taking all necessary measures to avoid this hazard.
Crews are using trail systems and natural barriers for containment using Minimum Impact Suppression Tactics (MIST) to help protect wilderness character in the Golden Trout Wilderness. Crews are being supported by US Forest Service pack stock. There is currently no threat to life or property.
Current as of 8/14/2017, 8:15:38 PM
Incident Type Wildfire
Cause Lightning
Date of Origin Wednesday August 02nd, 2017 approx. 06:00 PM
Location North of Jordan Hot Springs
Incident Commander Todd McDivitt
Total Personnel 254
Size 2,536 Acres
Percent of Perimeter Contained 10%
Fuels Involved
Whitethorn and Jeffrey pine
Burning in 2002 McNally Fire footprint. Snags are a substantial safety concern.
Empire Fire
Yosemite National Park fire and aviation crews have responded to multiple lightning-caused wildfires located within the park boundary.
Lightning-caused wildfires are a common occurrence. There have been a total of 10 lightning-caused wildfires since July 31, 2017. One fire currently in monitor status is the Empire Wildfire. Which is currently being managed for resource and protection objectives.
Monitoring a wildfire is a fire management tactic used by fire managers when strategizing an incident response, and contributing factors that help steer this decision-making process are often incident specific. Location, available resources, predicted weather, topography, air quality and predicted fire behavior are all factors that contribute to fire management decisions.
Current as of 8/14/2017, 5:59:41 PM
Incident Type Wildfire
Cause Lightning/natural
Date of Origin Tuesday August 01st, 2017 approx. 08:45 AM
Location 1 Mile South of Bridalveil Campground in Yosemite's Wilderness
Incident Commander Stephen Grater ICT3
Incident Description Management
Current Situation
Total Personnel 33
Size 1,320 Acres
Fuels Involve
Red Fir Timber (Litter and Understory), Dormant Brush, Hardwood Slash
Pockets of green leaf manzanita and chinquapin brush as well as heavy dead and down material
Significant Events
Trails are closed from Bridalveil Creek campground to the second junction with the Ostrander trail. Additionally, from Westfall Meadow to the Deer Camp junction, along Alder Creek remains closed. Signs are placed at the affected trails. There are no threats at this time to infrastructure at Bridalveil Campground and the remainder of hiking trails in the area remain open at this time.
Planned Actions
Continue to hold and improve existing trails and lines.
Projected Incident Activity
12 hours: The southwest side of the fire continues to work it's way south along Alder Creek Drainage.
24 hours: Crews are checking fire spread at Alder Creek
48 hours: Same
72 hours: Continue to improve contingency lines along Alder Creek Trail
Current Weather
Weather Concerns
Little diurnal change in temperatures and humidities, winds will be light and terrain driven through this period.
Butte Fire
The fire is located in the Ansel Adams Wilderness. Suppression resources are at scene and engaged. A Temporary Flight Restriction (TFR) is in place over the fire.
Crews continue to make excellent progress towards containment. They are expected to make 100% containment by Thursday the 17th. Smoke impact from the Butte has been significantly reduced.
Current as of 8/15/2017, 8:19:32 AM
Incident Type Wildfire
Cause Lightning
Date of Origin Monday August 07th, 2017 approx. 12:00 AM
Location Ansel Adams Wilderness
Incident Commander Mark Smith
Current Situation
Total Personnel 145
Size 635 Acres
Percent of Perimeter Contained 60%
Fuels Involved
Mixed Conifer and Red Fir. Heavy dead and down fuels.
Current Weather
Weather Concerns
Continued warm and dry
South Fork Fire
The South Fork Fire is burning in the South Fork of the Merced River, 1 mile upstream from Swinging Bridge. It is on a south south-west aspect in steep, rocky, inaccessible terrain. The fire is burning in an area of heavy tree mortality due to bark beetle infestation and poor forest health. Due to the proximity of the community of Wawona, as well as the challenging terrain, the primary objective is firefighter and public safety.
Current as of 8/14/2017, 6:40:25 PM
Incident Type Wildfire
Cause Unknown
Date of Origin Sunday August 13th, 2017 approx. 02:30 AM
Location 1.5 miles east of the community of Wawona
Incident Commander Jeff Pirog
Incident Description Supression
Current Situation
Total Personnel 148
Size 1,613 Acres
Fuels Involved
Timber (Litter and Understory) Brush (2 feet)
Significant Events
Group tree torching, Uphill Runs, Short-Range Spotting
Planned Actions
Continue to utilize air resources and tie fire into natural barriers. Assess need for trail closures.
Projected Incident Activity
12 hours: Continue to aggressively suppress fire spread toward community of Wawona on west flank of fire. Camp Wawona and homes on Chilnualna Falls Ridge, voluntary evacuation.
24 hours: Prepare community for potential evacuations.
48 hours: Direct line construction on west edge of fire and actively monitor potential spread to avoid fire getting south of the South Fork of the Merced river. Aggressively suppress any spot fires in that area.
72 hours: Secure south edge of the fire and keep contained to South fork of Merced, secure west flank.
Priority is protection of life and property of Wawona and Mariposa Grove of Giant Sequoias