Snake Skin
Chesapeake and Ohio Canal NHP, Maryland, 2017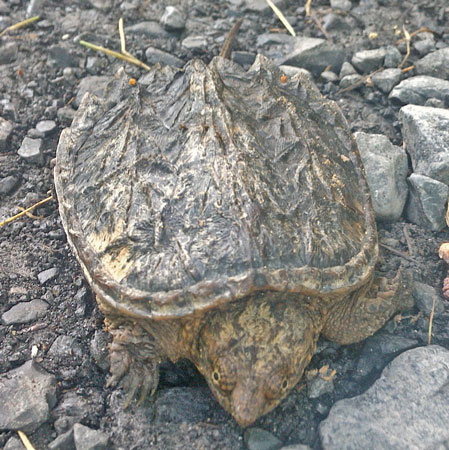 Snapper Turtle
Wednesday, June 7, 2017
I walked my last few miles on the Tuscarora Trail. A big Black Bear scared the living daylights out of me when he slid down from high in a tree, breaking lots of branches, and ran off up the trail. I was perhaps 50' away. I saw a Red Wing Blackbird. I've seen several Scarlet Tanagers. I resupplied in Hancock, Maryland for a week's walk to Everett, Pennsylvania. The library had good WIFI, magazines, outlets, etcetera. At the Post Office I mailed away 4 pounds 1.4 ounces of maps, guides, and gear. The pack felt substatially lighter. After laundering, though my clothes undoubtably were cleaner, they certainly didn't smell good. After all the rain on this trip, it may take more than a few washings to cure them. The forecast is for rain this afternoon, with clear weather for the following week. High temperatures start in 5 days. The Mid State Trail guidebook promises a ridge trail with often infrequent access to water. I bought a two liter bottle to replace the 1¼ liter size I've typically been carrying water in. I then headed west on the C&O Canal and Western Maryland Rail Trail towards Green Ridge State Forest and Pennsylvania's Mid State Trail. I saw many White Tail Deer, one lame / odd gait, and another a tiny fawn. There were toads, turtles, and songbirds. One thing I didn't know of had many legs and pinchers, and was 2½" long. Turkeys gobbled and frogs croaked beyond sight. A Great Blue Heron flew squawking down the Potomac River. Not much rain fell. Fireflies flew and lit about a foot above the ground.
Camp: C&O Canal Cacapon Junction Site
Miles: 15 1288
Map: PATC L, C&O Canal NPS Handout, Western Maryland Rail Trail Handout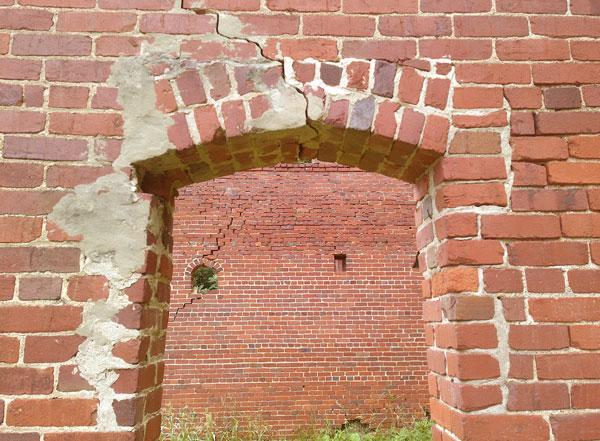 Red Brick Walls
Thursday, June 8, 2017
There were many deer, including one tiny spotted fawn. A Raccoon walked on and off the towpath until I came close. A Turkey hen sat with her ~8 chicks right on the side of the towpath until I was within 5'. She and two chicks flew off, a few ran, but a few hid by staying in place. Were it not for all the commotion, they might have been sufficiently camoflaged for me to miss them. I saw many ducks. Several 6" Turtles were calm enough for photographs without withdrawing into shells. In onepond, perhaps 100 3" turtles dove from their perches as I approached. Many types of frogs sang. A 3½' reddish rat snake stayed for pictures but left as I walked away. I could hear but not see several other large snakes as they slithered hurredly away in the grass and brush. A fresh snake skin showed great detail, and was rolled in an interesting manner. The canal structures and stones, and the Potomac River were pretty. I stopped for a great burger, soda, and ice cream in Little Orleans. The proprietor said many C&O hikers are attempting an Atlantic to Pacific Ocean walk.The old rail bed, tunnels, and bridges seemed still intact and unused all day. It would be a great addition to the CO Canal NHP or WMRT to add some or all and make both walking loops and an interpretive park explaining the canal and rail ages and the transition between them. Many books, parks, and museums do a good job of explaining either railroads or canals, but none I know of explain both, and the relations and transitions between them.
Camp: C&O Canal Sorrel Ridge Site
Miles: 21 1309
Map: C&O Canal NPS Handout, Western Maryland Rail Trail Handout


Garter Snake
Green Ridge State Forest, Maryland, 2017

Fungus
Friday, June 9, 2017
A scruffy hawk sat on the walls of the lock 62 tender's cabin ruins as Blue Jays harrassed him. I saw many deer. A 4½' Black Rat Snake was brave enough for pictures. The route through Green Ridge SF was well marked with white paint blazes and GET compass rose blazes on Carsonite posts.
Camp: Pensylvania's Mid State Trail beyond Burnt Mill Trail
Miles: 23 1332
Map: C&O Canal NPS Handout, Green Ridge State Forest, Maryland PDF print (should have printed 11x17 for greater readability), Mid State Map and Book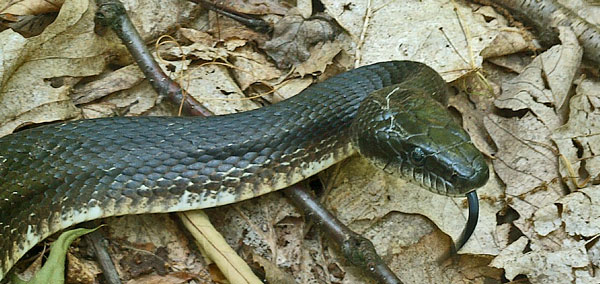 Black Rat Snake
Mid State Trail, Pennsylvania, 2017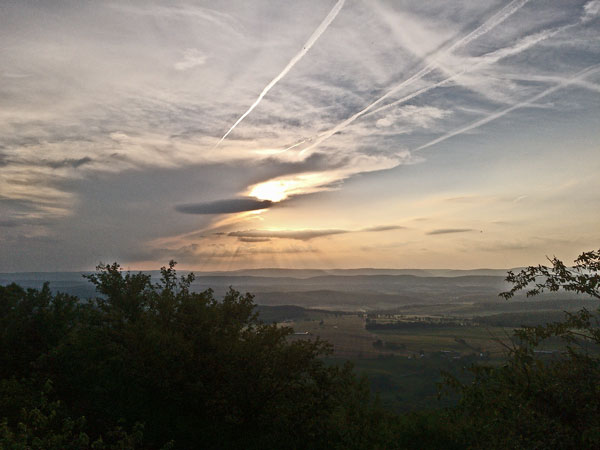 Sunset
The Mid State Trail, at 319 miles, runs north-south across the center of Pennsylvania, mostly on public lands. In the south, it connects to the Chesapeake and Ohio Canal through Maryland's Green Ridge State Forest, while the north end connects to New York's Finger Lakes Trail System. Tin Cup gave me the book and maps. Pennsylvania has great free pdf topo and trail maps for all state lands, and these maps are also sometimes printed and free at trailhead kiosks.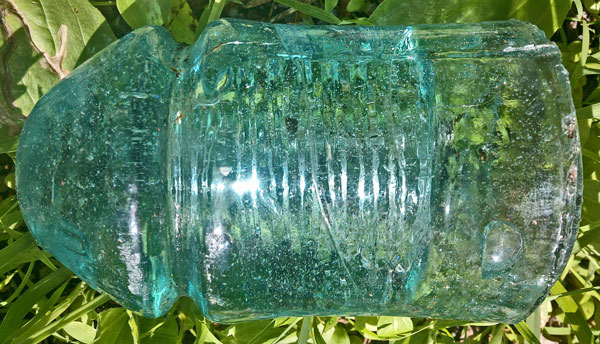 Insulator
Saturday, June 10, 2017
I saw an Eastern Box Turtle and some White Tail Deer. In State Game Lands 97 there were many Deer and Bear beds along the Mid State Trail. I these game lands, much of the trail was uneven and unstable rock overgrown with thorny vines.
Camp: Pensylvania's Mid State Trail Before Biddle Place
Miles: 21 1353
Map: Mid State Map and Book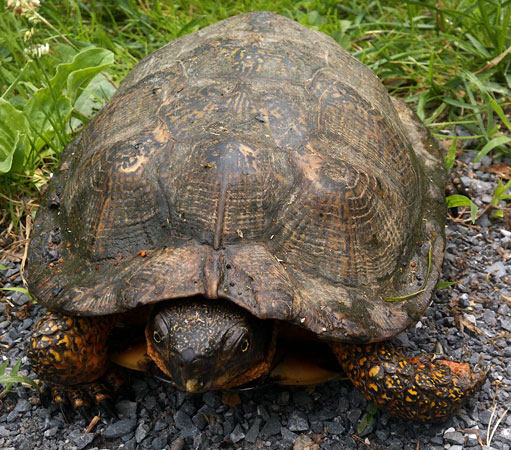 Box Turtle
Sunday, June 11, 2017
I saw many White Tail Deer. A greenish, black tailed, 2½" diameter Rattlesnake was the first venomous serpent I've seen this spring. He was lethargic, and slowly moved until his head was hidden, though I was able to photograph his tail until I got bored and left. I reached Everett by early afternoon, resupplied at a full grocer, and lunched, charged batteries, and WIFIed at a gas station. It was hot when I entered town, and hotter when I left. I was bloated and sloshing in soda when I left, and carried a gallon of water for this dry ridge section. Adding 3 fresh fruits, a quart of potato salad, and two frozen pizza burrito things, I groaned and sweated my way up Tussey Mountain. I saw a Groundhog on the way out of town. Atop the ridge, a Coyote ran down the trail towards me. When 15' away, he saw me, dug in his feet, and swerved west 45°. Another coyote a couple of seconds behind followed the first, and passed 30 yards from me, apparently never seeing or acknowledging me. The footprints of the first coyote, in damp rotting wood dust, had skidded 7".
Camp: beyond power line cut over Tussey Ridge
Miles: 14 1367
Map: Mid State Map 301-306 and Book


Black Tipped Rattlesnake Tail
Monday, June 12, 2017
I saw two White Tail Deer. The day was hot, and I swam twice. I also stopped at the Old Frontier Restaurant east of Loysburg for a burger, pie and ice cream. But apparently the heat and exertion were too much. I got nauseous for 5 minutes and barfed it all up in the evening. The waitress told me another thru hiker had come through a week ago.
Camp: beyond Old Henrietta Mountain Road.
Miles: 15 1382
Map: Mid State Map 301-306 and Book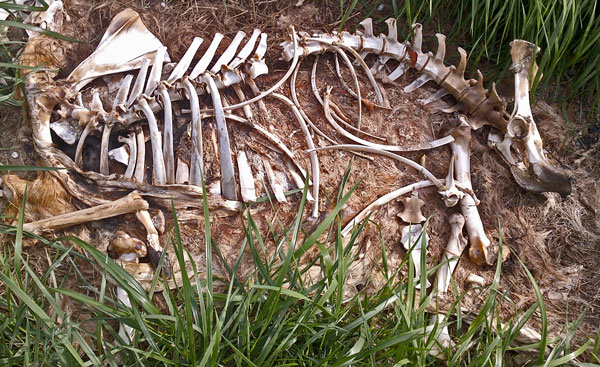 Deer Skeleton
Tuesday, June 13, 2017
I saw some White Tail Deer, some rabbits, and a Turkey. A 6' Black Rat Snake was first still for pictures, then put on a pretty good rattlesnake mimic show, with a nice strike poise and motion, and with his tail vibrating, and rattling dry leaves where he could feel them. I resupplied in the evening in Williamsburg for a week+, as this is the last town right on the Mid State Trail.
Camp: beyond Williamsburg
Miles: 22 1404
Map: Mid State Map 301-306 and Book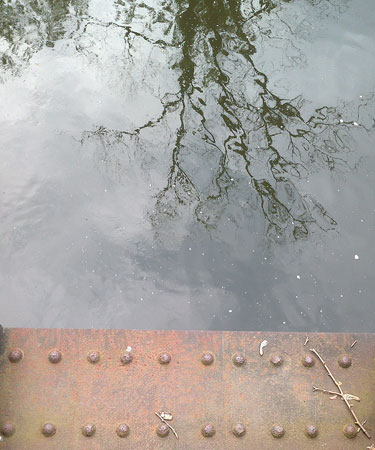 Girder and Reflection
Lower Trail
The Lower Trail carries the Mid State Trail, and thus the Great Eastern Trail, north from Williamsburg. Lower is a family name which rhymes with flower. Its path along the Frankstown Branch of the Juniata River was once the route of the Pennsylvania Main Line Canal, then of the Petersburg Branch of the Pennsylvania Railroad. Historic locks, lockkeeper houses, the canal prism, rail bridges, and industrial sites can be seen from the trail. There is a pretty good handout map. At Mount Etna there is a shelter for MST or GET hikers to camp in.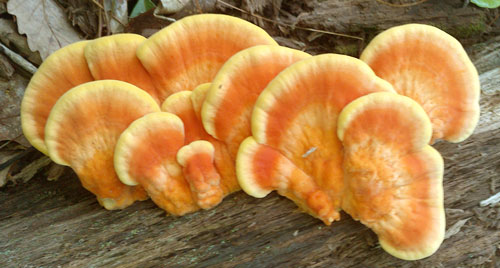 Fungus
Wednesday, June 14, 2017
I saw some White Tail Deer, some Turkeys, an Eastern Box Turtle, a 6" water turtle, a Woodchuck, and a Grouse hen in distress display mode. A Barree resident suggested I ascend Tussey Mountain on his road, which led by many charcoal roads and platforms.
Camp: before Brewer Trail
Miles: 18 1422
Map: Mid State Map 301-306, 307-310, and Book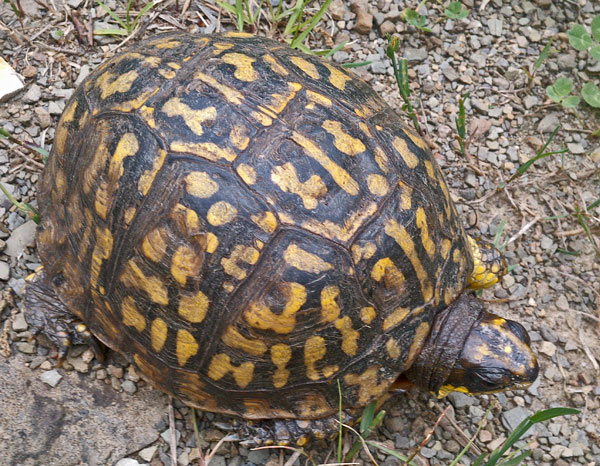 Box Turtle
Thursday, June 15, 2017
I saw some White Tail Deer and some Turkey Vultures. A Grouse hen flew 6' from me and straight away into brush, as I saw one chick fly off. Another hen did a more typical distress display. A small (2½') Black Rat Snake's front half was laying out of a rock crevice. The snake allowed me to take pictures, but was slowly creeping backwards into his crack. When done photographing, I made a slow figure 8 display with my hand, and the snake backed gracefully into the rocks. I saw people on footpath today for the first time since the hunting dog people in West Virginia. (I'm excluding road walks, towns, and the C&O and Lower bike paths.) These trails I've been on are little visited, and that makes the plants and wildlife different than on high traffic trails. Fragile rotted trees, mushrooms, animal signs, and other delicate things are undisturbed, and wild animals act differently than when they are more used to people. I passed the 1⁄3 point on the MST today, so the 27th of June is a reasonable finish date. I'm considering 4 days of side trips, possibly pushing finishing to the end of June. That gives me July and a few more days in Upstate New York...
Camp: after Musser Trail
Miles: 15 1437
Map: Mid State Map 307-310 and Book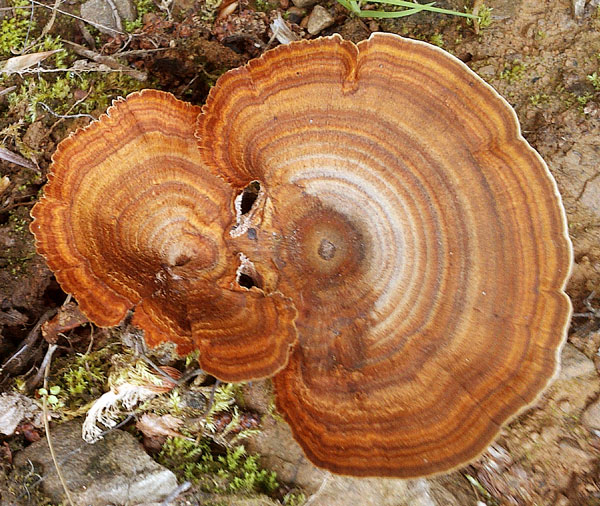 Fungus
Friday, June 16, 2017
I saw some White Tail Deer, a Turkey, a Grouse, and a bird nest, with two chicks, built into a pipe gate. It had rained heavily overnight, and heavy rain returned in the late afternoon.
Camp: before descending to US322
Miles: 20 1457
Map: Mid State Map 307-310 and Book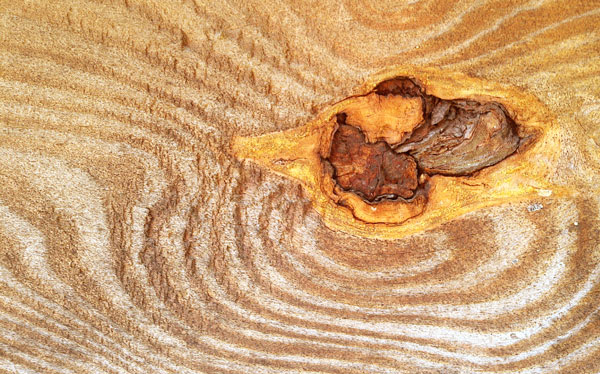 Knot Hole
Saturday, June 17, 2017
The Mid State Trail had largely followed the ridge of Tussey Mountain until yesterday. Several segments were along creeks and in bottomlands today. I saw two 2' Garter Snakes, each almost and inch in diameter, thick for Garter Snakes. There was one 2½' Northern Banded Water Snake, so dusky he must be nearing shed, and one Snapping Turtle. I saw only one deer. Rain ended by early afternoon, but may be heavy from early tomorrow afternoon through Monday night. My GPS has burned through 3 pairs of NiMH AA cells since Everett. This charge life seems short, and perhaps getting shorter. The cells and charger, both Duracell, were purchased new at the start of the trip, so aren't old and haven't been through many charge cycles. I wondered about the history of a path a few feet wide west of much of the rail trail, and about some quarries in the same area. The MST has many registers. Below are 3 recent thruhikers who signed in regularly and the dates they signed near Poe Paddy Park (which I passed today).
Camp: after Penn Central rail path
Miles: 19 1476
Map: Mid State Map 307-310, and 311-316, and Book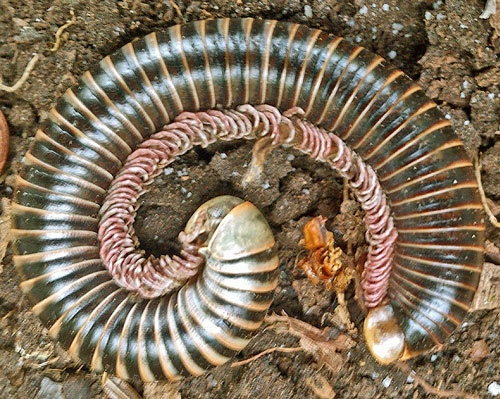 Millipede
Recent Through Hikers
Kathy
June
2
2016
Great Eastern Trail
Southbound
Brad P
April
16
2017
Mid State Trail
Northbound
Kyle
June
10
2017
Mid State Trail
Northbound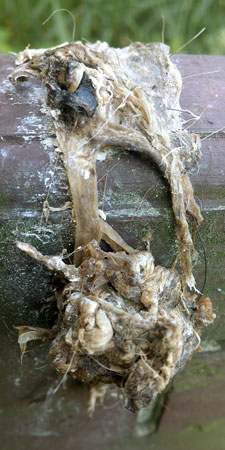 Birds of Prey Regurgitate Indigestibles Like Bones and Feathers
Sunday, June 18, 2017
I saw frogs, toads, a 2' x ¾" Garter Snake, and a 3'+ x 3"- greenish Rattlesnake. My left Merrell Moab Ventilator 12 Boot, after 542 hard miles, often soaked from rain, and on much thorny vine covered jagged and loose rock, has started to delaminate between the upper and sole below the ball of the foot. 542 miles is a very short life for this type of boot (usually 900+) - this hike is very tough. The trail has sometimes been on old narrow guage logging railroads for the past couple of days. I've seen no extant ties, but occasionally I can see bars of different vegetaion types clearly showing where the ties used to be. The Mid State Trail maps are quite good. Lables are clear, topo lines are clear, separated, and readable, and most side trails are shown and labled. The map strips are oriented to maximize trail and public land coverege, not towards north. I often find this distracting.
Camp: before RB Winter Park
Miles: 19 1495
Map: Mid State Map 311-316, and Book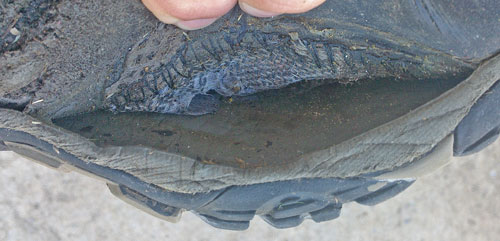 Boot Failure
Monday, June 19, 2017
I saw a few each frogs and White Tail Deer. A 4½' Rat Snake was black on the back half, but had a pattern of dark red 1" patches separated by a beige grid with a line width just over ¼" in some areas of his front. He never changed his posture, but did rattle his tail in the dry leaves, faced towards me, and flicked his toungue. A Black Bear strolling in a relaxed gait down the trail towards me, in sight for several seconds, turned a quick 180° and bolted when he had figured out what I was. There were many bear boundary trees with bark and wood chewed off at my head level, and a bear scat today. I saw some Cardinals, and a few Huckleberries were ripe.
Camp: After Great Island Indian Path
Miles: 23 1518
Map: Mid State Map 311-316, and Book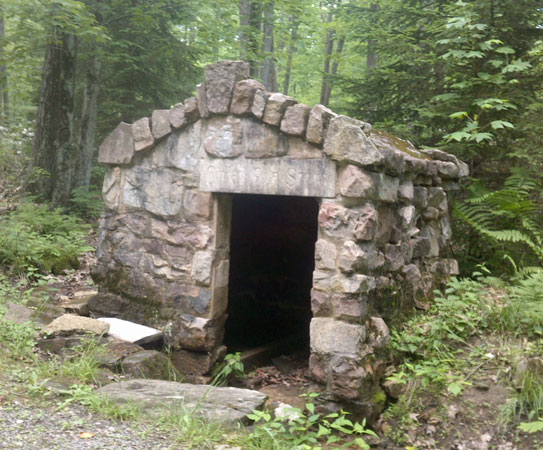 Spring House
Tuesday, June 20, 2017
A White Tail Deer ran away from me off to the right of the trail, saw something scary, and ran left across the trail 50 yards ahead of me, barking over a dozen times. Deer don't bark often, and only when scared. I've never heard more than one or two barks. I wonder what she saw? I had been rationing food since yesterday, and walked into McElhattan without a single crumb left. So I tucked into eggs, sausages, potatoes, and toast with great relish. While resupplying in McElhattan, I saw a big Woodchuck. Several locals were very helpful in explaining all the local shoe and boot sellers: none in Jersey Shore, several in Lockport, though the outfitter once there has closed, and Woolrich sells Merrell. I visited the crubling bridge abutments for the historic Pennsylvania Canal. Much of the nearby canal prism has been removed to flatten fields and yards in the area, but parts remain. Some blocks likely from a canal structure are now a retaining wall at a local house. I walked to Woolrich Village and visited the nice MST hiker camping shelter in the park. The store stocked Moabs, but not Ventilators and not wide sizes. Close enough: I bought size 12. The old boots had started to delaminate at the toe as well as under the ball of the foot and the sole would probably have completely separated from the upper from the toe back to the arch of the foot within a day or two of hiking. The new boots were much stiffer and taller in the heel: I must have broken many seams and crushed the heel padding in the old pair. I heard a wolf style howl, and no reply. After a half hour came another lonley call. Finaly, a third call elicited Coyote style responses from two widely separated groups.
Camp: beyond Coudersport Pike / Big Spring Road
Miles: 16 1534
Map: Mid State Map 311-316, and Book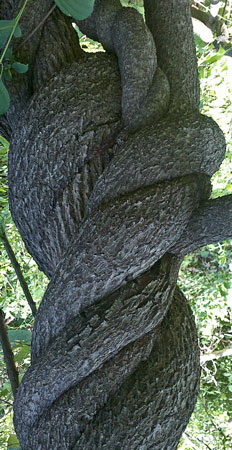 Twisted Trunks
Wednesday, June 21, 2017
I descended Gamble Run and the Pine Creek Rail Trail until I found a ride into Jersey Shore. Deer prints in the flat crushed stone bike path showed splayed toes and dewclaws; probably a lame deer. I resupplied in Jersey Shore for a week+. The amount of food seemed normal, but the bill and the pack both seemed heavy. I headed north on the Pine Creek Rail Trail. I saw paired woodpeckers flitting together from tree to tree, Cardinals, and Red Wing Blackbirds. There were several deer, including a spotted fawn. I one 4x4 post, a woodpecker had chipped away over a cubic inch of healthy wood to eat bugs in a 3⁄8" dimeter tunnel 2" long. The bugs had in turn excavated these tunnels to live or reproduce in. That's a lot of energy to spend for the bug and the bird. Mulberries, Blackberries, and cherries were ripe, and tiny green grapes are forming on vines. I saw a 12" and a 16" Garter Snake, both just under ½" diameter. The shorter had a red tongue base and black forks. There were two trees across the trail which had been sawn through and the trail cleared. Half inch black ants were excavating tunnels in the logs, and dropping wood dust from the tunnel ends in the log face. The dust accumulates in piles at the base of the log face. Other half inch ants remove the dust adjacent to the log face, leaving a groove. Quarter inch ants crawl about on the wood dust pile. I saw these same activities a few days ago, and within the past few years. There were many frogs along Ramsey Run and its forks. A deer or bear walked by my camp, breaking many sticks in the dark.
Camp: on ascent from Ramsey Run
Miles: 18 1552
Map: Mid State Map 311-316, and Book
Woodpecker Hole
in 4x4 Post
to Uncover Excavated
3⁄8" Diameter
Bug Chambers
Woodpecker Hole
Flowing Sap
Thursday, June 22, 2017
I stopped at the Happy Acres Resort by Little Pine State Park for ice cream and lunch. A giant club sandwich piled high with onion rings and washed down with cola hit the spot. There were mine tunnel ruins on ascent from the resort. I saw a few deer and frogs.
Camp: beyond Barrens Road
Miles: 18 1570
Map: Mid State Map 311-316, and Book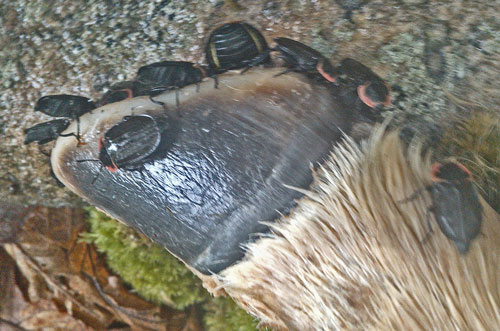 Deer Hoof, Beetles
Grand Canyon of Pennsylvania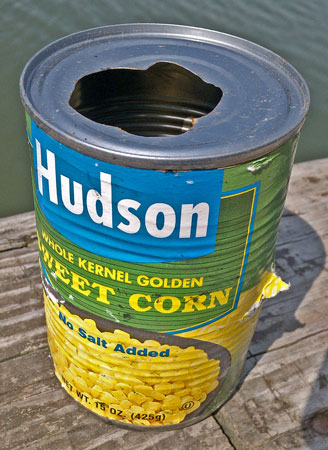 Someone Very Hungry Opened this Corn Can
West Rim Trail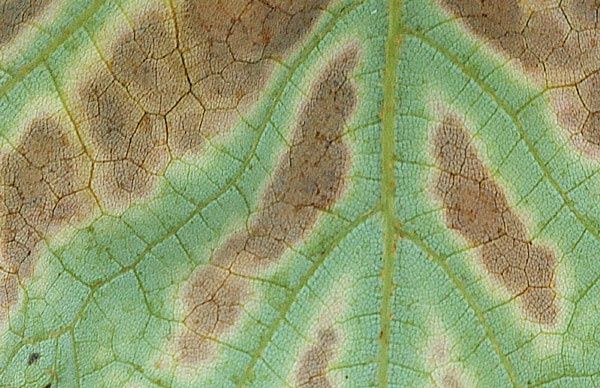 Leaf
Friday, June 23, 2017
The day was drizzly, with much wet grass and brush. A large Black Bear could not hear me through the rain and wind: Some clapping and shouting chased him from the trail. A Coyote boundary marker had pad and claw scratch marks in the dirt and a scat. A 2' x ¾" Garter Snake by Pine Creek had a red tongue base, but a darker, grey based pattern tather than the typical beige. He remained in a sleeping / sunning coil through my visit. Nearby, a 9" Ringneck Snake with a grey back and yellow belly had been killed, and the front 1¼" of skin pulled back, revealing muscle and ribs. There were several White Tail Deer. A turkey sandwich and triple ice cream cone at Blackwell made a fine break. The store ladies photographed my pack, as it looked as though it had come a great distance. It's actually in pretty good shape. I ascended the Bohen Trail past waterfalls and cascades to the West Rim Trail and continued northbound. I saw many frogs and a turtle.
Camp: beyond Gundigut Trail
Miles: 17 1587
Map: Mid State Map 311-316, and Book, West Rim Trail PDF maps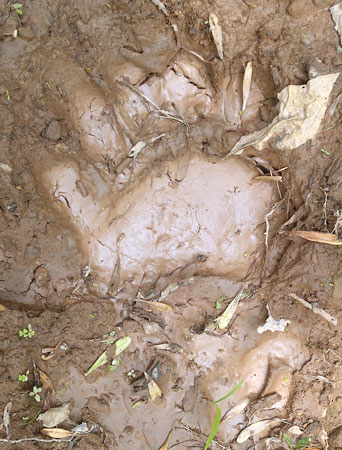 Black Bear Front Print
Saturday, June 24, 2017
Occasional views of the canyon, the river, and the bike path were nice. Paddlers and cyclists were close enough I could understand a few conversations. There were plenty of water sources and nice campsites. I met perhaps 25 day and overnight hikers in various groups. I saw a couple of deer, a Turkey Vulture, and recent Bear prints. I found a spoon and a tent stake.
Camp: beyond Deadman Holow Road
Miles: 17 1604
Map: West Rim Trail PDF maps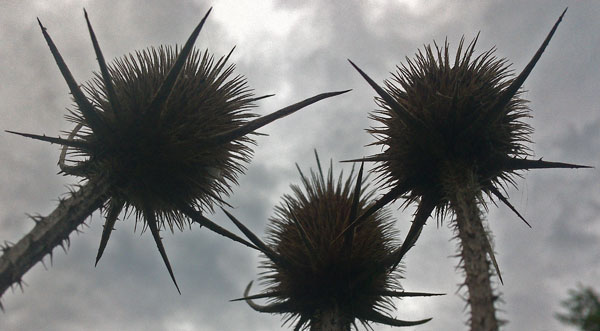 Seed Pods
Pine Creek Rail Trail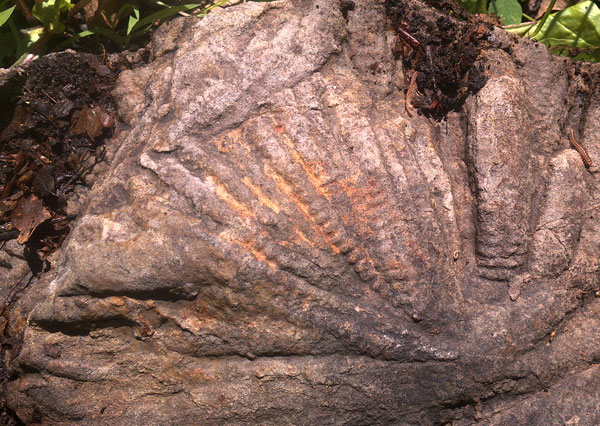 Fossils
Sunday, June 25, 2017
I continued north on the West Rim Trail, East on US6, descending south on the Pine Creek Rail Trail, ascending east on the Water Tank Run Trail, regaining the Mid State Trail, and camping soon after, an hour early, due to rain. I saw a dozen Red Wing Blackbirds in a wheat field. The wheat was milky and tasty. Along Pine Creek, I saw Belted Kingfishers, Canada Geese, assorted ducks, an 18" Garter Snake, frogs, and a few White Tail Deer. I chatted a while with a guy watching a Bald Eagle nest, but saw no eagles. The chicks have fledged and hang out in nearby trees, except when the parents bring fish to the nest. I took a few photos of fossils in mud stones, both imprints and seashells, and found a deer footprint in mud good enough to see the wrinkles in the footpads.
Camp: beyond Water Tank Run Trail
Miles: 22 1626
Map: West Rim Trail PDF maps, PCRT handouts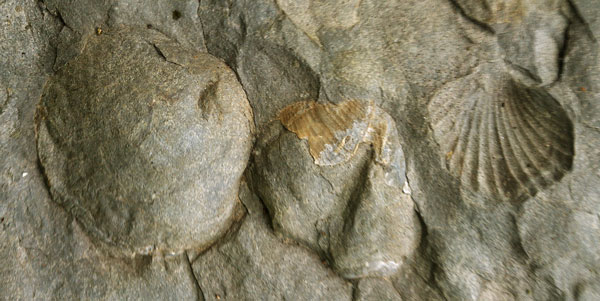 Fossil Shells
Mid State Trail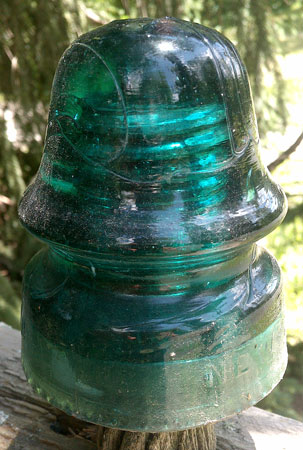 Insulator
Monday, June 26, 2017
I saw some slugs and deer, and some more wood ants, this time in a standing dead tree. Wood dust drifted down over a wide area from working holes many places up the tree. Old woodpecker holes had dust drifts. A few ants worked to move a dust pile's contents furter from the tree. There were no new deep woodpecker holes, but bark had recently been removed in several places. Narrow guage rail beds, now from the coal rather than the clearcutting era, today had grooves where the ties had been, which I could feel under my boots, or see, or, as earlier, see as moss between ties and brown duff in grooves where the ties had rotted out. My tablet computer went berzerk, and was hot and awaiting maintenance commands, and displaying a dying robot, and had consumed half of its battery capacity. I was only able to regain function with the pinhole reset on the back. The failure occurred between a mid afternoon visit to the Duncan Tavern in Antrim and nightfall. At the tavern, the bartender had never served a hiker, though the bar is right off the trail and listed as a resupply stop. The shrimp and chips basket was a nice change of diet.
Camp: Nickel Run
Miles: 17 1643
Map: Blackwell to Antrim, MST temporary pdf printout 18.7, MST book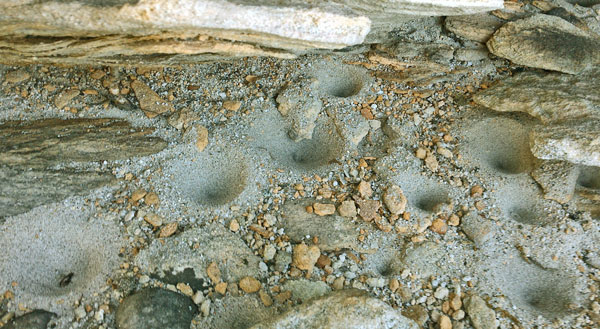 Ant Lion Holes
Tuesday, June 27, 2017
There were many deer footprints, a few places with Raccoon prints, and one print of Bobcat or Fox (no claw impreesions). One White Tail Buck had nicely developing antlers in velvet. There were many open fields with Red Wing Blackbirds. I met Barry and Jane, over whose land the MST passes (thanks!!). They have a very nice farm with over 70 kinds of lilac, 3 donkeys, and two dogs. One barn had ahealthy colony of bats, though many Pennsylvania bats have died from White Nose Syndrome. Barry had been a science teacher, so we had great conversations about science, teaching, engineering, etcetera. Barry took a break from farm chores and took me to Wellsboro for lunch and to its grocer for resupply (thanks again!!). Wellsboro is a very nice looking town with many businesses. I had considered walking up the Pine Creek Rail Trail and walking right through Wellsboro for resupply. The walk through town would be very nice. I saw some Woodpecker holes 18" high, 4" wide, and 8" deep, by far the largest I've ever seen.
Camp: Hills Creek +
Miles: 16 1659
Map: MST temporary pdf printouts 18.7, 19.3, MST Book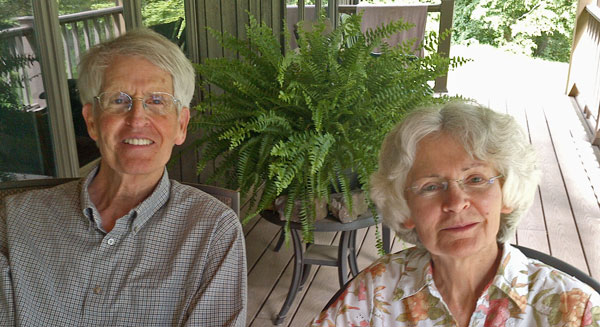 Barry and Jane
Wednesday, June 28, 2017
A hot soapy shower and laundry at Ives Run / Hammond Lake were much appreciated after many cold soapless rinses in creeks. I met John, out lopping the Mid State Trail. Many Thanks. As I was wading through one section with grass above my head, I was thinking that there were many deer beds, when a Deer 20' away jumped up and ran off. I saw a Woodchuck, a Cardinal, some Redwing Blackbirds, and heard a Red Tail Hawk. Many fireflies flew at chest level all night. The fireflies I had seen in Leeds flew at treetop level, and those along the Potomac within a foot of the ground.
Camp: Cowanesque Lake -
Miles: 16 1675
Map: MST temporary pdf printouts 19.3, 20.4, MST Book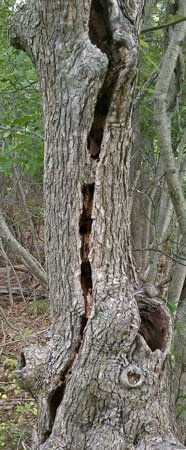 Lightning Tree
Thru Hiker News
See also June 17, 2017
At both registers yesterday, Landrus and Wimbrough, Kyle and Brad were the last two hikers. That stretch of trail has apparently not been visited frequently lately. There were, however, a few pages of entrys after Kathy, the 2016 GET hiker. Today, south of Cowanesque Lake, Brad signed in and hoped to reach New York April 22, 2017. Kyle signed June 16, now apparently finishing the last few segments as day hikes.


Millipede
Thursday, June 29, 2017
Most Woodchucks run into a handy burrow, but one treed today. I saw several more on the New York road walk. On the rail berm on the north shore of Cowanesque Lake I saw a Turtle laying eggs and a Fox. I crossed from Pennsylvania's Mid State Trail to the Crystal Hills Branch of New York's Finger Lake Trail System in early afternoon.
Camp: McCarthy Hill State Forest
Miles: 20 1695
Map: MST temporary pdf printout 20.4, MST Book, CH3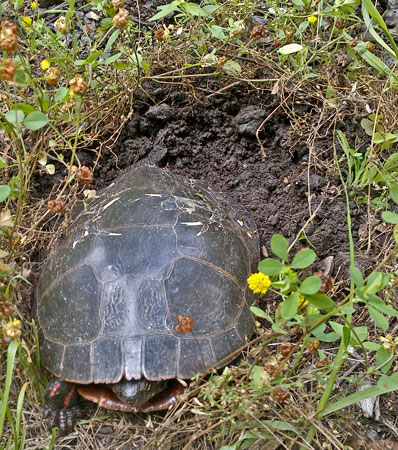 Turtle Laying Eggs