2011 Camino Norte de Santiago - Spain
Map Index to my Camino de Santiago Walks
Click on Trails for Links
Dwell Cursor over Trails for Information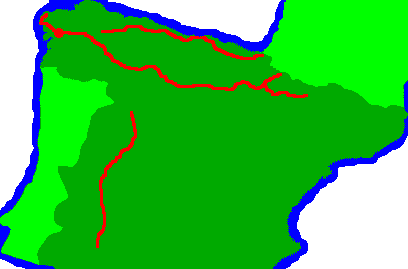 Tuesday, August 23rd 2011
I caught an early bus from Muxia to Santiago to shop for shoes, a guidebook, and a new belt buckle for my pack in preparation for walking the North Coast Route of the Camino de Santiago. Alas, a 2" belt buckle was nowhere to be found, and guidebooks were only available in Spanish, but I got the boots and the book and was ready to go. At the train station they had no available seats to Irun for 4 days. Even the busses were full today, but I got a ticket for tomorrow morning. I spent some time wandering about the city, but I'd seen most of it before.
Albergue: Seminario Menor, Santiago Compostella
Kilometer: 6
Weather: Overcast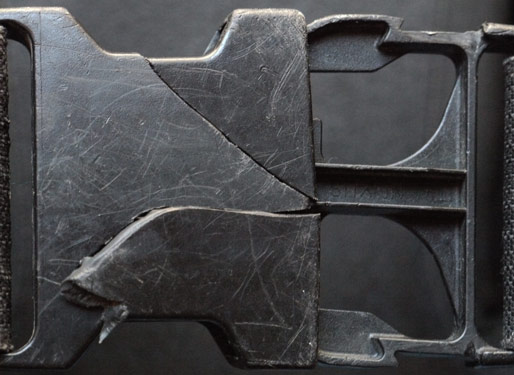 Wednesday, August 24th 2011
The bus ride from Santiago to Irun was from 08:30am to 22:40pm with breaks for lunch and a snack. There was heavy rain in Bilbao but none in Irun.
Pension: Irun
Kilometer: 2 8
Weather: Overcast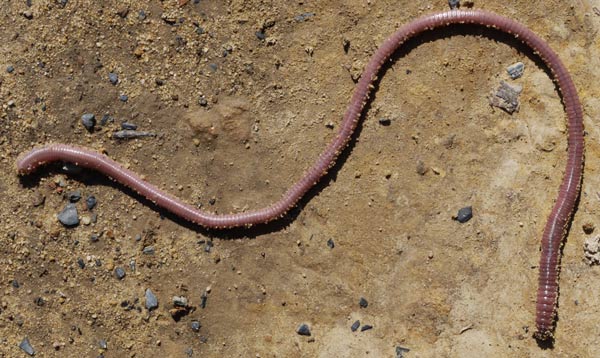 Thursday, August 25th 2011
I saw an earthworm over a foot long, got lost three times, waded at the beach, took a ferry boat, followed an old aqueduct complete with tunnels through hard rock and stone arch bridges, hiked with a pilgrim who dresses like Saint James and walked here from Germany with no money, Spanish language, or maps, and got free excellent spelt bread from a Pink Floyd commune. What a day!
Camp: East of Orio
Kilometer: 38 46
Weather: Overcast, sun, humid, nice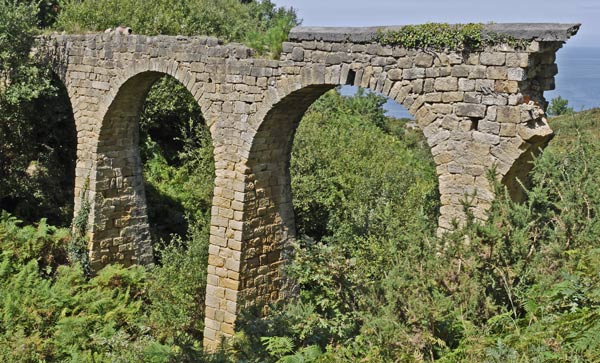 Friday, August 26th 2011
Late last night, strong and turbulent winds began. Since it was clear and calm when I camped, I did not brace my tarp for such winds, and it kept me awake snapping around and occasionally hitting me. Then the rains started. And what rains. Blowing sideways, running across the ground, beating down... If it was not in my pack it was soaking wet. But things looked a bit better when I discovered fruit bread in Orio. Slightly sweet, with bits of dried fruit - it made a great breakfast. So great I got more in Zarautz. I walked on a boardwalk above the rocky coastline and watched the breakers smash over rocks and into cliffs between Zarautz and Getaria. Somewhere I found 3 unopened bottles of wine someone had set by the recycling bin. They went well with fruit bread. I rescued a giant earthworm by moving him out of traffic lanes. It's very difficult to pick up a wet, slimy, wiggling worm.
Albergue: Convent of San Jose, Zumaia, a cool old convent building
Kilometer: 21 67
Weather: Rain, sun, and everything in between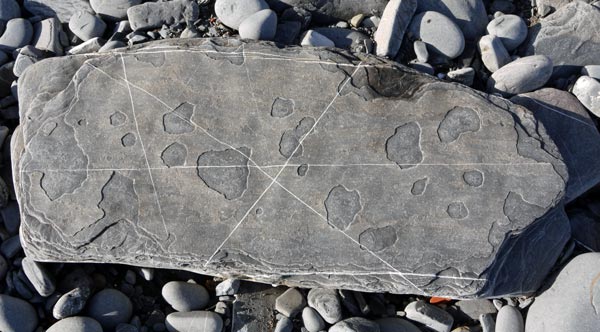 Saturday, August 27th 2011
I walked the coastal route, GR121, rather than the Camino from San Sebastian to Deba. It was outstanding, visiting rocky beaches, sandy beaches, and clifftop views of the coast. For people walking the Camino Norte, a guide to the GR121 might lead to a lot of great walking right on the coast: The Camino is sometimes inland to visit the towns pilgrims traditionally saw. After Deba, the route was largely in timber plantations. It leaves the coast until Bilbao, a few days away. In Markina/Xemein there is an odd church that shelters a pile of boulders.
Albergue: Markina/Xemein Carmelite Convent, not so interesting
Kilometer: 40 107
Weather: Rain, sun, and everything in between

Sunday, August 28th 2011
I happened to come to a church just as mass was starting, so I attended. The singing was very pretty, as was the church. Plus it was a good break from walking. I ran into no other pilgrims while walking.
Albergue: Gernica
Kilometer: 25 132
Weather: Sun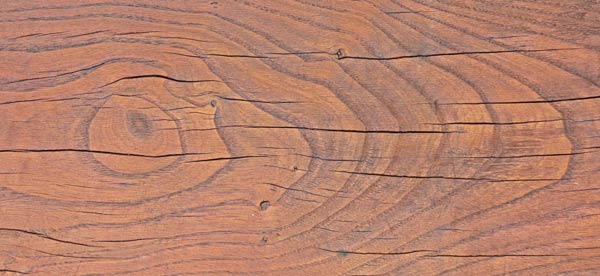 Monday, August 29th 2011
Today, the pilgrims bunched up into a pack, opposite of yesterday. I enjoy talking with the other walkers, and I enjoy being alone, so either way is good for me. Most stopped in Lezama.
Albergue: West Bilbao
Kilometer: 36 168
Weather: 100% cumulonimbus, very humid, no rain

Tuesday, August 30th 2011
This section was largely through ugly urban areas; past thousands of apartment blocks, along freeways, and by steel mills and an oil refinery. 8 kilometers yesterday were along a two lane road. So another idea to make a more pleasant hike would be to take a bus past these places. To do this one would need to know what busses to take to bypass the undesirable sections. Maybe I could have read the guide before I left for the hike to identify the sections to skip and then looked up local bus services on the Internet. Another problem is knowing when to get off the bus. Some signs and announcements are in Basque rather than Spanish, which is often tough to understand too. So maybe having the coordinates of where to get off the bus loaded in a gps would be best. It might also have been possible to skip the Bilbao section by taking a trail along the coast. On a more positive note, the Camino returned to the beach and coast today, so I enjoyed wading in the surf and will be on the coast for quite some time.
Albergue: Pobena
Kilometer: 29 207
Weather: Sunny, nice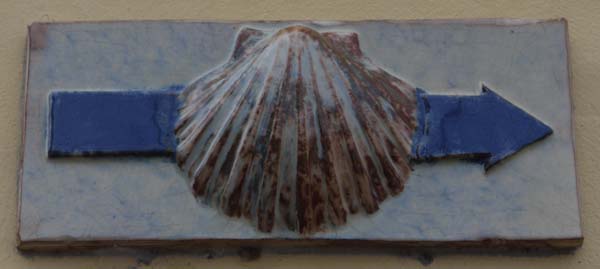 Wednesday, August 31st 2011
Today there was some very nice coastal walking, plus some road walks. Many rivers here are tidal, and have large inland wetlands, causing strong tidal currents. In the Albergue, I could hear people kayaking and talking on the river. Later, I could hear quite a rainstorm on the water. Luckily, there was no need to go outside and get wet.
Albergue: El Pontarron de Guriezo
Kilometer: 27 234
Weather: Sunny, cloudy, rain
Thursday, September 1st 2011
My guidebook today showed mostly highway walking. Fortunately, yesterday an eastbound UK couple gave me a map for an historic pilgrim route to the south of the highway walk. It was a nice country stroll. Two German girls I met for the second time in Loredo had found a coastal route to stay off the highway. So options are available, and I wish the guidebooks would show them. It's fun to meet up with the other pilgrims. By the time I took the ferry to Santona, there were 3 German girls, and 3 more Germans joined us for dinner. I went to a pharmacy for some athlete's foot creme, and after much gesturing, pointing at my toes, and using every alternative word and pronunciation for fungus I could think of, I got the right stuff.
Albergue: Santona
Kilometer: 30 264
Weather: Sunny, cloudy, bit of evening rain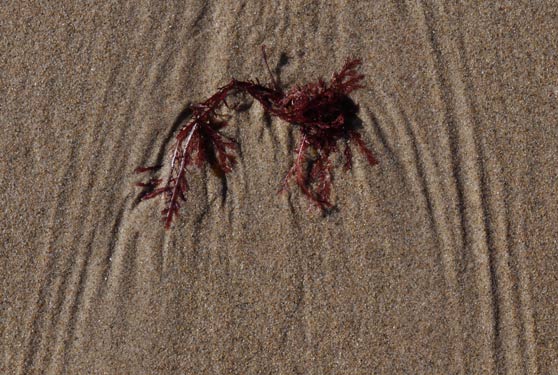 Friday, September 2nd 2011
Early in the morning there was a beautiful view up the beach to Noja. Then I walked up the beach, on beautiful, clean sand. I joined 3 others in my walk to Guemes. The company was nice. The Albergue was very nice. There was a communal dinner of a garlic noodle soup with hard boiled eggs and fish, then lentils with sausage, topped with fruit for dessert. On the north Camino, breakfast is often included with the Albergue stay, but this was my first included dinner. Spanish breakfasts are light, with some bread or sweet bread and coffee, milk, and juice.
Albergue: Guemes
Kilometer: 22 286
Weather: Sunny, hot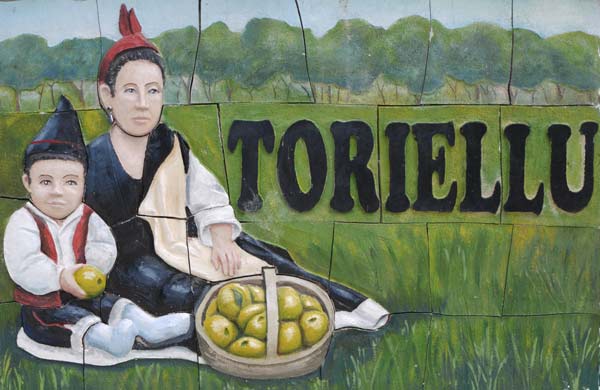 Saturday, September 3rd 2011
I, 2 Spaniards, and a Norwegian walked from Galizano on cliffs high above the ocean, then on beautiful beaches to Somo, where we took a long ferry ride to Santander. There we shopped for various lost equipment and visited the Cathedral. I lost my watch sometime in the morning, and there were not suitable replacements in the tourist shops.
Pension: Boo de Pielagos
Kilometer: 32 318
Weather: Sun, drizzle, cloudy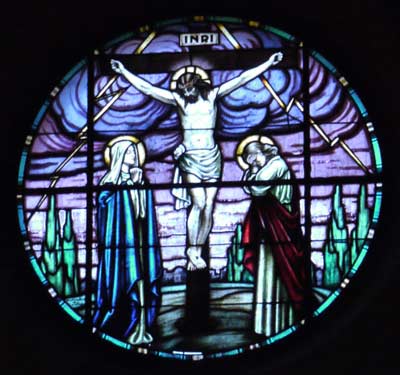 Sunday, September 4th 2011
It rained all day, so we walked wet and with little rest, which made for a tiring day. There were views of the coast and rivers, inlets, etcetera.
Albergue: Santillana del Mar
Kilometer: 30 348
Weather: Rain
Monday, September 5th 2011
I took a slower and shorter day to make up for 2 days of wet hiking. I had some friction rashes and it was nice to relax a little. The 78 year old Spaniard (Nyaki) l'd been with 3 days walked on to the next town, so it's just me and a Norwegian (Jan) now. We bought meat empanada, watermelon, and yogurt for dinner, bread and cheese with more watermelon and yogurt for breakfast. Someone left part of a huge chocolate bar with the free stuff in the Albergue , so we had an extra dessert.
Albergue: Comillas
Kilometer: 22 370
Weather: overcast, sun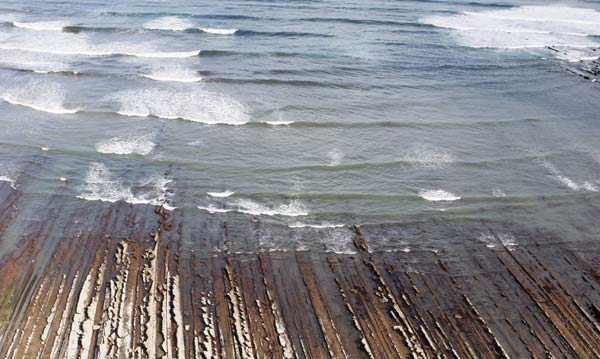 Tuesday, September 6th 2011
Rather than follow the Camino, I walked through a tidal mudflat and then on beautiful beaches at Rabia, Oyambre, and El Sable de Meron. I saw egrets, lizards, and a dead badger.
Albergue: Columbres
Kilometer: 32 402
Weather: Sun, scattered pretty cirrus clouds
Wednesday, September 7th 2011
I walked a coastal route (E9) from Pendueles to Llanes. It featured nice beaches, coastal views, blowholes, grazing cattle, sheep, and goats, and thickets of Gorse, Heather, and Blackberries. A freeway (A8) is being built here, so traffic, construction noise, and odd detours are problems for pilgrims.
Albergue: Poo de Llanes
Kilometer: 26 428
Weather: Sun, scattered pretty white cumulus clouds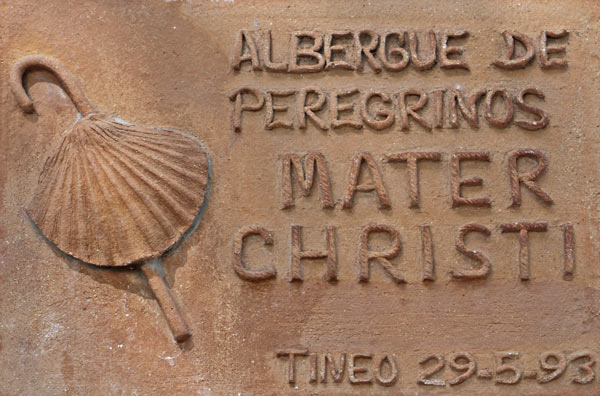 Thursday, September 8th 2011
I walked more beautiful coastal routes today. I saw a snake about 8" long with a yellow neck ring, brown head, and brown back with black speckles. There was some festival today. In several towns I saw people leaving their houses in nice traditional costumes, and in Nueva there was a parade with a marching band and the locals in costume. The Albergue was right on the beach, and I walked the promenade past the beach, along cliffs, and along the channel to the harbor. Ribadesella is a pretty coastal town.
Albergue: Ribadesella
Kilometer: 30 458
Weather: Sun, scattered pretty white cumulus clouds
Friday, September 9th 2011
The Camino followed beaches at Ribadesella and between Vega and La Isla. Jan stopped at La Isla due to blisters and the beautiful beach. He's been a very compatible and enjoyable walking partner. But we would have split tomorrow as he's walking the coastal route and I'll be on the Primitivo.
Albergue: Sebrayu
Kilometer: 32 490
Weather: Sunny, hot, humid, clear sky
Saturday, September 10th 2011
As I climbed a steep hill drenched in sweat, a local lady invited me into her kitchen for a glass of water. Before I left she also gave me a few apples and filled my water bottle. Many thanks!!
Albergue: Pola de Siero
Kilometer: 33 523
Weather: Sunny, hot, humid, cloudy
2011 Camino Primitivo de Santiago - Spain
Sunday, September 11th 2011
I visited the Oviedo cathedral. With the local festival, all the chapels were busy, and two marching bands in local costumes were roaming the surrounding streets. Most food stores were closed for the festival. At Oviedo, the Camino Primitivo officially started.
Albergue: Escamplero
Kilometer: 28 551
Weather: cooler, cloudy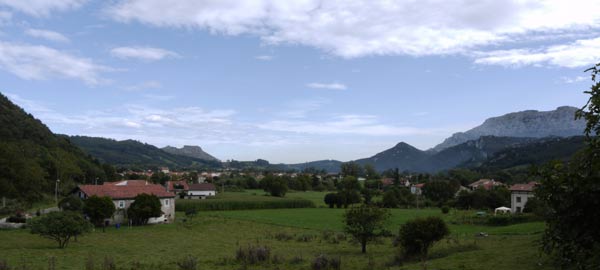 Monday, September 12th 2011
Many people here have dogs and cats. Most ignore the pilgrims; some bark or run away. Last night I petted a cat, and later he followed me and some other pilgrims halfway to our dinner at the local bar. This morning he was waiting outside the Albergue door and followed me across the parking lot. Luckily he found another cat to play with and I got away clean.
Later, I watched another cat stalk a lizard. When the cat pounced, the lizard separated his tail and escaped. The cat paid no attention whatever to the wiggling tail, yet was unable to locate the lizard.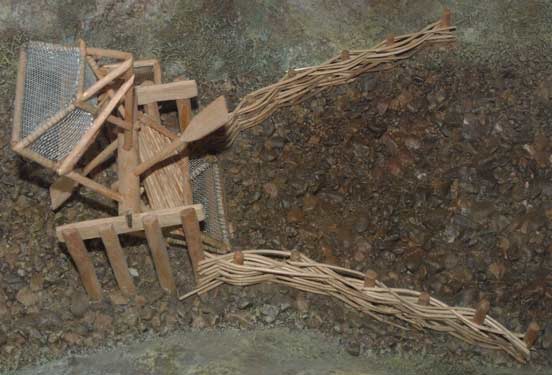 The Narcea River runs by the Albergue at Cornellana and is a major salmon run per the many interpretive and fishing regulation signs along it. There was a model of a river powered salmon catching wheel in the Albergue. No sign said whether such a wheel had been used locally.
Albergue: Cornellana, Monastary of San Salvador
Kilometer: 24 575
Weather: Sunny, clear, less humid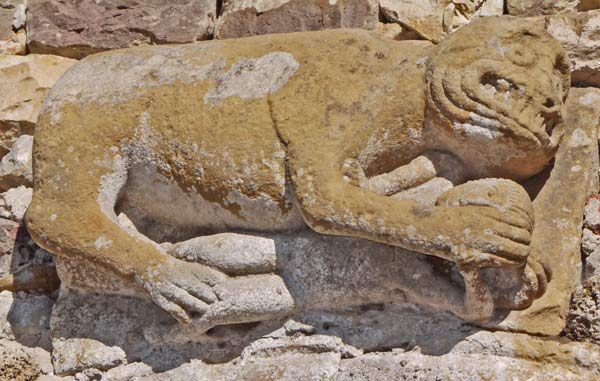 Tuesday, September 13th 2011
Much of the day's walk was along a freeway under construction. The bridges were half built and the grading was done, and waiting for paving. I walked right through the rock crushing and separating plant, and through the limestone mine for the cement. Other parts of the day were on busy, fast highways. I bought a watch at a weekly market to replace the one I'd lost.
Albergue: Tineo
Kilometer: 31 582
Weather: cooler, cloudy
Wednesday, September 14th 2011
Most of the day was foggy, with condensation dripping from anything overhead. I like the sound damped, misty vision, peaceful feel of foggy days so long as they don't happen too often. Many people told me that the Hospitales alternate Camino was very beautiful and peaceful, so I took it. It was a very nice, peaceful walk high on ridgelines, and would have had great views on a clear day. I saw no other pilgrims on it. There were 3 hospital ruins, just foundations of shelters on the ridgelines that would have been very attractive in bad weather. The highest point on the Camino Primitivo was at Hospital de Fonfaraon, at 1218 meters. The old definition of hospital just implied a place where hospitality was offered, not necessarily for sick people: On the Caminos, a place named hospital likely had a pilgrim shelter of some sort long ago. I saw a snake who had been run over. The Albergue at Berducedo was full, and there was less than an hour until dark. As I walked out of town, I could hear thunder and see rain streaks in the west, and the storm system was moving my way. There was also blue sky, so I hoped any storms would be brief. I found a spot in the forest out of the wind and camped under my tarp. Rain began immediately, and I could see and hear the lightning as the storm passed overhead to the east. The sun came out just before it set. No problems occurred.
Camp: between Berducedo and A Mesa
Kilometer: 45 627
Weather: Foggy, drippy day, late afternoon sun, evening thundershower
Thursday, September 15th 2011
This was an uneventful walk over a dam and around a reservoir. The ruins of the concrete plant and workers village were interesting views. I found nuts and blackberries to eat. Dinner was rice and fried eggs with yellow tomato sauce, swordfish, and green salad with Santiago torte, bread, and red wine. It was the first different pilgrim menu I'd seen in quite some time.
Albergue: Castro
Kilometer: 22 649
Weather: Sunny, cloudy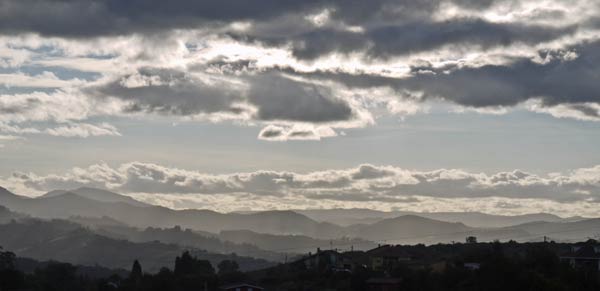 Friday, September 16th 2011
Albergue: Padron
Kilometer: 22 671
Weather: Foggy, sunny
Saturday, September 17th 2011
Albergue: O Cadavo
Kilometer: 23 694
Weather: Overcast, cool, moments of drizzle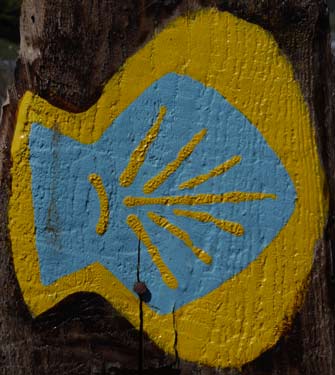 Sunday, September 18th 2011
I checked into the Albergue in Lugo and later found that the bus for Seville leaves at 8:45pm. I bought a ticket and waited, but I guess the bus was marked for a different company and route, and the driver said it was the wrong bus when I asked, so I missed it. I had to do quite a bit of arguing just to get the ticket changed to tomorrow. So I ended up in the Albergue anyway. I walked around Lugo on the city walls, which are now topped by a nice gravel walking path. So ends my walk on the Primitivo.
Albergue: Lugo
Kilometer: 33 727
Weather: Overcast, cool, 10 minutes of rain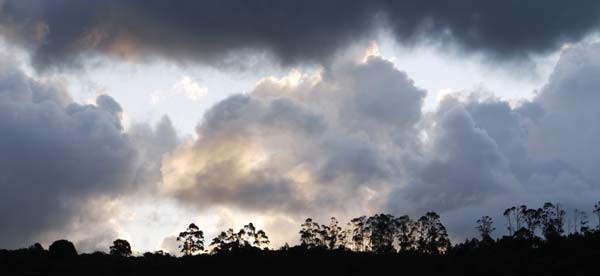 Monday, September 19th 2011
I walked the city walls a couple of times, and visited the cathedral, but there was not much that appealed to me in Lugo. So I read books and newspapers in the park. My criteria for selecting reading books here is almost just that they are in English. There have been a few that were just too insipid to read, though. Next time I'll have to bring something I like. I caught the bus with no problem.
Slept??: All night bus to Seville (49€)
Kilometer: 5 732
Weather: Overcast, cool
Some Locations along the Camino de Santiago
Place
Latitude
Longitude
Elevation
Meters
Date & Time
Comment
Irun
43.342881
-1.799855
6
2011-08-25T06:25:46Z
Santuario de Guadalupe
43.366372
-1.821257
181
2011-08-25T07:36:18Z
Lebo
43.321235
-1.896639
13
2011-08-25T10:05:32Z
Ferry
43.326539
-1.920977
9
2011-08-25T11:01:47Z
Zarautz
43.286171
-2.169484
11
2011-08-26T08:30:08Z
Getaria
43.302772
-2.203616
35
2011-08-26T09:43:56Z
Zumaia
43.294376
-2.253960
0
2011-08-26T11:06:52Z
San Sebastian +GR121 CaminoDeSt
43.286104
-2.291954
124
2011-08-27T06:43:28Z
Ermita Santa Katalina
43.298590
-2.342925
97
2011-08-27T09:12:29Z
Deba
43.296386
-2.355510
0
2011-08-27T09:44:27Z
ErromusinaLimosnaErmitaCalvario
43.298663
-2.382613
156
2011-08-27T11:18:27Z
OlatzAuzoaBarrioOlatzIsSanIsdro
43.288077
-2.407452
108
2011-08-27T12:21:19Z
Markina Xemein
43.271327
-2.495287
0
2011-08-27T16:14:27Z
Bolivar
43.249474
-2.551051
119
2011-08-28T06:52:52Z
Munitibar
43.265528
-2.592636
125
2011-08-28T08:12:28Z
Olabe
43.285481
-2.636251
0
2011-08-28T09:54:19Z
Gernika
43.319753
-2.672748
0
2011-08-28T14:32:48Z
Santa Luzia Ermita
43.305467
-2.687003
0
2011-08-29T06:09:35Z
San Esteban de Gerekiz Ermita
43.299105
-2.738777
134
2011-08-29T07:51:02Z
Goikolexalde
43.267241
-2.784046
42
2011-08-29T10:01:02Z
Lezama
43.273894
-2.832752
15
2011-08-29T11:00:08Z
Zamudio
43.282726
-2.859710
2
2011-08-29T11:41:57Z
Bilbao Albergue
43.260323
-2.962757
132
2011-08-30T05:50:07Z
Desvio a Pobena
43.344983
-3.125013
14
2011-08-30T13:33:59Z
Onton
43.350261
-3.173324
57
2011-08-31T07:30:12Z
Miono
43.359771
-3.202641
49
2011-08-31T08:30:08Z
Castro Urdiales
43.385044
-3.217010
49
2011-08-31T09:55:16Z
Cerdigo
43.399077
-3.265517
106
2011-08-31T11:16:49Z
Islares
43.405107
-3.299525
69
2011-08-31T12:35:07Z
El Pontarron de Guriazo Albergu
43.377851
-3.320442
57
2011-08-31T13:47:57Z
Punta del Brusco
43.468213
-3.476820
88
2011-09-02T06:55:41Z
Noja
43.479964
-3.520228
36
2011-09-02T08:31:53Z
Iglesia Castillo
43.458599
-3.554286
63
2011-09-02T09:39:33Z
Meruelo
43.456607
-3.570131
60
2011-09-02T10:15:58Z
Bareyo
43.468601
-3.599037
85
2011-09-02T10:59:43Z
Guemes Albergue Abuelo
43.447893
-3.645717
96
2011-09-02T14:26:26Z
+Galizano
43.466566
-3.668756
13
2011-09-03T06:58:18Z
Cliff Beach
43.471350
-3.724833
12
2011-09-03T08:27:44Z
Left Beach
43.457052
-3.743175
0
2011-09-03T09:05:57Z
Somo Ferry
43.451862
-3.746436
0
2011-09-03T09:25:41Z
Santander Ferry
43.461450
-3.801284
0
2011-09-03T09:53:21Z
Boo de Pielagos
43.431777
-3.945914
18
2011-09-03T15:43:00Z
Puente Arce Rio Pas
43.403172
-3.947325
0
2011-09-04T07:18:49Z
Mogro
43.426147
-3.971228
29
2011-09-04T08:30:38Z
Cudon
43.402222
-4.016157
28
2011-09-04T10:33:36Z
Requejada Polanco
43.390970
-4.029076
0
2011-09-04T10:55:10Z
Barrenda
43.378465
-4.038906
0
2011-09-04T11:56:16Z
Viveda
43.377721
-4.047803
0
2011-09-04T12:13:17Z
Santillana del Mar
43.391520
-4.105327
36
2011-09-04T13:54:38Z
Cobreces
43.384833
-4.211418
0
2011-09-05T08:59:23Z
La Iglesia
43.381072
-4.252060
0
2011-09-05T10:58:39Z
Pando
43.377929
-4.260880
0
2011-09-05T11:18:18Z
Comillas
43.387019
-4.292030
0
2011-09-05T13:32:11Z
La Gerruca
43.394791
-4.348152
0
2011-09-06T07:30:16Z
San Vicente de la Barquera
43.381487
-4.396799
0
2011-09-06T09:06:01Z
La Acebosa
43.366314
-4.409369
0
2011-09-06T09:56:43Z
Colombres
43.375144
-4.537362
13
2011-09-06T14:11:20Z
La Franca
43.384774
-4.569200
0
2011-09-07T06:40:17Z
Pendueles +E9 Camino
43.396700
-4.637396
0
2011-09-07T08:29:51Z
Llanes
43.421037
-4.755308
0
2011-09-07T12:24:25Z
Poo de Llanes
43.426592
-4.782591
0
2011-09-07T16:36:32Z
Celerio
43.427759
-4.805603
0
2011-09-08T06:52:06Z
Barru
43.431239
-4.826431
0
2011-09-08T07:19:07Z
Naves Water Spigot
43.440701
-4.888552
0
2011-09-08T09:10:20Z
Nueva
43.437655
-4.938185
52
2011-09-08T10:42:46Z
Toriellu
43.448115
-5.001397
47
2011-09-08T12:20:52Z
Ribadesella Albergue
43.465107
-5.066432
25
2011-09-08T15:05:40Z
Colunga
43.485299
-5.270430
113
2011-09-09T11:33:42Z
Priesca
43.485248
-5.358663
243
2011-09-09T13:33:58Z
Sebrayu Albergue
43.498104
-5.379800
118
2011-09-09T15:16:31Z
Monasterio de Valdedios
43.436994
-5.507115
213
2011-09-10T09:39:31Z
Vega de Sariego
43.410535
-5.557920
360
2011-09-10T12:00:16Z
El Castru
43.408830
-5.596018
341
2011-09-10T12:50:28Z
Ermita Bienvenida
43.398744
-5.628902
333
2011-09-10T13:47:42Z
Pola de Siero
43.393112
-5.666319
266
2011-09-10T17:39:13Z
Oviedo
43.362862
-5.842080
254
2011-09-11T10:13:33Z
Capilla de el Carmen
43.376749
-5.909401
243
2011-09-11T12:35:11Z
Escamplero
43.394754
-5.952418
267
2011-09-11T14:02:09Z
Grado
43.393214
-6.066499
41
2011-09-12T08:53:56Z
Santa Eulalia de Dorigo
43.395396
-6.144584
114
2011-09-12T11:06:40Z
Cornellana Albergue Monasterio
43.408980
-6.157392
58
2011-09-12T13:37:10Z
Fuente de Santiago
43.406892
-6.210494
110
2011-09-13T06:47:02Z
Salas
43.409302
-6.262108
238
2011-09-13T08:30:22Z
La Espina
43.397494
-6.331582
637
2011-09-13T10:18:08Z
El Pedregal
43.371966
-6.366002
686
2011-09-13T11:29:21Z
Tineo Albergue
43.336140
-6.407797
646
2011-09-13T13:39:36Z
Campiello
43.336535
-6.524778
605
2011-09-14T09:32:01Z
+CaminoHospitales PoloAllande
43.329126
-6.565938
711
2011-09-14T10:43:20Z
RuinsHospitalParadiella
43.309608
-6.616042
999
2011-09-14T12:06:23Z
Ruins Hospital Fonfaraon
43.300542
-6.637881
1186
2011-09-14T12:50:29Z
Ruins Hospital Valparaiso
43.304276
-6.653570
1193
2011-09-14T13:37:09Z
ChapelDeSantiagoDeMontefurado
43.265916
-6.695485
972
2011-09-14T14:58:09Z
Iglesia Santa Maria de Lago
43.253249
-6.730865
915
2011-09-14T16:02:38Z
Camp Berducedo A Mesa
43.230602
-6.782962
1022
2011-09-14T18:33:05Z
Grandas de Salime
43.217470
-6.875442
629
2011-09-15T10:36:45Z
Castro Albergue
43.200453
-6.921594
748
2011-09-15T13:51:36Z
A Fonsagrada
43.126076
-7.067394
969
2011-09-16T11:40:28Z
Padron Albergue
43.115978
-7.078088
904
2011-09-16T12:12:31Z
A Lastra
43.051423
-7.178407
830
2011-09-17T09:02:17Z
Fontaneira
43.033881
-7.200019
910
2011-09-17T09:42:57Z
Cadavo Albergue
43.017174
-7.245022
742
2011-09-17T10:49:38Z
Vilabade
43.035696
-7.300356
682
2011-09-18T06:59:38Z
Castroverde
43.029330
-7.327126
601
2011-09-18T07:36:09Z
Santa Maria de Gondar
43.022069
-7.421944
492
2011-09-18T09:27:16Z
A Vina
43.019953
-7.498565
510
2011-09-18T11:11:15Z
Lugo
43.010431
-7.553536
475
2011-09-18T12:46:22Z
Place
Latitude
Longitude
Elevation
Meters
Date & Time
Comment