2011 Camino de Santiago - Spain
Map Index to my Camino de Santiago Walks
Click on Trails for Links
Dwell Cursor over Trails for Information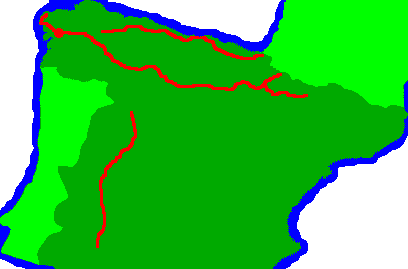 Thoughts on the Camino Frances
Highlights
One of the best aspects of the Camino Frances was that I met interesting people all the time. Even when language was a strain, which was often, the conversations were fun and interesting. I had the pilgrim meals many nights. They provided a big, good meal of local taste, and another chance to talk to the other pilgrims, who come from all over the world. At other times I ate a loaf of fresh bread and whatever other fruit, cheese, etcetera could be bought in stores along the way. Albergues, or bunkrooms with kitchen, shower, laundry, toilet, and sometimes other facilities, are a good way to stay out of the weather, not need camping gear, and meet other pilgrims. There are many buildings that incorporate impressive art, and there is much of historic significance. Often I walked on Roman bridges and roads.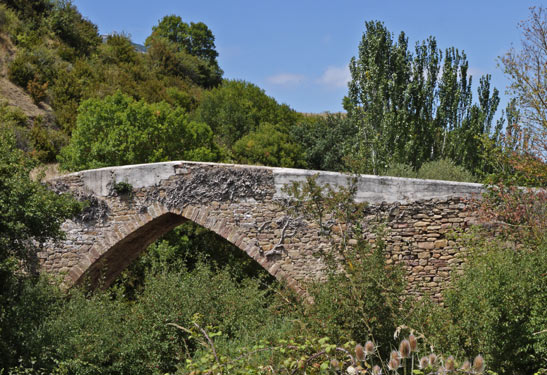 Number of Pilgrims
2 or 3 hundred pilgrims a day pass any given point on the French Way in summer, even in eastern Spain. This means people are almost always visible in front of and behind you, and the footpath is often as wide as a dirt road.
Wildlife
There is not much wildlife to be seen. I saw maybe one or two lizards a day, a rabbit every few days, one deer in a wild setting, etcetera. Maybe this is due to the volume of pilgrims and the intensive agriculture.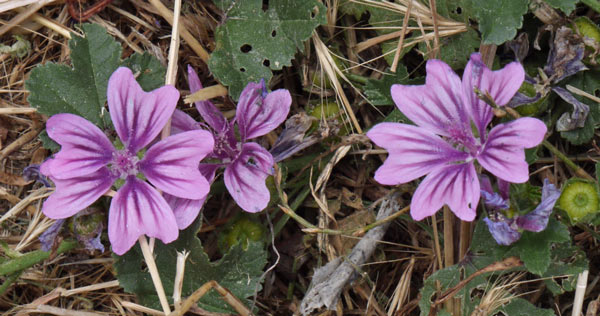 Social Life
I've found that the smaller albergues in the smaller towns are more fun because the other walkers talk together and form groups for dinner or other activities more than they do in the cities and crowded albergues.
Equipment
Were I to walk the Camino Frances again, I would strip my gear down to a day pack and assume everything else would be at albergues or would not be essential. Other routes may require the additional camping gear I'm carrying.
Navigation and Guidebooks
The route is generally so well marked and so obvious that a guidebook is not necessary to navigate from town to town. Maps of the towns showing the turns through the streets and the locations of the must see sites would be useful, as would up to date info on albergues and distances between towns.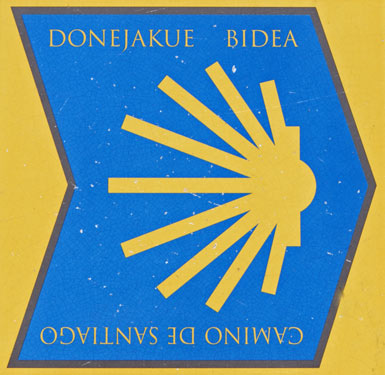 Daily Routine
The Camino Frances differs from all other routes I've walked because one needs to check into an Albergue by mid afternoon to ensure the availability of a bed. Furthermore, afternoons seem to get progressively hotter until quite late in the day. So finishing by 3 or 4 in the afternoon is a goal. I usually started around 6:15 because it was light enough to see the yellow arrows and scallop shells that mark the way. But often other pilgrims were quite noisy when packing and leaving at 4 or 5am. So sometimes I leave then and use a flashlight with a well focused beam to find and verify blazes. The stars are nice at that hour and I've seen a few shooting stars. I buy a loaf of bread at the first bakery and eat it over the course of the day. 35 kilometers (~21 miles) a day is my goal, modified to end at an Albergue, of course. Dinner is usually around 7pm, leaving time for showers, laundry, and whatever else the Albergue offers.
Daily Journal on the Camino Frances
Tuesday, July 19th, 2011
I arrived in Madrid and walked around a bit near the Atocha rail station. I hadn't slept much on the airplane so it was a struggle to stay awake until after dark and adjust to the time change.
Hostal: near Atocha Train Station
Kilometer: 3
Weather: Mostly overcast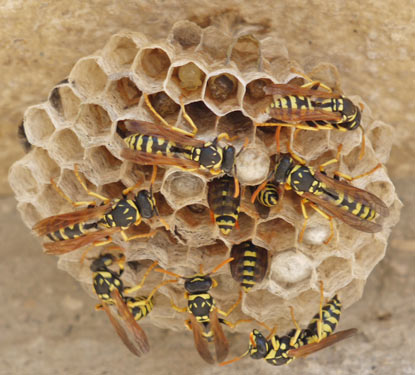 Wednesday, July 20th, 2011
Between my train to Pamplona and my bus to Roncesvalles, I had enough time to explore much of Pamplona. I had just enough time in Roncesvalles to eat (Pasta, Trout, Fried Potatoes, and Yogurt, with Red Wine) and get my pilgrim credential. Most of the large bus was filled with pilgrims, and plenty more arrived by other conveyance, so there will be plenty of others on the Camino. I could see the Camino de Santiago from the bus: it was well marked and often gravelled or paved, even out in wild areas.
Albergue: Roncesvalles
Kilometer: 6 9
Weather: Mostly overcast

Thursday, July 21st, 2011
I began my walk in drizzle that lasted a couple of hours and returned periodically through the day. The walk was nice, with strolls through pastures, woods, and villages. It was easy to follow, at least two walkers wide, usually gravelled or paved, and with many modified scallop shell blazes. Along the way, I found an Australian friend, Terry, to walk and talk with. He told me there is a 1000 kilometer walking path from Albany to Perth in Australia. There were always other pilgrims in sight and ready to visit with during my walk. On reaching Zubiri, I decided to have 'a couple' of beers with some Germans, a Canadian, and my Australian friend. Hours later, I staggered out to find a bed in town. A pilgrim meal of garlic soup, pork, and fried potatos, with wine and bread, topped off the day.
Albergue: Zubiri
Kilometer: 23 32
Weather: Mostly overcast, hours of drizzle, some sun.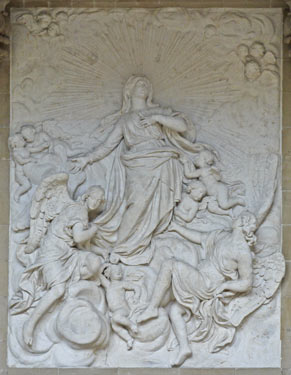 Friday, July 22nd, 2011
The church at Zabaldica had quite a few nice statues and the oldest bell in the region. Also, the lights were on so you could take good pictures and they encouraged you to see every part of the church, including climbing the tower and ringing the bell. I walked a side trail to a ridgeline adjacent to Trinidad de Arre. Along it there were many ruins of old fortfications from various wars and outstanding views of Arre and Pamplona. In Arre there was a natural waterfall which powered mills for making felt, paper, and other goods over the years. Just enough ruins were left among modern buildings to remember the industrial past.
Albergue: Trinidad de Arre
Kilometer: 20 52
Weather: Mostly overcast, hours of drizzle, some sun.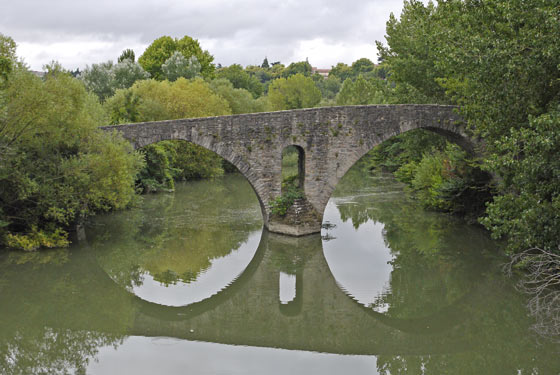 Daily Journal on the Camino Aragonese
Saturday, July 23rd, 2011
In the morning I walked into Pamplona, which has its old city walls and fortifications largely intact. I spent some time exploring those then took a bus to Jaca so I could walk the Camino Aragonese. This route will join the route I've been on, the Camino Frances, west of Pamplona at Puente la Reina, in a few days. Jaca has an intact fortress (a herd of vicious deer patrol the moat) and several churches with ornate art. Though I had a full pizza dinner around 6:30, a Spanish couple adopted me at 9 pm and fed me a whole additional dinner. It was fun to explain in my limited Spanish my reasons for walking the Camino, etcetera.
Albergue: Jaca
Kilometer: 11 63
Weather: Sunny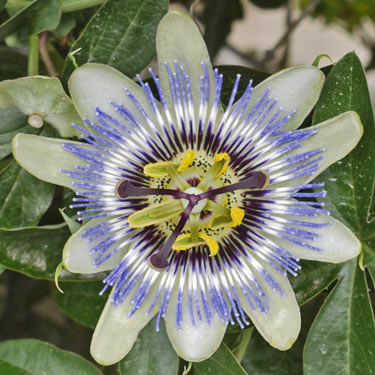 Sunday, July 24th, 2011
Rather than the main route along the highway, I walked a side route over a couple of ridgelines to the old monastery at San Juan de la Pena. I met no other pilgrims, but there were some super fast lizards I saw zipping into hiding. A few hawks patrolled the sky. One place I found fossil scallop shells. Since scallop shells are the sign of the Camino de Satiago, I thought that was appropriate. The plant community was much like chaparral, but greener from a little more water. There were no food stores, so I did not eat from dinner last night until dinner tonight.
Albergue: Santa Cilia de Jaca
Kilometer: 40 103
Weather: Sunny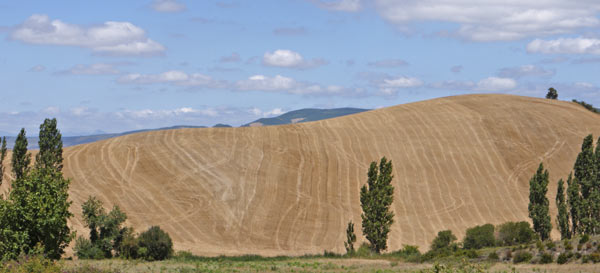 Monday, July 25th, 2011
Though I stayed mostly on the main route, I saw only two other pilgrims. The Camino Aragonese is much less travelled (<25 pilgrims per day) than the Camino Frances (>250 pilgrims per day east of Pamplona). As a consequence, the route is often single track, and much more like the hiking I prefer at home. But the Camino Frances, with its camaraderie and food shops in every town, is fun in a unique way.
Albergue: Artieda
Kilometer: 22 125
Weather: Sunny, afternoon drizzle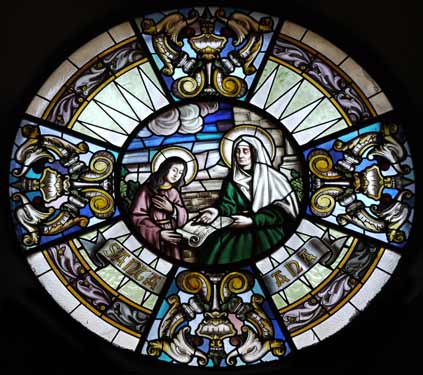 Tuesday, July 26th, 2011
Today's trail was again mostly single track and dirt road, with occasional sections on one lane asphalt roads. Much of the route was in pine plantations, and there were chainsaws running in the woods and stacks of 6 inch logs about 6 feet long, probably headed for a paper pulp mill. I passed only one town, Ruesta, so I bought a dried ham and cheese sandwich there for breakfast. I stayed in the second town, Undues de Lerda. This tiny town, like many others, is built on the crest of a hill, and the Albergue is in a tall tower standing atop the hill. My dormitory was on the top floor, and the logs supporting the tile roof were exposed. Furthermore, the view was spectacular. It's the coolest dormitory so far. Lunch was a pig jaw, fries, and pasta with sausages. There have been no open bakers or food stores since Jaca, so most of my food on this route comes from the only bars or restaurants in the tiny towns I pass on the Camino Aragonese. My lunch was with a Spaniard, and he asked if it was difficult to walk the Camino with my limited Spanish. It's impossible for me to follow conversations as they are too fast and use too many words I don't know. But it's not too hard to ask for food or directions, so I do well enough. Dinner was a first for Spain, the first full meal without fried potatoes. Garbanzo beans were the first course, followed by salad and fish, then tieramisu.
Albergue: Undues de Lerda
Kilometer: 18 143
Weather: Sun, drizzle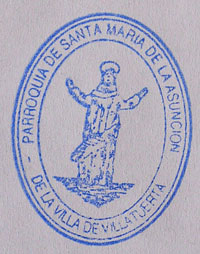 Wednesday, July 27th, 2011
The clouds seemed to be breaking up: perhaps the rain will stop for a while. There were many windmills on ridgelines. The walk into Sanguesa was short and easy.
Albergue: Sanguesa
Kilometer: 13 156
Weather: Cloudy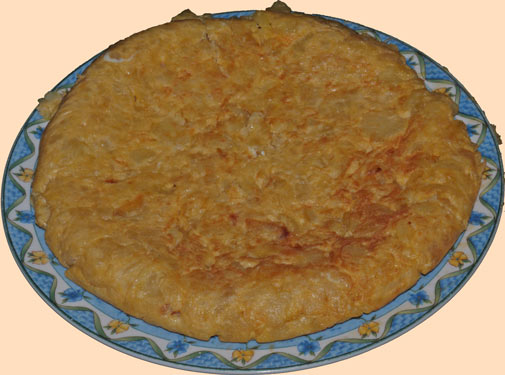 Thursday, July 28th, 2011
Today's highlight was a dinner communally prepared and eaten by most of the pilgrims in the Albergue. It included a Spanish omlette and green, pasta, and bean salads, and lots of conversation. There was also a tour of the church, including the bell tower, which was high enough above the town to be pretty scary. One pilgrim here walked from Poland and is headed for Fatima in Portugal. That's 5500 kilometers one way, and he plans to walk back.
Albergue: Monreal
Kilometer: 29 185
Weather: Sun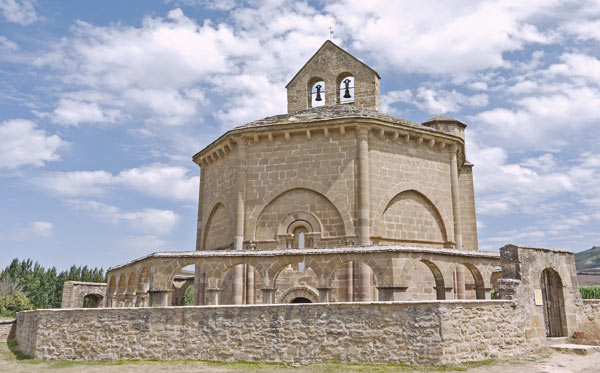 It is a tradition for pilgrims to walk 3 times barefoot on the sharp cobbles around the Templar Eunate Church shown above. There was a big crowd seeing the interior and walking the courtyard. Every day a pilgrim has his credential stamped several times to be able to prove that they are on pilgrimage. Then they can use the pilgrim dormitories, and other services reserved for pilgrims. Below is the stamp from the Eunate Church.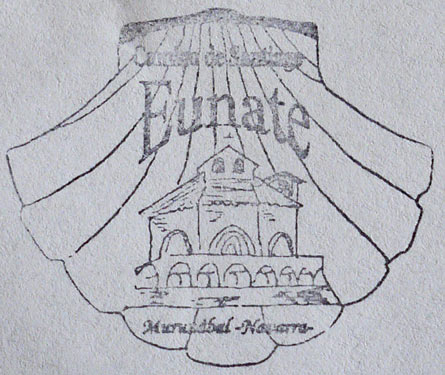 Returning to the Camino Frances
Friday, July 29th, 2011
I spent the day walking with an Indian couple, a French couple, and a Slovenian guy. The common language was English, and we had interesting conversations on many subjects. There is a 7 or 900 kilometer trail in Slovenia with hostels that are ~7€ if you are a member of the national mountaineering club. In India there are many pilgrimages, some where the participants haul huge temples behind them. There was a bullfighting festival in Puente la Reina, and I went down to see the crazy tourists who taunt the bulls and jump over the barriers when the bull chases them. I saw a deer late in the morning.
Albergue: Puente la Reina
Kilometer: 30 215
Weather: Sun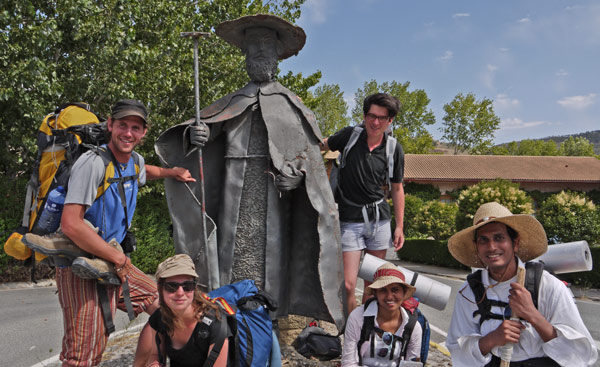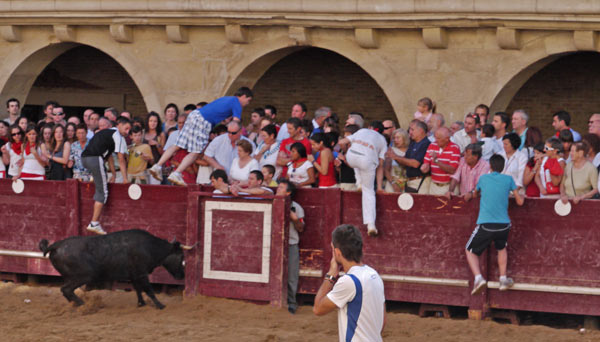 Saturday, July 30th, 2011
I was able to buy a freshly baked chocolate filled crescent roll as I walked through Puente la Reina before dawn. Later I bought multigrain bread. There were wild rose hips and blackberries to eat along the Camino. When the rose hips are bright red, they are sweet and tasty. Not many of the blackberries are ripe. Wild anise is in bloom, but there are no seeds to harvest yet. Crops here include hay, corn, olives, grapes, and sunflowers. There was a tap dispensing free wine just off the trail. There is no shortage of food on the French way.
Albergue: Villamayor de Monjardin
Kilometer: 31 246
Weather: Sun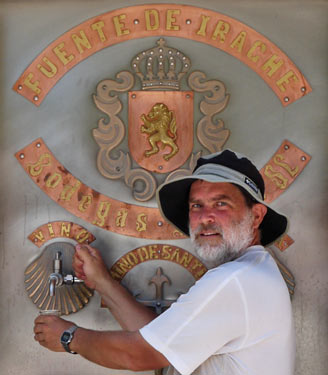 Sunday, July 31st, 2011
This was an easy section, generally with a slight downhill slope. The number of pilgrims seems less than it did east of Pamplona. Perhaps they are more spread put over the day, and it just doesn't seem crowded, or maybe people try hiking from the east of Spain then quit or skip forward. It's getting hot in the afternoons now.
Albergue: Logrono
Kilometer: 40 286
Weather: Sun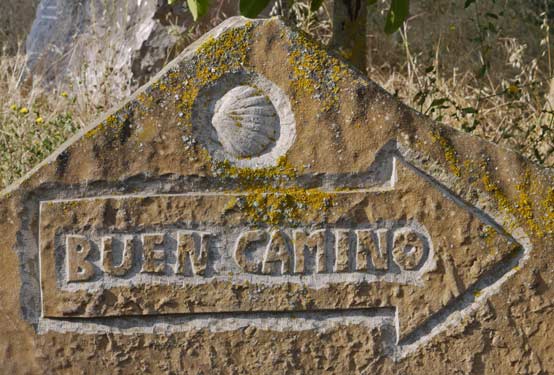 Monday, August 1st, 2011
There were ducks in the Pantano de la Grajera reservoir, just west of Logrono. Also early in the morning rabbits were out among the grapes. Later someone was thinning the grapes and branches in a vineyard. Much of the route was paved, causing some hot spots on the balls of my feet. Much of the land was irrigated, today with tractor driven pumps and steel pipes, but also there were abandoned concrete flumes, sometimes supported well above the ground on concrete pillars. Utility poles all seem to be concrete or steel in Spain, but whether this is because wood is rare or attacked by pests, etcetera, is unclear.
Albergue: Azofra
Kilometer: 35 321
Weather: Sun, afternoon rain

Tuesday, August 2nd, 2011
There were many wheat fields today. Many had been harvested, and the rest seemed ready. Though I've seen no live snakes or even tracks, I saw a roadkilled snake. In the Cathedral in Santo Domingo, I saw the famous chickens, and many other relics and other church implements.
Albergue: Belorado
Kilometer: 37 358
Weather: Cloudy, afternoon rain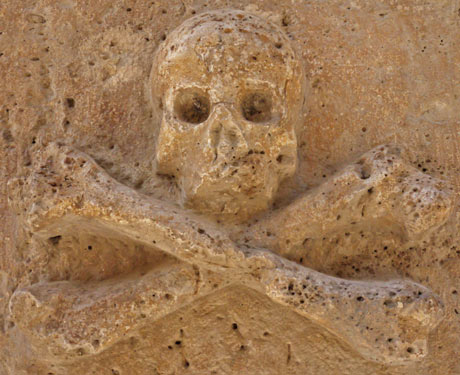 Wednesday, August 3rd, 2011
Much of today's route was through commercial woodlands, either pine or oak. There also were wheat and sunflower fields. Sometimes I ate the wheat left over at the edges of the harvested fields. I had to separate the wheat grains from the cellulose shafts, sheaths, and etcetera. By hand, it is laborious to free the wheat from the chaff and blow the chaff free. But as white bread is predominant here, it's great to occasionally taste grain as it's supposed to taste. There were some butterflies. I got together with 2 English, a German, a Kiwi, and a Hungarian for beers and dinner.
Albergue: Atapuerca
Kilometer: 30 388
Weather: Foggy morning, afternoon sun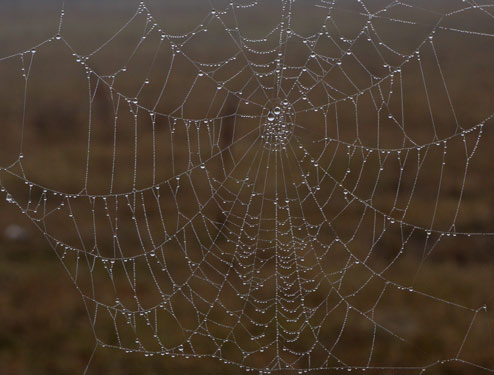 Thursday, August 4th 2011
The first half of today's walk was through typical agricultural land. I then walked past many industrial parks and truck terminals on the outskirts of Burgos. The cathedral was quite nice, and there was a bike race going over the Castillo hill. I spent the afternoon with Anna, a Hungarian girl, exploring the town and finding good beer and food.
Albergue: Burgos
Kilometer: 22 410
Weather: sun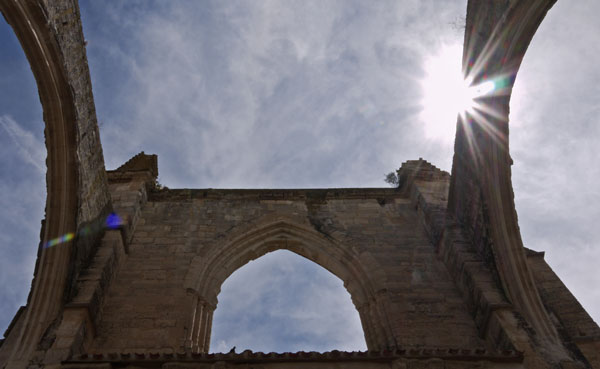 Friday, August 5th 2011
Burgos had few markers for the Camino, and I really had to watch to know where to walk. So for a while I walked with the Polish pilgrim to Fatima, and though we had few words of vocabulary in common, we didn't need many to help each others follow the way. Every morning I buy a fresh loaf of bread and eat it over the course of the day. Today's loaf was hot from the oven - a special treat. I finally got a few photos of a local lizard: they are usually gone before I can unzip my camera bag. Once again, the balls of my feet were hot spots or potential blisters by the end of the day.
Albergue: Castrojeriz
Kilometer: 40 450
Weather: Mostly cloudy, nice breeze, a little sun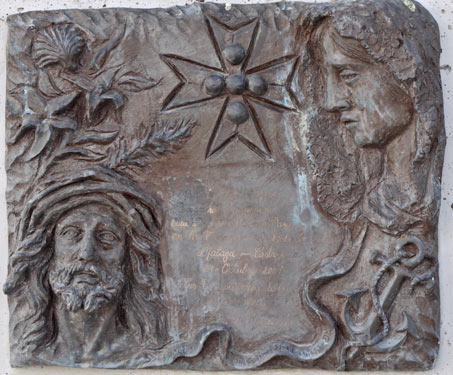 Saturday, August 6th 2011
For the last few days, I've been seeing many adobe buildings. Unfortunately, most are eroding in the weather and not receiving repairs. There are a lot of flies here, some days enough to drive one crazy. The pilgrim meal was great, with a dozen pilgrims, great conversation, garlic and bread soup, salad, and an egg and potato tortilla, with melon for dessert.
Albergue: Poblacion de Campos
Kilometer: 29 479
Weather: Mostly cloudy, windy enough for occasional dust in the eyes, a moment of rain
Sunday, August 7th 2011
I passed through a town named 'Carrion de Los Condes' or 'Rotten Meat for Vultures' in English. With the sights and smells of the carnage, I of course left as quickly as possible.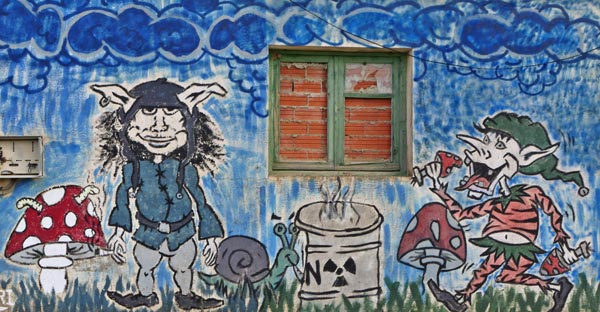 Later, in Calzadilla de la Cueza, after a shower, swim, and laundry, I headed for the town bar for company, a few beers, and a dinner of eggs, fries, steak, and salad. I hung out with Anna and a half dozen other Hungarians, plus a few others. With a Spaniard I compared the Social Security, Social Medicine, and pension systems of several countries. Another pilgrim who has walked the length of the North Coast route of the Camino told me that it is very much off highway and wild, tough hiking. That sounds great to me. She recommended the 'primitive' route beyond Oviedo as it goes over less than 1500m mountains and thus offers variety versus the coastline I would already have seen.
Albergue: Calzadilla de la Cueza
Kilometer: 33 512
Weather: Cloudy morning, sunny afternoon, cool pleasant breeze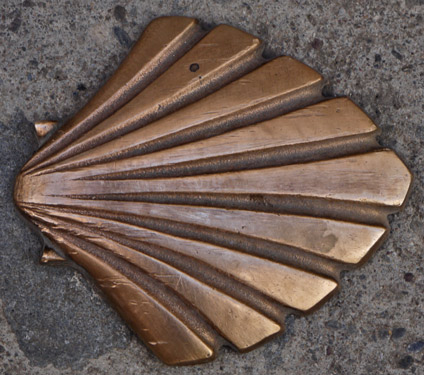 Monday, August 8th 2011
I took a less travelled parallel Roman road west from Calzada del Coto. It was a nice, quiet dirt road. Dinner was gazpacho, or cold tomato base soup, and albondigas, or meatballs. For desert I chose curds, mostly because I'd never had them. They were a bit like plain yoghurt, and honey was provided so I could sweeten the curds to my taste. My dinner companions were a Hungarian and a Korean.
Albergue: Calzadilla de los Hermanillos
Kilometer: 39 551
Weather: Cloudy morning, sunny afternoon, cool pleasant breeze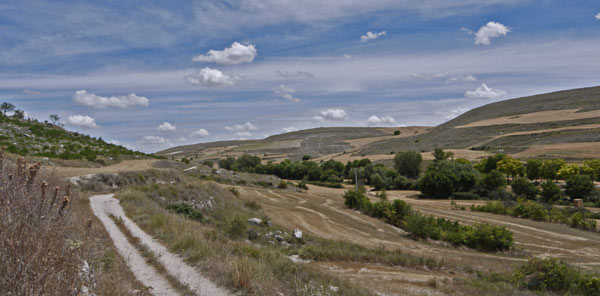 Tuesday, August 9th 2011
A little of the Roman road was fenced off for preservation, but otherwise, this route was just a regular dirt road. I ate great blackberries and fresh anise seeds along the trail. Salad with pork and, of course, fries, finished the day.
Albergue: Puente de Villarente
Kilometer: 39 590
Weather: Clear, pleasant
Wednesday, August 10th 2011
The cathedral in Leon was quite nice and was free. There were huts built into dirt mounds, some with chimneys and smoke. West of Virgen del Camino, the main route is along highways, so I took an alternative to the south. Much of the land on this route was fallow though clearly had been farmland before. Several dustdevils formed in nearby fields and entrained dust and grass stalks: These were fun to watch. A smoke column rose from a wildfire in mountains to the north, but with miles of farms between me and the fire, there was no need to worry. There were good blackberries and rose hips to eat. Dinner was slightly spicy noodle soup, pork, and fried potatoes. I think I've exhausted the standard pilgrim menus and unless other walkers want to join me or there's something unique on the menu, I'll be making my own dinners to save a little and get better nutrition.
Albergue: Villar de Mazarife
Kilometer: 34 624
Weather: Clear, pleasant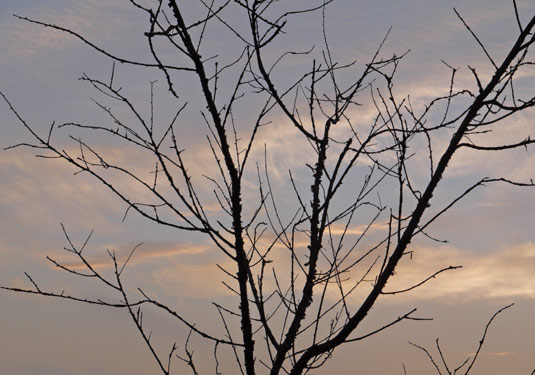 Thursday, August 11th 2011
I met a Japanese guy walking in traditional Japanese robes, hat, etcetera. In Japan, he's been wearing these clothes for 3 years. He says a lot of people stop him to take pictures. A late lunch consisted of crab-potato salad and veal stew with fries, and rice pudding for dessert. The company was Chiba, the Japanese guy, and a Spanish family. The same group gathered to prepare and eat dinner - pasta and green salads, chicken in tomato based sauce, with 2 kinds of melon, a semi-dried fruit puree, and ice cream bars for desert. My room in the Albergue was named 'Carrion de Los Condes'.
I gave someone directions to the grocery store in my fractured Spanish. They asked in English whether fruit was sold there, so I replied in English 'Yes, it is.' I was complemented on my excellent English skills, so I responded 'gracias'.
Albergue: Astorga
Kilometer: 33 657
Weather: Clear, hot, humid

Friday, August 12th 2011
Today's walk was a long, gradual, easy ascent and descent over a 1500 meter ridgeline. The climate, terrain, general appearance of the brush were reminiscent of chaparral on southern California.
Albergue: Riego de Ambros
Kilometer: 42 699
Weather: Clear, hot, breezy, cirrus clouds - weather change in a few days?

Saturday, August 13th 2011
I saw my first snake track in Spain, rectilinear motion and 3/4" diameter. Hundreds of teenagers from various countries have gathered here to see the pope in a day or two. I've been running into them since Astorga and today they walked the last 7 kilometers at the same time as me. Groups of them were all over town as I touristed about and bought dinner. Because of them all the churches along the way were open, so I visited many of them.
Albergue: Villafrance del Bierzo
Kilometer: 37 736
Weather: Clear, hot, breezy, cirrus clouds in afternoon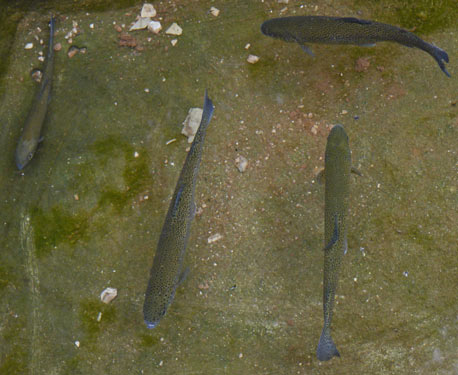 Sunday, August 14th 2011
Today's alternative route was excellent. In the villages, chickens, cows, and dogs ran free. Trails were overgrown. I saw no other pilgrims, though I met 3 later who also had taken the route. It had the feel of true rural Spain, unmodified by hordes of pilgrims. In San Fiz do Seo some joker had put a half dozen good sized trout in the livestock trough of the town water fountain. There was another snake track, and a spider with a body 5/8" diameter. Dinner was lentil soup, pork, and fries, with a good pastry/cake for dessert.
Albergue: La Faba
Kilometer: 34 770
Weather: overcast, humid, warm, occasional quick shower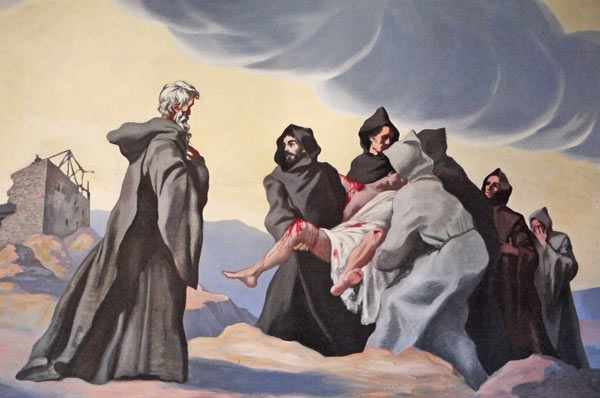 Monday, August 15th 2011
Today, a woman almost cried on reaching the border of Galicia. This Camino is mostly walked by people who have never tried a long distance hike, and will never do another. So I'm often surprised at people's reactions to events that seem normal to me. Knowledge of foot care for long distance walking is almost nonexistent. I had a great meat empanada for brunch. Dinner was potato soup, fries, a tremendous, salty leg of something too big to finish, and rice pudding. The monastery at Samos is huge, fully restored, and beautiful. Only a few monks still reside there, so most of it is used as an art museum. I stepped on the waist belt buckle of my pack and cracked it in two places, but it works OK for the time being.
Albergue: Monastery at Samos
Kilometer: 37 807
Weather: clear, humid, warm. Mud and puddles, as well as slower walkers, told me much rain had fallen along today's section.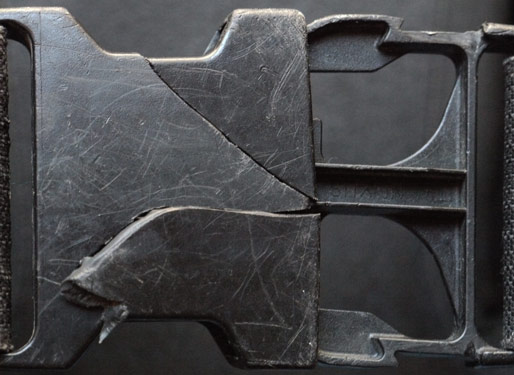 Tuesday, August 16th 2011
Mint and blackberries were today's wild foods. There were few potable water taps and benches, which seems odd considering the increased pilgrim traffic due to the 100 kilometer mark I reached at the end of the day. 100 km is the minimum to have a get a pilgrimage certificate from the Santiago Cathedral, so many pilgrims start here, and the increase in walker density is obvious. I had an empanada and pineapple juice for dinner.
Albergue: Portomarin
Kilometer: 35 842
Weather: clear, humid, warm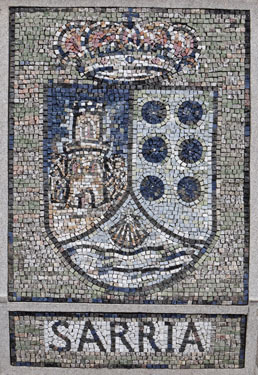 Wednesday, August 17th 2011
Because it's the holiday season in Spain and within the last 100 kilometers to Santiago, many Albergues were full and I had to walk 50 kilometers before finding a bed. Most churches were closed; odd considering the huge volume of pilgrims here. I saw a green lizard, a first. Most have earthtone camouflage patterns. Dinner was green salad, fries, ribs with picante sauce, and Santiago pastry (dense almond flavored cake topped with powdered sugar). Three groups of pilgrims coalesced into one to booze it up 'til midnight; Six Spaniards, a Korean (Young Jun), and myself. Then I retrieved my laundry from the line while thinking hard about which way might be up.
Albergue: Castaneda
Kilometer: 50 892
Weather: morning fog and mist, afternoon clear, humid, warm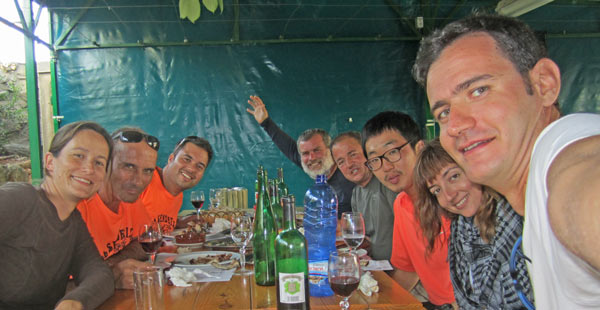 Thursday, August 18th 2011
I took an easy day and stopped at noon to ensure space in an Albergue. Half an hour later it was full, so I think I made the right choice. For dinner I had an empanada, meat, potato and carrot stew, and a whipped cheesecake with cake crust and a liquor-syrup sauce topping.
Albergue: Santa Irene
Kilometer: 25 917
Weather: clear, humid, warm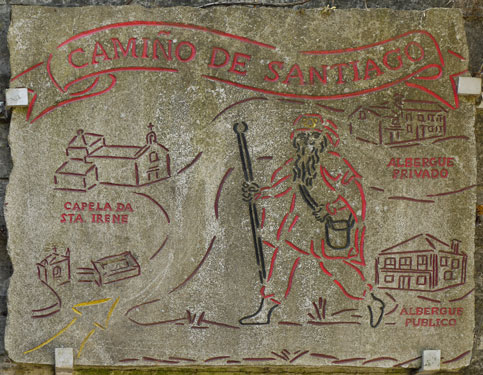 Friday, August 19th 2011
I walked to Santiago, visited the cathedral, saw the requilery of Saint James and the famous giant flaming swinging incense burner, went to mass, and decided the city was way too crowded for my tastes. I walked west to Negreira with Young Jun, the Korean fellow from a few nights past. West of Santiago there were few farms but lots of pine or eucalyptus tree plantations for paper pulp. There were some semi mechanized harvests in process. Modern subdivisions were scattered along the route. Wilds foods included blackberries, mint, and anise seeds. For dinner I had a selection of different Spanish sausages in a salad, then a ham and cheese omlette with rice, finishing with an ice cream cup. We stopped at a fruit stand to get something for breakfast, and the owner gave us a bunch of extra plums because they were getting too ripe. They were excellent. In Korea, there are 2 long distance walks. One, around Jeju or Olleh island, is about 200 kilometers. The island is one of the most beautiful places in Korea. The other goes from Ddang Ggeut or the end of the world to Im jim gak, or from the southwest to the northeast of South Korea, and is 500 kilometers long.
Albergue: Negreira
Kilometer: 46 963
Weather: clear, humid, warm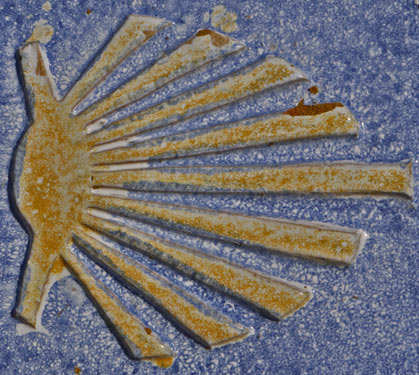 Saturday, August 20th 2011
There were cornfields and cattle grazing, raspberries, and very hot weather. I had a squid sandwich for lunch. Dinner was a ham omlette, beef ribs, fries, bread, red wine, and ice cream.
Albergue: Olveiroa
Kilometer: 30 993
Weather: clear, humid, hottest day yet, some breeze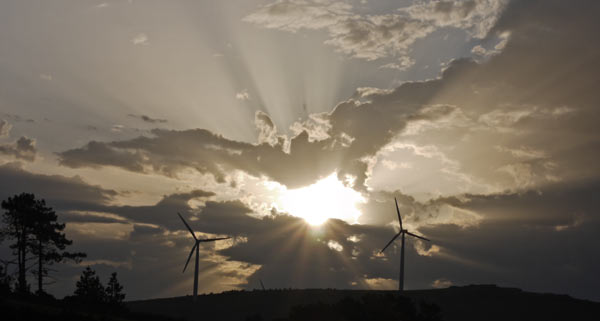 Sunday, August 21st 2011
I walked with Jun and another Korean, Hyun Woo, for much of the day. As we walked out the peninsula, there were views of the inlet to the south. There were also cornfields, cattle grazing, and tree plantations. There was much gorse and heather. After a mid afternoon meal of fried squid and potatoes, we walked to the Finisterre cape, or the end of the world, and watched the sunset to celebrate the end of a long journey. We brought beers, sangria, cookies, chips, and etcetera to share with the other pilgrims. I met a few pilgrims I hadn't seen in some time, including Terry from my first walking day. There was a fire where some pilgrims burned worn gear. It was quite a scene. It included the first real, drenching rain of the trip.
Albergue: Finisterre
Kilometer: 41 1034
Weather: clear, humid, some sea breeze, rain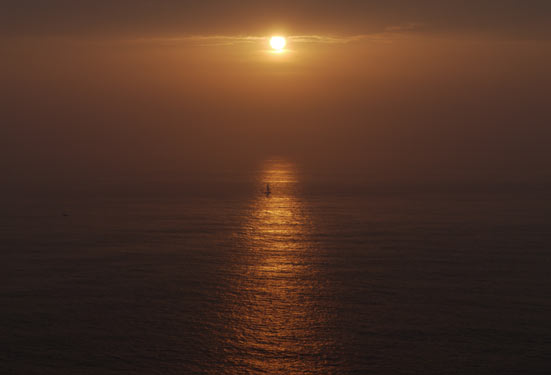 Saturday, August 22nd 2011
I got up at 6:30, but it was pouring rain and dark, so I returned to my bed. At 7:30 it was light and the rain had tapered off to a misty, drizzly fog. The route was not on the coast, but the coast was often in view when the fog allowed. Thick fog seems to me to make the world quieter, and I like the way fog makes the scenery fade into whiteness. So I enjoyed the weather. Still, after many hours of cold and damp, I was pretty tired in Muxia. Muxia, like Finnisterre, is on a beautiful rocky peninsula, and I enjoyed a walk on its beaches and rocky coastline.
Albergue: Muxia
Kilometer: 33 1067
Weather: fog, drizzle, mud, puddles
Some Locations along the Camino de Santiago
Place
Latitude
Longitude
Elevation
Meters
Date & Time
Comment
AlbergueRoncesvalles
43.010487
-1.319160
923
2011-07-21T04:45:37Z
AuritzBurguete
42.993708
-1.329501
872
2011-07-21T05:22:29Z
Irati
42.979393
-1.370334
833
2011-07-21T06:35:26Z
Bizkarreta
42.967330
-1.418640
744
2011-07-21T08:32:23Z
Alto de Erro
42.941445
-1.470497
765
2011-07-21T10:29:42Z
Zubiri
42.929876
-1.503304
503
2011-07-21T11:27:02Z
Ezkirotz
42.908271
-1.524412
494
2011-07-22T05:07:14Z
Larrasoana
42.903573
-1.538961
467
2011-07-22T05:46:32Z
Zuriain
42.878438
-1.565521
439
2011-07-22T07:14:11Z
Zabaldika
42.856134
-1.581689
476
2011-07-22T08:40:46Z
Trinidad de Arre
42.836147
-1.604208
403
2011-07-22T10:01:02Z
Gazetelua Gotorlekua
42.836106
-1.597056
562
2011-07-22T12:17:30Z
PortalDeFranciaZumalacarregui
42.820968
-1.643319
392
2011-07-3T06:08:33Z
Pamplona Ciudadella BusStation
42.811858
-1.646070
406
2011-07-23T07:47:52Z
Jaca Cathedral
42.570500
-0.549228
798
2011-07-23T14:18:28Z
+GR65.3 65.3.2
42.555836
-0.604114
681
2011-07-24T05:41:39Z
Atares
42.532479
-0.625394
742
2011-07-24T07:41:11Z
NewMonastary
42.508135
-0.665846
1170
2011-07-24T10:54:04Z
OldMonastarySanJuanDeLaPena
42.507499
-0.673637
1080
2011-07-24T11:48:27Z
Santa Cruz de la Seros
42.522871
-0.674396
775
2011-07-24T12:54:31Z
+GR65.3.2 65.3
42.555017
-0.701497
654
2011-07-24T14:32:14Z
Puente la Reina de Jaca
42.555154
-0.785978
567
2011-07-25T06:40:45Z
Arres
42.555978
-0.827761
669
2011-07-25T07:49:39Z
Artiedo
42.587086
-0.984363
615
2011-07-25T13:21:52Z
Ruesta
42.588840
-1.076760
524
2011-07-26T07:09:21Z
Undues de Lerda
42.565659
-1.168991
602
2011-07-26T15:40:10Z
Sanguesa
42.572838
-1.285485
351
2011-07-27T07:27:01Z
Rocaforte
42.592170
-1.288918
388
2011-07-28T05:00:21Z
Fuente de San Francisco
42.594730
-1.293694
394
2011-07-28T05:14:55Z
+Carraterra Camino de Santiago
42.621902
-1.350569
617
2011-07-28T06:45:29Z
Loiti Ridgeline
42.652757
-1.408220
694
2011-07-28T08:42:06Z
Izco
42.657011
-1.428260
630
2011-07-28T09:36:50Z
Monreal
42.705019
-1.508218
492
2011-07-28T14:32:18Z
Yarnoz
42.711719
-1.549204
488
2011-07-29T05:19:04Z
Guerendiain
42.706115
-1.602715
526
2011-07-29T07:19:55Z
Murugain
42.667391
-1.665252
507
2011-07-29T10:03:54Z
Ermita de Santa Maria de Eunate
42.672545
-1.761449
354
2011-07-29T12:48:17Z
Onate
42.679363
-1.783506
378
2011-07-29T14:12:15Z
Puente la Reina
42.673574
-1.810489
321
2011-07-29T14:59:28Z
Maneru
42.668736
-1.862234
405
2011-07-30T05:25:39Z
Cirauqui
42.676010
-1.890289
434
2011-07-30T06:05:49Z
Lorca
42.673068
-1.944377
424
2011-07-30T07:34:32Z
Villatuerta
42.659397
-1.991715
371
2011-07-30T08:53:06Z
Lizarra Estella
42.667872
-2.023054
380
2011-07-30T10:01:50Z
Bodegas Irache Free Wine Tap
42.650939
-2.043756
461
2011-07-30T11:19:51Z
Azqueta
42.635782
-2.086442
529
2011-07-30T12:55:24Z
Villamayor de Monjardin
42.629510
-2.104127
639
2011-07-30T16:28:09Z
Los Arcos
42.569125
-2.192667
414
2011-07-31T06:25:04Z
Sansol
42.554410
-2.266526
462
2011-07-31T08:09:49Z
Torres del Rio
42.551863
-2.270871
433
2011-07-31T08:38:44Z
Viana
42.515414
-2.374315
445
2011-07-31T11:24:18Z
ErmitaDeLaVirgenDeCuevas
42.497394
-2.388972
381
2011-07-31T12:16:15Z
Lograno
42.468141
-2.444815
382
2011-07-31T14:11:57Z
San Juan de Acre
42.434887
-2.551017
472
2011-08-01T06:25:06Z
Navarrete
42.429357
-2.561524
512
2011-08-01T06:46:29Z
Ventosa
42.405834
-2.625953
635
2011-08-01T08:39:31Z
Najera
42.418445
-2.723790
522
2011-08-01T10:51:41Z
Azofra
42.424987
-2.800426
575
2011-08-01T13:49:34Z
Ciruena
42.418448
-2.885809
718
2011-08-02T06:14:21Z
Santo Domingo de la Calzada
42.439302
-2.945300
636
2011-08-02T07:32:53Z
Granon
42.451429
-3.024959
709
2011-08-02T10:43:44Z
Redecilla del Camino
42.438742
-3.063109
722
2011-08-02T11:37:57Z
Castildelgado
42.436534
-3.085021
748
2011-08-02T12:15:26Z
Viloria
42.426376
-3.100838
768
2011-08-02T12:39:03Z
Villamayor del Rio
42.427586
-3.135947
756
2011-08-02T13:21:43Z
Belorado
42.418038
-3.183465
756
2011-08-02T15:34:14Z
Tosantos
42.413207
-3.243987
751
2011-08-03T05:35:01Z
Villambistia
42.404738
-3.261094
791
2011-08-03T05:58:11Z
Espinosa del Camino
42.405581
-3.279565
818
2011-08-03T06:29:31Z
Villafranca Montes de Oca
42.388853
-3.309157
864
2011-08-03T07:19:01Z
San Juan de Ortega
42.375772
-3.437317
919
2011-08-03T10:29:48Z
Ages
42.369778
-3.478612
883
2011-08-03T11:27:53Z
Atapuerca
42.376408
-3.506757
870
2011-08-03T13:07:20Z
Cardenuela Riopico
42.359431
-3.559782
840
2011-08-04T05:45:39Z
Burgos
42.341509
-3.706651
847
2011-08-04T13:35:48Z
Tardajos
42.349110
-3.814721
776
2011-08-05T06:27:16Z
Rabe de las Calzadas
42.345010
-3.829618
781
2011-08-05T06:50:08Z
Hornillos del Camino
42.338622
-3.923711
778
2011-08-05T08:51:50Z
Hontanas
42.312653
-4.044436
832
2011-08-05T11:33:22Z
Hospital San Anton
42.292446
-4.098762
779
2011-08-05T12:55:44Z
Castrojariz
42.289642
-4.142876
793
2011-08-05T16:15:01Z
San Nicolas de Puentitero
42.278974
-4.243266
766
2011-08-06T06:34:58Z
Itero de la Vega
42.287309
-4.260253
768
2011-08-06T07:10:19Z
Boadilla del Camino
42.258619
-4.347430
783
2011-08-06T09:09:39Z
Fromesta
42.265519
-4.406637
783
2011-08-06T11:13:43Z
Poblacion de Campos
42.268822
-4.444946
787
2011-08-06T12:51:54Z
Revenga de Camino
42.285222
-4.481381
779
2011-08-07T05:05:54Z
Villarmenteros de Campos
42.297597
-4.498984
780
2011-08-07T05:36:07Z
Villalcazar de Sirga
42.315075
-4.543333
787
2011-08-07T06:29:54Z
Carrion de los Condes
42.337509
-4.596854
811
2011-08-07T07:38:55Z
Calzadilla de la Cueza
42.329114
-4.802803
847
2011-08-07T13:02:20Z
Ledigos
42.353581
-4.865730
813
2011-08-08T05:05:59Z
Terradillos de los Templarios
42.363923
-4.889316
811
2011-08-08T05:47:02Z
Moratinos
42.360360
-4.925704
794
2011-08-08T06:32:20Z
San Nicolas dal Real Camino
42.364359
-4.950725
774
2011-08-08T07:02:18Z
Sahagun
42.370771
-5.029205
750
2011-08-08T08:55:42Z
Calzada del Coto
42.385576
-5.078190
739
2011-08-08T10:10:35Z
Calzadilla de los Hermanillos
42.433107
-5.153812
804
2011-08-08T12:47:23Z
Mansilla de las Mulas
42.501136
-5.419737
680
2011-08-09T09:22:12Z
Villamoros de Mansilla
42.532372
-5.442691
679
2011-08-09T10:36:30Z
Puente Villarente
42.545623
-5.457232
682
2011-08-09T13:47:45Z
Sanfelismo
42.562500
-5.483101
721
2011-08-10T05:10:00Z
Arcahueja
42.566242
-5.493588
730
2011-08-10T05:26:03Z
Valdelafuente
42.570880
-5.513285
758
2011-08-10T05:57:57Z
Leon Cathedral
42.599168
-5.567262
722
2011-08-10T07:46:16Z
Virgen del Camino
42.579868
-5.641749
810
2011-08-10T10:11:19Z
Fresno del Camino
42.565535
-5.653678
784
2011-08-10T11:01:12Z
Oncina de la Valdoncina
42.552886
-5.659756
773
2011-08-10T11:23:12Z
Chozas de Abajo
42.509595
-5.688165
798
2011-08-10T12:34:37Z
Villar de Mazarife
42.483907
-5.725636
805
2011-08-10T15:21:02Z
Villavante
42.461787
-5.834383
762
2011-08-11T06:13:48Z
Hospital de Orbigo
42.463593
-5.882374
749
2011-08-11T07:53:22Z
Villares de Orbigo
42.469732
-5.910291
760
2011-08-11T08:35:36Z
Santibanez de Valdeiglesias
42.458838
-5.931739
785
2011-08-11T09:23:12Z
San Justo de la Vega
42.454158
-6.017829
784
2011-08-11T11:24:22Z
Astorga
42.455621
-6.052725
827
2011-08-11T16:31:48Z
Murias de Rechivaldo
42.459649
-6.105152
828
2011-08-12T05:12:43Z
Santa Catalina de Samoza
42.455417
-6.159879
923
2011-08-12T06:12:02Z
El Ganso
42.462816
-6.208351
954
2011-08-12T07:05:03Z
Rabanal del Camino
42.481294
-6.280940
1073
2011-08-12T08:37:24Z
Foncebadon
42.491152
-6.342519
1354
2011-08-12T10:27:01Z
Cruz de Ferro
42.489696
-6.361735
1421
2011-08-12T11:06:46Z
Manjarin
42.490391
-6.387145
1366
2011-08-12T11:51:02Z
El Acebo
42.497853
-6.456106
1106
2011-08-12T13:26:08Z
Riego de Ambros
42.520725
-6.478550
900
2011-08-12T14:22:35Z
Molinaseca
42.537452
-6.518123
567
2011-08-13T05:18:47Z
Ponferrada
42.543935
-6.592682
519
2011-08-13T06:58:44Z
Columbrianos
42.572025
-6.605487
530
2011-08-13T08:24:25Z
Fuentesnuevas
42.576780
-6.638800
495
2011-08-13T09:07:04Z
Camponaraya
42.579541
-6.668541
482
2011-08-13T10:03:04Z
Cacabalos
42.597273
-6.713318
496
2011-08-13T11:00:37Z
Pierros
42.605817
-6.750168
543
2011-08-13T12:10:49Z
Villafranca dal Bierzo
42.603938
-6.808268
545
2011-08-13T14:37:56Z
Dragonte
42.607003
-6.865382
948
2011-08-14T05:46:58Z
+GR11Camino de los Franceses
42.605262
-6.880709
1022
2011-08-14T06:10:55Z
+GR11AsphaltRoadRutaDelSantiago
42.607877
-6.887870
964
2011-08-14T06:38:12Z
Moral de Valcarce
42.607000
-6.898046
898
2011-08-14T06:51:50Z
Old Watermill Stream
42.610110
-6.906507
772
2011-08-14T07:09:15Z
Villar de Corrales
42.617128
-6.910000
956
2011-08-14T07:38:08Z
+TurnLeftRutaDeValdelobasSantia
42.625910
-6.914033
977
2011-08-14T08:14:27Z
San Fiz do Seo
42.639670
-6.917741
672
2011-08-14T09:02:00Z
Villasinde
42.647355
-6.953649
843
2011-08-14T10:27:40Z
+Dirt Roads GR11
42.654594
-6.967926
970
2011-08-14T11:10:59Z
+GR11 Dirt Road
42.660564
-6.969361
975
2011-08-14T11:27:17Z
Herrerias
42.670940
-6.980670
656
2011-08-14T12:22:12Z
La Faba
42.683761
-7.006931
880
2011-08-14T13:19:20Z
Laguna de Castilla
42.702270
-7.022666
1110
2011-08-15T05:13:03Z
Border of Galicia
42.706064
-7.031734
1188
2011-08-15T05:31:42Z
O Cebreiro
42.707878
-7.043681
1239
2011-08-15T05:51:47Z
Linares
42.698425
-7.074345
1168
2011-08-15T06:40:04Z
Alto de San Roque
42.698547
-7.084234
1205
2011-08-15T06:53:23Z
Hospital da Condesa
42.704685
-7.099451
1172
2011-08-15T07:24:49Z
Alto do Poio
42.712631
-7.126075
1216
2011-08-15T08:30:41Z
Fonfria
42.731180
-7.156917
1221
2011-08-15T09:14:01Z
Viduedo
42.743518
-7.178012
1124
2011-08-15T09:43:56Z
Filloval
42.744091
-7.204783
900
2011-08-15T10:20:29Z
As Pasantes
42.748910
-7.219789
745
2011-08-15T10:41:38Z
Ramil
42.755972
-7.233284
642
2011-08-15T11:01:20Z
Triacastela
42.756028
-7.238352
617
2011-08-15T11:07:18Z
San Cristobo do Real
42.739776
-7.274208
538
2011-08-15T12:04:46Z
Vigo do Real
42.739768
-7.290821
548
2011-08-15T12:30:53Z
Lastres
42.740451
-7.295016
533
2011-08-15T12:36:57Z
San Martino
42.737832
-7.315919
513
2011-08-15T13:18:27Z
Samos
42.732337
-7.325047
489
2011-08-15T18:10:04Z
Santa Uxia de Pascais
42.736906
-7.346525
509
2011-08-16T04:57:03Z
Gorolfe
42.740081
-7.355334
450
2011-08-16T05:18:14Z
Hospital
42.773433
-7.362994
446
2011-08-16T06:49:34Z
San Mamede
42.773254
-7.370046
433
2011-08-16T07:00:51Z
Sarria
42.775144
-7.408815
375
2011-08-16T08:05:47Z
Vilei
42.768734
-7.444152
473
2011-08-16T09:15:26Z
Barbadelo
42.765912
-7.450471
503
2011-08-16T09:26:46Z
Rente
42.768284
-7.458580
548
2011-08-16T09:38:43Z
Ferreiros
42.783968
-7.529600
616
2011-08-16T11:50:45Z
Pena
42.784778
-7.541239
602
2011-08-16T12:04:16Z
Moutras
42.789497
-7.570595
506
2011-08-16T12:44:11Z
As Cortes
42.791874
-7.599040
445
2011-08-16T13:29:05Z
Portomarin
42.807842
-7.615173
381
2011-08-16T16:23:57Z
Gonzar
42.826302
-7.696104
527
2011-08-17T06:18:01Z
Castromeior
42.831547
-7.708464
572
2011-08-17T06:34:56Z
Ligonde
42.857224
-7.778649
594
2011-08-17T08:10:50Z
Airexe
42.864644
-7.786698
590
2011-08-17T08:24:45Z
Portos
42.873660
-7.806873
548
2011-08-17T08:51:27Z
Valos
42.873118
-7.822322
599
2011-08-17T09:09:22Z
O Rosario
42.874905
-7.851042
592
2011-08-17T09:44:49Z
Palas de Rei
42.872740
-7.868308
576
2011-08-17T10:11:50Z
Pallota
42.875117
-7.905138
429
2011-08-17T10:59:17Z
Casanova
42.878891
-7.925877
445
2011-08-17T11:23:47Z
Lebriero
42.887996
-7.965929
424
2011-08-17T12:09:30Z
Furelos
42.908778
-7.998829
393
2011-08-17T12:56:50Z
Melide
42.913028
-8.011393
424
2011-08-17T13:11:52Z
Carballal
42.912310
-8.030762
402
2011-08-17T14:00:24Z
Castaneda
42.925024
8.097569
407
2011-08-17T16:50:13Z
Ribadiso
42.930814
-8.133815
335
2011-08-18T05:43:17Z
Arzua
42.929170
-8.155163
397
2011-08-18T06:16:41Z
Barrosa
42.927398
-8.173431
357
2011-08-18T06:40:49Z
Preguntono
42.923036
-8.184993
337
2011-08-18T06:57:01Z
Peroxa
42.926710
-8.195084
387
2011-08-18T07:10:43Z
Taberna Vella
42.928544
-8.214404
401
2011-08-18T07:46:21Z
A Calzada
42.925844
-8.222422
386
2011-08-18T07:55:13Z
Boavista
42.921793
-8.255893
379
2011-08-18T08:36:40Z
Salceda
42.926261
-8.278531
370
2011-08-18T09:00:47Z
Rabina
42.918338
-8.309175
363
2011-08-18T09:46:10Z
Santa Irene
42.918193
-8.335834
353
2011-08-18T10:32:19Z
Monte do Gozo
42.889320
-8.493892
344
2011-08-19T07:30:42Z
Ventosa
42.880958
-8.624383
154
2011-08-19T14:40:59Z
Augapesada
42.888937
-8.645746
48
2011-08-19T15:09:42Z
Carballo
42.891233
-8.671907
244
2011-08-19T15:51:54Z
Trasmsnte Reino
42.896435
-8.687433
186
2011-08-19T16:15:13Z
Burgueiros
42.900365
-8.688700
168
2011-08-19T16:21:05Z
A Ponte Maceira
42.906060
-8.695137
147
2011-08-19T16:32:56Z
Barca
42.905476
-8.715226
121
2011-08-19T16:59:22Z
Negriera
42.911076
-8.734131
131
2011-08-19T19:41:26Z
Vilacerio
42.942832
-8.849865
327
2011-08-20T08:11:43Z
Cornado
42.957240
-8.860367
308
2011-08-20T08:37:23Z
Santa Marina
42.956906
-8.919218
300
2011-08-20T09:57:45Z
Bon Xesus
42.959279
-8.946348
334
2011-08-20T10:28:15Z
Lago
42.962641
-8.974563
312
2011-08-20T11:23:00Z
Abeleiroas
42.962741
-8.983749
304
2011-08-20T11:39:16Z
San Cristobal Corzon
42.961085
-9.003019
265
2011-08-20T12:05:46Z
Ponte Olveira
42.963916
-9.019301
235
2011-08-20T12:25:51Z
Hospital
42.982740
-9.078023
327
2011-08-21T05:55:26Z
Crucero d Armada
42.961448
-9.176654
238
2011-08-21T08:52:50Z
Cee
42.948348
-9.181637
22
2011-08-21T09:23:21Z
Estorde
42.943632
-9.217421
0
2011-08-21T12:10:53Z
Sardineiro
42.943109
-9.228988
15
2011-08-21T12:25:34Z
Finisterre Town
42.907956
-9.263395
3
2011-08-21T14:57:18Z
Cabo Finisterre Lighthouse
42.882628
-9.271682
105
2011-08-21T17:49:17Z
San Martino
42.922848
-9.273005
73
2011-08-22T06:15:40Z
Hermedesuxo
42.931482
-9.269728
40
2011-08-22T06:39:14Z
Padris
42.969362
-9.251330
40
2011-08-22T08:11:05Z
Lires
42.997100
-9.246828
0
2011-08-22T09:04:11Z
Baosilveiro
43.012165
-9.233301
46
2011-08-22T09:47:58Z
Xurarantes
43.078784
-9.213312
70
2011-08-22T11:58:53Z
Muxia
43.101837
-9.215451
0
2011-08-22T13:14:15Z
Santiago Seminario Menor
42.877124
-8.537337
215
2011-08-23T11:58:07Z
Santiago Cathedral
42.880587
-8.546206
215
2011-08-23T12:28:24Z
Place
Latitude
Longitude
Elevation
Meters
Date & Time
Comment