2011 Camino Via Plata de Santiago - Spain
Map Index to my Camino de Santiago Walks
Click on Trails for Links
Dwell Cursor over Trails for Information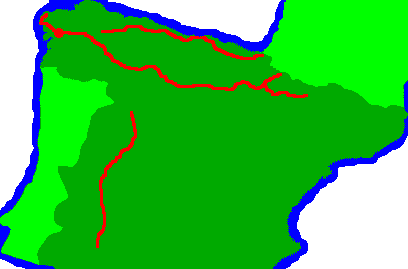 Tuesday, September 20th, 2011
I arrived on the all night bus from Lugo before 10am, found a bookstore and bought a guide to the Via Plata of the Camino de Santiago, went to the cathedral, and started walking. There were some nice Roman and monastery ruins in Santiponce. Most times I could see and hear freeways, and the creeks were turbid, grey, and smelled septic. The crops were cotton, with nice bolls, but not yet harvested, and sunflowers, harvested with nothing but dried stubble in the fields. Guillema was a fairly large town, but a large herd of goats was walking through.
Albergue: Guillema
Kilometer: 23
Weather: Clear, sunny, comfortable breeze
Wednesday, September 21st, 2011
Early in the day I walked through large olive groves, with occasional citrus. Then there was chaparral, reminiscent of southern California. The rocks and soil were similar, and the types of bushes and oaks were similar, though the species were different. The annual rainfall is probably similar, as is the aridity of the air and soil. There were knee high palms: no similar species populates California chaparral. I felt quite at home walking there.
Albergue: Castilblanco de los Arroyos
Kilometer: 18 41
Weather: Clear, sunny, comfortable breeze

Thursday, September 22nd, 2011
I saw several deer, and part of the route was in a cork oak plantation, where I saw many harvested, or partially debarked trees. Several other pilgrims had arranged a taxi, so I sent my pack ahead and slackpacked today.
Albergue: Almaden de la Plata
Kilometer: 29 70
Weather: Clear, sunny, breeze
Friday, September 23rd, 2011
Today's walk was through rolling hills covered with oak trees and grass. The Spanish believe the best pork is from free ranging acorn fed pigs, and there were many huge boar ranches along the Camino. I was the only person at the Albergue in Monesterio, and the refrigerator was loaded with food left by yesterday's pilgrims. So I made an omlette of caramelized onions, cured ham, and cheese, and supplemented it with gazpacho, ice cream, yogurt, potato chips, milk, and probably more I've forgotten. Yum!! And I was Stuffed!!
Albergue: Monesterio
Kilometer: 36 106
Weather: partly cloudy, nice temperature

Saturday, September 24th, 2011
I prepared a huge breakfast and still did not manage to clear the leftovers. There were more rolling grass and oak covered hills, and grazing of cattle, pigs, and goats. Towards the end of the day were vineyards and wineries.
Albergue: Puebla de Sancho Perez, in the same building as the oldest bullring in Spain and an Ermita
Kilometer: 45 151
Weather: Sunny, Breezy, nice day for walking
Sunday, September 25th, 2011
It was not easy to find my way through Zafra. If I walked the Caminos again, I would ensure maps of all large cities were in the guidebook, or find and carry separate street maps. Trail blazes often disappear in cities: today I spent a lot of extra time and steps finding my way.

Medical
Maybe I ate something disagreeable: a small tender spot appeared in my upper left quadrant yesterday and was bigger today.
Hostal: Casa Perin, in Villafranca de los Barros
Kilometer: 27 178
Weather: Sunny, Breezy, a little hot
Monday, September 26th, 2011
This was a fairly flat and straight line walk through vineyards and olive groves. Both olives and grapes were being harvested by hand in a few places.
Albergue: Torremejia
Kilometer: 28 206
Weather: Sunny, Breezy, Hot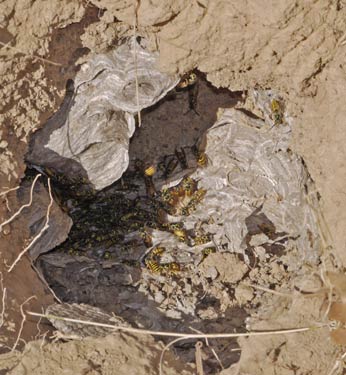 Tuesday, September 27th, 2011
There were many Roman bridges, aqueducts, dams, and ruins from Merida onward. I saw several rabbits among the grapes, olives, and chaparral.
Albergue: Aljucen
Kilometer: 32 238
Weather: Sunny, Breezy, afternoon thin cloud layer.

Wednesday, September 28th, 2011
Most of the walk was in acorn oaks and chaparral. I was on a Roman road, complete with bridges and milestones at the end of the day.
Albergue: Aldea del Cano
Kilometer: 35 273
Weather: Sunny, Breezy, thin cloud layer.
Thursday, September 29th, 2011
More Roman roads and bridges, chaparral, etcetera... Caceres had many ancient structures.
Albergue: Casar de Caceres
Kilometer: 36 309
Weather: Sunny, Breezy, thin cloud layer.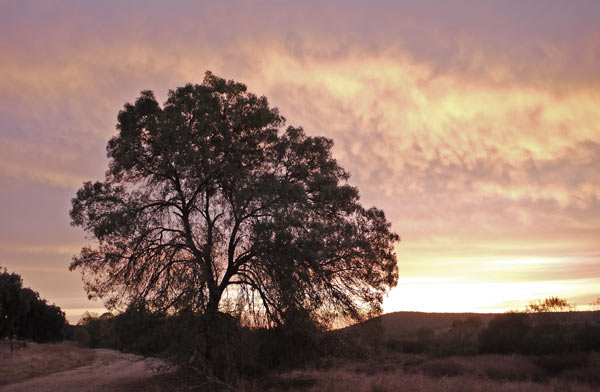 Friday, September 30th, 2011
The Albergue at Alcantara was closed, so I walked an extra dozen kilometers to Canaveral, where the Albergue was also closed, so I ended up in a cheap room above a bar. There were no notices of these closures anywhere, though they obviously would be quite helpful to pilgrims.
Hostal: Canaveral
Kilometer: 34 343
Weather: Sunny, Breezy, thin cloud layer.
Saturday, October 1st, 2011
I walked off and on with Jeff, a Belgian, and we had good conversations. Fields here were green with irrigation, and had corn and other crops that required more water. Dinner was one of the best quality menus I've had in Spain, fresh gazpacho with chunks of pepper, onion, and tomato I could add to my taste, albondigas of excellent taste and texture, white chocolate mouse, bread and wine.
Albergue: Carcaboso
Kilometer: 41 384
Weather: Sunny, Stiff Breeze, thin cloud layer.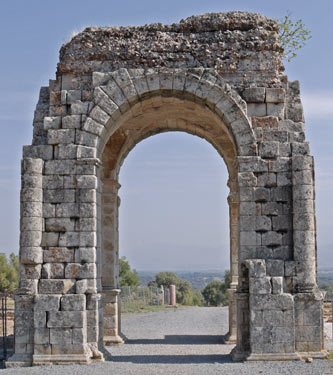 Sunday, October 2nd, 2011
Jeff and I walked out at first light, 7:45, and watched a beautiful purple sunrise over some hills. We visited Caparra, a Roman city which has been excavated and slightly rebuilt for tourism. We saw the city and the arch, which is the symbol of the Via de la Plata near Caceres. It was a long hot day with no potable water sources for the first 35 kilometers, so I was happy to find a bar and down a liter and a half of ice cold water and a potato and egg tortilla. Later we found a German pilgrim and enjoyed several ice cold beers in the Hostal bar. Dinner was white asparagus, fried fish, salad, and flan with bread and wine.
Hostal: Aldeanueva del Camino
Kilometer: 40 424
Weather: Sunny, Slight Breeze, Hot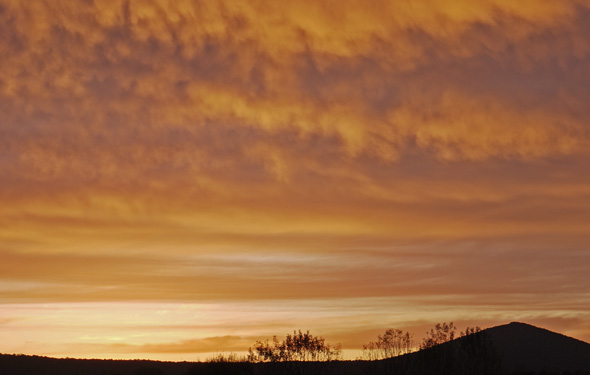 Monday, October 3rd, 2011
This was a nice walk along the Roman road, complete with occasional milestones, bridges, and intact paving. The chaparral is much like southern California.
Albergue: La Calzada de Bejar
Kilometer: 22 446
Weather: Sunny, Slight Breeze, Hot
Tuesday, October 4th, 2011
There were some blackberries, but the fruits were dried, and some wild roses with ripe, tasty hips.
Albergue: Fuenterroble de Salvatierra
Kilometer: 20 466
Weather: Sunny, Slight Breeze, Hot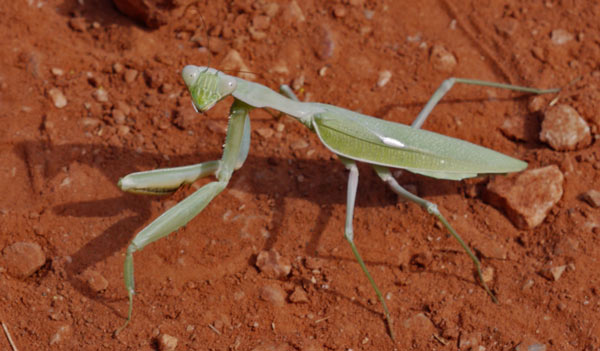 Wednesday, October 5th, 2011
The views from Pico Duenas were nice, and the windmills there were humming away. There were many flies, and most of the walk I was swatting them away from my face. Towards the end there were grainfields, and many mantis and grasshoppers.
Albergue: San Pedro de Rozadas
Kilometer: 29 495
Weather: Sunny, Slight Breeze, Hot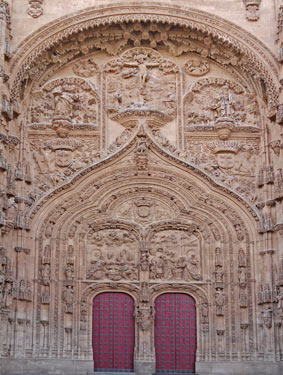 Thursday, October 6th, 2011
This was my last day of walking the Caminos de Santiago, and I tried to think about all the things which made walking in Spain interesting and unique. It was difficult, though, to get my head around all of the germane thoughts and ideas. During the second half of the walk, there were great views of Salamanca. The city has many beautiful old buildings.
Albergue: Salamanca
Kilometer: 26 521
Weather: Sunny, Slight Breeze, Hot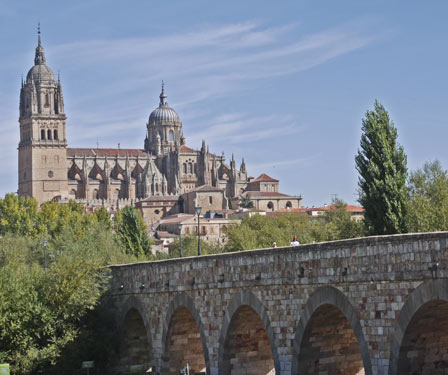 Friday - Sunday, October 7th - 9th, 2011
I took the train to Madrid. I visited a few hostals before finding one with space. The room is pretty nice, but noise comes in from every direction, and the wood in the staircase is so old that some of the 2" planks are worn through. It's near the Atocha train station, and also the large downtown park. I spent some time relaxing in the park, and letting my feet recover from all the walking.
Hostal: Madrid, near Atocha
Weather: Sunny, Hot
Monday, October 10th, 2011
I flew to San Diego.
Some Locations along the Camino de Santiago
Place
Latitude
Longitude
Elevation
Meters
Date & Time
Comment
Seville Cathedral
37.385029
-5.992300
59
2011-09-20T08:38:21Z
Santiponce
37.432530
-6.038812
75
2011-09-20T11:14:55Z
Guillena Albergue
37.542402
-6.052142
93
2011-09-20T15:22:11Z
CastilblancoDeLosArroyosAlbergu
37.669746
-5.987397
364
2011-09-21T10:19:01Z
Cerro del Calvario
37.864700
-6.078737
595
2011-09-22T14:11:40Z
Almaden de la Plata Albergue
37.874302
-6.086560
515
2011-09-22T15:08:07Z
El Real de la Jara
37.949873
-6.155312
505
2011-09-23T09:30:29Z
HotelBarStore+Highway
38.028689
-6.220017
590
2011-09-23T13:16:24Z
Monesterio Albergue
38.086905
-6.272120
809
2011-09-23T15:49:36Z
Fuente de Cantos
38.242232
-6.305887
620
2011-09-24T11:10:34Z
Puebla de Sancho Perez Albergue
38.389828
-6.413004
567
2011-09-24T18:02:37Z
Los Santos de Maimona
38.448629
-6.384040
561
2011-09-25T09:05:48Z
Villafranca de los Barros
38.563911
-6.336433
475
2011-09-25T14:28:16Z
+CDS CaminoMolinoAlmendralejo
38.677669
-6.362929
387
2011-09-26T09:36:13Z
Torremejia Albergue
38.791596
-6.375652
324
2011-09-26T13:13:03Z
Merida
38.915738
-6.349050
203
2011-09-27T09:09:17Z
El Carrascalejo
39.022956
-6.337237
302
2011-09-27T12:38:42Z
Aljucen
39.042878
-6.329879
286
2011-09-27T13:37:07Z
Casas de Don Antonio
39.234532
-6.294831
400
2011-09-28T12:12:33Z
Aldea del Cano
39.286586
-6.320495
422
2011-09-28T16:09:35Z
Valdesalor
39.378546
-6.346250
406
2011-09-29T08:10:28Z
Caceres
39.481418
-6.379337
426
2011-09-29T11:52:35Z
Canaveral
39.792664
-6.388986
390
2011-10-01T05:36:29Z
Grimaldo
39.839623
-6.349250
489
2011-10-01T07:29:35Z
Riolobos
39.919291
-6.304924
301
2011-10-01T11:52:41Z
Galisteo
39.977424
-6.269744
317
2011-10-01T14:20:36Z
Alddehuela del Jerte
40.011522
-6.238828
312
2011-10-01T15:42:54Z
Carcaboso
40.049387
-6.213066
314
2011-10-01T18:06:45Z
Caparra
40.166415
-6.101162
393
2011-10-02T10:41:02Z
Bar
40.233435
-5.975137
430
2011-10-02T14:22:54Z
Aldeanueva del Camino Hostal
40.262802
-5.921297
532
2011-10-02T17:37:21Z
Banos de Montemayor
40.319061
-5.858169
664
2011-10-03T07:24:03Z
Puerto de Bejar
40.346359
-5.846648
830
2011-10-03T08:55:44Z
La Calzada de Bejar
40.409231
-5.816818
752
2011-10-03T11:48:15Z
Valverde de Valdelacasa
40.480912
-5.781635
758
2011-10-04T07:31:06Z
Valdelacasa
40.506829
-5.765201
898
2011-10-04T08:18:29Z
Fuenteroble de Salvatierra
40.564969
-5.731258
901
2011-10-04T10:11:19Z
San Pedro de Rozados
40.789939
-5.737599
940
2011-10-05T12:19:39Z
Morille
40.809160
-5.697815
907
2011-10-06T06:36:48Z
Salamanca Albergue
40.959719
-5.665625
771
2011-10-06T11:20:28Z
Place
Latitude
Longitude
Elevation
Meters
Date & Time
Comment