Trails I May Hike
On this page I have collected my notes on trails I may hike in the future. Some I'm very likely to hike, but others are just collected facts about some trail another hiker told me about, and I may never hike those.
The Idaho Centennial Trail
The Idaho Centennial Trail is 900 miles long and travels the north-south length of the state. Stephen Stuebner wrote the Idaho Centennial Trail Guidebook. The maps in the book are considered poor, but the Idaho parks website has printable topo maps for the trail.
| | | |
| --- | --- | --- |
| Location | Map | Mile |
| Southern Terminus | 1 | 0 |
| I84, US30 - Hammett, Idaho, PO | 10 | 138 |
| US20, near Cat Creek Summit, 30 miles west to Mountain Home | 13 | 200 |
| Idaho 21, USFS614 Elk Creek Road , 4 miles to Stanley, PO | 23 | 322 |
| US12, Wilderness Gateway Campground | 45 | 635 |
| I90, Shoshone Park, 3 miles west to Mullan, PO | 59 | 810 |
| USFS Highway 9 Prospct Creek Road, Thompson Pass | 60 | 821 |
| Idaho 200, Clark Fork, PO | 66 | 891 |
| US95, 2, McArthur Lake State Wildlife Management Area | 70 | 960 |
| Pacific Northwest Trail Junction, Priest Lake | 75 | 1036 |
| Northern Terminus | 76 | 1048 |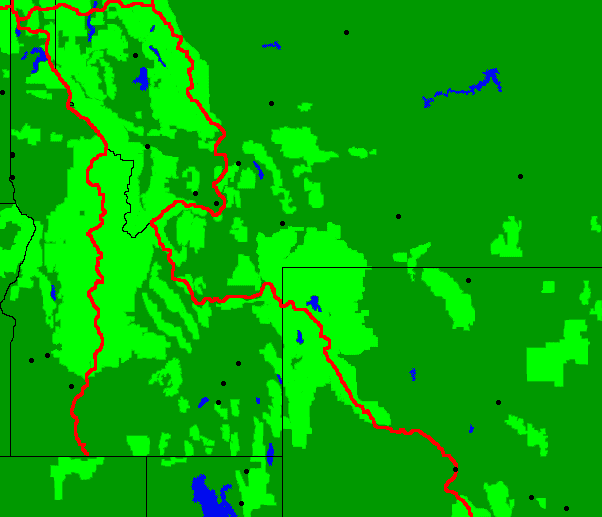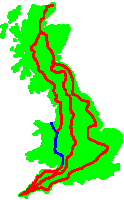 Great Britain
Many people walk from Land's End to John O'Groats in the

United Kingdom, about 1000 miles. The prime attraction on this trail would be all of the historic structures, canals, etcetera. There are multiple trail routes, so I'll have to do a lot of research to pick the right one. I hiked Offa's Dyke in 2009, shown at left in blue, so I have an idea how walking in Great Britain works. Being wet all the time was a problem, so I'd have to plan a lot of hotel or B&B rooms.
Rather than walking from end to end, I might just hike a few of the long paths. Typically, each might be a hundred or two hundred miles long. Here are some of the fairly long paths in Great Britain.
Long Distance Paths:
Anglesey Island Coast Path
Cleveland
Coast to Coast
Cornwall Coast Path
Cotswold
Glyndwr's
Great Glen
Hadrian's Wall Path
North Downs Way
Offa's Dyke Path
Peddar's and Norfolk Coast
Pembrokeshire Coast Path
Penine Way
Ridgeway
South Downs Way
Southern Upland
South Scotland
Southwest Coast
Speyside
Thames Path
West Highland Way
Yorkshire Wold
In my Journal of My Walk on Offa's Dyke, I discussed various lessons learned and suggestions for future walking in Great Britain.
The Great Divide Mountain Bike Route
As I hiked the Continental Divide Trail, I began to realize that I would like to make a much more thorough exploration of many of the areas I was passing through. One way to do this would be by mountain bike. The GDMBR is an established route more or less along the Continental divide but usually on dirt roads and often lower than the CDT. The idea would be to use the GDMBR maps to plan the overall journey, but to have local maps and spend a lot of time exploring each national forest, park, etcetera along the way. I have reviewed the GDMBR maps. 6 sheets cover the US with one more to ride to Banff in Canada. Both maps and a mile by mile description are included. An odometer is recommended for navigation. Latitudes and longitudes are available from the ACA website for all points discussed in the mile by mile description. Paragraphs cover history and natural history, etcetera. The USFS and BLM large scale maps I would want to buy and carry are listed. There are elevation and annual temperature profiles and much other useful information. In short, the Adventure Cycling Association maps are well done and worth using if I bike this route at some future date. A set costs about $100.
The Big Road Trip
Someday I plan to drive around to many different National Parks, Forests, etcetera, with a backpack, and get out and hike as long as it takes to make a proper exploration of each place.
Israeli National Trail
The Israeli National Trail seems interesting from the history and archeology point of view. The English language guide books are quite expensive since they are out of print. A reasonable alternative is to use topographic maps. There are about 20 plastic topo maps which cover all of Israel at 1:50,000. On the back is additional information and blown up maps of areas of interest. Not all of the 20 maps have the INT on them, so some are not required. The INT is shown as are all side trails which would be of interest. In the northern part of the country, a hiker passes through villages often enough that tap water supplies all needs. In the south, trail angels have buried enough caches that so long as the hiker carries a couple of gallons, there won't be problems. In national parks, camping is allowed only in designated areas.
Friday, Saturday, April 26, 27, 2013
Billygoat and the Israeli National Trail
Billygoat hiked the INT in 2011 with Tigger and Chuck N. He said a local contact (His was Edo) was necessary to understand how to use the post office for general delivery, to rent a cell phone, and to do other set up items that are a bit different than in America. So I should find a local contact. Billygoat mailed himself food but one could easily buy nuts, cheese, salad, olives, and water in every town. Food cost about twice the US price. They often stayed in a Kibbutz, ~$30 breakfast included. Taxis are everywhere and are the equivalent of hitching in the US, but the price should always be negotiated before the ride. They used taxis to access the Dead Sea and Mosada. Jerusalem and the Sea of Galilee are also off trail. If you rent a car also rent a gps (roads are ancient, winding, etcetera) from the same vendor, but it won't suggest routes through the West Bank, so watch maps too to keep routes reasonable. It is very useful to have a phone and they can be rented. For example, water cache locations were often texted to them, and the phone was used to set up lodging. But phone calls to the US were more economical using cards and the many public phones. I should learn the blaze convention because it encodes NOBO vs SOBO, turn information, etcetera. The trail is ~650 miles, passes right through Tel Aviv, is in good condition, and is little used. The Negev Desert has no plants or animals and they found it necessary to pay someone to place water caches. Generally, this cost about $20 for 4 1½ liter bottles. But they found old water caches, were given water by campers, and one could get water by holding up a jug by a road. He hadn't seen buried general use caches (per Tamir) but said they didn't know and so didn't look. Starting about the 25th of March it gets hot in the Negev Desert so hiking is generally NOBO in the spring or SOBO in autumn. Wear long pants and follow other local customs in towns or near groups or people will be less willing to socially engage. But shorts in the desert were fine. Most people are fairly secular. Virtually everything is closed Saturdays. Israel is very crowded at Easter, so avoid that time. There is a current English guidebook that is in print, much improved, and costs $65. They didn't need supplementary maps. Everything about the trail will have a steep learning curve. ATMS are everywhere: larger, less frequent, withdrawals keep cumulative fees lower. Airfare was $1000. He spent $20-50/day. Many people are armed, and soldiers are everywhere, but this is normal and doesn't necessarily indicate a troubled time.
Tuesday, June 11, 2013
Pinco and the Israeli National Trail
Pinco and I discussed an ADZPCTKO style kickoff for the Israeli National Trail. If he starts it, I promised to market it to American long distance hikers. Most of it would be in Hebrew, the language of most of the hikers. But foreigners would also be accommodated. It would be about March 1, for northbound hikers. The INT is about 600 miles, so would take 5-6 weeks for an experienced long distance hiker to complete. But there are sites, such as Nazareth and Jerusalem, which are off trail, and which foreign visitors would want to see, so 2 months or more are recommended. Hitchhiking is common. Pinco confirmed the existence of the large water caches, but warned that they may get used up in the high season. Spring is much preferred over fall since spring rains bring green and flowers, whereas fall is a much drier, browner season.
Israeli National Trail Wants
Pimsleur CDs to learn to speak Hebrew
A book to learn written Hebrew or
An iPod app to translate written Hebrew
The Israel Trail Guidebook
An Israel tourist book
The Lycean Way book
In a bookstore I saw Hebrew in 10 Minutes a Day, by Kristine Kershul, a workbook with a CD from which I might be able to learn to read and write. A search online showed other books I didn't examine in person.
Turkey's Lycian Way
Perhaps as an adjunct to hiking the Israeli National Trail I could walk the Lycian Way along the coast of Turkey. It is 510 km long and travels from Ölüdeniz to Hisarcandir, or across ancient Lycia. It is blazed with red and white in the European Grande Randonnee fashion. Recommended seasons are February–May and September–November. The route is mostly footpaths and mule trails, with rocky tread, often ascending and descending as it traverses the coast. Kate Clow produced the guide books and maps, which also give background and historical information. Garmin gpx GPS files are available. A little internet searching on the Lycean Way will turn up several other routes in Turkey, some with guidebooks also by Kate Clow. Turkey's Lycian Way was recommended to me by long distance hiker Tessa of New Zealand as both a nice coastal walk and as a historical walk, with ruins from the Greeks, Romans, and other civilizations. One can camp along the way, and the trail takes perhaps 2-3 weeks.
New Zealand or Te Araroa
One can hike across

New Zealand, which would take several months. The Te Araroa Trail will eventually run the length of the country, but is not yet complete. Or, one can make up a route to walk. I've obtained some digital maps from Trauma, who hiked across the South Island a few years ago.
Alternatively, one could simply hike the most beautiful and ecologically diverse locations in

New Zealand, partly by walking and using public transit to traverse the country, then perhaps later renting a car to pick up trails that were not easy to get to. Apex is a local car rental firm that is cheaper than the international competitors like Avis or Hertz. The Department of Conservation is roughly equivalent to our Forest Service. For a relatively small fee, one can buy an annual pass to their extensive network of huts or bunkhouses.
Friday - Sunday, October 11 - 13, 2013
ALDHA Gathering at Shippensburg University
Freebird's Te Araroa, New Zealand Presentation
Gear can be very expensive in New Zealand, so bring a full set. Black Flies (Biting Flies), locally called Sand Flies, are common. Most DEET sold in New Zealand is perhaps 20-30%, so bring some 100% DEET from the US. Food can be bought in towns along the way, typically every few days. US debit cards work in ATMs, but watch the fees. Topo maps and notes are available on line free. A book is available which is useful for planning or for someone following your hike, but is not detailed enough for hiking. Most through hikes are southbound. Denatured Alcohol is called Methylated Spirits, is sold in liter bottles, and is dyed purple.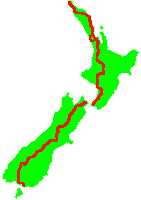 These are known as the Great Walks.
Milford Track
Abel Tasman Coastal Track
Routeburn Track
Kepler Track
Lake Waikaremoana Great Walk
Tongariro Northern Circuit
Whanganui Journey
Heaphy Track
Rakiura Track
These are also well known.
Queen Charlotte Track
Tongariro Alpine Circuit
Dusky Track
What Americans might call hiking Kiwis would call Tramping. A good guidebook to well known wilderness routes there is Lonely Planet's Tramping in New Zealand by Jim Dufresne.
Informative websites:
New Zealand Parks and Recreation
Federated Mountain Clubs of New Zealand
General New Zealand Hiking Information
Tahoe Yosemite Trail
I like to take parallel routes where they are available and where I have already taken the primary route. Therefore, I'm interested in taking the TYT, which parallels the PCT from Tahoe to Tuolumne, someday. The TYT runs from Meeks Bay on the west shore of Lake Tahoe to Tuolumne Meadows. Except near Lake Tahoe, it never gained official recognition. It differs from the PCT for about half its length. It goes much lower than the PCT and visits the northern of the Kennedy Meadows resorts. A guidebook is long out of print. I have the National Geographic topographic map Carson - Iceberg, Emigrant and Mokelumne Wilderness Areas 807, and the Tom Harrison Recreation Map Lake Tahoe and Tahoe Rim Trail, which cover it, as well as maps downloaded from the internet.
| Location | Food? | Mile |
| --- | --- | --- |
| Meeks Bay, Lake Tahoe Terminus | No | 0 |
| Phipps Pass | No | 10 |
| Join the PCT near Velma Lakes | No | 12 |
| Echo Lake Resort | Yes | 31 |
| US50 Echo Summit PCT | Yes | 33 |
| South of Carson Pass near Frog Lakes split west from the PCT | No | 48 |
| Fourth of July Lake | No | 53 |
| Summit City Creek, partially unmaintained trail | No | |
| Lake Alpine (Grocer, Ski Areas) | Yes | 71 |
| Clark Fork Meadow (road?) | No | 88 |
| Kennedy Meadows Resort (store, restaurant) | Yes | 108 |
| Relief Reservoir | No | 110 |
| Bond Pass | No | 121 |
| Join PCT | No | 123 |
| Tuolumne Meadows | Yes | 168 |
Utah's Hayduke Trail
The Hayduke Trail connects the various National Parks of Canyon Country in Southern Utah and Northern Arizona (Zion, Grand Canyon, Bryce Canyon, Grand Staircase/Escalante, Glen Canyon, Capitol Reef, Canyonlands, and Arches). Water, Snow, and Permits for the several jurisdictions the trail passes through are challenges.
There is an ongoing effort to remove invasive Russian Olive and Tamarisk trees in the Escalante River drainage, and also to reintroduce beavers. Some research might be of benefit.
Sharon of PCT'03 hiked the Hayduke in a very high snow year, to make the water situation easier. She resupplied by hitching. Hitches took a long time: She just budgeted enough time. She got a permit only at Grand Canyon.
Guidebook "The Hayduke Trail" by Mitchell and Coronella
Large Scale Maps
Many National Geographic Trail Illustrated (NGTI) maps overlap, especially at the northeast end of the Hayduke Trail (HT), but cover little of the Hayduke. I feel that if a large scale map shows only a few miles of the HT, I don't need or want it. Here I list BLM 30'x60' quadrangles and NGTI maps which cover at least a half dozen USGS 7½' quads along the HT, and which I therefore intend to buy.
The Arches NP official map gives a large scale view. Various NGTI and BLM maps don't seem to be enough of an improvement to buy and carry.
NGTI 210 Canyonlands National Park covers 10 HT quads, and seems worth buying.
BLM quad Hite Crossing includes 10 HT 7½' quads.
NGTI 710 Canyons of the Escalante covers 11 7½' quadrangles of the Hayduke Trail.
BLM Smoky Mountain covers 13 quads.
National Geographic Trail Illustrated 262 Grand Canyon East includes about 14 quads. I already own it.
BLM Freedonia is good for about 11 quads.
BLM Kanab covers 12 Hayduke quadrangles.
Though the Hayduke book says that hiking out the canyon of the Virgin River in Zion NP can only really be done on the entrance road, busy and narrow Highway 9, there are trails to the north connecting to the Kolob Canyons Visitor Center along I15. The East Rim Trail (11 miles), West Rim Trail (13.5m), Wildcat Canyon Trail (4.8m), Connector Trail (4.1m), Hop Valley Trail (6.5m), and La Verkin Creek Trail (6.4m) are shown on the official park map and on the NGTI map. I plan to buy NGTI 214 Zion National Park and use it to take this route, even though the official map is probably good enough.
I've downloaded all seemingly useful NPS maps. I've also downloaded all 2011-2014 USGS 7½' quadrangle maps listed in the Hayduke book. These newer versions don't always include old, closed, overgrown, rutted, or etcetera, roads and trails that were covered on older versions. Therefore, I still need to consider downloading older versions where the route description includes using old roads as routes or landmarks. The USGS digital store provides all these downloads free. Although BLM New Mexico and Colorado websites provide BLM 30'x60' quad downloads free, I was not able to find them for Utah and Arizona. After collecting all such map files, I plan to digitally crop and annotate them before printing them all out.
The Hayduke Trail
#
Days
Miles
Exertion
Navigation
Water
Desolation
Hazards
Permits
Resupply
Arches National Park Miles to Zion NP: 808
1
5
39.7
Easy
Easy Moderate
Wet
Local
Flash Floods Courthouse Wash, Kane Creek Canyon
Arches NP
Moab All Services
Hurrah Pass Miles to Zion NP: 768.3
2
7
47.1
Moderate
Moderate
Damp
Backcountry
Flashfloods all Drainages
Canyonlands NP
No
Big Spring Trailhead Miles to Zion NP: 721.2
3
11
67.9
Difficult
Moderate to Difficult
Dry 3 Day Carry
Desolate
Flash Floods Climbing Exposure
Canyonlands NP, Glen Canyon NRA
No
Hite Miles to Zion NP: 653.3
4
7
35.8
Moderate
Easy to Difficult
Damp
Backcountry
Quicksand, Dirty Devil River Current, Poison Ivy
Glen Canyon NRA
Cross Highway 95 at mile 35.8
Poison Spring Canyon Miles to Zion NP: 617.5
5
8
48.9
Moderate to Difficult
Moderate
Damp
Backcountry
Snow Avalanche, Climbing Exposure
Capitol Reef NP
36 miles south on dirt Notom to Bullfrog Road to Hwy24 or 40 miles west on Burr Trail to Boulder
Burr Trail, Capitol Reef NP Miles to Zion NP: 568.6
6
11
72.5
Difficult to Extreme
Moderate
Dry, then Wet
Desolate
Poison Ivy, rattlesnakes, Scorpions, Quicksand (all along the Escalante River), Flashfloods
Capitol Reef NP, Glen Canyon NRA, Grand Staircase - Escalante NM
Coyote Gulch Thead 36 miles north on Hole in the Rock Road to Hwy12, 5 miles NW to Escalante
Hole in the Wall Rock Road Miles to Zion NP: 496.1
7
12
80.8
Difficult
Moderate
Dry
Desolate
Dry
Grand Staircase Escalante NM
Round Valley Draw Miles to Zion NP: 415.3
8
7
49.0
Moderate
Easy
Damp
Backcountry
Flashfloods in Round Valley Draw, Hackberry Canyon, Paria River, Sheep Creek, Willis Creek
Grand Staircase Escalante NM
Willis Creek Miles to Zion NP: 366.3
9
8
66.3
Moderate
Easy
Damp
Backcountry
None
Grand Staircase Escalante NM, Bryce Canyon NP
Mile 51 cross US89 or Stateline TH, 11 miles NNE to US89, 40 miles west to Kanab
Arizona State Line Trailhead Miles to Zion NP: 300
10
7
60.9
Easy
Moderate
Dry
Local
None
None
Nankoweap Trailhead Miles to Zion NP: 239.1
11
9
47.1
Moderate to Difficult
Moderate
Wet
Backcountry
Exposure, Crossings of the Colorado and Little Colorado Rivers, Rattlesnakes, Heat
Grand Canyon NP
Cross US89 at mile 24
Horseshoe Mesa Miles to Zion NP: 192
12
6
34.9
Moderate to Difficult
Easy
Damp
Backcountry
Exposure, Heat, Rattlesnakes
Grand Canyon NP
North Rim - Store, Restaurants
North Rim, Grand Canyon NP Miles to Zion NP: 157.1
13
12
87.2
Extreme
Difficult
Wet
Desolate
Exposure, Crossings, Flashfloods
Grand Canyon NP
Hack Canyon Miles to Zion NP: 69.9
14
9
69.9
Difficult
Moderate to Difficult
Dry, then Moist
Backcountry
Exposure, Flashfloods
Zion NP
Cross Highway 389 at mile 29
Weeping Wall, Zion National Park
#
Days
Miles
Exertion
Navigation
Water
Desolation
Hazards
Permits
Resupply
Arkansas' Ozark Highlands Trail

The Ozark Highlands Trail runs east-west through the Ozark National Forest in Arkansas. It's 165 miles long, and there is typically little enough snow that it can be hiked any time through the winter. Greyhound serves the towns of Ozark and Fort Smith. I hiked the east end of it in 2011, but it would be nice to hike the rest.
Guidebook "Ozark Highlands Trail Guide" by Tim Ernst
Ozark Highlands Trail Association
National Geographic Ozark Highlands Trail Article
Wikipedia's Ozark Highlands Trail
The Ozark Highlands Trail, the Ozark Trail, and the Ouachita Trail are best hiked in the Autumn, Winter and Spring.
Missouri's Ozark Trail

The Ozark Trail connects various sections of the Mark Twain National Forest in Missouri. It's 340 miles long.
Guidebook "The Ozark Trail Guide" by Carroll and Welch
The Sendero de Chile
The Sendero de Chile is a trail that runs the length of Chile. I don't really know if it's complete, so incomplete it's impossible to hike, or what. The website is in Spanish.
Australia
The Bibbulmun Track is a 1000 kilometer walking path from Albany to Perth in Australia. Maps are available. September to November would be a good season, with spring wildflowers. The 135 km Cape to Cape Track is nearby.
The Larapinta Trail in the McDonnell Range near Alice Springs has been recommended to me by Swami, as has hiking in the remote parts of Tasmania, some reachable only by small plane.
Slovenia
There is a 7 or 900 kilometer trail in Slovenia with hostels that are ~7€ if you are a member of the national mountaineering club. It must loop around a lot because Slovenia is not 700 km across.
India
In India there are many pilgrimages, some where the participants haul huge temples behind them.
Korea
In Korea, there are 2 long distance walks. One, around Jeju or Olleh island, is about 200 kilometers. The island is one of the most beautiful places in Korea. The other goes from Ddang Ggeut or the end of the world to Im jim gak, or from the southwest to the northeast of South Korea, and is 500 kilometers long.
Trans Canada, or Great Trail
The Trans Canada Trail, or Great Trail, in development since 1992, is a vast network of mostly rail trails and canoe trails. The intended rail trail users are hikers, cyclists, equestrians, and cross country skiers. In 2016, 21,452 kilometers (13,330 miles) were complete, with 240 gaps totalling 6,200 km (3,900 mi). Guide books for each province are available for ~$25, and information about each of the many separately named and managed segments should also be sought. On the map, Green Segments are completed rail trail, Blue shows a canoe route, and Red signifies a missing trail link. It appears that there are very long sections that are complete.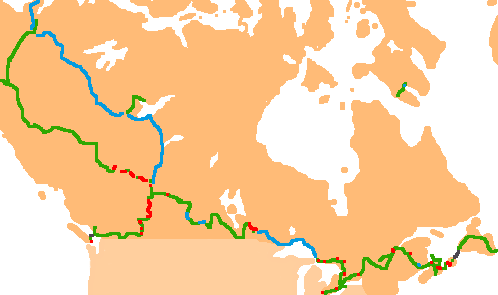 Canada also has a Bruce Trail which connects with upstate New York's Finger Lakes Trail System near Niagara Falls and continues north into Canada.