Dan's 2012 Arizona Trail Walk
The Arizona National Scenic Trail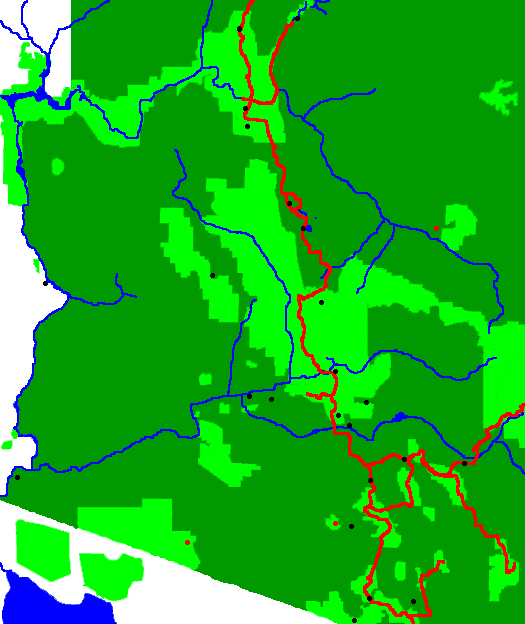 Friday, September 28th, 2012
After a long bus trip from Rawlins, Wyoming, the endpoint of my CDT section hike across Colorado, I reached the Phoenix, Arizona home of Arizona Trail Passage 21 maintainers and angels Dan and Lynne. We had an excellent dinner of ribs and pasta salad, and talked hiking into the night.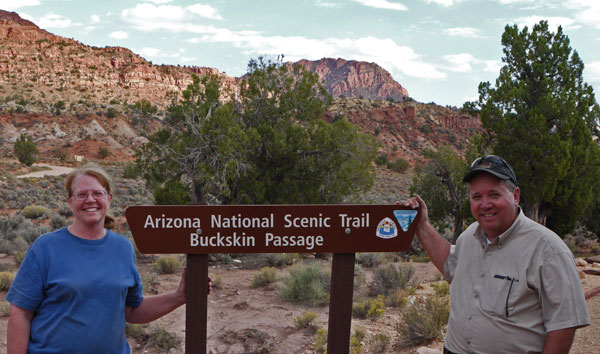 Saturday, September 29th, 2012
Dan and Lynne drove me to the Utah Terminus of the Arizona National Scenic Trail at the Stateline Campground. We had chicken salad sandwiches for dinner. Thank You for everything!!! I saw some 3" lizards and a 30" Gopher Snake Pituophis catenifer. There was afternoon virga and just a minute of light rain.
Arizona Trail Passage: 43 - Buckskin Mountain
Miles: 2
Camp: Atop Switchbacks
Water Report: 43/800 2 gallons cached 200 yards out of Stateline Campground
Grand Canyon Weather Forecast
Saturday, September 29 - 69F / 37F 0%
Sunday, September 30 - 71F / 37F 0%
Monday, October 1 - 71F / 36F 0%
Tuesday, October 2 - 72F / 39F 0%
Wednesday, October 3 - 71F / 39F 0%
Thursday, October 4 - 68F / 39F 10%
Friday, October 5 - 65F / 38F 20%
Saturday, October 6 - 64F / 39F 0%
Sunday, October 7 - 63F / 41F 0%
Monday, October 8 - 63F / 38F 10%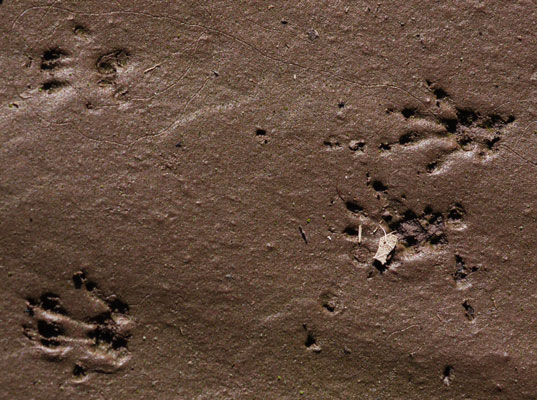 Sunday, September 30th, 2012
In North Larkum Canyon and south were fossils: crinoids, shells, roots, plus some tiny geodes. In the same area were many woodpecker feeding and nesting holes, but I neither saw nor heard woodpeckers. I saw an 18" Western Rattlesnake Crotalus viridis and Black Tailed Jackrabbits Lepus californicus. There were junipers, Colorado Pinyon Pines Pinus edulis, Gablel's Oak Quercus gambelii, yucca, cholla, prickly pear, and sage. Squirrels had dropped green pinyon cones all around, and they had excellent, fresh pinola nuts. I saw no one but there were several types of fresh boot prints on the route. Bike tracks were at least a week or two old. Towards the end of the day the pinyon juniper scrublands gave way to Ponderosa Pine Pinus ponderosa forest. A mile or so before camping I passed a large sinkhole.
Arizona Trail Passage: 43 - Buckskin Mountain, 42 Kaibab Plateau North
Miles: 24 26
Camp: 3 miles north of US89A
Water Report: 43/796.7 Full, Green
43/789.2 trough Dry
43/789.2 Winter Road Cache 9+ gallons
42/781.7 Government Reservoir water turbid beige
Monday, October 1st, 2012
Fossils and small geodes continued. Near US89a I saw Kaibab Squirrels Sciurus alberti kaibabensis. These are found only on the north side of the Grand Canyon in old growth pine forests, which are increasingly fragmented by fire and logging. They have distinctive pointy ears and large white puffy tails. I saw several Mule Deer Odocoileus hemionus does and several Common Ravens Corvus corax.
Arizona Trail Passage: 42, 41, 40 Kaibab Plateau North, Central, South
Miles: 23 49
Camp: South of Telephone Hill
Water Report: 42/772.2 cache 12+ gallons, dirt pond near dry, cable misspelled
43/770.5 Stock pond dry
43/770.5 Big ridge metal tank flowing over
43/766.5 Ridge tank full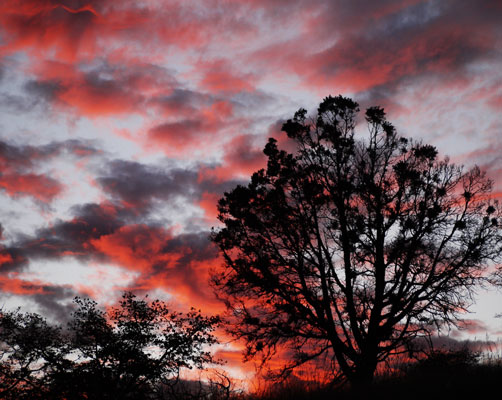 Tuesday, October 2nd, 2012
I saw two flocks of Wild Turkeys Meleagris gallopavo.
Arizona Trail Passage: 40 Kaibab Plateau South
Miles: 19 68
Camp: Boundary of Grand Canyon NP and Kaibab NF
Water Report: 40/752.2 Crane Lake, no water, mud
40/749.6 Clear Water
40/? Unlisted Source earth stock pond 200 yards south of Arizona Trail intersection with FR221 N36.47496 W112.11319 Clear Water
40/741.6 Dog clear water
40/738.6 Crystal clear water
40/735.9 pond near capped well clear water
Wednesday, October 3rd, 2012
I saw some turkey Meleagris gallopavo prints, some grouse, a coyote Canis latrans, and a Mule Deer Odocoileus hemionus. I partook heavily of the pasta and salad buffet at the lodge. The views all around the north rim were excellent, and Bright Angel point was perched high above the canyons, affording a 300 degree panorama. The hiker campsites were right on a cliff facing the sunset, and adjacent to the Transept Trail to the Lodge and Bright Angel Point. I hung out with four guys who had hiked over from the south rim.
Arizona Trail Passage: 39 North Rim
Miles: 16 84
Camp: North Rim Campground
Water Report: 39 Residence Blue Jug Present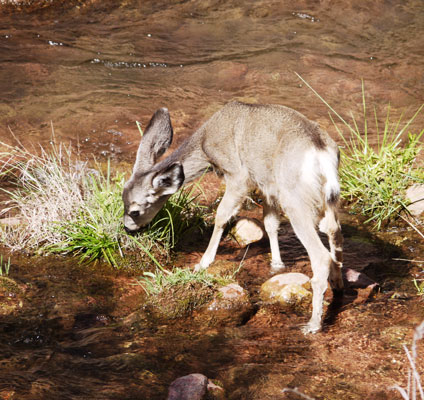 Thursday, October 4th, 2012
There were Beaver Castor canadensis dams in Bright Angel Canyon, and a mule deer fawn was grazing right in the creek. Its mother was lying on the bank. I also saw a garter snake. I took side trips to Upper and Lower Ribbon Falls. The upper falls has a nice 2 layer impact bowl, and Anasazi dwellings and granaries nearby, while the impact zone of the lower falls has a huge moss covered travertine impact cone.
Arizona Trail Passage: 38 Inner Gorge
Miles: 27 111
Camp: South Rim
Water Report: Passage 38 - All taps operating, Bright Angel Creek clear and good tasting, some springs on North Kaibab Trail
Friday, October 5th, 2012
I walked the Rim Trail to Yavapai Point, enjoying the sunrise and canyon from before first light. Deep in the gorge flashlight beams were working down various trails. The red light of sunrise brought out the colors of the canyon layers. I saw a Garter Snake Thamnophis.
Arizona Trail Passage: 37 Grand Canyon - South Rim
Miles: 16 127
Camp: Junction of FR9122E and Bike 4, 9 miles shy of Grandview Lookout Tower
Water Report: 37 Taps in park and Tusayan functional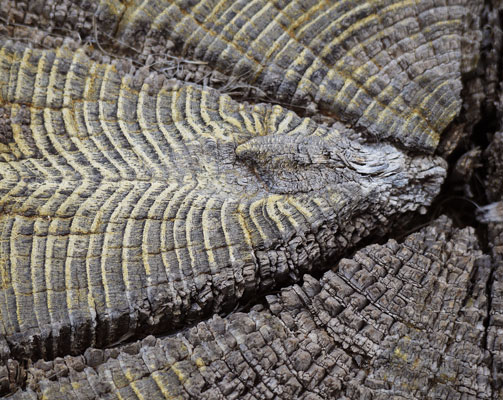 Grand Canyon Area Resupply
The store on the North Rim was small but adequate for northbounders to resupply to Utah. There was a hotdog roller and wrapped sandwiches, like in convenience stores. Near the store was a shower and laundry building. A mile away, on the very scenic Transept Trail, is a lodge with a deli and a full service restaurant.
The best resupply in the area was the grocery at the Mather Campground on the South Rim. This is a full grocery store like in any city, with a better than average selection of hiker preferred foods. There is also a small selection of high quality boots, socks, and other hiking gear. I would recommend southbounders resupply here.
Tusayan has a store that is more than adequate by long distance hiker standards to resupply to Flagstaff, but it's nowhere near as large as the south rim store. There are also a few expensive fast food places and tourist traps.
Flagstaff Weather Forecast
Friday - October 5, 69F / 40F 0%
Saturday - October 6, 70F / 39F 0%
Sunday - October 7, 69F / 35F 0%
Monday - October 8, 67F / 36F 10%
Tuesday - October 9, 66F / 36F 0%
Wednesday - October 10, 63F / 34F 10%
Thursday - October 11, 59F / 33F 30%
Friday - October 12, 56F / 33F 30%
Saturday - October 13, 61F / 35F 10%
Sunday - October 14, 65F / 37F 0%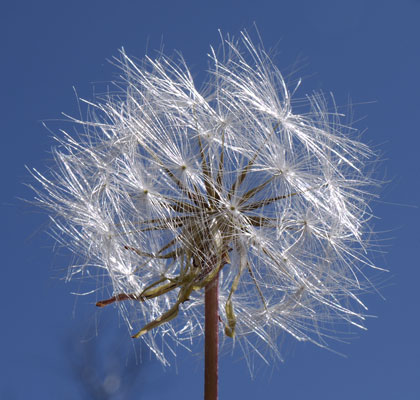 Saturday, October 6th, 2012
I saw my first Arizona Trail users outside the Grand Canyon, 2 women hiking from Russell Tank to Grandview Lookout. There have always been bootprints fresh within a day or so, so there are other hikers out here, but plenty of solitude too.
Arizona Trail Passage: 37 Grand Canyon - South Rim, 36, Coconino Rim, Russell Wash
Miles: 22 149
Camp: 1 mile south of Russell Tank
Water Report: 37/863.4 dry
37/680.5 Dry
36/676.1 No Water
36/664.2 plenty of water, slightly turbid
Sunday, October 7th, 2012
While I was enjoying an hour long pine nut feast, a Desert Tarantula Aphonopelma chalcodes crawled right up over my pile of nuts and continued on its way. I also saw a Black Tail Jackrabbit Lepus californicus. Overnight I often woke briefly to the sound of cattle crunching through gravel as the walked around, and to coyote song.
Arizona Trail Passage: 36 Russell Wash, Moqui Stage Station, 35 Babbitt Ranch
Miles: 23 172
Camp: South of Dirt Tanks and Powerlines
Water Report: 36 Metal Russell tank good water in covered float tank
35-650.0 full, slightly turbid
35-648.2 full, turbid
35 Dirt Tanks at powerlines full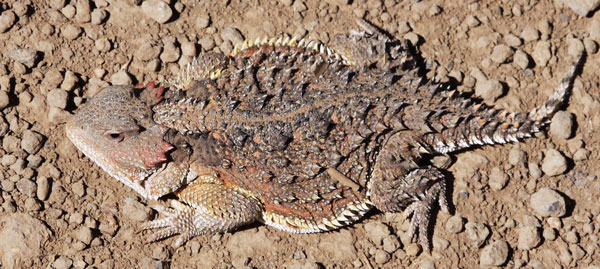 Monday, October 8th, 2012
I saw two Coyotes, two Short Horned Lizards Phrynosoma douglassi, and a half dozen Mule Deer. The rocks changed from sedimentary with fossils to foamy lava. The walking was a long easy ascent, so I made many miles.
Arizona Trail Passage: 35 Babbitt Ranch, 34 San Francisco Peaks
Miles: 29 201
Camp: Junction with road to Little Spring
Water Report: 35 637.9 Rabbit Tank Full
34 631.5 Float tank near trailhead full of clear water
34 618.5 Kelly Tank Dry
34 613.5 Little Spring pool full of good clear water, pipe barely dripping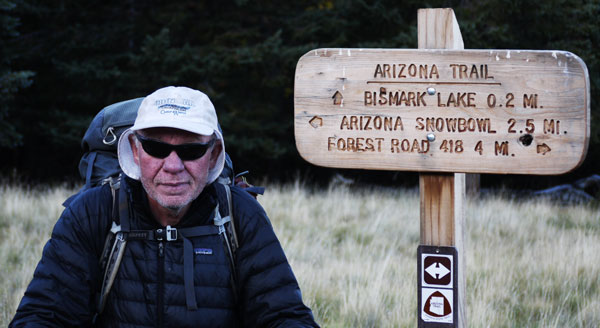 Tuesday, October 9th, 2012
I met many dayhikers as I approached Flagstaff, plus I met Darryl, a southbound throughhiker. There were northbound Black Bear Ursus americanus tracks on the AZT north of the Arizona Snowbowl Aspen Loop junction.
Arizona Trail Passage: 34 San Francisco Peaks, 33 Flagstaff Resupply
Miles: 20 221
Camp: A few miles short of Flagstaff
Water Report: 34 610.5 Lew Dry
34 607.7 Alfa Fia full, clear, spring flowing
33 Schultz Creek pools dry
Wednesday, October 10th, 2012
I resupplied in Fladstaff, plus bought new boots and mailed Grand Canyon books and maps home.
Arizona Trail Passage: 33 Flagstaff Resupply
Miles: 8 229
Motel: Flagstaff
Water Report: There's no problem finding water in Flagstaff.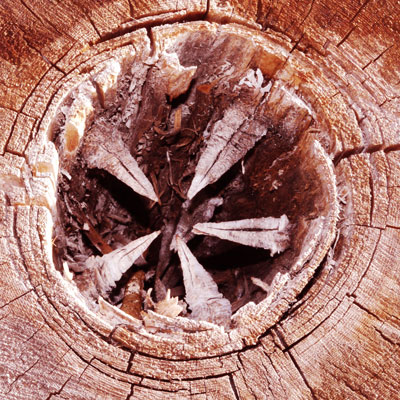 Thursday, October 11th, 2012
I left Flagstaff to the northeast, saw the Elden Pueblo, then joined the Flagstaff bypass route southeasterly at US89, and visited Walnut Canyon National Monument. Both have ancient pueblos, and the monument has unique ecosystems. The Elden Pueblo had a unique boulder used to grind axes. I saw a Desert Tarantula. At mid day it rained briefly.
Arizona Trail Passage: 32 Mount Elden / Flagstaff Bypass, 31 Walnut Canyon
Miles: 19 248
Camp: past the Walnut Canyon National Monument access road
Water Report: 32/588.5 water at many stores
32 Tip Tank 1 trail mile north of I40 full
31/579.4 Walnut Canyon National Monument taps on
Friday, October 12th, 2012
It rained hard all night, then off and on all day. Occasionally hail or snow briefly fell... This was a cold rain! Late in the day clay mud was clinging to my boots in huge clumps - what a nuisance! I saw a Black Tailed Jackrabbit. There were also a few pot shards and obsidian chips on the trail, as I've found a few other days too.
Arizona Trail Passage: 31 Walnut Canyon, 30 Mormon Lake
Miles: 18 266
Camp: Beyond Prime Lake
Water Report: 31 575.8 573.1 Wildlife Tanks Full
31 567.4 Walnut Creek Dry
31/564.9 small tank full, turbid, beige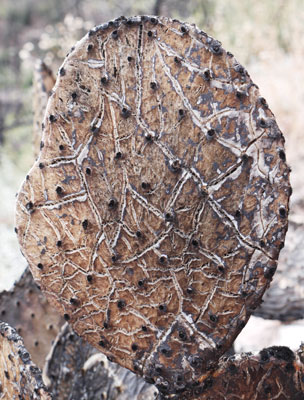 Flagstaff Bypass Route Resupply
A hiker could easily resupply from the bypass route at US89. Sidewalks run almost all the way into Flagstaff, so walking the highway is safe. 1.5 miles south of the AZT US89 junction is a full grocery and a Family Dollar. Before that are two commercial campgrounds where one might shower and launder. After the grocer is a full mall where one might replace gear. Perhaps 2.5 miles from the trail motels start, then there are plenty. The Flagstaff bus system runs within a mile of the trail too, should you have had enough of walking.
Mormon Lake Weather Forecast
Thursday, October 11 - 66F / 39F 20%
Friday, October 12 - 53F / 31F 70%
Saturday, October 13 - 65F / 37F 0%
Sunday, October 14 - 68F / 39F 0%
Monday, October 15 - 72F / 41F 0%
Tuesday, October 16 - 73F / 41F 0%
Wednesday, October 17 - 72F / 42F 0%
Thursday, October 18 - 71F / 43F 0%
Friday, October 19 - 71F / 42F 0%
Saturday, October 20 - 70F / 42F 0%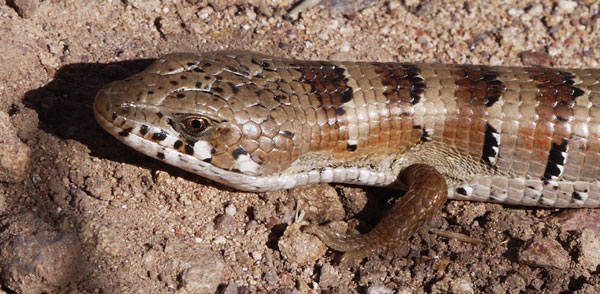 Saturday, October 13th, 2012
Gooey mud continued in the morning. The mountains north of Flagstaff were snow covered. But the weather was clear and warmer. I saw 3 herds of Elk, perhaps 60 or 70 in all, plus a dozen Pronghorn Antelope. There were many hunters out and I heard many shots.
Arizona Trail Passage: 30 Mormon Lake
Miles: 20 286
Camp: Beyond Double Spring
Water Report: 30 556.6 Horse Lake several ponds full
30 551.7 Pine Grove Camp closed
30 541.9 Double Spring Closed, taps off, Spring Flowing Nicely
Sunday, October 14th, 2012
Old logging railroad cuts, berms, ties, and spikes have continued since Pine Grove yesterday. I saw an elk and perhaps a dozen Mule Deer does in small groups through the day. There was a Red Tailed Hawk flying with its catch. I resupplied in the small store and breakfasted at the Mormon Lake Resort.
Arizona Trail Passage: 30 Mormon Lake, 29 Happy Jack
Miles: 18 304
Camp: Beyond Shuffs Tank
Water Report: 30 537.3 Navajo Spring flowing, Mormon Lake Resort taps on
30 534.5 Spring full
30 530.7 Van Deren full
29 526.7 Maxie Full
29 525.1 Shuff Full
Monday, October 15th, 2012
Arizona Trail Passage: 29 Happy Jack
Miles: 20 324
Camp: Beyond Waldroup Tank
Water Report: 29 521.0 Bargaman Full
29 519.7 Pine Spring Full
29 517.5 Wild Horse Full
29 506.6 Unnamed full
29 505.5 Waldroup Dry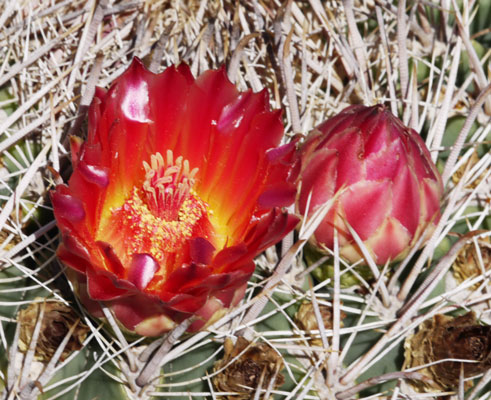 Tuesday, October 16th, 2012
I saw an underground hornet nest torn open by probably a bear, with bowling ball sized rocks tossed aside and the paper combs pulled out. The dirt looked fresh and the hornets were still working on the removed combs, so the incident was quite recent. I also saw a tarantula and 3 Elk and caught up with Darryl at the end of the day.
Arizona Trail Passage: 29 Happy Jack, 28 Blue Ridge
Miles: 22 346
Camp: General Spring
Water Report: 28 498.7 Ranger Station Tap On
28 497.8 Elk Tank Full
28 497.2-493.5 Campgrounds Closed, Taps Off
28 491.8 East Clear Creek Dry
28 490.6 Stock Tank Full
28 484.1 General Springs Good Water
Wednesday, October 17th, 2012
Darryl and I walked and talked together a while today. There were many clear streams, and the vegetation was especially lush. This also means there was a lot of overgrowth on the trail, and I really had to watch to keep track of the trail. I ran into a trail crew near Webber Creek and helped Regina and Mindy put in an improved rock hop ford. I promised USFS Ranger Chelsea to report trail maintenance needs to Sunflower, so that will be added to this page. Regina drove me into Pine to resupply, and we stopped to watch a cow Elk. Thanks for the trail work and the ride.
Arizona Trail Passage: 27 Highline
Miles: 14 360
Camp: Weber Creek
Water Report: 27 480.8 East Verde High Flow Clear
27 478.1 Creek High Flow Clear
27 477.3 Chase Creek High Flow Clear
27 475.8 North Sycamore High Flow Clear
27 474.5 Bray Creek High Flow Clear
27 471.4 Weber Creek High Flow Clear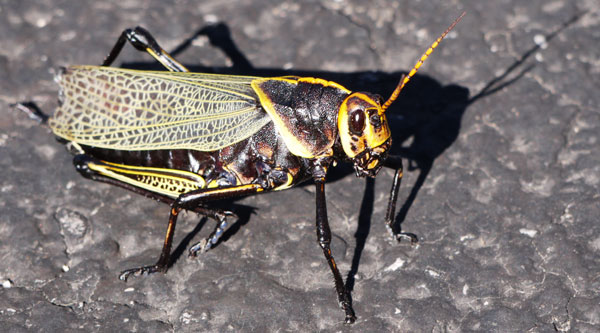 Thursday, October 18th, 2012
I saw a juvenile tarantula, and a raven followed along a while and kept me company. The beer at THAT Brewery was Great and not far off the trail! They also rent cabins, and as the owners are Arizona Trail supporters, there is a discount on the cabins for hikers, and a hiker box.
Arizona Trail Passage: 27 Highline
Miles: 8 368
Cabin: Pine
Water Report: 27 468.3 Pine Spring Flowing Nicely
27 467.2 Red Rock Spring mud only, no water
26 463.3 Pine Good Water, Great Beer
Trail Maintenance Needs: There were 3 waist high blowdowns within a quarter mile trail section half way between the Geronimo Trailhead and Pine Spring. Halfway from Pine Spring to Pine Trailhead, south of Red Rock Spring, within 50 yards of each others, were two knee high blowdowns. The section had encroaching brush and could use lopping, but was passable.
Mesa Weather Forecast
Friday, October 19 - 92F / 61F 0%
Saturday, October 20 - 91F / 63F 0%
Sunday, October 21 - 84F / 61F 0%
Monday, October 22 - 83F / 59F 0%
Tuesday, October 23 - 84F / 58F 0%
Wednesday, October 24 - 84F / 57F 0%
Thursday, October 25 - 84F / 57F 0%
Friday, October 26 - 86F / 58F 0%
Saturday, October 27 - 86F / 59F 0%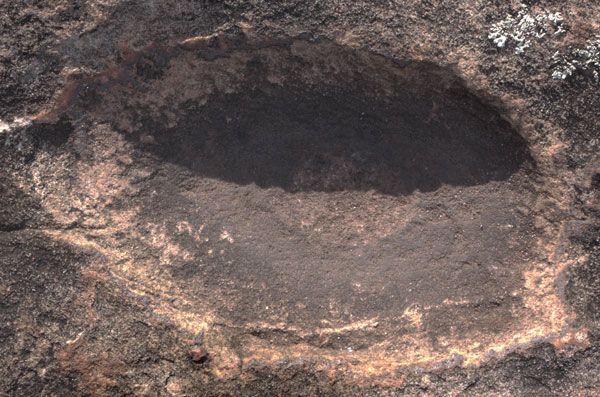 Friday, October 19th, 2012
I saw some funnel web spiders, and an interesting 2.5" tunnel with many 3/16x1/2 scats and seeds around it. I saw some Metates, Indian sliding motion grinding rocks. There were some Mexican or Point Leaf Manzanita Arctostaphylos Pungens with red insect galls on the margins of the leaves. The galls were caused by galling aphids Tamalia coweni or perhaps another Tamalia species.
Arizona Trail Passage: 26 Hardscrabble Mesa, 25 White Rock Mesa
Miles: 17 385
Camp: A few miles short of White Rock Spring
Water Report: Pine Creek Dry
Oak Spring flowing
Rock Creek Headwaters Dry
Saddle Ridge Pasture Tank Full, fairly Clear
East Tank Full, Turbid, Beige
Trail Maintenance Needs: None, route clear.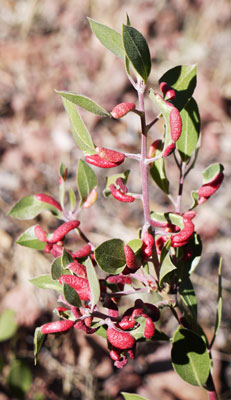 Saturday, October 20th, 2012
This was a tough day of disappearing trails and stopping often to ponder whether I was really on the AZT. Given the AZT's propensity to wander north, south, east, and west while ostensibly heading south to Mexico, an AZT blaze every mile or so would be helpful. The cairns used here are often overgrown and invisible and might be for some trail other than the AZT, and the tread often disappears. Near Polk Springs was the remains of a very old jet engine with can combustors. A nearby rancher said the aircraft crashed on its maiden voyage during WWII, but that seemed a decade too early for the engine I saw. I saw a Black Tail Jackrabbit and some crayfish.
Arizona Trail Passage: 25 White Rock Mesa, 24 Red Hills
Miles: 19 404
Camp: A couple of miles short of The Park
Water Report: Polk Spring High Flow
East Verde River and Rock Creek High Flow
Brush Spring Dry
Creeks along AZT/Red Hills Trail pools several places
Trail Maintenance Needs: One blowdown impassable to equestrians high on the ascent from East Verde River. Other blowdowns were brittle enough I could break them up and toss them off the trail. Overgrowth makes finding the trail a challenge.
Sunday, October 21st, 2012
Arizona Trail Passage: 24 Red Hills, 23 Mazatzal Divide
Miles: 23 427
Camp: Mount Peeley
Water Report: 24 wash a little water
Hopi Spring Dry
Horse Camp Much Water
Chilson Spring Box Full, a little flow
Winsor Seep Dry
Bear Spring box full, some flow
Trail Maintenance Needs: A bit of tread was washed out in the wash 1/4 mile north of Hopi Spring. South of Winsor Seep, there are waist high blowdowns every mile or two. The signs at trail intersections are missing or rotting away. Replacing them would make navigating the AZT much easier.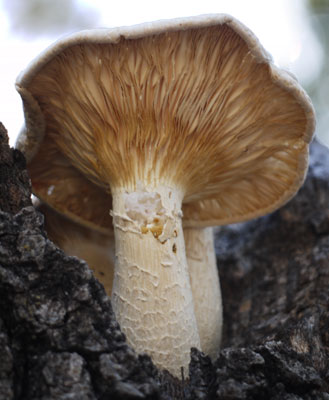 Monday, October 22nd, 2012
There were Black Bear Ursus americanus tracks on the trail. In a muddy spot were nice tracks of birds, coyotes, bobcats, and rodents. Sometime today I passed the halfway point in miles between Utah and Mexico - about 400 miles each way. Dan resupplied me at Sunflower. He supplemented my dried food with fresh food: A Sandwich, Gatorade, Bread, Tortillas, Parmesan Cheese, a Salami, Apples, Oranges, Bananas, and Snickers... I would have counted this extra food as a several day resupply. Many Thanks to Dan and I will be eating well for days!!!
Arizona Trail Passage: 23 Mazatzal Divide, 22 Saddle Mountain, 21 Pine Mountain
Miles: 19 446
Camp: South of Sunflower
Water Report: Thicket Spring Dry
McFarland Canyon good flow
Wash good flow
Section 25 Creek good flow
Stock Pond Full
Spring some pools
Trail Maintenance Needs: Someone had lopped this section recently: Many Thanks. The section was in fairly good condition.
Tuesday, October 23rd, 2012
Bats flew over me before light this morning. I saw some juvenile Tarantulas, as I've been seeing for the last several days. I saw a herd of 13 Mule Deer.
Arizona Trail Passage: 21 Pine Mountain
Miles: 19 465
Camp: Pigeon Spring
Water Report: Sycamore Creek Flowing
Boulder Creek one pothole with several gallons
Little Pine Flat Dry
Pigeon Spring Full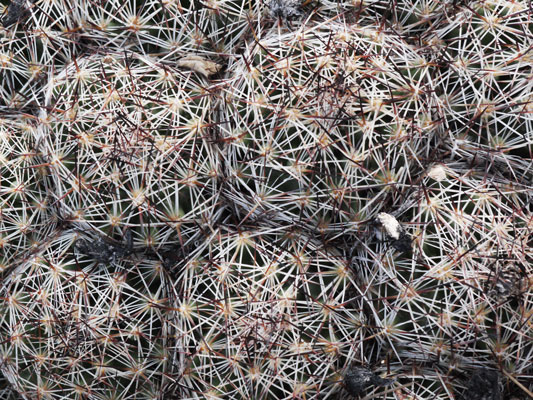 Wednesday, October 24th, 2012
As I descended from the Mills Ridge Trailhead, I saw for the first time plants I'll be seeing commonly for much of the rest of the Arizona Trail: Giant Saguaro Carnegiea gigantea, Foothill or Yellow Palo Verde Cercidium microphyllum, and Cholla Opuntia. A seam on the inside heel of my left boot is ripping out. I just bought these boots in Flagstaff, 254 miles ago.
Arizona Trail Passage: 20 Four Peaks
Miles: 18 483
Camp: Vineyard Mountain
Water Report: Bear Spring Pools
Shake Spring Dry
Granite Springs Dry
Buckhorn Creek Dry
Wildlife Rain Collector near Mills Ridge Trailhead Full
Thursday, October 25th, 2012
I saw 3 snakes today; 2 darted away before I could see much of them. The Roosevelt Marina Store was closed, and there was not much of interest in the Info Center.
Arizona Trail Passage: 20 Four Peaks, 19 Superstition Wilderness
Miles: 16 499
Camp: Two Bar Ridge
Water Report: Equestrian Trough between bridge and marina full and clear
Marina/ Info center taps work
345.3 Thompson Spring troughs full and water in creek
Cottonwood Creek flowing in several places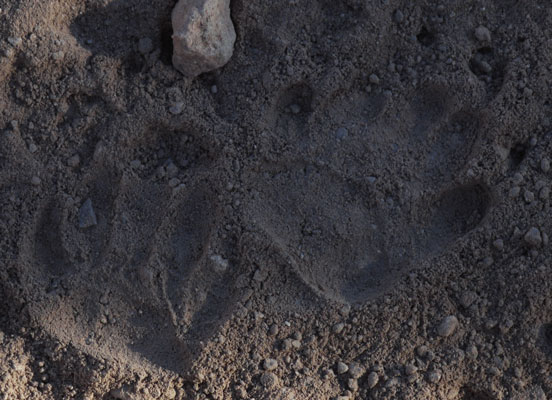 Friday, October 26th, 2012
I saw a White Tail Deer Odocoileus Virginianus. After Walnut Spring the Trails were much easier to negotiate and my pace picked up. Also starting at Walnut Spring I met many other hikers and some equestrians. The Reavis Ranch had excellent apples: I ate several.
Arizona Trail Passage: 19 Superstition Wilderness, 18 Reavis Trail Canyon
Miles: 24 523
Camp: Reavis Trail Canyon
Water Report: Walnut Spring full and clear
Pine Creek Dry
Reavis Creek at 327.4, 327.0, 326.2 full
Rogers Trough Trailhead: two green pools
Saturday, October 27th, 2012
I saw 15 Mule Deer and an 18" snake and resupplied in Superior.
Arizona Trail Passage: 18 Reavis Trail Canyon
Miles: 13 536
Motel: Superior
Water Report: Mud Spring Trough Full
Reavis Trail Canyon Creek a few pools
Windmill/Trough/Corral Full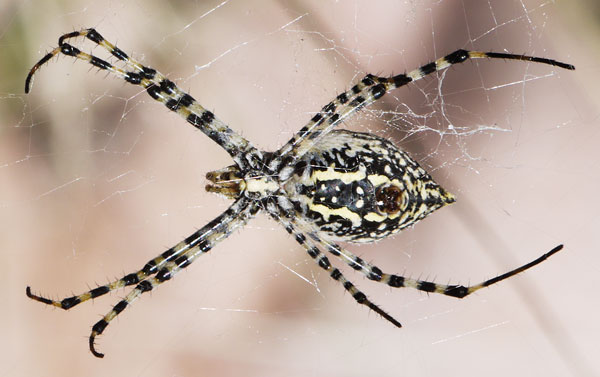 Oracle Weather Forecast
Sunday, October 28 - 79F / 51F 0%
Monday, October 29 - 79F / 51F 0%
Tuesday, October 30 - 78F / 50F 0%
Wednesday, October 31 - 77F / 50F 0%
Thursday, November 1 - 77F / 51F 0%
Friday, November 2 - 74F / 49F 0%
Saturday, November 3 - 70F / 48F 0%
Sunday, November 4 - 71F / 48F 0%
Monday, November 5 - 72F / 49F 0%
Tuesday, November 6 - 72F / 50F 0%
Sunday, October 28th, 2012
I saw a ten inch beige snake, a bright green mantis, and a tarantula.
Arizona Trail Passage: 17 Alamo Canyon, 16 Gila River Canyons
Miles: 18 554
Camp: N Martinez Spring Trail
Water Report: Trough Spring Nearly Dry but 2 gallons cached by Telegraph Canyon Road
Seep Spring Dry but nearby stock pond full, tea colored water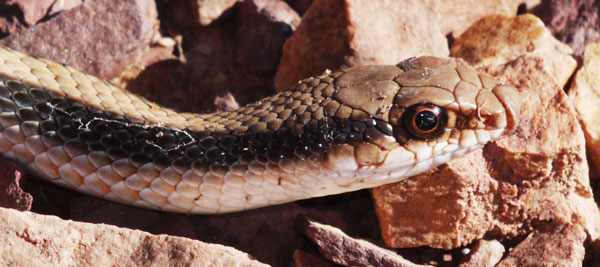 Monday, October 29th, 2012
I saw two White Tail Deer Odocoileus Virginianus and 8 Javalina or Collared Peccaries Tayassu tajacu. There were many chewed sections of various species of cactus, probably Javalina meals. There were many old mine tunnels and tailing piles. The mineral exploration roads recontoured to trail looked a bit better, but still pretty bad. There were Tarantula holes, silk lined with a silk film covering, and Wolf Spider Hogna carolinensis holes, with stick collars.
Arizona Trail Passage: 16 Gila River Canyons, 15 Tortilla Mountains
Miles: 22 576
Camp: 4 miles beyond the Gila River
Water Report: Gila River Full
Mineral Creek Dry
Tuesday, October 30th, 2012
I saw a handsome Mule Deer Buck with a nice rack, several Black Tail Jackrabbits, and a Covey of Gambel's Quail Callipepla gambelii. A Coyote howled shortly after dark. It's hot and dry enough here I need 6-8 quarts per day, and today water sources were 17 miles apart.
Arizona Trail Passage: 15 Tortilla Mountains, Ripsey and Boulder subsections
Miles: 24 600
Camp: Freeman Road
Water Report: Ripsey Wash Spring: a few gallons in the trough plus the hose dribbled a quart every few minutes
The hundred gallon Trough a mile or 2 south of the Ripsey Spring was full
The Freeman Road water cache had 10+ gallons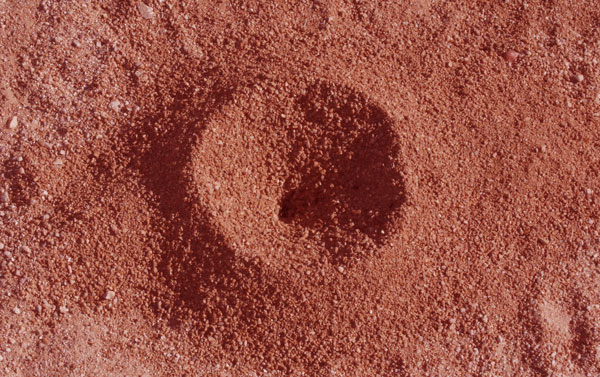 Wednesday, October 31st, 2012
There were many different kinds of ants. One kind built a cone of maroon pebbles about 9" diameter, with an inverted cone removed like a caldera. Another species had bits of young mesquite leaves around its hole. And there were many others.
Arizona Trail Passage: 14 Black Hills
Miles: 23 623
Camp: Corner Tank
Water Report: Beehive Well Tank Full
Mountain View Tank Full
Corner Tank Full
Thursday, November 1st, 2012
I resupplied in Oracle for over 150 miles to Patagonia. I saw a group of Javalina, with 2 babies. From the ridge south of Oracle, I could see Biosphere2 as I enjoyed the sunset. Sometime today I passed the 3/4 point, 600 miles done, 200 to go.
Arizona Trail Passage: 14 Black Hills, 13 Oracle, 12 Oracle Ridge
Miles: 23 646
Camp: A few miles beyond the American Flag Trailhead
Water Report: Tiger Mine Road Trailhead Public Cache 12 gallons
Oracle: many sources
Friday, November 2nd, 2012
I walked into Summerhaven in time for a late lunch. The Sawmill Restaurant was very expensive and the WIFI kept cutting out as I tried to use it. The store had ice cream plus fruit and cheese for my pack, but one would be hard pressed to resupply there. I stopped at the Cookie Cabin and bought a large pizza, most of which I bagged for meals tomorrow. Several people in town were interested in my hike so I chatted a while. I saw several white tail deer and a black bear.
Arizona Trail Passage: 12 Oracle Ridge
Miles: 12 658
Camp: beyond Summerhaven
Water Report: Summerhaven: many sources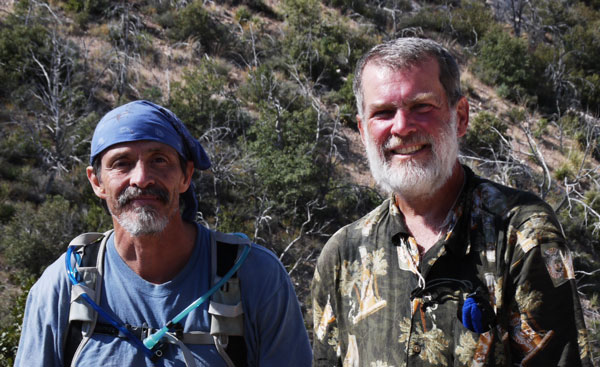 Saturday, November 3rd, 2012
I saw a Wild Turkey, a Tree Toad, and several White Tail Deer. The turkey had a ribbon attached to its wing, was tame enough for me to walk within 15 feet, and was part of an effort to introduce turkeys for hunting. I met Fritz, who maintains the Arizona Trail from Summerhaven north to Apache Peak, and Happyfeet, who thruhiked the Arizona Trail in Spring of 2012. It was great to swim and rinse clothes at Hutch's Pool, as I had not showered or laundered since Superior.
Arizona Trail Passage: 12 Oracle Ridge, 11 Santa Catalina Mountains
Miles: 17 675
Camp: West Sycamore Canyon
Water Report: Lemmon Creek many pools
Romero Canyon has water per Fritz, who had just hiked it.
Hutch's Pool Full
Sabino Canyon some pools
Sunday, November 4th, 2012
The Sycamore Reservoir today is sand filled and just a hiker destination but clearly has a bigger history. There is a sort of visitor pavilion overlooking the dam, overgrown and crumbling. There are large stone piers that once supported a riveted iron pipe maybe 14" diameter running up the hill from the dam area towards the Prison Camp Trailhead. The prison camp closed around the late sixties.
Arizona Trail Passage: 11 Santa Catalina Mountains, 10 Redington Pass , 9 Rincon Mountains
Miles: 22 697
Camp: A few miles north of Saguaro National Park
Water Report: Sycamore Canyon Dry
Sycamore Reservoir Flowing
Molina Campground Host Tank Full
West Spring flowing, Tank Low
The Lake both ponds full
Italian Trap Tank full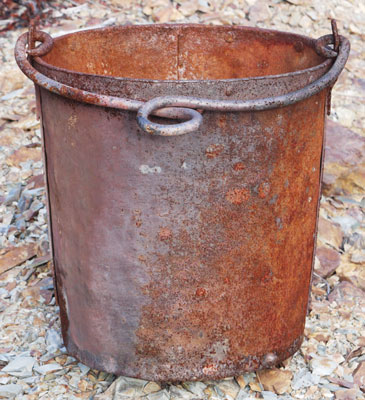 Monday, November 5th, 2012
My right boot is worn through below the big toe, and the welt in that area is separating. The left boot seam failure has not progressed much since my previous report.
Arizona Trail Passage: 9 Rincon Mountains
Miles: 20 717
Camp: South of Saguaro National Park
Water Report: Tanque Verde Canyon Dry
Unnamed Canyon Dry
Italian Spring 2" deep pool
Manning Camp Spigots off, spring flowing
Grass Shack Dry
Drainage Dry
Tuesday, November 6th, 2012
In the morning I saw many snake tracks and small cottontail rabbits. I saw a Great Blue Heron Ardea herodias and a Black Tail Jackrabbit in the afternoon. There was a duck in Duck Tank.
Arizona Trail Passage: 9 Rincon Mountains, 8 Rincon Valley, 7 Las Cienegas
Miles: 24 741
Camp: South of Duck Tank
Water Report: Rincon Creek Dry
La Sevilla Faucet Working
La Posta Quemada Ranch Faucet Working
Cienga Creek flowing
Duck Tank Full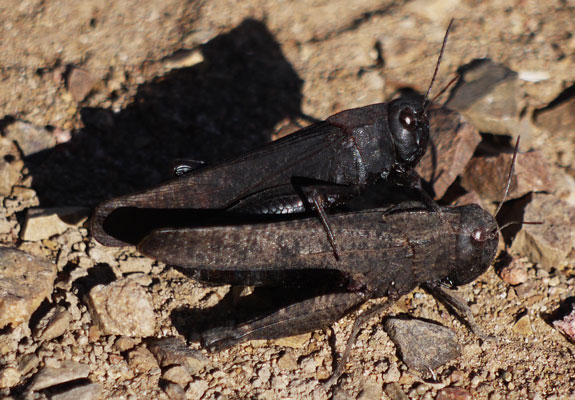 Wednesday, November 7th, 2012
Last night coyotes howled a while. With Highway 83 nearby, I often woke. There were many meteors and satelites, and the milky way was bright. I saw many grasshoppers today, as I have throughout Arizona.
Arizona Trail Passage: 7 Las Cienegas, 6 Las Colinas, 5 Santa Rita Mountains
Miles: 23 764
Camp: A few miles South of FR62
Water Report: Twin Tanks Full
Metal Cattle Trough Full
Thursday, November 8th, 2012
I visited Kentucky Camp, headquarters of a 1904 gold mining operation, and followed the 8 mile aqueduct that was built to provide water for hydraulic mining. There was a little museum and several interpretive signs to explain the ruins of the ditch. There were Black Bear tracks only a few hours old. Also, near all the Sky Islands in southern Arizona, I've seen Black Bear scat. I saw an 18" garter snake. Rain started in the afternoon and continued into the night.
Arizona Trail Passage: 5 Santa Rita Mountains, 4 Temporal Gulch
Miles: 22 786
Camp: A couple miles south of Walker Basin Trailhead along FR72
Water Report: Stock Pond Full
Kentucky Camp Spigot on
Gardner Canyon full
Tunnel Spring full
Bear Spring Flowing
Casa Blanca Flowing
Walker trailhead pools full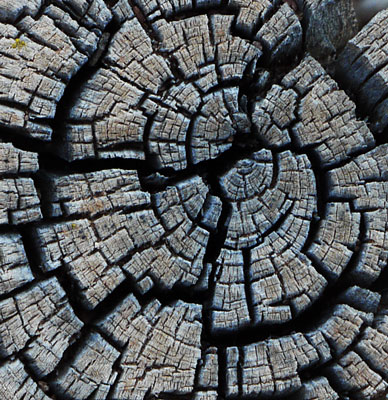 Friday, November 9th, 2012
After walking FR72 through a little rain and a lot of deer hunters, I arrived in Patagonia and was taken in by Ann and Bob, a kind and interesting local couple.
Arizona Trail Passage: 4 Temporal Gulch
Miles: 11 797
Camp: Bob and Ann's place
Water Report: Stock Ponds Full
Temporal Gulch some pools
Patagonia Weather Forecast
Friday, November 9 - -- / 45F 40%
Saturday, November 10 - 59F / 30F 50%
Sunday, November 11 - 59F / 29F 0%
Monday, November 12 - 71F / 36F 0%
Tuesday, November 13 - 76F / 40F 0%
Saturday, November 10th, 2012
After visiting the local library (excellent) and coffee shop, I fixed the ceiling fan and lunched with Bob and Ann. The trail east was in rolling grassy hills. Several deer hunters were out, one group was gutting their catch. Rain had been intermittent from Thursday afternoon through noon today, but the remainder of the trip should be in dry weather. Several people have warned me that drug smugglers are common even this far north of the border. However, they also have said the smugglers generally will avoid contact and don't typically cause problems for outdoor sportsmen. Patagonia has two markets: I could easily have resupplied in either. One has stock typical of small town grocers, the other sells organic foods. Both had surprisingly good bargains for small town businesses. I met two ladies who had finished much of an Arizona Trail section hike.
Arizona Trail Passage: 3 Canelo Hills West
Miles: 7 804
Camp: A mile short of Gate Spring
Water Report: Patagonia many sources
Unlisted spring flowing across AZT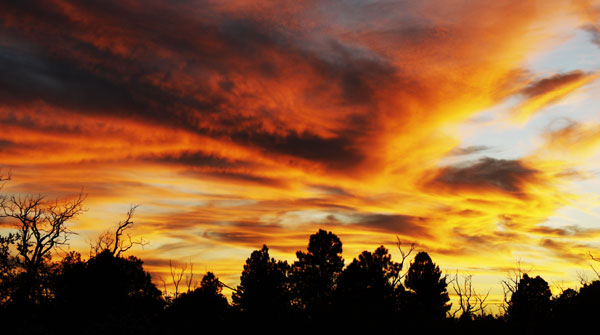 Sunday, November 11th, 2012
I saw a White Tail Deer and a few hunters. There was frost overnight, and the day was cold.
Arizona Trail Passage: 3 Canelo Hills West, 2 Canelo Hills East
Miles: 21 825
Camp: A few miles short of South Lake Drive
Water Report: Gate Spring Flowing
Red Bank Well Full
Cott Enclosure stream flowing
Middle Canyon pools full
Pauline Canyon Dirt Tank full
Monday, November 12th, 2012
I saw a White Tail Deer just after dark. Some departing hunters gave me apples, muffins, cheese puffs, and water. Many Thanks!!!
Arizona Trail Passage: 2 Canelo Hills East, 1 Huachuca Mountains
Miles: 18 843
Camp: Carr Peak Trail Junction
Water Report: Parker Canyon Creek Flowing
Parker Canyon Lake Full
Scotia Creek flowing
Sunnyside Canyon Flowing
Tuesday, November 13th, 2012
I walked to the Mexican Border and back to Montezuma Pass. Trail Angel Dan was waiting there and we drove back to his and Lynne's place in Phoenix for some great conversation and a chili dinner. Many thanks again for all the help from Dan and Lynne.
Arizona Trail Passage: 1 Huachuca Mountains
Miles: 10 853
Camp: Phoenix
Water Report: Bathtub Spring full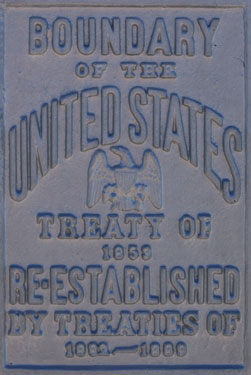 Wednesday, November 14th, 2012
I flew to San Diego to visit family and start looking for work. I met with my parents and went sailing with my old friend Don in San Diego Bay. A few days later we visited the Trona Tufa Pinnacles and Death Valley on the way to Thanksgiving with my brother in Bishop.
Post Hike Thoughts
The Arizona Trail covers many ecosystems. These are differentiated mainly by altitude, with the high sky islands having more water and colder winters, and the low deserts having life adapted to arid, hot conditions. I saw much wildlife. Since seeing different ecosystems and much wildlife are a big part of why I hike, I found the Arizona Trail very enjoyable.
Water
There is an online water report maintained by Fred Gaudet. He has a list of many of the water sources along the AZT alond with a rating of their reliability. Furthermore, he updates the report each time a hiker writes him with current conditions. I carried a print of this report. Sometimes the updates were only 10 days old, so the information was quite accurate. I often planned my day around this water report, even more so than around the maps and guides. There was water at least once a day. In a few areas, the water is of poor quality. But most tastes fine. I included water reports in this journal mainly as updates for the Gaudet water report.
Pre Hike Thoughts
The

Arizona Trail runs from the Utah border to the Mexican border, through the Coronado, Tonto, Coconino, and Kaibab National Forests, and Grand Canyon and Saguaro National Parks. The trail is about 800 miles long. Greyhound and Amtrak serve Tucson and Flagstaff, both resupply towns. The two ends are in the middle of nowhere, not accessable by public transportation. Nogales, west of the trail on the Mexican border, has Greyhound service, so I may finish there. I would leave the official route at the town of Patagonia. Nogales and Patagonia are both on Arizona 82, perhaps 20 miles apart, so I could walk, or find transportation between the two. Or I could take a longer walking route on the dirt forest roads to the east of Arizona 82.The routes are clear on the Coronado NF Nogales RD map. Another option on the south end would be to walk to the official end at the Mexican border in the Huachuca Mountains, then use a small portion of the Sky Islands Loop, walking north up the San Pedro Riparian National Conservation Area. This would take me near I10, where bus service is available. At the north end, I may start at Flagstaff or at the Grand Canyon, since bus and train service is available.
Guidebook "Arizona Trail - The Official Guide" by Tom Jones
Box Shipped to Phoenix
Before leaving for the Tahoe Rim Trail and CDT Colorado Section, I shipped the following to Dan in Phoenix:
Arizona Trail Guidebook
Coronado National Forest: Sierra Vista Ranger District Map
Coronado National Forest: Nogales Ranger District Map
Coronado National Forest: Santa Catalina Ranger District Map
BLM Mammoth, Arizona Map
Grand Canyon NP Handout Map
Trails Illustrated 262 Grand Canyon East Map
Arizona Trail Gateway Communities Map
Arizona Highway Map
Saguaro NP Handout Map
Tucson Street Map
Book: Grand Canyon, George Wuerther
Book: Audubon Southwest States Guide
Book: Field Guide to Desert Holes, Pinau Merlin
Book: Introduction to Horned Lizards, Wade Sherbrooke
Book: Scats and Tracks of the Desert Southwest, James Halfpenny
Aspirin, Acetiminophem, Vitamins
Plastic Bags
Camera Memory
Key
Reading Glasses
Sun Glasses
2 Pair Wool Socks
1 Pair Hiking Shoes
Arizona Trail Planning Table

#
Name
Season
Trip
Day
Miles
Difficulty
Gain
Loss
(feet)
Water Sources
Supplies
Land
Manager
Map
Notes
Arizona - Utah Border To Mexico: 771.9
43
Buckskin Mountain
March - November
48
10.8
Easy
582
2121
0
No Supplies
BLM Arizona strip District
Kaibab NF North Kaibab RD
Winter Road To Mexico: 761.1 From Utah: 10.8
42
Kaibab Plateau North
April - October
47
17.0
Moderate
188
1177
1
No Supplies
Kaibab NF North Kaibab RD
Kaibab NF North Kaibab RD
US89A To Mexico: 744.1 To Utah: 27.8
41
Kaibab Plateau Central
April - October
46
17.0
Easy
571
1897
2
Jacob Lake Inn 2 miles
Kaibab NF North Kaibab RD
Kaibab NF North Kaibab RD
Telephone Hill To Mexico: 727.1 From Utah: 44.8
40
Kaibab Plateau South
May - October
45
22.0
Easy
1808
2078
6
No Supplies
Kaibab NF North Kaibab RD
Kaibab NF North Kaibab RD
National Park - National Forest Boundary To Mexico: 705.1 From Utah: 66.8
39
Grand Canyon North Rim
May - October
44
11.8
Moderate
1511
628
0
No Supplies
Grand Canyon NP
Kaibab NF North Kaibab RD Trails Illustrated 207 GC
North Kaibab Trailhead From Mexico: 693.3 From Utah: 78.6
38
Grand Canyon Inner Gorge
May, June, September, October
43
21.4
Strenuous
5760
4723
3
North Rim Village 1.7
Grand Canyon NP
Kaibab NF Tusayan RD Trails Illustrated 207 GC
Yaki Point South Kaibab Trailhead To Mexico: 671.9 From Utah: 100.0
37
Grand Canyon South Rim
April - November
41
23.3
Easy
981
1303
3
Grand Canyon Village 2.5 Miles, Tusayan, ?
Kaibab NF Tusayan RD Grand Canyon NP
Kaibab NF Tusayan RD Grand Canyon Handout
Grandview Lookout Tower From Mexico: 648.6 From Utah: 123.3
36
Coconino Rim
April - November
40
19.0
Easy
1790
905
1
No Supplies
Kaibab NF Tusayan RD
Kaibab NF Tusayan RD
Moqui Stage Station From Mexico: 629.6 From Utah: 142.3
35
Babbitt Ranch
Spring, Fall
39
28.7
Easy
1034
787
3
No Supplies
Kaibab NF Chalender, Tusayan RD, State Land
Kaibab NF Chalender, Tusayan RD
Cedar Ranch To Mexico: 600.9 From Utah: 171.0
34
San Francisco Peaks
May - October
37
26.4
Strenuous
1946
3573
2
No Supplies
Coconino NF Peaks RD
Coconino NF North Half
Mt Humphreys side hike if not yet snowed in. Arizona's highest. FR418 & Weatherford trails.
Shultz Pass To Mexico: 574.5 From Utah: 197.4
33
Flagstaff
April - October
35
13.8
Moderate
2208
814
Pond south of I40 is septic: use town water.
Flagstaff
Coconino NF Peaks RD Flagstaff City
Coconino NF North Half
Flagstaff Resuppy Route
32
Mt Elden
May - September
NA
14.8
Easy
1897
363
Rio de Flag is septic: use town water.
No Supplies
Coconino NF Peaks RD Coconino County
Coconino NF North Half
Flagstaff Bypass Alternative
Cosnino I40 To Mexico: 559.7 From Utah: 212.2
31
Walnut Canyon
April - October
34
18.2
Easy
1051
1685
0
Flagstaff
Coconino NF Peaks RD
Coconino NF North Half
Marshall Lake To Mexico: 541.5 From Utah: 230.4
30
Mormon Lake
April - October
32
28.0
Easy
NA
NA
3
Mormon Lake Village 1.5 Miles
Coconino NF Peaks, Mormon Lake RD
Coconino NF
Allan Lake To Mexico: 513.5 From Utah: 258.4
29
Happy Jack
April - June, September- November
31
31.5
482.0
289.9
Easy
2484
1849
5
No Supplies
Coconino NF Mogollon Rim RD
Coconino NF South Half
Arizona 87 To Mexico: 482.0 From Utah: 289.9
28
Blue Ridge
April - November
30
15.8
Moderate
1133
1575
4
No Supplies
Coconino NF Mogollon Rim RD
Coconino NF South Half
FR300 To Mexico: 466.2 To Utah: 305.7
27
Highline
March - November
29
19.0
Strenuous
4667
2779
5
No Supplies
Tonto NF Payson RD
Tonto NF North Half
Pine Trailhead To Mexico: 447.2 From Utah: 324.7
26
Hardscrabble Mesa
March - October
27
12.0
435.2
336.7
Moderate
1284
1750
5
Pine 1 Mile, Strawberry
Tonto NF Payson RD
Tonto NF North Half
Twin Buttes FR194 From Mexico: 435.2 From Utah: 336.7
25
Whiterock Mesa
September - April
26
11.4
Easy
2661
87
5
No Supplies
Tonto NF Payson RD
Tonto NF North Half
East Verde River From Mexico: 423.8 From Utah: 348.1
24
Red Hills
March - November
26
14.3
Moderate
2265
4863
3
No Supplies
Tonto NF Payson RD
Tonto NF North Half
The Park (Junction of Trails 23 and 24) To Mexico: 409.5 From Utah: 362.4
23
Mazatzal Divide
March - November
25
22.0
Strenuous
3729
3595
1
No Supplies
Tonto NF Payson RD
Tonto NF North Half
Mount Peeley To Mexico: 387.5 From Utah: 384.4
22
Saddle Mountain
March - November
24
16.0
Strenuous
3958
1642
3
No Supplies
Tonto NF Mesa RD
Tonto NF North Half
Sunflower Arizona Highway 87 Dan Resupply To Mexico: 371.5 From Utah: 400.4
21
Pine Mountain Boulder Creek
March - May, September - November
23
20.0
Moderate
2214
4397
1
No Supplies
Tonto NF Mesa, Tonto Basin RD
Tonto NF
Lone Pine Saddle From Mexico: 351.5 From Utah: 420.4
20
Four Peaks
March - May, September - November
22
18.3
Strenuous
7026
3645
2
No Supplies
Tonto NF Mesa, Tonto Basin RD
Tonto NF South Half
Roosevelt Lake To Mexico: 333.2 From Utah: 438.7
19
Superstition Wilderness
March - November
21
29.7
Strenuous
5185
7776
7
Roosevelt
Tonto NF Mesa, Tonto Basin RD
Tonto NF South Half
Rogers Trough Trailhead From Mexico: 303.5 From Utah: 468.4
18
Reavis Canyon
September - April
18
18.6
Strenuous
4047
1608
1
Superior 5 miles
Tonto NF Globe RD
Tonto NF South Half
Picketpost Trailhead From Mexico: 284.9 From Utah: 487.0
17
Alamo Canyon
October - April
18
11.5
Moderate
NA
NA
3
No Supplies
Tonto NF Globe RD
Tonto NF South Half
White Canyon Wilderness From Mexico: 273.4 From Utah: 498.5
16
White Canyon
March, April, October, November
17
17.0
Strenuous
NA
NA
1
No Supplies
BLM Tucson FO, State Lands
NA
Kelvin - Riverside Bridge To Mexico: 256.4 From Utah: 515.5
15
Tortilla Mountains
March, April, October, November
15
23.6
Strenuous
NA
NA
1
No Supplies
Pinal County DPW, State Lands
NA
Freeman Road To Mexico: 232.8 From Utah: 539.1
14
Black Hills
March, April, October, November
14
28.2
Moderate
3061
3127
2
No Supplies
Pinal County DPW, State Lands
NA
Tiger Mine Trailhead From Mexico: 204.6 From Utah: 567.3
13
Oracle
September - June
14
8.3
Easy
413
777
2
No Supplies
Pinal County DPW
Coronado NF Santa Catalina RD
American Flag Trailhead From Mexico: 196.3 From Utah: 575.6
12
Oracle Ridge
March - November
13
22.0
Strenuous
3672
7781
5
Oracle
Coronado NF Santa Catalina RD
Coronado NF Santa Catalina RD
Mount Lemmon To Mexico: 174.3 From Utah: 597.6
11
Santa Catalina Mountains
Spring or Fall
12
15.5
Strenuous
5812
2135
2
No Supplies
Coronado NF Santa Catalina RD
Coronado NF Santa Catalina RD
Prison Camp Trailhead From Mexico: 158.8 From Utah: 613.1
10
Redington Pass
September - June
9
15.7
Moderate
2577
1701
4
Tucson 10+ miles
Coronado NF Santa Catalina RD
Coronado NF Santa Catalina RD
Italian Trap To Mexico: 143.1 From Utah: 628.8
9
Rincon Mountains
March - November
8
22.3
Strenuous
5887
5041
4
No Supplies
Coronado NF Santa Catalina RD Saguaro NP
Coronado NF Santa Catalina RD, Trails Illustrated 237
Hope Camp To Mexico: 120.8 From Utah: 651.1
8
Rincon Valley
NA
NA
NA
NA
NA
NA
NA
NA
NA
Future Alternative Route
Hope Camp To Mexico: 120.8 From Utah: 651.1
7
Rincon Valley
September - April
7
12.6
Moderate
NA
NA
2
No Supplies
Saguaro NP, Collosal Cave MP, Pima County, State Lands, Empire Cienega RCA
NA
Interstate 10 To Mexico: 108.2 From Utah: 663.7
6
Las Cienegas
September - April
7
18.0
Strenuous
NA
NA
2
No Supplies
CNF Nogales, SV, State Lands
CNF Nogales, SV
Arizona 83 To Mexico: 90.2 From Utah: 681.7
5
Santa Rita Mountains
Year Round
6
17.2
Moderate
1635
2173
3
No Supplies
Coronado National Forest
CNF Nogales RD
Gardner Canyon Road From Mexico: 73.0 From Utah: 698.9
4
Temporal Gulch
March - November
5
22.3
Strenuous
3365
2054
5
No Supplies
Coronado National Forest
CNF Nogales RD
Patagonia To Mexico: 53.6 From Utah: 718.3
3
Canelo Hills West
September - June
4
17.4
Moderate
959
2239
3
Patagonia Full
Coronado National Forest
CNF Sierra Vista RD
Canelo Pass To Mexico: 36.2 From Utah: 735.7
2
Canelo Hills East
September - June
2
14.5
Moderate
2260
2606
2
Parker Canyon Lake
Coronado National Forest
CNF Sierra Vista RD
Parker Canyon Lake From Mexico: 21.7 From Utah: 750.2
1
Huachuca Mountains
March - November
1
21.7
Strenuous
5045
5277
5
No Supplies
Coronado National Monument, Forest
CNF Sierra Vista RD
Arizona - Mexico Border From Utah: 771.9
#
Name
Season
Trip
Day
Miles
Difficulty
Gain
Loss
(feet)
Water
Supplies
Land
Manager
Map
Notes
Trip Day Assumptions: Start at Mexico at noon. Walk 20 miles per day. Walk to and from towns. One full day in each town. Day on South Rim Grand Canyon for supplies and permit.
Source: Most information in this table was drawn from "Arizona Trail: the Official Guide" by Tom Lorang Jones.

| Suggested Maps | Comments |
| --- | --- |
| Arizona Trail Guidebook | Need New Copy |
| Coronado National Forest: Sierra Vista Ranger District | Have. Shows trail from Mexico beyond Patagonia, or Trail Passages 1-5. |
| Coronado National Forest: Nogales Ranger District | Have. Shows Trail Passages 3 - 5, or from before Patagonia to Arizona 83, and more land north to I10. |
| Coronado National Forest: Santa Catalina Ranger District | Have. Shows passages 9 - 13, or Rincon Range, Saguaro NP, and Santa Catalina Range, GET eastbound |
| Trails Illustrated 237 | Need to walk across Saguaro NP quickly since no camping is allowed, will not have time or reason to go off trail. |
| BLM Mammoth, Arizona | Have. Need to draw in Arizona Trail. Shows Passages 12 - 15, GET eastbound |
| Tonto National Forest: South Half | ? |
| Tonto National Forest: North Half | ? |
| Coconino National Forest: South Half | ? |
| Coconino National Forest: North Half | ? |
| Kaibab National Forest: Chalender Ranger District | ? |
| Kaibab National Forest: Tusayan Ranger District | ? |
| Grand Canyon Handout | ? |
| Trails Illustrated 207 | Have TI262. Covers Arizona trail from south of Grand Canyon NP to north of park, and near Utah border, but misses most of the Kaibab NF walk. |
| Kaibab National Forest: North Kaibab Ranger District | ? |