2012 Grand Enchantment Trail

The Grand Enchantment Trail, Arizona and New Mexico
The Grand Enchantment Trail runs 730 miles between Phoenix, Arizona and Albuquerque, New Mexico through lots of interesting backcountry. It is a route mapped out by Blisterfree, a long distance hiker, but not recognized by any official or government authority. Maps and info on towns, supplies, water, and more are available on the web here.
Arizona Map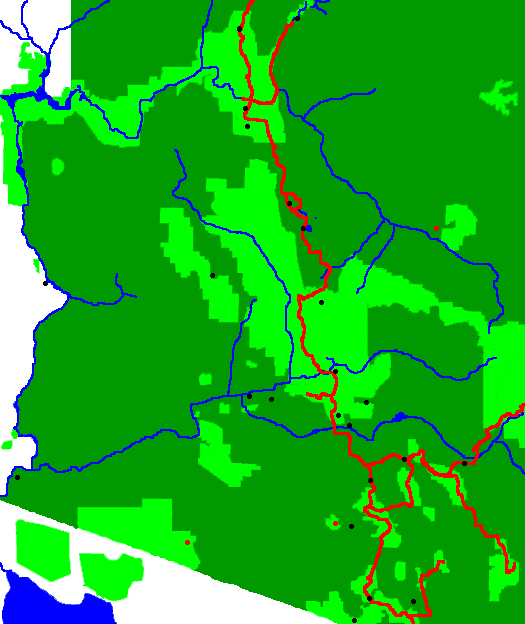 GET Runs East and South from Phoenix
Uses Arizona Trail
Wednesday, March 28th, 2012
I met George (PCT 2003), Tin Cup (PCT 2003), and Don, who made pancakes for PCT hikers at Stevens Pass, Washington, in 2003, at the Phoenix airport. We stayed at the home of local hikers and trail maintainers Dan and Lynn. They made great burgers for us. Many thanks for everything.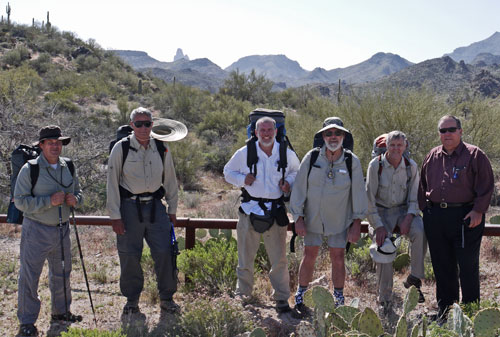 Thursday, March 29th, 2012
We met John and his cousin Darius for breakfast, then headed for the trailhead (Superstition Mountains, Tonto National Forest). We followed the Dutchman Trail 104 8.5 miles to Charlebois Spring (Map 2, Segment 1, Section 5) and camped.
There were many Giant Saguaro, Carnegiea gigantea, prickly pear, and other cacti. We saw a Western Diamondback Rattlesnake, Crotalus atrox, frogs and many lizards.
Friday, March 30th, 2012
The density of Saguaro cacti diminished through the day, but prickly pear were common throughout the route. About 10 days before we started, there was a major snowstorm. So there was water in many stream beds, grass was green, and ocotillo was leafed out. The miles here were very tough, with loose rock in the trail bed and many thorny plants to avoid. I needed to double my daily speed to finish this trip in a reasonable time.
Route: Dutchman Trail 104 - Red Tanks Trail 107 - Hoolie Bacon Trail 111 - JF Trail 106
Miles: 11 19.5
Camp: Clover Spring (Map 3, Segment 1)
Saturday, March 31st, 2012
The Rogers Canyon Cliff Dwellings were the day's highlight. One has a partially intact roof, with adobe over reeds over beams, which was interesting. George left the trail at Rogers Trough Trailhead. He had gotten fairly dehydrated. The Arizona National Scenic Trail was much better maintained, with a treadway clear of loose rock and with the brush trimmed well back.
Route: JF Trail 106 - Rogers Canyon Trail 110 - Reavis Ranch Trail 109 / Arizona Trail - FR172A - FR650 - Reavis Canyon Trail 509
Miles: 11.3 30.8
Camp: Montana Mountain (Map 4, Segment 1 / 2)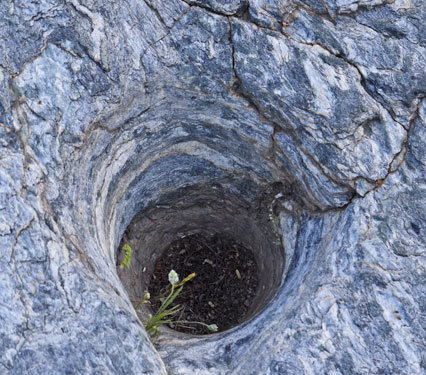 Sunday, April 1st, 2012
We walked down out of the Superstition Range, back into the zone of saguaro and ocotillo. At the junction of FR650 and FR8, a drilling rig was taking a core sample to 5,000 feet. They had drilled 2000 feet in ten days. A nearby underground copper mine makes enough money on gold and gems that the copper is just an extra bonus. The drilled cores tell the miners where to tunnel next.
Route: Reavis Canyon Trail 509 - FR650 - FR8 - Legends of Superior Trail
Miles: 16 46.8
Motel: Superior, Arizona (Map 6, Segment 2 / 3)
Monday, April 2nd, 2012
We got a ride from the motel folks to the trailhead and walked south. We met two northbound Arizona Trail through hikers. The others saw two rattlesnakes; I saw a Gopher Snake, Pituophis catenifer. John, Tin Cup, and George went down the wrong road and I had to run a quarter mile after them. We watered at the Walnut Canyon artesian well (tepid and slightly salty), and camped a little further on. An idea for a future Arizona Trail trek would be to walk into Superior on FR4 Telegraph Canyon Road, eliminating the entire highway walk. However, if I were to stay on the trail to the highway, maybe I could climb Picketpost Mountain, which towers above the area and would have a great view.
Route: Arizona Trail and old Arizona Trail
Miles: 15 61.8
Camp: Walnut Canyon (Map 8, Segment 3)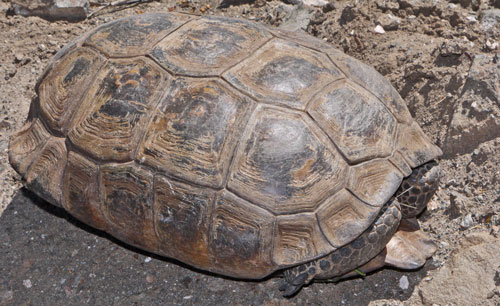 Tuesday, April 3rd, 2012
We bushwhacked down Walnut Canyon and followed the dirt roads comprising the old AZT. Some new AZT tread was nice; later we walked reclaimed dirt roads that were plowed 20 feet wide. There were several old exploration core drill holes. We also saw massive tailings piles from the local copper mine. A Desert Tortoise, Gopherus agassizii, had stopped the workers reclaiming the exploration roads into Arizona Trail tread. Darwin gave us a ride from Kelvin to Kearny.
Route: Old Arizona Trail and Arizona Trail
Miles: 13.5 75.2
Motel: Kearny (Map 9, Segment 3 / 4)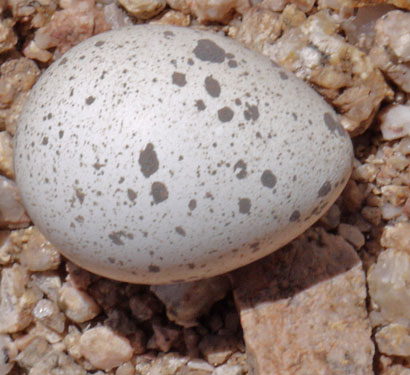 Wednesday, April 4th, 2012
Gary, owner of the pizza place, gave us a ride out to photograph Darwin's saguaro mailbox, and then to the trail. I saw a dead 9" snake, and a bird egg by the trail. There were also 3 blue eggs in a nest in a cholla.
Route: Arizona Trail
Miles: 19.5 94.7
Camp: The Boulders (Map 11, Segment 4, Section 13)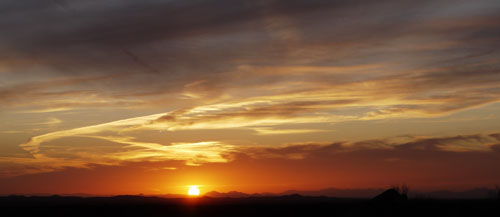 Thursday, April 5th, 2012
We saw two rattlesnakes on this hot, dry day. Campers by the San Pedro River gave me an ice cold beer.
Route: Arizona Trail, dirt road
Miles: 20 114.7
Camp: Aravaipa Wash east of Arizona Highway 77 (Map 14, Segment 5 / 6)
Friday, April 6th, 2012
We waded up the beautiful riparian Aravaipa Canyon. Ranger Patrick was helpful and interested in walking the Grand Enchantment Trail someday himself. There were many fish, birds, and a Western Diamondback Rattlesnake, Crotalus atrox.
Route: Aravaipa river bed, dirt road
Miles: 14 128.7
Camp: Aravaipa Canyon between Cave and Javalina Canyons (Map 20, Segment 6 / 7, Section 18)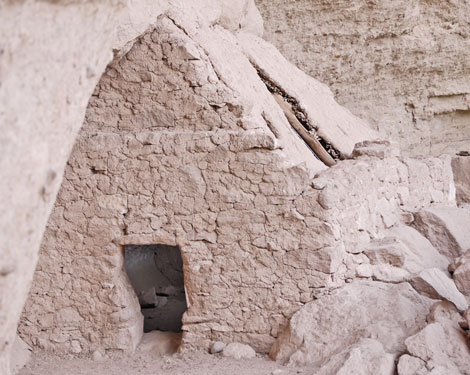 Saturday, April 7th, 2012
We sloshed our way out of the canyon, stopping to converse with many parties. Don and I ascended Turkey Canyon to see the cliff dwellings. Along the way we got bananas and brownies from departing campers: Thanks! I saw a couple of Great Blue Herons, Ardea herodias.
Route: Aravaipa river bed, dirt roads
Miles: 17 145.7
Lodge: Horsehead Lodge, Klondyke (Map 22, Segment 8)
Easter Sunday, April 8th, 2012
John and Dick took the Buford Hill alternate route. Don and I walked north on the Klondyke Road back to the main route, and climbed up to the Santa Theresa Wilderness, Coronado National Forest. The route was often overgrown and sometimes hard to follow. The rock formations were fantastic. The creeks were flowing. We saw frogs and a Short Horned Lizard, Phrynosoma solare, and prints from dogs and Black Bears, Ursus Americanus.
Route: Klondyke Road, 4WD road, Reef Basin Trail 68, Holdout Canyon Trail 69, Trail 292, Trail 64
Miles: 15 160.7
Camp: Cottonwood Canyon (Map 24, Segment 8)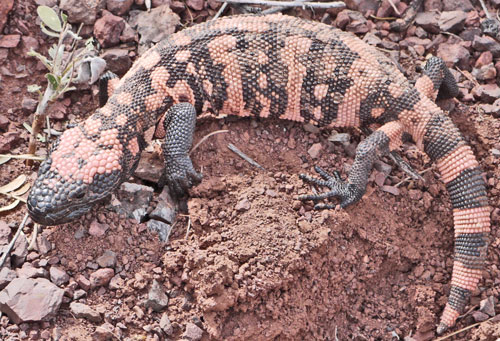 Monday, April 9th, 2012
We went north along the west side of the range, east across the north end, then south on the east side. We saw a horned lizard, two deer, a Gila Monster, Heloderma suspectum, some squirrels, a rattler, and a Red Tailed Hawk, Buteo jamaicensis. There were deep mine shafts disappearing into the depths of the earth. Bits of copper oxide (malachite) in the tailings said the miners had hit a vein. The route was often overgrown with unstable footing, and occasionally hard to follow. The view from Cottonwood Peak (~7300') was outstanding, and we could trace out parts of yesterday's route. The handle broke off my water filter. An idea to help hikers plan a reasonable route avoiding the private ranch land would be to make a gps route of the property boundaries. Then they would show up on the gps and one could follow whatever ridges had sparse vegetation and were on public land.
Route: Trail 64, cross country, FR284, FR675, xc, FR34, xc, Trail 68, Trail 66
Miles: 14.5 175.2
Camp: Cottonwood Canyon (Map 25, Segment 8, Section 34)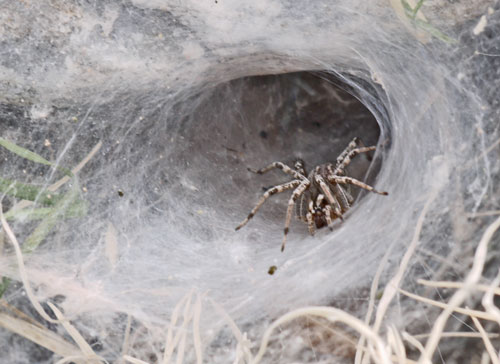 Tuesday, April 10th, 2012
Don and I saw an eagle. I dug a seep hole at Indian Spring, but the water was too muddy to use. Deer Tank was the only nice water, with some semi stagnant water in Bellows Canyon. Dick left the trail for home. George has arrived at home. John has been in Safford recovering from bad blisters since Sunday. I need new boots due to a blowout along the welt near my right big toe. I also need a new water filter, and I want to mail some stuff home.
Route: Trail 66, FR677, 4WD Track, Klondyke Road, 4WD Track, cross country, FR 675, Johns Canyon Trail 313
Miles: 17 192.2
Camp: Bellows Canyon, Coronado National Forest, Pinaleno Mountains (Map 30, Segment 10, Section 10)
Wednesday, April 11th, 2012
There was no water on the first half of today's walk. Government Spring had just a bit of water atop mud, and the contents of the cistern were repulsive. Much snow remained on the route. The view from the West Peak Fire Tower was great. Don went to the Webb Peak Tower also, but I skipped it due to postholing in snow and tough breathing due to altitude.
Route: Johns Canyon Trail 313, West Peak Road, Clark Peak Trail 301, Swift Trail, Ash Creek Trail 307
Miles: 17 209.2
Camp: Junction Ash Creek Trail and Webb Peak Trail, by an interesting old boiler (Map 31, Segment 10)
Thursday, April 12th, 2012
The walk down Ash Creek was quite scenic, with views, waterfalls, and riparian habitat. We met Swami/Cam, who was hiking a route combining the Hayduke Trail (Utah), the Arizona Trail, and the Grand Enchantment Trail. John walked east out of Safford this morning. There is a 60% chance of rain Saturday, but otherwise the 10 day Safford weather looks clear.
Route: Ash Creek Trail 307, Berry Patch Road, Cluff Ranch Road, Upper Layton Road, Layton Road, Palmer Lane, Arizona Eastern RR, 8th Street
Miles: 21.5 230.7
Motel: Safford (Map 34, Segment 11)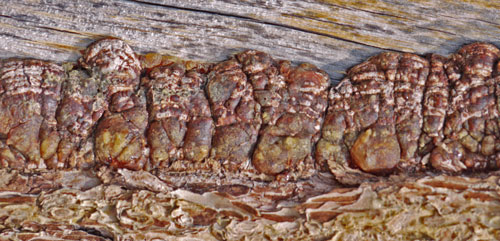 Friday, April 13th, 2012
After acquiring boots, water purification tablets, and food, and mailing some nature guides, maps, and gear home, I walked out of town through the Gila River floodplain, cotton fields, and up an alluvial fan to Solomon Pass and the Gila Mountains of Arizona. Don had stayed in town for boots and a non-inflatable sleeping pad (leaks due to thorny plants), so I waited for him at the pass.
Route: Hollywood Road, Gila Floodplain, agricultural dirt roads, Sanchez Road, Airport Road, Tidwell Wash cross country, 4WD Road, Power Line Road, 4WD Road, Solomon Pass Road
Miles: 15 245.7
Camp: Solomon Pass (Map 36, Segment 12)
Saturday, April 14th, 2012
I found some morteros filled with mud and rocks in Spring Canyon Wash. Rain, ice, then light snow fell for much of this cold day. We saw mountain sheep scat and bobcat tracks in cowpies.
Route: Solomon Pass Road, Salt Trap Road, Spring Canyon Wash, 4WD Roads, Old Safford - Morenci Trail
Miles: 22.5 268.2
Camp: near east end of Old Safford - Morenci Trail (Map 39, Segment 13, Section 27)
Sunday, April 15th, 2012
Wading up Eagle Creek and watching the cliffs and riparian plants made the morning enjoyable. There was a flume with tunnels which we explored briefly. Along the way we found a phone. Later, we met a group of off roaders we had already met at the top of Aravaipa Canyon, and one of them had lost the phone. After charging, it worked fine. At the end of the day we ascended off trail to some nice pictographs. We saw a few eagles. There were many geodes embedded in bedrock.
Route: Black River Road, Eagle Creek, Knight Canyon, Apache National Forest Trail 13 Painted Rock Trail
Miles: 16 284.2
Camp: Cement Troughs near pictographs (Map 42, Segment 14)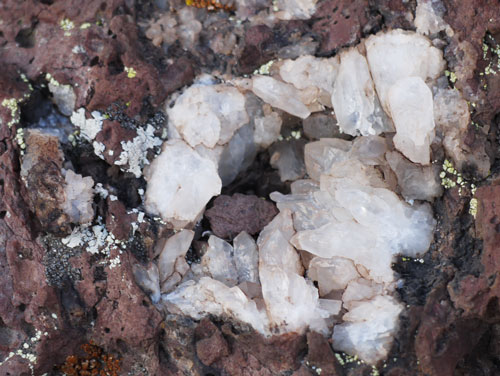 Monday, April 16th, 2012
I found a SPOT satellite Transceiver. By emailing the company then the owner, I was able to mail it to him from Magdalena. This morning we hoped to reconnect with John, but at 2pm we found a note from him stating he had made the tough decision to leave the trail for good just 6 hours earlier. I was sorry to see him go and especially sorry not to have a chance to say goodby. I saw a Turkey Vulture, Cathartes aura, and an elk, wapiti, Cervus elaphus. There was a wildfire burning west of our camp. A local ranchhand pointed out a good campsite and a spring (N33°16.289', W109°16.761') that has been reliable year round for many years.
Route: Painted Rock Trail 13, US191/666, FR8375, Frye Trail 12, HL Canyon Trail 11, Pigeon Creek Trail 465, FR475/Juan Miller Road
Miles: 18.5 302.7
Camp: 1/2 mile up FR475/Juan Miller Road (Map 45, Segment 15/16)
Tuesday, April 17th, 2012
The Blue River was flowing ankle deep and twenty feet wide. With cottonwood fluff falling and floating on the river, it was quite a beautiful and peaceful scene. I found a bag of peanuts, soy nuts, and raisins. Mmmmm.
Route: FR475/Juan Miller Road, Pat Mesa Trail 467/Clear Creek Road, Pigeon Creek, Blue River, Bohom Trail 561, FR475/Juan Miller Road, Wild Bunch Trail 7, Horse Canyon Trail 36
Miles: 19 321.7
Camp: 1/2 mile up Horse Canyon Trail 36 (Map 47, Segment 16/17)
Wednesday, April 18th, 2012
The view from Mount Maple (8291') was a 360° panorama, so the few minute scramble off trail is recommended to all hikers. We could see back to the Morenci Copper Mine and the Pinalenos, and east to bits of snow on the route out of Glenwood. We met a rancher who had lost 200 of 400 cattle to bears last year. Minus a few she found this afternoon. Probably minus a lot more. Tom gave us a ride the last couple of miles into Alma so we wouldn't miss the excellent lunch at the diner. I saw 3 mule deer in Glenwood. The ten day Glenwood weather forecast is for sunny days, highs in the 80's, and no rain.
Route: Horse Canyon Trail 36, Charlie Moore Trail 307, FR712, FR105/C004 Gila National Forest
Miles: 14 335.7
Motel: Glenwood, New Mexico (Map 50, Segment 18/19)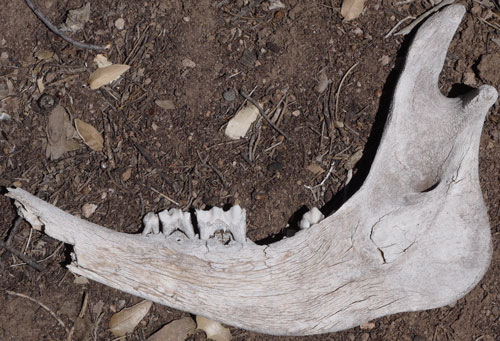 Thursday, April 19th, 2012
I mailed food and some gear forward to Winston. The box was 12 pounds. I must be crazy.
Maryann of the Whitewater Motel and post office was very helpful with information and with shuttles down from Alma yesterday and to the Catwalk Trailhead today. Many thanks.
I had cheese enchiladas in Alma, and pork ribs last night, and potatoes, eggs, and biscuits for breakfast, plus fruit, milk, and everything else towns offer, so there was plenty of power in my hiking today.
Entering the Gila National Forest was almost decadent after the tough trails in the desert. The catwalks were easy walking above the pour overs and rapids of Whitewater Creek. Most of the rest of the hike was within sight and earshot of its burbling tributaries. A coniferous forest provided shade, and there was a cool breeze. The trails receive occasional maintenance, so there was little obstructing brush, and the footing was stable.
Camp was at 9100'. My breathing was much easier here than in the Pinalenos or the on approach to Maple Peak. I attribute this both to much better trail conditions and to some acclimatization.
Route: The Catwalk National Scenic Trail, Whitewater Trail 207, South Fork Trail 212, East Fork Trail 213
Miles: 9.7 345.4
Camp: Atop Switchbacks (Map 52, Segment 20, Section 20)
New Mexico Section Map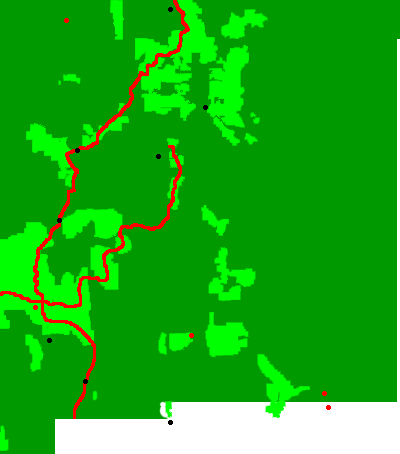 Friday, April 20th, 2012
There were a few miles of snow on north facing slopes. It was generally well consolidated and easy to walk on, with no areas of dangerous exposure. We visited Grouse Mountain, where the old fire tower had been chopped up and thrown in a gully. Mogollon Baldy (10,770') was the highest elevation on the GET and had excellent views. I saw elk, plus their scat and tracks, turkey scat and tracks, a male grouse, and woodpeckers were drumming several places.
Route: Holt Apache Trail 181, Grouse Mountain Trail 281, Crest Trail 182, Trail 152
Miles: 18 363.4
Camp: 2 miles shy of White Creek (Map 57, Segment 20/21, Section 8)
Saturday, April 21st, 2012
Turkeys called all last night. The West Fork Gila River, with its many fords, kept us cool on a hot day. We met a 1979 PCT throughhiker and a couple of CDT throughhikers. A cliff dwelling just outside the monument had little more than half the front wall remaining.
Route: Trail 152, West Fork Trail 151
Miles: 22 385.4
Camp: Upper Scorpion Campground (Map 60, Segment 21/22, Section 25)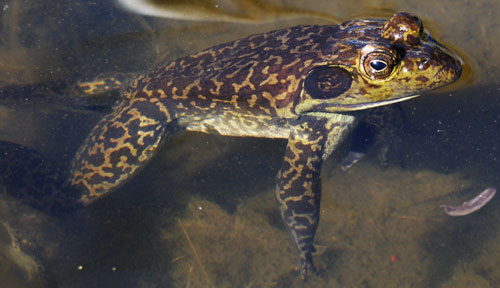 Sunday, April 22nd, 2012
On the walk to Doc Campbell's for resupply, we saw a herd of deer. We met several CDT hikers. I lost my reading glasses, but the guy who gave is a ride from the store to the trailhead gave me a pair. So double thanks!!! I had a nice soak at Lightfeather Hot Spring. We saw 15" trout, some grouse, and a cow elk. There were afternoon dark stratonimbus clouds and virga, and for a moment we felt a few drops.
Route: New Mexico 15, Middle Fork Trail 157, Trail 27, Trail 504, Diamond Creek Trail
Miles: 15.5 400.9
Camp: Confluence Diamond Creek and unnamed creek (Map 61, Segment 22, Section 7/8, Latitude N33° 15.884, Longitude W108° 06.943)
Monday, April 23rd, 2012
Trail 713 was tough to follow as many better defined cow paths diverged from it. Tom Moore Canyon was wide and carpeted with grass and sparse pines. South Diamond Creek was a much deeper canyon, sometimes riparian and other times open pine. We saw an elk and a hunter.
Route: Trail 713, Trail 708, FR150, FR61, Me Own Trail 707, South Diamond Creek Trail 68
Miles: 19.5 420.4
Camp: Junction South Diamond Creek Trail 68 and Burnt Canyon Trail 69 (Map 63, Segment 23, Section 21)
Tuesday, April 24th, 2012
All water sources were flowing well, much better than described. The Black Range Crest section of the CDT was viewful and well maintained. We saw a turkey hen, some elk, two hunters, and a family out building fence around their grazing allotment. Diamond Peak (9823') had great views to the east.
Route: Burnt Canyon Trail 69, CDT Trail 74, CDT/Caledonia Trail 42, FR226/CDT, CDT
Miles: 21.5 441.9
Camp: 7.5 miles south of NM59/FR126 (Map 66, Segment 25, Section 1)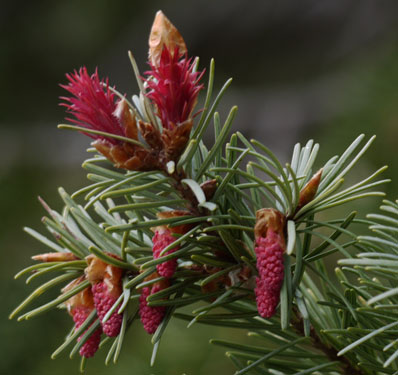 Wednesday, April 25th, 2012
We saw a few elk and turkey, and hitched down NM59 to Winston. With showers, laundry, wifi, groceries, and post office, it was a great town, populated with kind, efficient, and polite people. The highway had less than one car per hour of traffic, but the third guy, an Albuquerque firefighter, gave us a ride in. The general store cashier, when asked about rides back, said she would drive us herself after she got off at 5 if she hadn't talked some other local into dropping us off on the way home. So the tough problem of getting 24 miles down a little travelled road evaporated with the efforts of the kind locals. The afternoon brought stratonimbus clouds and virga. The ten day Winston weather called for 30% chance of rain tomorrow, Thursday April 26, and 30% chance of rain Thursday, May 3, with all other days being dry.
Route: CDT, NM59, CDT
Miles: 15.5 457.4
Camp: Catron / Sierra County Line (Map 67, Segment 26, Section 35)
Thursday, April 26th, 2012
Mexican wolves howled last night and this morning. The best pool at Adobe Springs had tea colored water and wriggling insect larvae, but it was not turbid and tasted ok. The three wells in the first 7 miles of section 27 were flowing well with excellent water. The predicted rain did not materialize, but gusty winds sometimes blew me off balance.
Route: CDT, Trail 60, Ranch Roads
Miles: 24.1 481.5
Camp: 2 miles short of NM52 (Map 71, Segment 27, Section 2)
CDT Black Range Crest Route
While we saw 7 CDT hikers on the Gila River alternative route in the evening and morning we spent there, we saw no hikers on the CDT official Black Range Crest route over our few days there. We saw only 2 sets of footprints on the route, and since we had been seeing them before, we were sure they were from Will and Cam, GET hikers we knew to be ahead of us. So it's interesting that the vast majority of CDT hikers are bypassing the official route. But I would recommend the Gila River route to any CDT hiker who has not seen the cliff dwellings, hot springs, and riparian habitat. The Black Range route is nice, and has some great views, but is typical of much of the rest of the Continental Divide National Scenic Trail.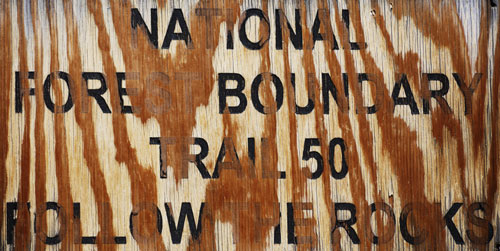 Friday, April 27th, 2012
The Monticello Box was a beautiful canyon. Once again we waded the upper, narrow, steep end and forded many times in the lower, more open end. The upper end was in the old Warm Springs Apache Reservation, and indeed, some of the tributaries, all fed from nearby springs, were warm. Chief Victorio and Geronimo once roamed here. The climb into the San Mateo Mountains section of the Cibola National Forest and the Apache Kid Wilderness was tough. Not only was the route relentlessly steep, but the trails, which were long ago built well, are now overgrown and littered with blowdowns. Myer's Cabin was partially intact and was built solidly and with great craftsmanship in its day. Nave Spring had flowing good water near the source, but by even a few feet away, the water had acquired an offensive odor. Future hikers are advised to seek the spot where the water first flows from the earth and collect it there.
Route: Cross Country, NM52, Monticello Box/ CRE14, Burma Trail/FR76/377, Shipman Trail 50
Miles: 22 503.5
Camp: 1 mile short of Apache Kid Trail (Map 75, Segment 28, Section 26)
Saturday, April 28th, 2012
Today's trails were better maintained and easier to travel than yesterday's. The views from Blue Mountain and Grassy Lookout were outstanding. I saw two turkeys.
Route: Shipman Trail 50, Apache Kid Trail 43
Miles: 19 522.5
Camp: Grassy Lookout (Map 79, Segment 29, Section 16)
Sunday, April 29th, 2012
The Potato Trail was steep with many blowdowns, so I beat up my toes. The Potato Falls/Spring, and Cooney Windmill had good, flowing water. I saw a rabbit.
Route: FR138, Potato Trail 39, FR65, Cross Country
Miles: 25.3 547.8
Camp: Cibola NF Boundary (Map 83, Segment 30, Section 29)
Monday, April 30th, 2012
The views from North and South Baldy (Magdalena Range) were awesome. The Magdalena Observatory and Langmuir Lightning Facility were interesting. Right after I had commented that I had not found wild edibles for days, I spotted onions. There was a six foot iron digging bar someone left leaning against a tree a few feet away. We used it to harvest a few tasty onions.
Route: Cross Country, FR234, 2 track, Cross Country, Forest Road, Forest Trail, Hardy Ridge Trail 19, FR235C, Trail 8
Miles: 15 562.8
Camp: Atop North Baldy (Map 85, Segment 31, Section 11)

Tuesday, May 1st, 2012
The winds blew hard atop the world last night, but the views of the sunset, sunrise, lights of Magdalena and the Rio Grande valley, and the stars were worth it. Still, the cold got us walking at first light, and we were in Magdalena for breakfast. There were many mine (zinc and silver) ruins on the descent, including the Kelly Ghost Town. We met Antonio, who had walked from Los Angeles to New York, Washington DC, and on to Florida to support nuclear disarmament. For the last few years, he has been pilgrimaging to Chimayo from his doorstep, a few hundred miles. His ancestors were involved in the penitent movement there, an extreme form of Christianity where a congregant was actually crucified for 3 days each Easter season. I gave him information on a CDT hike from Pietown to west of Denver he has been contemplating. He made us an excellent dinner: steak, rice, grilled peppers, and broccoli for me, a veggie omelet for Don. Then we met Athena, biking from Florida to San Diego to raise money for drinking water projects in Africa.
10 Day Magdalena Weather: No Rain, highs in low 80s
Route: FR505A, NM114/Kelly Road
Miles: 7.3 570.1
Motel: Magdalena (Map 86, Segment 31, Section 22)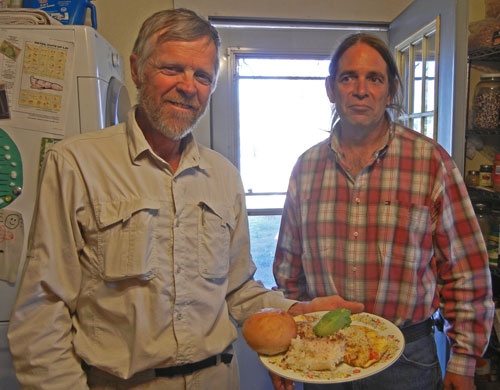 Wednesday, May 2nd, 2012
We saw deer, elk, rabbits, and a greenish rattlesnake with a black tail (Black Tail Rattlesnake, Crotalus molossus). The San Lorenzo Wash was stunning, so I walked slowly and gawked all the way through. We also ascended the slot canyon on the north side. The San Lorenzo Springs were flowing well and provided good water.
Route: FR354, cross country and ranch roads, San Lorenzo Wash and its access road
Miles: 26 596.1
Camp: San Lorenzo Wash 1.5 miles short of I25 (Map 90, Segment 32, Section 15)

Thursday, May 3rd, 2012
Today's biggest moment was the fording of the Rio Grande. It was swift and deep enough that I had to swim about 20' of it. I stuffed all my gear in a trash bag inside my pack, as I do for rain. Though the bottom foot of my pack was submerged, no gear got wet, so I recommend this technique. It was also fun to poke around several abandoned homesteads. One was built into a cliff wall, with paintings painted right on the bedrock room walls. Another still had cowboy boots and old, many cell batteries for tube radios. I saw a rattlesnake-mimic non-venomous snake, with a greenish patterned body and a banded tail.
Route: San Lorenzo Wash, Rio Grande Levees, Arroyo Alamillo, Puertocito de Bowling Green, Old Stapleton Ranch, Stapleton Windmill, Rancho Grande Well, Buffalo Well
Water: Rio Grande -Yuk, Arroyo Alamillo new source tire trough at Latitude 34° 12.357' Longitude 106° 51.322', Puertocito de Bowling Green new source at homestead at Latitude N34° 12.297' Longitude W106° 49.076' solar well, Stapleton Windmill Good, Rancho Grande Well Good, less salt than previous wells, Buffalo Well, good
Miles: 25 621.1
Camp: 1 mile past Buffalo Well (Map 94, Segment 33)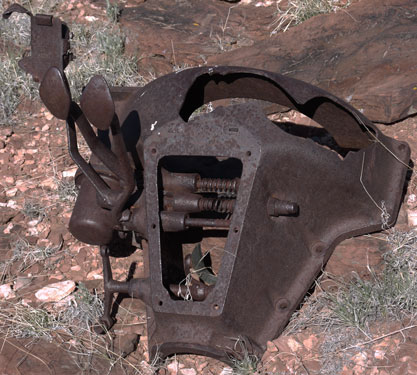 Friday, May 4th, 2012
Long ago someone had disassembled a Ford Model T truck, and we looked at the few rusted parts still laying about. There was also a crashed weather balloon. The sun had seriously degraded the plastic and fabric, but there was a 2' diameter aluminum plate with a big vent valve of red rubber and aluminum, and an aerospace connector. The instruments were gone. When we hiked out to US60, I waved to a passing cop car, and he stopped right away. Our ride to Albuquerque had flagged him down. The county roads are not prominently marked, so it was not easy to understand where we had agreed to meet. Our angel was roaming the surrounding country in search of us. The cop and I went off in search of her. All was well 20 minutes later. Thanks to the cop and to our angel/ride.
For many years, Don has run a race with his son, so I'll be in Albuquerque waiting while he runs it this weekend. We'll return to the trail and the Manzano Range Monday.
Route: Adolpho Tank, Agua de los Torres, CR121, CR127/Mesa Redondo Road, Montosa Canyon, CR115/Augles Ranch Road
Water: Agua de los Torres and rach house - good
Miles: 21.2 642.3
Motel: Albuquerque
Saturday and Sunday, May 5th and 6th, 2012
I resupplied and read up on New Mexico and Arizona at the UNM library. Thundershowers are predicted for Monday, Tuesday, and Wednesday.
Miles: 10 652.3
Monday, May 7th, 2012
We drove back to the trail at US60 around 1pm. About a mile down the wash, as I crested the berm around an earthen livestock tank, I saw a squirrel leap through the air, as a Western Diamondback Rattlesnake, Crotalus atrox, unsuccessfully struck at it. As we took photos of the snake, he coiled in an 8" diameter depression in the ground, hid his banded tail and half dozen rattles, and didn't sound off. His restraint and calm were fairly inconsistent with many of my rattlesnake encounters. A couple of times we had a minute or two of rain. It was fairly windy. As we drove from Albuquerque, the ridgeline from the Manzanos through the Sandias was above the cloud base, but this broke somewhat as we walked.
Route: Along wash to railroad, up Sand Canyon dirt road, into the Manzano Range and the Cibola NF
Water: Good water in Abo Arroyo along Railroad Tracks, trough past tracks dry, didn't check La Casa and Rattlesnake Springs
Miles: 12.2 664.5
Camp: .2 miles short of FR422/Priest Canyon Road (Map 98, Segment 34, NE Section 32)
Tuesday, May 8th, 2012
Before ascending to the ridgeline, I saw a dozen deer. Along much of today's route, bears had recently overturned rocks and logs to look for tasty grubs. The crest was in the clouds all morning. It was quite chilly, with rime ice, frost, and old snow drifts to see. We talked to the lookout on Capilla Peak. Part of the afternoon was clear and the views were outstanding, both to the Rio Grande Valley to the west and to the plains to the east.
Route: FR422/Priest Canyon Road, Pine Shadow Trail 170A, Crest Trail 170
Water: Pine Shadow Spring good, Capilla Spring poor, Ojo del Indio good
Miles: 21.9 686.4
Camp: 1 mile southeast of Bosque Peak (Map 101, Segment 35, Section 16)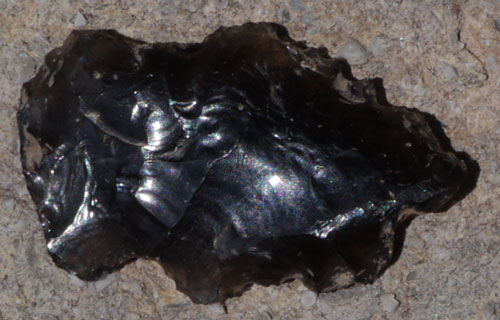 Wednesday, May 9th, 2012
I saw several deer, a mated pair of coyotes, Canis latrans, and an arrowhead. Plus, I found an unopened can of grape soda. Mmmm. The Manzano Crest Trail 170 is largely overgrown, and in burns there are plenty of blowdowns. Hikers should allow extra time and energy for trail 170.
Route: Crest Trail 170, Trail 79, Trail 173, Fourth of July Spur Trail, Albuquerque Trail 78, cross country, FR321, FR250, cross country, FR321
Water: Upper 4th of July Spring good, Ojo los Casas good, Wildlife Pond and Trough at mile 17.2 dry
Miles: 25.4 711.8
Camp: Junction FR321, Turkey Trot Trail 162, at Wildlife Pond and Trough (Map 104, Segment 36, Section 36)
Thursday, May 10th, 2012
The Manzanitos had well used and maintained trails, making for speedy walking. Some trails have been rerouted due to a land grab by Kirtland Air Force Base. There are many use trails and unmarked junctions, so navigation took a bit of time. A new marking system of Carsonite posts with 5 digit numbers is in place at some intersections. Generally, a prefix is appended to the old trail number, so hikers with old maps can figure the differences between new and old trail numbers. The trails guy at the Tijeras Ranger Station said he would send Blisterfree the GIS trails layer to help clear discrepancies between the GET mapset and the current trail system. We made it to Tijeras in time for a great lunch of Green Chili, a tamale, and chocolate cake. The ascent into the Sandias was pleasant and viewfull, with well used and maintained trails. In the afternoon, we saw virga over ranges to the south and east. We had a minute of rain after we had set up our tents.
Route: Turkey Trot Trail 162, Cajun Turk Trail, Cajun Pine Trail 49, FR321, FR236, FR108, cross country, Gnarly Wag Trail 56B, Otero Canyon Trail 56, Tunnel/Tunero Canyon Trail 14, Powerline Trail 542B, NM237, Arrowhead Trail Road, South Crest Trail 130, Travertine Falls Trail, South Crest Trail 130
Water: Travertine Falls, good, high flow, South Sandia Spring - a drop from pipe every few seconds, good treatable water in trough; We cleaned the trough of leaves and a dead bird.
Miles: 21.5 733.3
Camp: Beyond Embudido Trail 192 to Albuquerque (Map 107, Segment 38, Section 5)

Friday, May 11th, 2012
We finished the Sandias and the Grand Enchantment Trail this afternoon after a viewfull walk along the well maintained Crest Trail. There were plenty of snow patches. The La Luz Trail, while well built and maintained, runs uphill, downhill, and has miles of level switchbacks rather than efficiently descending from the crest to the desert floor. It's hard to imagine why anyone would route a trail so poorly. I had Red Chili at Sandia Peak, fish tacos at the tram base station, and salad and a baked potato for dinner. What a change from trail chow. Todd and Ryan, eating at the base station, liked our story enough to buy our lunch - Thanks!!! It rained hard during our cab ride to town, and there was lightning. Laundry and a shower were great pleasures.
Route: South Crest Trail 130, Spur Trail 84, La Luz Trail 137, Tram Trail 32
Water: Tram Trail Seasonal Spring good high flow. Sandia Crest restaurant charges for tap water.
Miles: 14.4 747.7
Motel: Albuquerque
Thoughts on the Grand Enchantment Trail
A Beautiful Walk
It is clear to me that Brett went to great effort to identify a trail corridor that visits one gorgeous mountain range after another, and many of the vibrant riparian canyons that are generally so rare in the desert.
In each mountain range, the ecosystems changed radically from the arid, hot, desert zone at the bottom to the lush forests at the top. I like to hike in places where there is so much change. Seeing so many different types of plants and animals over the course of a day is a huge pleasure for me. And camping near lingering snow patches after baking on a desert walk is unique. These small sky island ranges allowed me to enjoy many interesting ecosystems each day, day after day.
Riparian areas in the desert are also rare and interesting. Generally, the water table in a desert is quite far underground. Only in a few canyons cut down to bedrock is water found at the surface in great quantity. The GET visits several such streams. Wildlife that normally ranges far out into the surrounding desert visit the streams to drink and perhaps to eat the lush vegetation or to hunt the animals eating the lush vegetation. There are also animals and plants that only live in the riparian zone. I really enjoy seeing all the interesting animals and plants. Finally, wading through cool water after a hot desert section is refreshing.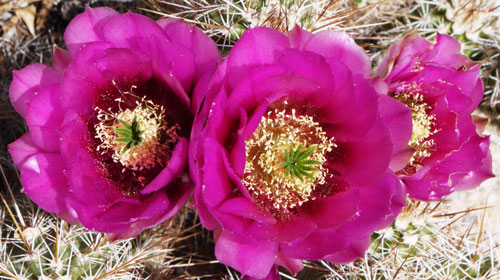 A Tough Journey
The cost of visiting so many great places is that walking between them can be tough both physically and mentally. Perhaps Brett's philosophy was to connect the best sections with the least time consuming connecting routes. So while there may have been easy but long roads one may have travelled, the route suggested often used short but tough connectors. Tough might mean steep, or overgrown with thorny plants, or lots of blown down trees, or loose ankle twisting rocks everywhere, or an indistinct route that requires a lot of attention to navigation, or any combination of the above. Still, it's easier to do the short but tough section than to walk miles around it. And most of the GET is easy walking on trails and remote, little driven dirt roads - it's not all tough.
Generally speaking, the Grand Enchantment Trail is suitable for highly experienced hikers, those who are used to tough bushwhacking and scrambling, who are experienced in cross country navigation, and who can find and evaluate rare desert water sources. Less skilled walkers should probably build up these types of experience, knowledge, and conditioning elsewhere before attempting the GET.
Well Documented
I've poked around the Simblissity website, and it seems that less than twenty people claim to have completed the GET. So it's incredible that the documentation includes a full set of topographic maps, various GPS track files, a partial trail guide, and a complete season by season water report, a town guide, and a databook. And the information in these documents is 99% spot on, better than most trail documents I've used. My compliments to Brett not only for creating this very interesting route, but also for his efforts in documenting it so well.
Interesting Things
I like to read about all the interesting things along a trail before and after I hike it. So here are some things which fascinated me along the way: The current and historic copper mining in Arizona, and the historic zinc and silver mining near Magdalena and Kelly. The ecology of the desert, riparian and sky island areas. The route travels through these areas: Tonto National Forest, Rogers Canyon Cliff Dwellings, Superstition Range, Picketpost Mountain, Aravaipa Canyon, Turkey Canyon, Santa Theresa Wilderness, Coronado National Forest, Pinaleno Mountains, Gila Mountains of Arizona, Eagle Creek, Catwalk National Scenic Trail, West Fork Gila River, Black Range, Monticello Box, Warm Springs Apache Reservation, San Mateo Mountains, Cibola NF, Magdalena Range, Magdalena Observatory and Langmuir Lightning Facility, Kelly, Magdalena, San Lorenzo Wash, fording of the Rio Grande, Manzano Range, Manzanitos, Tijeras, and Sandias. I saw animals and signs of animals including: trout, frogs, lizards, horned lizard, Gila Monster, rat snake, greenish rattlesnake with a black tail, rattlesnake-mimic non-venomous snake, with a greenish patterned body and a banded tail, desert tortoise, Great Blue Heron, red tailed hawk, eagles, turkey vulture, woodpeckers drumming, grouse, turkey, elk, deer, mountain sheep, rabbits, squirrel, bear, coyote, Mexican wolf and bobcat. Current and historic cattle ranching in Arizona and New Mexico. The Apache Warm Springs Reservation, Geronimo, Victorio, and the Apache Kid. The cliff dwellings in the Superstitions, near Aravaipa, and in the Gila NF.
Weather
Temperatures were neither too hot to hike nor typically uncomfortably cold. Only one day had precipitation which lasted more than a few minutes. Haze was typical, with few days of clear views.
Shoes
I started the trail with a new pair of trail runners. After 200 miles, 2 inches of the seam between the sole and the upper ripped out by my right big toe.
There being no other reasonable source, I replaced them at the Walmart in Safford with steel toe leather Brama work boots. These were comfortable despite the problems I'll mention. In less than 100 miles, a leather seam had ripped, and the sole had been punctured by sharp rocks. The sole construction was a thin rubber layer on the bottom, then a rubber grid forming hollow cubes, then a rubber layer bonded atop the grid. As the bottom rubber layer wore out, there were more and more open cells, which sometimes collected gravel. Additionally, the leather uppers cracked at the hingeline of the ball of the foot, other holes formed, and other seams split. After 450 miles, I was quite concerned they would fall completely apart. Still, they were comfortable, they lasted 450 miles, they cost only $35, and Walmart was the only game in town. I guess they would do in a pinch.
With less than 100 miles to go, and Walmart again the only practical source, I decided to try their Ozark Trails Hiking Boots. These had a solid rubber tread layer, with a rubber grid on top, again forming hollow cubic cells. But the insole rested directly on the grid or cell walls. After less than 35 miles, the insoles had self destructed and my heels were striking through only my socks on the cell walls, and that really hurt. Furthermore, the soles had worn through into the cells in two places. So Walmart Ozark Trails Hiking Boots are absolute garbage and didn't even last through two days of hiking. Don used various items from our trash and some Duct Tape to temporarily repair these so I could get to the next town.
Finally, Don gave me his backup boots and I finished the trail.
I draw two lessons: First, with all the loose rock and walking in creeks, the GET is tough on boots, so potential hikers should select a boot suitable for extreme hiking. Second, if Walmart is the only available source , expect even their highest quality boots to fall apart in a few hundred miles, and line up a pair of real boots to replace them.
That's 3 pair of new boots and starting on on another in 750 miles. Totally Ridiculous.
After Hiking the Grand Enchantment Trail
I flew to San Diego to visit my mom and dad, Marie, Roy, and Katie, and Don, Judy and Jim. Judy and I kayaked at La Jolla Cove, and Jim and I hiked in the San Jacintos. Jim bagged San Jacinto Peak, but I had nausea and a headache from altitude at the Taquitz Lookout, and waited nearby.
Whitewater and Baldy Complex Fire, Gila Wilderness
The Baldy Fire started on May 9th; the Whitewater Fire on May 16th. Both were lightning caused. They merged into one large fire complex on the 23rd of May. Much of the Gila NF was closed while and soon after I completed this hike. The fire has burned large area north and west of the cliff dwelling road, including our route from Glenwood to Doc Campbells. CDT hikers are following the Black Range Route, as the Wolf / Gila River Route passes through burn areas. Looks like we got through in plenty of time, and have seen these areas in the prettiest state they will be in in years.
Don's report on our Grand Enchanment Trail Walk
Dear Family and Friends,
"What's your purpose in life?" As my hiker friend formulated a response I considered how our questions to others often seem purposed for ourselves. Why was I embarked on a 734 mile hike encompassing desert and snow capped peak? Over the last decade my wilderness excursions have had clear purpose as I mentored young people and watched them grow in faith and character. However, this time I was with five old and seasoned hikers; our association originated in '03 on the Pacific Crest Trail. I thought about ultimate purpose as delineated in the Bible, knowing and honoring God, doing justly and loving mercy. I know God delights in all His creation and desires that we delight in Him. Maybe that was it, to honor God by delighting in His amazing creation and in the people He places in my life. I can put my heart into that.
There were abundant opportunities for delight, beautifully patterned rattlesnakes shaking a warning, a majestic elk silhouetted along a ridge in early dawn, a pair of coyotes oblivious to all but themselves, curious tuff-eared squirrels bouncing along high branches, hunter-weary turkeys darting for cover, soaring eagles riding cliff-side wind currents, persistent coatimundi attempting a nighttime raid of our food, shy javelina darting through camp in the moonlight, delicate eggs in protective nests, sunning lizards and a colorful Gila monster, and this only a partial list of just the wildlife. Consider also the flora, the geography and the people.
Flowers were an everyday delight; I say that God is smiling at me when I stoop to gather the fragrance of a blossom. A joy of long distant hiking is that you pass through various life zones as your altitude changes so something seems to always be in bloom. Spring appears to unfold repeatedly as you descend each mountain ridge. The soft blues and lavenders of delicate mountain flowers give way to the boisterous reds and loud yellows of desert cacti.
Imagine a small child mesmerized by cartoon characters coming to life at a Disney theme park and you will have an idea of what it was like for me walking through this extended wonderland. How many times did I whisper to myself that this was indeed enchanted? Forests of saguaro captured my imagination, some stately and towering, some odd shaped with one looking like an elephant, some decaying yet portraying a magic lure. Do you know what it is like to splash through clear streams snaking from wall to wall in slot canyons with cathedral spires confining the deep blue of the sky to a narrow slit above you? What about crowning the top of 10,000 foot peaks with exercised lungs gasping for the cool mountain air while you bask in the intensity of a 360 degree view that stretches to the limits of a distant horizon? Have you ever snuggled in a sleeping bag night after night with nothing overhead but the star strewn sky silently beckoning to your sense of wonder? What a profound thrill to see the length of the Milky Way rise above the eastern horizon. I was spellbound by the brilliant moon dancing out from behind a towering cliff accompanied by the melodious song of a nearby creek.
Someday I hope to meet Brett. The Grand Enchantment Trail or GET is his brainchild. An avid hiker, he pieced together a route connecting public lands from Phoenix to Albuquerque. Starting near the Superstition Mountains it repeats a pattern of winding across high desert plains then over rugged mountain ranges. It crosses through a dozen wilderness areas in multiple national forests and Bureau of Land Management lands. It features historic sites like the well preserved cliff dwellings of the Salado Indians and the pictographs of the Anasazi. There are curious abandoned homesteads begging to tell their stories, one built high into the edge of a rock cliff with pictures painted with frames on the rock walls substituting for hung paintings. Dilapidated trucks and equipment speak of a bygone era of success. Crumpled windmills contrast with others maintained and spinning in the wind leveraging water to thirsty cattle and eager hikers. Small abandoned mines dot hillsides while in the distance monstrous open pit operations never rest their gigantic trucks.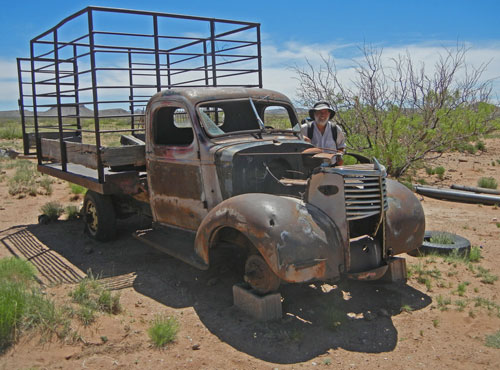 Kelly was one of very few people we encountered on the trail. Only a couple dozen hikers have ever hiked the entire route; only four have completed it this year. He arrived at our camp on Cottonwood Creek riding his mule Annabelle and escorted by his dog Gus who after licking a hello curled up on my sleeping bag. They had been to the top of Cottonwood Peak described as having the best view on the GET.
Glenwood is one of many delightful little towns filled with delightful people. The necessity to re-supply sent us to this remote New Mexican settlement. Maryann runs a local motel. She responded to our call and picked us up a few miles up the road. From Heidelberg, Germany she married a serviceman and has called the Southwest her home for 45 years; her aged sister from the Old Country was making what would probably be her last visit. Maryann pointed out the Trading Post, restaurants and post office, all places we needed to visit and drove us to the library. Admiring her impeccably clean establishment we settled into our room. Refreshed from our showers we headed to the Blue Front Bar and Café for a hearty delicious meal. Next morning the Golden Girls Café was the place to be for breakfast. It was easy to strike up conversations with patrons and workers to gain the flavor of the community. A poster hung in the Trading Post offered $60,000 for information about the killing of wolves. Reintroduced wolf populations seem a threat and nuisance to some, a priceless resource to others.
We call them Trail Angels, anyone who helps with transportation or food or water. John and Serena had just arrived at the Potato Canyon Trailhead; we relished the watermelon and homemade cookies they offered. Maybe even more appreciated were the brownies and bananas offered by campers along Turkey Creek because they were accompanied by engaging conversation with charming nine year old Mattie. The Magdalena librarian Yvonne was immediately interested in our trek. She did not hesitant to offer transportation when she learned we would need to go to Albuquerque in a few days. With the help of a state trooper we made contact at the junction of an obscure county road then she drove us to a good motel near the airport. It was important that I join my son Destry in Spokane to run the 12 kilometers of Bloomsday, an annual father-son thing we initiated in 1986. Returning from the quick two day trip we were blessed with transportation back to the trail for our last 100 miles of hiking.
After about two weeks Dan and I were the only ones continuing. George, who had been instrumental in initiating and planning and preparing for the hike was not feeling well so left the trail after six days. Dick and John continued on for eleven and nineteen days respectively.
Dan did not cook; all his "meals" were merely munching something cold. At our last camp nestled in a grassy meadow I offered to heat additional water so he could have a hot meal; we both savored instant mashed potatoes. Our last day offered a marvelous ridge walk over the Sandia Mountains, a stunning switchback trail east toward Albuquerque, and a free meal at a Mexican restaurant as Todd and Ryan from Texas picked up the tab after being so intrigued by tales of our six week adventure.
Hikers understand the wholeness that builds when one is immersed in solitude and beauty. Our encounters with ranchers and hunters and campers and town folk complimented that experience. Yet I felt a predictable sadness as Paul drove us to Winston and shared that he had been divorced twice and would not marry again although he welcomed the attention showered on him by a Vietnamese woman he had met. Justin drove us back to the trail doing a fair job of staying on his side of the road as he held a cup in one hand for his chew spit. He was recently divorced. Those spontaneous disclosures reminded me of our troubled world and caused me to value all the more the refreshment God offered through this wonderland walk empowering me to come back energized to uphold Truth and Hope.
Love, Don
Don walked the entire GET with me. Since I usually hike alone, and rarely with anyone else for more than a handful of days, this is a record for me.