Dan Bedore and Mother Nature's Son Walk the Superior Hiking Trail
September 6 - 17, 2009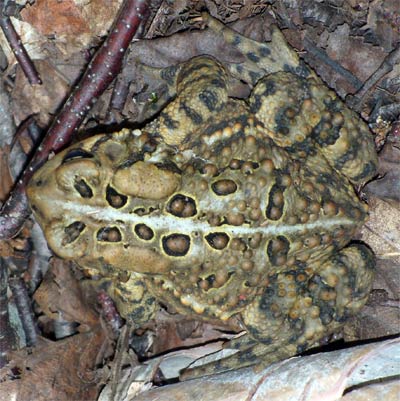 A few days after I got back from my walk on Offa's Dyke, I got an email from my friend John (Mother Nature's Son). He was asking if I would like to go to Minnesota and either walk the Superior Hiking Trail (Association) or go canoeing in the Boundary Waters Canoe Area. Of course I immediatly responded: 'What's this OR garbage? Let's do both!!!!'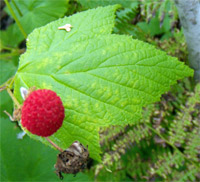 Sunday, September 6th, 2009
After 2 long days of driving, we arrived at the north end of the Superior Hiking Trail at 2:20pm. I enjoyed meeting our shuttle driver, Harriet, and her husband's macaw, Lucy. We spent the afternoon eating raspberries, huckleberries, rose hips, bunchberries, crooked stalk berries, and thimbleberries. The trail had been recently brushed, and the hiking was nice through clearcuts regrowing in various stages, and through green tunnels in treed areas.
Camp:South of Jackson Lake Road
Miles Walked:10.8
Weather:Sunny, hot, clear, humid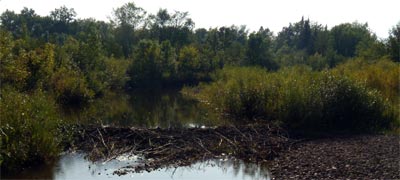 Monday, September 7th, 2009
We saw bear, deer, and wolf prints in rare muddy parts of the trail, and a breached beaver dam. Devil's Kettle Falls was nice. The trailbed was often rocky and had roots protruding, so it was always necesary to watch one's footing. There were often dead shrews on the trailbed, but the cause of death was not apparent.
Camp:Magney State Park
Miles Walked:18.5
Weather:Sunny, hot, clear, humid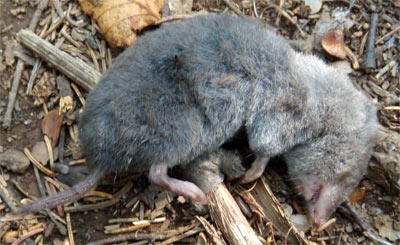 Tuesday, September 8th, 2009
The walk on the Lake Superior beach was incredibly scenic. John did a road walk to avoid a damaged bridge over the Kaydunce River, but I stayed on the trail and the river was small enough to step over. John saw a garter snake. I saw a wolf run down the trial in front of me, then seconds later a big deer uphill crashing through the bushes. Perhaps I interrupted a stalking.
Camp:Devil Track River
Miles Walked:21
Weather:Sunny, hot, clear, humid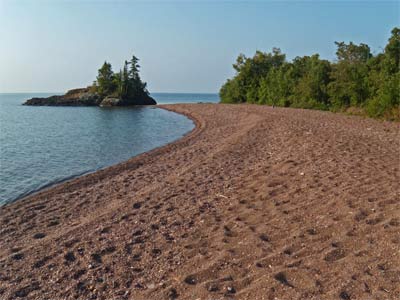 Wednesday, September 9th, 2009
The view from Pincusion Mountain, a rock dome, was panoramic, including views of the lake and inland. There, Tim, a mountain biker, told us the farm we could see to the west was a family dairy we could visit. We hiked to the Gunflint Trail (a road) and got a ride into Grand Marais with Melinda, a 1978 Appalachian Trail through hiker. There, we resupplied, ate, and visited the hisorical society museum and the Berglund Dairy. Then we heard from Roni from Israel, who was hiking a day behind us, and talked with him for an hour where the trail intersects County Road 14 near Kimball Creek.
Hotel:Fort Williams
Miles Walked:2.6
Weather:Cloudy, Occasional Rain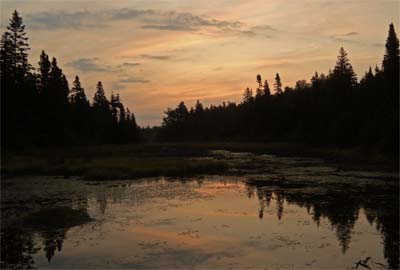 Thursday, September 10th, 2009
I watched Lucy, Harriet's macaw, eating a peanut. Her dexterity was amazing, as she climbed around the cage to get it, held it in one claw, carefully peeled it, and broke off chunks of the nut with her claw, beak, and tongue. On the ride down to Two Harbors, we saw a wolf trot across highway 61 from the lake to the woods. Harriet drove us up Palisade Head, and we enjoyed the views of Lake Superior and the coastline.

At the Road 301 trailhead, we saw that the trail had been extended south. However, we did not know where the new end was, so we started there. We saw a 2 foot garter snake with yellow stripes and a ringneck snake. Minnesota ringneck snakes have an orange ring and a glossy dark coat, whereas in Georgia they have a yellow neck ring and a greyish sheen on a dark coat. They are about 10 inches long and 5/16" in diameter, and eat bugs. We ate highbush cranberries, hawthorn apples, and raspberries. I saw 3 deer.
Camp:Blueberry Hill
Miles Walked:18.2
Weather:Sunny, hot, hazy, humid, late afternoon clouds.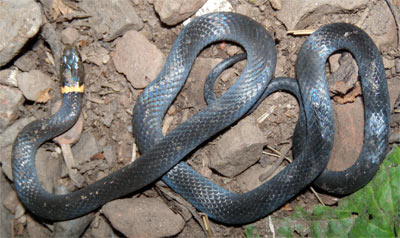 Friday, September 11th, 2009
I saw a track from a Bobcat or a Lynx. Their ranges overlap here: This area is a northern extreme for the bobcat and a southern extreme for the Lynx. John and I skipped the Split Rock River Gorge in favor of hiking a little more of the Lake Superior shoreline. We visited the historic Corundum Mine and climbed Corundum Peak. We shared a few hours of the morning with the Sawtooth 100 Mile Run. I saw lots of beaver dams and a silver fox. John went to town for a motel and supplies.
Camp:Penn Creek
Miles Walked:26.2
Weather:Sunny, hot, hazy, 5-10 mile visibility, humid.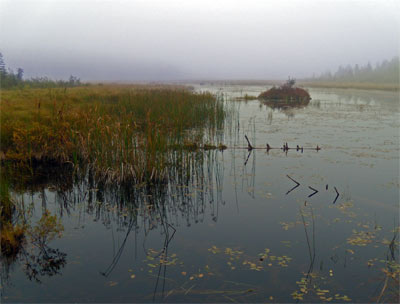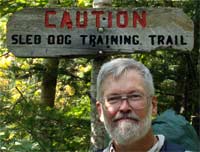 Saturday, September 12th, 2009
The water at Penn Creek came from a great mossy slot canyon grotto about 20 feet long and 20 feet deep. Through the morning, I had great views of Bean and Bear Lakes while waiting for John to return from Silver Bay. I also heard loons calling. John left the trail at Tettegouche High Falls due to heat rash. He had pimples all over his calves and a serious rash in private places. I should say that for the entire trip it had been hot and humid, and I often was dripping with so much sweat I couldn't take a picture without many drops of sweat falling on the camera. It was tough to drink enough water to keep hydrated. So heat problems were to be expected. But I didn't get any rashes until almost the end of the trip. I saw a very patient ringneck snake, he didn't move even while I was taking closeup pictures. I decided he was dead and tried to straighten him out with a stick so I could see how long he was, but then he moved a little.
Camp:Kennedy Creek
Miles Walked:13
Weather:Sunny, hot, hazy, 1/2 hour light rain, humid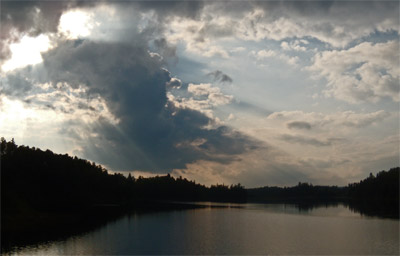 Sunday, September 13th, 2009
Finland was a great town stop. I got a ride into town and straight to the coop store 1/2 mile south of County Road 7 from a local guy with a couple of small dogs. The store had any kind of food a hiker could expect in a small town, and also sections of hardware, camping, and fishing supplies. At the restaurant 1/4 mile south of Road 7, the bartender was interested in local hiking and borrowed my trail guide while I was eating. On the way out of town, as soon as I had arrived at Road 7, Moose, who I had met briefly in the restaurant, stopped and offered me a ride to the trail before I had even started hitching. Back on the trail, a nice retired couple gave me carrots and a granola bar!
Camp:Aspen Knob
Miles Walked:20.7
Weather:Sunny, hot, hazy, humid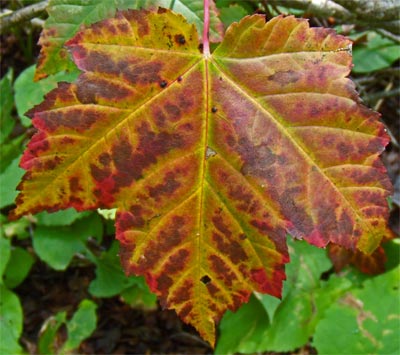 Monday, September 14th, 2009
I went up a trail spur to to the Manitou Cascades. I saw garter snakes and grouse. At Alfred's Pond, I saw the insectivorous pitcher plants and looked for the sundews. But I did not know exactly what a sundew looked like, so I had no luck.
Camp:Cross River Bridge
Miles Walked:23.5
Weather:Sunny, hot, hazy, humid
Tuesday, September 15th, 2009
The trail guide says the Temperence River got it's name because there is no sand bar at it's mouth. But the water is so green, foamy, and funky tasting, I think maybe people refuse to drink it! After climbing Carlton Peak, I talked to Roni from Israel for 3 hours. As a guy who quit his physics career to hike, he had a lot of good advice for me in my planning for taking a year or 2 off to hike. Later I talked to John. He was on the trail again and heading south. I had dinner in Papa Charlies Restaurant in the Lutsen Ski Area. The food was excellent.
Hotel:Caribou Highlands
Movie:Borat
Miles Walked:19.5
Weather:Mostly sunny, some clouds, cooler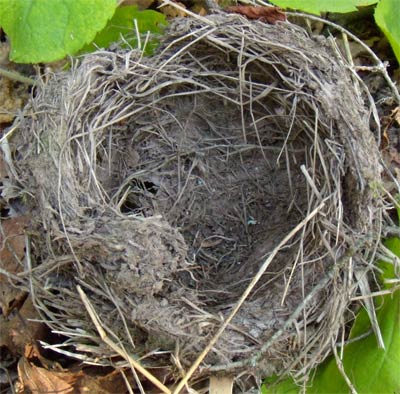 Wednesday, September 16th, 2009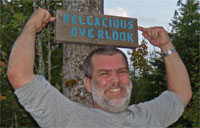 In the Poplar River Valley, I heard lots of moose bellowing from all directions. I could see the tracks they followed through the river from the way the weeds were pushed aside. I saw tracks and drips where they had come out of the river. But I saw no moose this day or on the whole trip. I took the path up the west side of the Cascade River, and a spur trail to see some waterfalls. There were no waterfalls before the trail petered out, and I ended up following exposed paths, then game trails, then bushwhacking back to the main path.
Camp:Road 158 / North Bally Creek Pond
Miles Walked:26.5
Weather:Mostly sunny, some clouds, cooler
Thursday, September 17th, 2009
I had an uneventful walk into Grand Marais, and finished my through hike of the Superior Hiking Trail.
Motel:Silver Bay
Miles Walked:8
Weather:Mostly sunny, some clouds, cooler
Post Trip Comments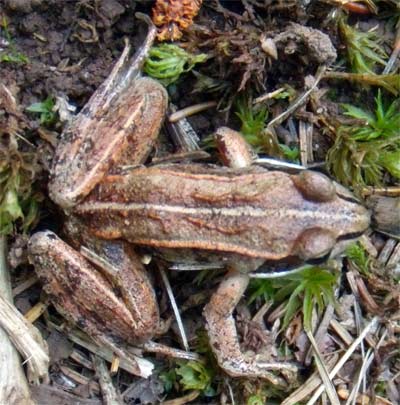 Wildlife
The density of wildlife in northeast Minnesota was incredible. It was not quite as high as in south Florida, but higher than anywhere else I've been. I probably saw 5 times as many beaver dams, beaver lodges, and beaver chewed sticks and trees as I'd seen before in my entire life. Unfortunately, I did not actually see a beaver. Maybe they were busy. I saw many tracks and scats of bears and moose, but did not see the actual animals, either. But I did see 2 wolves and a silver fox. I saw a track of a wild cat, a bobcat or lynx. It was interesting to see so many garter snakes, maybe 20 for the trip, and also to see the regional variant of the ringneck snake and compare it to those of Georgia. There were lots of white tail deer, I saw a couple a day on average. It was fun to see the insectivorous pitcher plants, I've only seen them in the Okefenokee Swamp and in northern California before. I flushed many grouse per day, some singly and some in flocks, and I saw several species of woodpecker I had not seen before.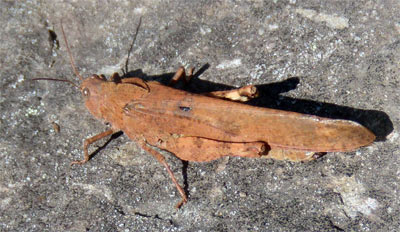 Weather
There were only a couple of days of rain, and even then it was light and lasted maybe a half hour. There were many days of 85°F heat and 100% humidity. That made it tough to stay cool and kept us dripping in sweat. The locals agreed this was unseasonable and that most years it would be cooler at this time.
Water
All of the major rivers are impounded upstream in long strings of beaver dams. Behind these dams, the water is shallow and algae grows vigorously. So the water is often dark green or brown by the time it crosses the Superior Hiking Trail. It also makes an unappetizing foam that collects at the base of falls, and has a potent earthy smell. Many times I could sense that earthy smell even miles down wind of any rapids. For drinking, neither the smell nor the dark color was very appetizing. However, sometimes in smaller tributaries, the water was clear and sweet. I sought these streams out, and where possible, got my water from them.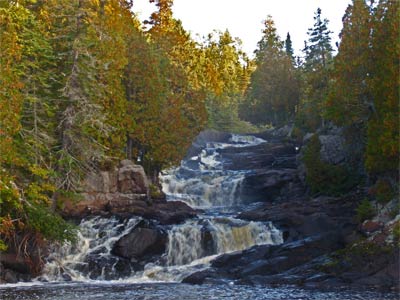 The Superior Hiking Trail
The Superior Hiking Trail Association and its partners in maintaining the trail took great pride in bridging every river and creek, even those that could easily be stepped over. Muddy areas were corduroyed or puncheoned. The designated campsites had benches and fire rings. It was evident that brush and blowdowns were removed from the trail regularly. I offer my thanks to the many volunteers and state funded workers who built and who maintain the trail. The trailbed was often covered in large rocks and roots, so that I needed to keep my eyes on my footing. The trail often climbed and dropped incessantly, making for some tough days.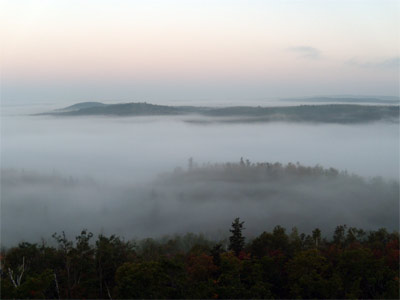 The trail was carefully routed to take advantage of as many scenic spots as possible. Several times a day I visited high viewpoints, and the trail crossed streams near cascades, ponds, and beaver dams. The rocky coastline of Lake Superior was my scenic favorite: I wish the trail was routed there for a few more miles. If you love waterfalls, the Superior Hiking Trail was built for you. It is a beautiful trail.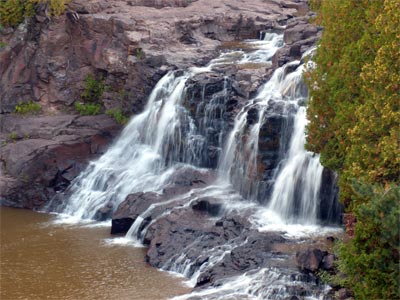 The Gear I Used
Things I Wore
Ounces
Comments
Long Pants
12.5
Long Sleeved T-Shirt
8.5
Sun Hat
1.9
New Balance trail runners with tongues removed and laces trimmed
26.0
Socks - 2 pair thin plastic socks
3.3
Underwear
2.3
Camera Nikon Coolpix P60
7.0
Needs Lithium Batteries, alkaline batteries don't last long enough.
Wallet
3.5
Notebook and Pen
2
Total Weight on my Person
77
Just under 5 pounds
Things in My Pack
Ounces
Comments
Maps
?
The maps the SHTA sells for 2 dollars for the set are OK for through hiking, but really don't have any information on what you'll find along the way. The guide book is better, with descriptions of the trail and natural featues, and mileages.
Headlamp
2.5
Little Stuff
7.0
Keys, Pens, Camera Memory, Thumbdrive, Aspirin, Batteries, Etcetera
Eating Gear
Titanium Pot
2
Polycarbonate Spoon
Negligable
Water Bottle
2
Water Filter
13
Hygiene
Toilet Paper
0.7
Toothbrush and Floss
1.0
Sleeping Gear
Henessy Hammock
29.0
Sleeping Bag
48.0
Backpack
Backpack GVP G4
15.0
Plastic garbage bag to keep gear dry
5
Clothing
Wool Socks
5.0
Overshirt
10.0
Rain Jacket
4.0
Rain Pants
6.7
Rain Hat
4.0
Fleece Shirt
8.5
Fleece Pants
12.5
Fleece Balaclava
3.0
Fleece Gloves
1.5
Bandana
1
Bug Hat
2
Lycra Shorts
3.5
Shorts
4.0
Base Pack Weight
190
Just Under 12 pounds (plus food, water, etc)