Dan Bedore and Roni from Israel in the Boundary Waters Canoe Area Wilderness
September 18 - 23, 2009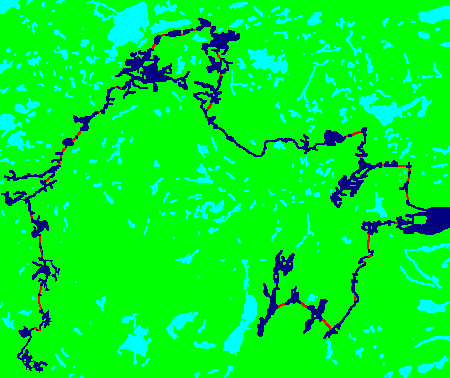 Friday, September 18th, 2009
John drove Roni and me to Kawishiwi Lake and returned to the Superior Hiking Trail to finish the parts he'd missed. I was sad to see him miss the canoe trip and the Boundary Waters Canoe Area Wilderness.
Route:Kawishiwi Lake, Square Lake (2PM), Townline Lake, Lake Polly (Camped on island.).
Distance:4 Portages, 315 Rods, 10 Miles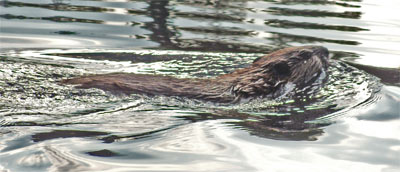 Saturday, September 19th, 2009
We got some nice beaver pictures at the unnamed lake after Polly. The Loons called all night.
Route:Kawishiwi River, Koma Lake, Malberg Lake, Kawishiwi River (Lunch), Kivaniva Lake, Anit Lake, Pan Lake, Panhandle Lake, Makwa Lake, Elton Lake, Little Saganaga Lake (Camp).
Distance:14 Portages, 654 Rods, 18 Miles

Sunday, September 20th, 2009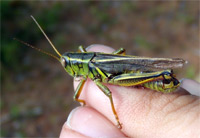 We were alternating carrying the canoe on portages. For some reason, Roni got 3 crazy portages today, over rocks and downed trees, up very steep hills, etcetera, while my carries were easy. All night, beavers were diving. When they do, they slam their tails on the water, and it sounds like someone has tossed a large rock in the lake. Afton Lake was small, so we could hear it loud and clear.
Route:Virgin Lake, West Fern Lake, Powell Lake (Saw Beaver), French Lake (Lunch), Gillis Lake, Crooked Lake, Tarry Lake, Mora Lake, Whipped Lake, Fente Lake, Afton Lake (Camp).
Distance:12 Portages, 483 Rods, 17 Miles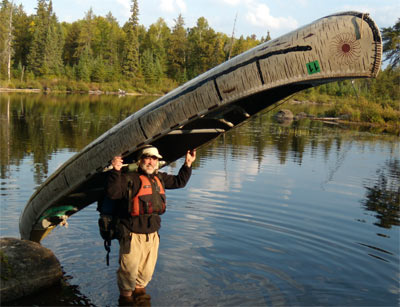 Monday, September 21st, 2009
About 7 PM we saw a bull moose swimming eastbound across the lake.
Route:Frost River (shallow, Lots of beaver dams and rock scrapes, plenty of leaches), Pencil Lake, Chase Lake (Lunch), Octopus Lake, Frost River, Frost Lake, Unload Lake, Gordon Lake, Cherokee Lake (Camp).
Distance:16 Portages, 503 Rods, 17 Miles
| | |
| --- | --- |
| | |
Tuesday, September 22nd, 2009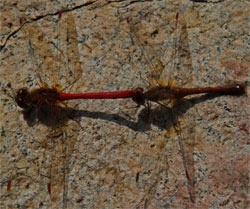 We saw a wolf on the west shore of Jack Lake. As we paddled by, he was shy enough to disappear momentarily, but soon returned. We could see he was eating something. We paddled in to investigate, and he completely disappeared. There was a dismembered deer carcass, with a few guts and bloody spots on the rocky shore, and the hind legs were just visible back in the bushes. We also saw Great Blue Herons and Beavers on the Temperence River. Near our camp at Smoke lake, 3 River Otters were playing, often swimming together, poking their heads well out of the water to observe us, etcetera. As it got dark, they even came into camp and were playing around near Roni's hammock.
Route:Town Lake, Vesper Lake, Gasket Lake, Cam Lake, Brule Lake, South Temperence Lake, Temperence River, Weird Lake, Jack Lake, Kelly Lake, Burnt Lake, Smoke Lake (Camp).
Distance:12 Portages, 1040 Rods, 21 Miles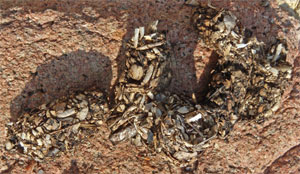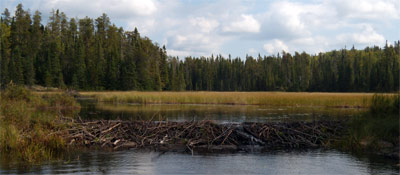 Wednesday, September 23rd, 2009
It was good to see John again. We went to lunch at 'Our Place' in Finland and drove Roni back to the Superior Hiking Trail near Benson Lake.
Route:Sawbill Lake, Ended trip and drove home.
Distance:1 Portage, 100 Rods, 3 Miles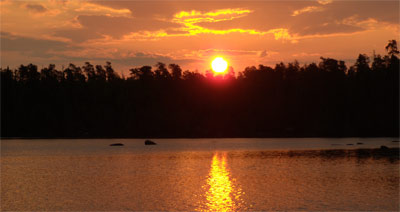 Post Trip Comments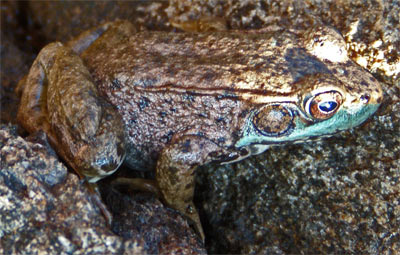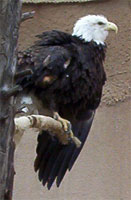 Wildlife
Like the Superior Hiking Trail, this place was beaver heaven. I saw many beavers swimming around, many beaver dams, many beaver chewed sticks of every size, beaver scats, beaver lodges, etcetera. It was great to see a moose, but he was a half mile away. Otters were interesting to see, and we also saw their scat, which seemed often to be almost entirely crayfish shells. We saw no bears and few tracks, but then hunting season had started a week earlier. There were many types of frogs and birds, including one bald eagle. I had not seen many if any Loons before, but I saw them daily on the lakes, and two nights I heard them calling most of the night. It was good to see another wolf, and interesting to see the deer the wolves were consuming.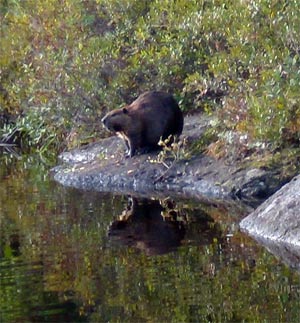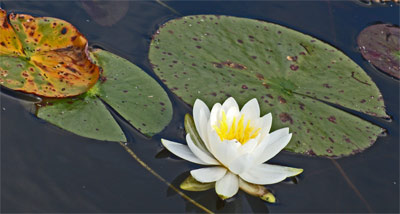 Scenery
Pictures don't do justice to the beautiful lakes and treed shores of this wilderness. It was great to be able to see off across the water in every direction, to see the sunrises and sunsets, and etcetera. The unimpeded view also helped with the wildlife viewing. Typically, we saw few other people, an advantage to visiting after Labor Day. From Sunday morning to Tuesday morning, we saw no one else: We had true solitude for 48 hours straight.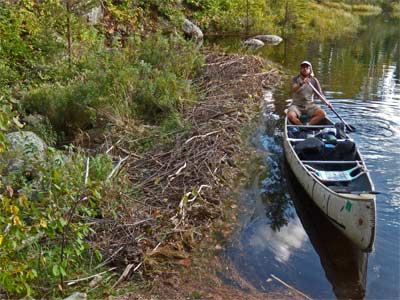 Conversation
About six years earlier, Roni had quit his job and taken up a life of long distance hiking. Since I was about to do the same thing, he was a good person with which to discuss my various options. For example, he recommended not doing long distance hikes back to back, as this led him to hike more out of inertia than conscious choice. He recommended not repeating trails already hiked, as he found the Pacific Crest Trail much less satisfying the second time around. In general, it was good to get his perspective on my various thoughts about my upcoming hikes and challenges.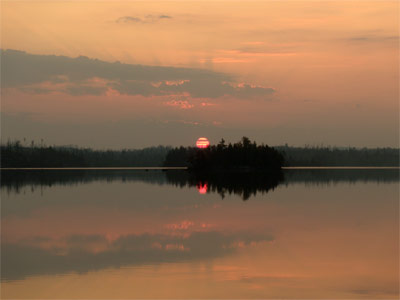 Daily Life
Roni likes to get up and start the day much later than most long distance hikers, and I was in no hurry, so we started on average about 9 am. We were always off the water by 6 pm, and we usually took a couple of hours in lunch breaks, as well as smaller breaks at the portages. We never paddled at full speed except for a couple of minutes on the last day to warm up. In general, the pace was pretty easy in comparison to walking the Superior Hiking Trail.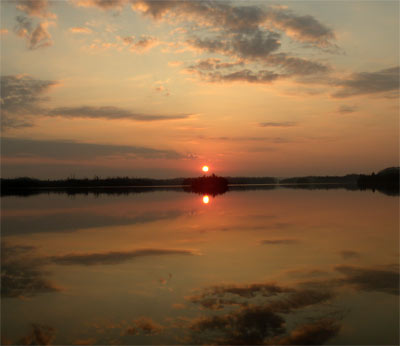 Maps
WA Fisher Maps F5, F6, F11, and F12 or McKenzie Maps 8, 7, 20, and 21 cover this trip.