Why I (Dan) Hiked the PCT in 2003
Dan's Pre 2003 Thru Hike PCT History
People often want to know when I first wanted to hike the PCT, how I planned it, etcetera, so here goes.
In 1989, I was about a year out of college, working as an engineer. I liked hiking, especially when the hike went through a transition from one type of plant community to another, as from desert to chaparral, etcetera. I came up with a plan: I would hike all the way across San Diego County on the PCT. I also had some inkling of an idea to section hike the entire PCT over my lifetime. My dad thought hiking across San Diego County was a good idea and joined me. Over several years we made our way to Pedro Fages Monument, near Lake Cuyamaca, from the Mexican border. Then it was time to go down to Scissors Crossing. Since it's only a few miles as the crow flies, I stupidly did not read the trail guide to find out that the trail meanders everywhere and is 17 miles. I thought it would be much shorter. My dad and I reached the end at nightfall, hungry, dehydrated, and exhausted. We went to a restaurant in Julian, and I remember that they served us water in pitchers full of ice, and even though I was shivering, I drank the icy water as fast as I could. My dad decided he'd had enough of the PCT, so I needed a new partner.
I recruited my friend Jim as my new partner. Mindful that the next section, Scissors Crossing to Barrel Springs, has no water and no road access for something like 23 miles, I made my plan. We would night hike a few days before the full moon, so we could hike on a nicely moonlit trail from 8 pm through 1 am. Then we would sleep, and finish the hike the following day. We picked a November weekend, so that even the day would be cool. As we were driving out, there were notices posted of snow and traffic problems in the Lagunas and Cuyamacas. I suppose that should have been our first clue. We drove the Warner Springs route to avoid the delays in the Cuyamaca mountains. As we hiked up the switchbacks at Scissors Crossing, it began to snow. It didn't snow much, never even covering the ground, but the cold and wind slowed us down. We got to a saddle and camped. The following day, the wind was so bitterly cold, and this section has so little protection from the wind, that we were not able to rest for more than a few minutes at any time. As a consequence, we were quite tired and didn't hike very fast. We finished the hike at nightfall at Barrel Springs, exhausted. Jim decided he'd had enough of the PCT. I was on my own again.
One day, after an uneventful round trip from Barrel Springs to the Warner Springs Fire Station, I decided to do a little more hiking. I parked on the north side of the pasture at Warner Springs and started south to the fire station. As I approached the grazing cattle, I noticed they were all staring at me. As I passed a few, they began to follow me. I decided this was too weird, and that I could do the hike some other day. I headed back towards my car. Except then, all the cattle were following me. So I decided that if I was to be trampled anyway, I might as well be trampled while finishing the hike. I turned south again, and some cattle followed me, lots charged across the trail ahead of me, a few even ran circles around me. Eventually, I passed all the cattle and they left me alone. On reaching the fire station, I decided against a repeat performance, and walked the highway back to my car. I completed one more section, up the stream and to a dirt road, but never did get all the way across San Diego County until my 2003 thru hike.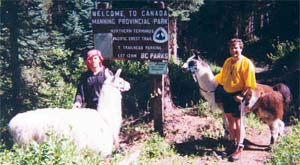 Later, while working for Boeing in Seattle, I convinced Jim to hike the PCT from Hart's Pass to Canada, then return by the valley to the east. Although years had passed, it wasn't easy to talk him onto the PCT again, considering the last experience. Just before the trip, in July, Boeing laid off all contractors, including me. My bosses kept trying to apologize, I kept trying to convince them that being responsibility free in the mountains of Washington starting in July was great. Jim and I did our hike. It was so enjoyable that I hiked up and down the ridges and valleys to the east of the PCT for some weeks after Jim went home. Then I started hiking south on the PCT, at first in loop trips, then having someone drop me off and hiking south to the Greyhound bus in Snoqualmie Pass, then after a drop at White Pass east of Mount Rainier, I hiked north to Snoqualmie Pass and bussed home again. By now, hunters were out in force, and with each shot that rang through the forest, I worried. I got off the trail and got a job. Here are some Photos of those 1998 PCT trips.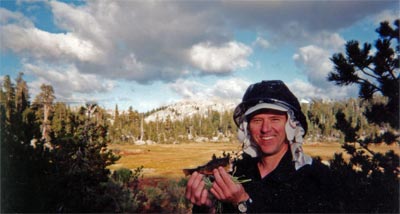 In the fall of 2002, Jim and I visited the Emigrant Wilderness east of San Francisco for a week. He was sick for almost the entire trip, so every day I did long dayhikes by myself. I contemplated my dissatisfaction at work, never being able to design things properly due to mismanagment. I also thought about my long smoldering plans to section hike the PCT over the course of my life. I decided that at the rate I was going, I would never finish a section hike of the PCT, so I should step up the pace. Over the week, my plans progressed from hiking a couple of weeks to taking a couple of months off, and finally to quitting my job and through hiking. It's funny; before I thought this through I had always thought that through hikers were a bit nuts, but then it made perfect sense to me. I guess it's fair to say I went nuts on that trip. Once I decided to quit the job and finish the PCT, it was clear I should rehike the sections I'd already done, after all, it had been years, and it would only require another month or so. I started my thru hike from Mexico to Canada in April 2003. Read about my trip in my 2003 PCT Journals.