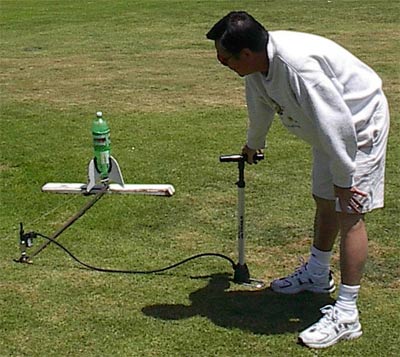 With the ASME San Diego Section and friends, I built some water bottle rocket launchers for educational events for kids. The basic idea is to take a 2 liter plastic soda bottle and fill it part way with water. About one third full is ideal. Now, if you can hold the bottle neck down, and fill the rest of the space in the bottle with compressed air, maybe 100 psig, and let it go, the water will expell from the bottle, and the equal and opposite reaction will be that the bottle flies hundreds of feet up. So the launcher above has a rod with o-ring seals that fits in the bottle neck and seals and guides the bottle. Water is added before putting it on the launcher, the bottle is locked in place, and the bike pump pressurizes the bottle through a hole in the rod. Finally, a string is used to unlock the bottle and it launches.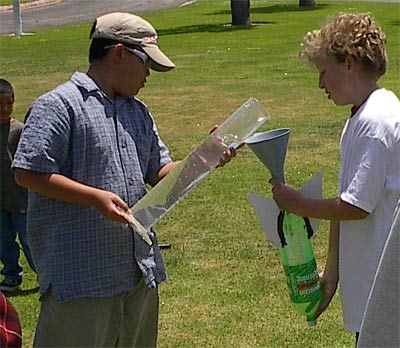 The ASME San Diego Section held annual launch picnics where we would always use the same pressure (measured with a guage on the bike pump), but precisely vary the amount of water(measured as in the picture above with a 2 liter graduated cylinder) for each launch. We would graph the amount of water versus the time of flight, and get a graph that clearly showed the ideal amount of water. Even the youngest kids seemed to understand the excercise right away, and for their first launch would ask for help putting in the best amount of water. In subsequent launches, they would put in more or less water and observe the launches, trying to figure out why they didn't work as well as the optimized launches.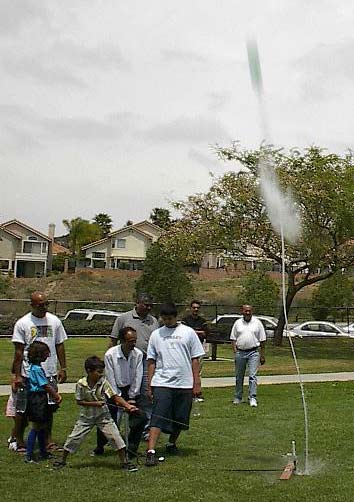 Here you can see the kid pulling the string that releases the rocket. To the right of the launcher's guide tube, what looks like a tall white stick is the water ejected from the Bottle Rocket, and some of the water is splashing in the grass. Higher up, the white blur is mist ejected as the water supply runs out, and the green blur is the 2 liter soda bottle.