Art Leob Trail, 2017
North Carolina
Saturday, May 6, 2017
I left the Foothills Trail on the Auger Hole Trail, and hitched north up US64. I resupplied in Pisgah Park and started north on the Art Leob Trail today. Neither WIFI nor Cell Data got me on the internet. This has been an issue in several stops already. No email, website upload, long range weather, etcetera. A local couple told me to expect 5 days of clear weather, and that north of Asheville the climate is generally much drier. If true, that will be a huge relief after a long stretch of rainy and foggy days broken occasionally by a day or two of sun. Maybe I can get the mildew stink of my gear down to some reasonable level. Or maybe that's just a happy dream...
Camp: beyond Road 475C
Miles: 22 703
Map: 785, 780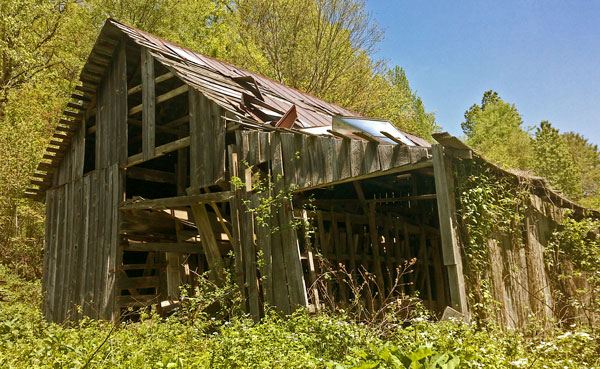 Barn
Sunday, May 7, 2017
With some early morning reading I discovered I coudn't travel in the Shining Rock Wilderness and south to the Blue Ridge Parkway without a bear canister, perhaps 6-8 miles, and probably where I would need to camp. I left the Art Leob Trail and traveled 471, 475, 809, Caney Bottom Creek Trail 361, 225b/a?, 225, 475b, 5041, US276, 1206, and Barnett Brook Trail 618. 361 was partly old logging rail beds, and I found some rotting but intact ties, likely 80+ years old. I found a 5/8" iron rivet that had failed in ductile tensile modes, with a clear shear cone frustum, but with the center zone long since rusted away. The head had large corrosion pits. I also found a Gerber pocket knife. I saw a Pileated Woodpecker, and deer and bobcat prints together in wet sand.
Camp: Barnett Brook Trail 618
Miles: 25 728
Map: 780
Mountains to Sea Trail, 2017
North Carolina's Mountains to Sea Trail travels from the Great Smoky Mountains to the Atlantic Ocean over 1150 miles, visiting most of the state's ecosystem types. Only the mountain areas will be visited on this trip. I will parallel and cross the Blue Ridge Parkway throughout this trip.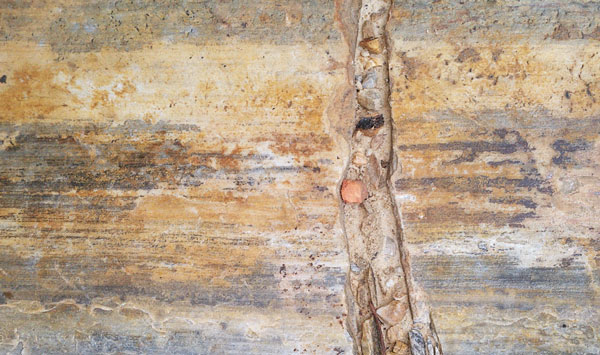 Stone
Monday, May 8, 2017
I joined the Mountains to Sea Trail early, and arrived at the Mount Pisgah Inn in time for a filling breakfast and a great view. WIFI worked near the motel buildings after some fiddling. A gift store and a second store at the north end of the parking lot both had souveniers, maps, books, and junk food. Across the BRP from the second store was a staircase. Descending, zigging left on tread and zagging right on a gravel sewer line road brought me to the hot shower in campground tent loop C in a few minutes. The shower was a great pleasure. I saw soaring hawks and a brown and beige striped 15" Garter Snake, again with a red tongue base and black forked section. I occasionally walked along the Blue Ridge Parkway for views, a change of pace, and a change of footing. There was little sign of the CCC era construction, and all appeared as a modern highway, except for the wooden gaurdrails. I have about 10 days of hiking left until Sale and John meet me in Damascus, Virginia, for Trail Days. They will arrive Thursday or Friday, and they have all of the maps for the north half of this trip. I have about 208 miles left on the Mountains to Sea Trail, about what I can hike in the 10 days. Hiking up the New River Trail and west on the Virginia Highlands Horse Trail to Damascus would take more than a few days. I need to start planning a ride or some other method of arriving in Damascus.
Camp: BRP395 FR480
Miles: 21 749
Map: 780
Tuesday, May 9, 2017
Asheville, North Carolina
I resupplied for 8+ days at Hendersonville Road 25 mid morning, and had an early lunch of Fried Chicken, Mashed Potatoes, Mac and Cheese, a Banana, and Yogurt. I saw a few Canada Geese. The Blue Ridge Parkway Visitor Center had little to display, but I got some maps that will help me plan my jump to Damascus. At US70 I visited a Mexican place for Huevos Rancheros, Rice, Beans, Tortillas, Chips, Soda, etcetera. The Folk Art Center had both a museum and sales of local art, and much more interesting displays on the architecture of the parkway than the visitor center. Then came a big ascent. I enjoyed the view from Lunch Rock, and a few conversations with a couple hiking to Boone.
Camp: Beyond Craven Gap
Miles: 22, 771
Map: 780 for a few miles, then a gap in topo and trail map coverage all day through Asheville. The guidebook I printed was helpful, and suggested resupply locations, and map coverage will continue by mid morning tomorrow.
Wednesday, May 10, 2017
The ruins of Rattlesnake Lodge were pretty, with many dry stacked stone walls and several springs. There were many excellent views. I saw a Blue Jay in spring colors and heard a Turkey.
Camp: West of Potato Knob
Miles: 19, 790
Map: 779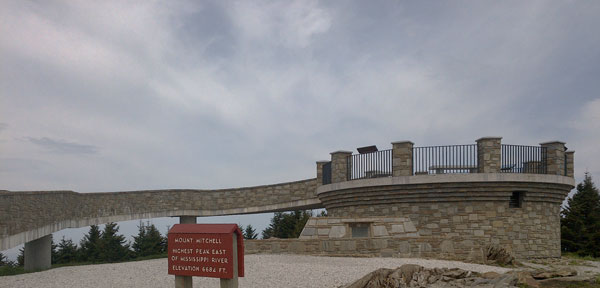 Mount Mitchell
6,684 Feet
Highest Peak East of the Mississippi River
Thursday, May 11, 2017
Last night was quite clammy, and in the morning I found the clouds had descended around me. I had breakfast at the Mount Mitchell State Park Restaurant, the fourth viewfull and rustic lodge of the trip (Cheaha SP, Tapoco Lodge, Pisgah Inn). The summit of Mount Mitchell, the highest point east of the Mississippi, had a nice tower and museum, annd great views. On descent, an Americorps crew was planning 7 weeks of work on the heavily used and eroded trail. Many thanks!! I found an iron radiotelephone wire with an insulator still in a standing, living tree. In the east, this is rare as most trees have been cut or died and fallen since radiotelephones went out of use. The iron wire had lain in the fork of a laurel long enough for the bark of the bush to have grown a tunnel for the wire to slide around in. I rarely get lost, but did today and ended up on roads 472 and 80 through Busick. A store there supplied me with ice cream, chips, a burrito, tomato, banana, and an apple. The stone arch bridge facing at the BRP had every sort of cave like lime formations.
Camp: East of BRP and Horse Gap
Miles: 21, 811
Map: 779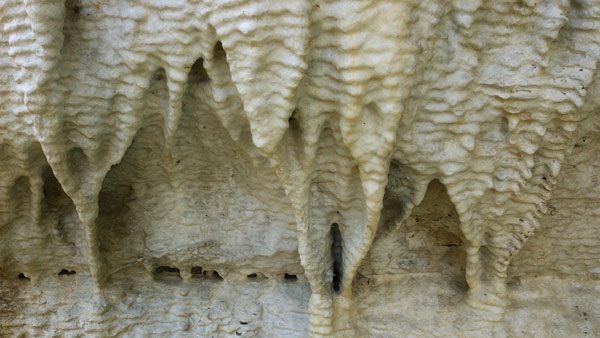 Stalactites
Friday, May 12, 2017
I visited Woods Mountain, finding the ruins of the toilet, outbuildings, and fire tower foundations. On ascent from the Catawba River I saw first two Turkeys, and later a dozen. On Bald Knob icy rain began falling. A very bright lighting flash was followed less than a second later by thunder. I decended and camped over an hour before dark, rather than ascending to Dobson Knob.
Camp: gap between Bald Knob and Dobson Knob
Miles: 19, 830
Map: 779
Saturday, May 13, 2017
I stayed in my hammock an hour after light waiting for the heavy, cold overnight rain to slow. After crossing the Overmountain Victory National Historic Trail 3086, I left the MST to better see Linville Gorge via 106, Kistler Memorial Highway1238, Pinch In Trail 228, Linville River Trail 231, ? Ridge Trail 233 (Bridge Out), MST, and 406. When I first got views of the Gorge, fog was filling it. Later, low clouds former a ceiling below the canyon wall tops. I found a Hiker Shirt, a Pulaski Head, and a new Ball Peen Hammer. I saw two Great Blue Herons in flight, one with a fish.
Camp: before NC 181
Miles: 16, 846
Map: 779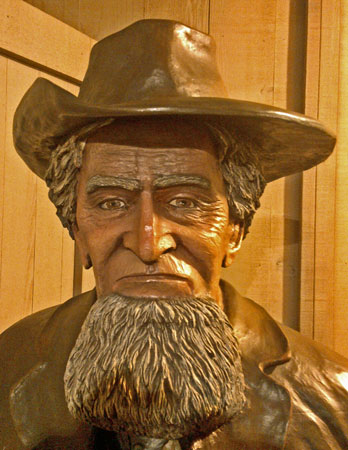 Statue
Sunday, May 14, 2017
The day's hiking was focused on creeks and waterfalls. Besides the logging railbeds which have been typical lately, I found coal, spikes, rails, and rail splices. I saw a frog and some polliwogs.
Camp: Cragg Prong before NC 1511 / FR981
Miles: 17, 863
Map: 779
Monday, May 15, 2017
A trail crew was hard at work near Beacon Heights, paving trailbed with rock slabs and with hand busted rubble. Many thanks. I saw two Turkey Vultures. The carriage roads in Moses Cone had nice dry laid stone retaining walls.
Camp: Moses Cone
Miles: 24, 887
Map: 779, 783 does not show Mountains to Sea Trail nor Blue Ridge Parkway miles, so is less useful.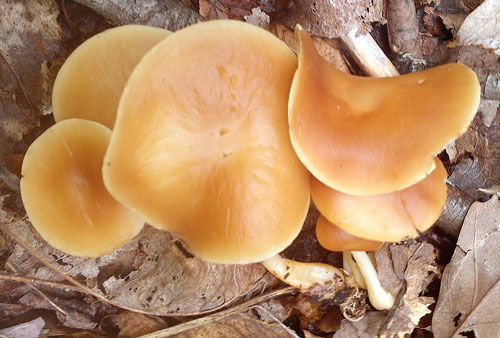 Mushrooms
Tuesday, May 16, 2017
While resupplying in Blowing Rock, a hiker who had just thru hiked the Te Araroa using Guthook told me the traffic on the trail is already exceedind its capacity and causing problems. I saw three White Tail Deer and a Groundhog. I got cell calls through to John and my Mom, which has been quite difficult on this trip. A few miles of the Blue Ridge Parkway were being repaved with 2 asphalt layers, and I had to walk right through the project. I was surprised by the land vibrating as I passed the roller.
Camp: Jeffress Park
Miles: 24, 911
Map: 783 does not show Mountains to Sea Trail nor Blue Ridge Parkway miles, so is less useful. 773 is printed with a fade away from the New River. BRP miles and sites are not shown, neither is the MST.
Wednesday, May 17, 2017
My last few miles on the MST and BRP had some excellent views of distant mountains from hilltop pastures. I left the Mountains to Sea Trail and the Blue Ridge Parkway about noon at Callaway Gap. Callaway Gap Road (little traffic) and 163 (fast traffic, few areas to pull over) were not great for hitching, so I walked until 3 miles from West Jefferson. There were many Christmas tree farms, and the New River looked like a nice place to paddle. But in West Jefferson I took a break for food and WIFI, and my feet sure appreciated the break too. A couple more hitches after the town walk got me to the ruins of Farmers Store, and I walked Farmers Store Road to Virginia and its Creeper Rail Trail. Quiet country roads here have nice scenes of country homes with large lawn areas. I saw a Hawk and a Raven in a brief dogfight. Later, a Redwing Blackbird in brilliant colors flew about an open pasture, which was quite a pretty show. Along 163 were several roadkilled Raccoons and a Deer.
Camp: Virginia Creeper Rail Trail, loud frog and bird song
Miles: 23 934
Map: 773, 786