Garter Snake
Colorado's Great Divide Mountain Bike Route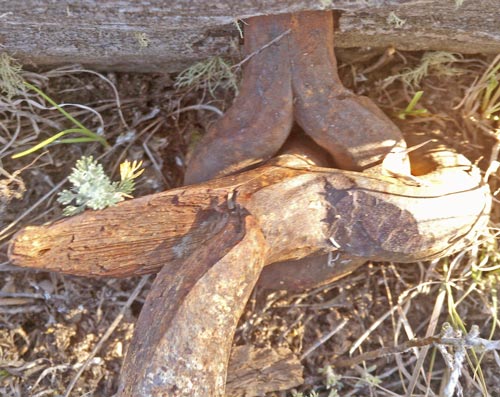 Broken Hand Forged Hinge
Thursday, September 1, 2016
Several 20" speckled Garter Snakes were sunning themselves on the road early in the morning. One was lethargic or calm enough to let me take pictures, but I shooed him away when a car wanted to pass. There were several road killed 8" Garter Snakes. Additionally, 2 30" Rat Snakes with a green splotched back pattern were road killed. A few Mule Deer were present, but archery seasons for Deer and Elk, as well as gun seasons for Bear and Grouse, had just started. Every spur road on public lands had hunt camps, and wildlife sightings will fall for a while. But two hunters each gave me a pint of water on the technical, pushing, hot ascent, so many thanks.
Miles: 45 1566
Camp: south of Clark
Maps: GDMBR3B/S, BLM 30' x 60' Quad ?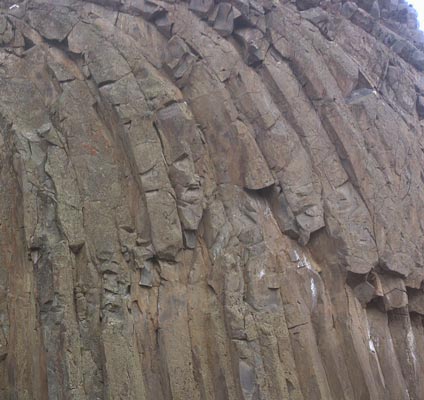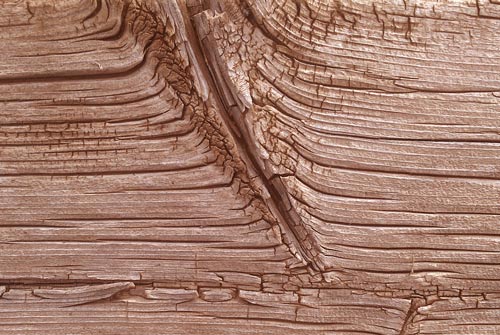 Wood
Friday, September 2, 2016
A cold rain fell overnight and into the morning. As I rode by the many motels of Steamboat Springs, it occurred to me that I could hide from most of the storm with one motel night, and checked in. The slow leak on the rear tire accelerated. When I patched that leak, another appeared on a seam. I went to a spare and discarded the leaky tube. I lost my gloves again and replaced them with cheap fabric gloves half dipped in rubber (They lasted to Mexico.). I made a rain cover for all the gear stowed on the rear rack from a heavy garbage bag. I shortened the bag so it stretched over my sleeping bag and clothing stuff sacks atop the rack to just below the base of the saddlebag panniers. Tying the bungee lines that secured the stuff sacks and compressed the panniers over the trash bag secured the rain cover. (The arrangement worked quite well and I used it on rainy days to Mexico.)
Miles: 18 1584
Camp: Steamboat Springs Rabbit Ears Motel
Maps: GDMBR3B/S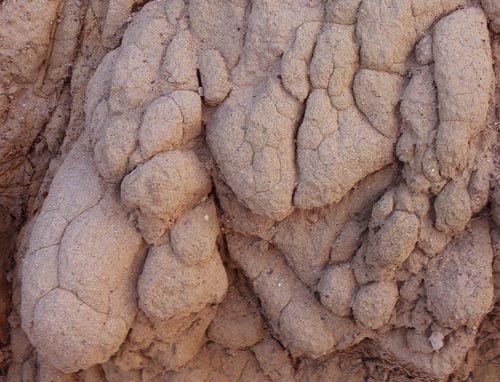 Sandstone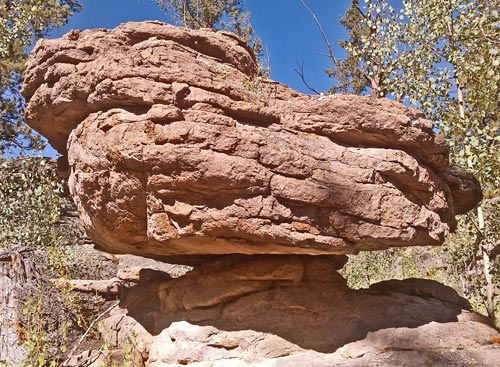 Balanced Stone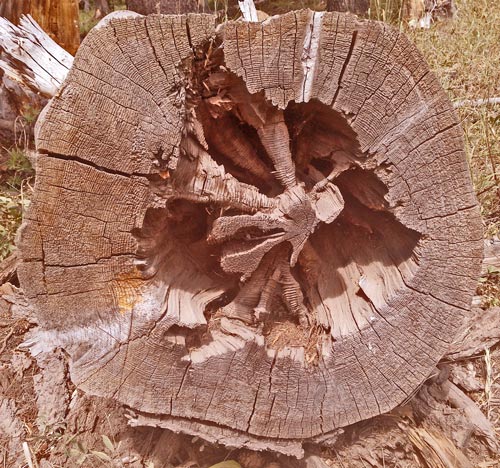 Hollow Tree
Saturday, September 3, 2016
I waited out the rain until checkout time and then left town through a bike race and dirt road traffic boosted by Labor Day and hunting. Cold rain and hail fell occasionally. I saw a road killed slender green 14" snake and several Garter Snake car victims too. There was one live 20" Garter Snake. Other wildlife was in hiding due to hunting. I saw one gutted Mule Deer buck with small antlers. I stopped at the circa 1880 Rock Creek Wells Fargo two story Stage Station and peeked in the windows: there was little to see.
Miles: 45 1629
Camp: Beyond ford of Rock Creek
Maps: GDMBR3B/S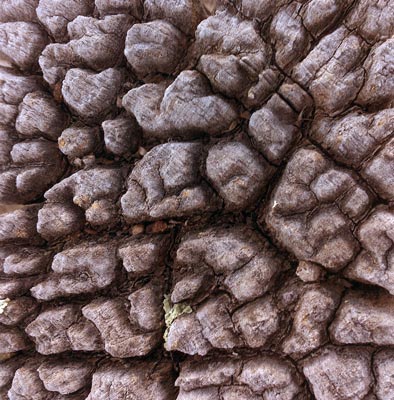 Wood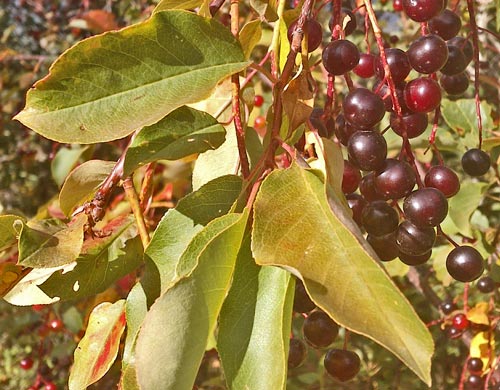 Berries
Sunday, September 4, 2016
There was some cold rain and enough sticky mud to load my brakes and transmission. Towards the end of the day I passed the Climax Molybdenum Henderson Mill with its massive pods, tailings piles, and processing buildings.
Miles: 71 1700
Camp: Ute Pass
Maps: GDMBR3B/S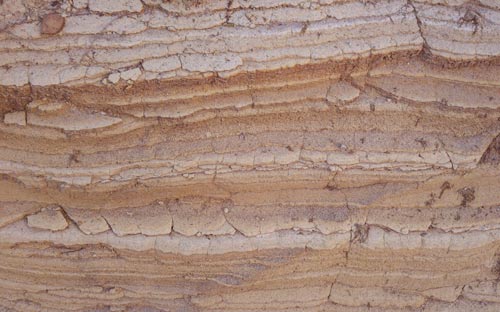 Sandstone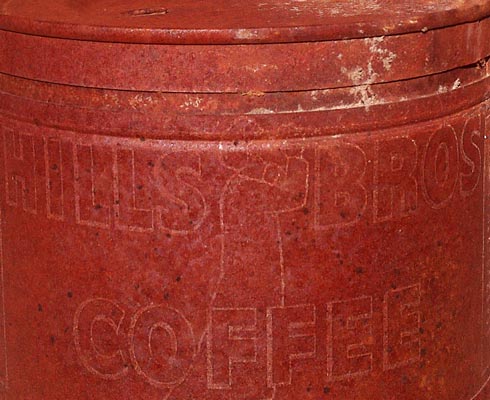 Can
Monday, September 5, 2016
There were interesting displays on gold dredging and on recovering natural appearing valleys from the resulting mess of rock piles. Then there was an obviously artificial trout channel for the Blue River. It was pretty enough and might look natural to someone who spends less time looking at streams. There were various narrow gauge railroad displays and the route over? Pass was the old narrow gauge route. And I stopped for a sawmill museum. A great deal of traffic was, I hope, related to Labor Day. If traffic and giant RV dispersed camping greatly decreases due to the end of summer, the end of the holiday, and the hunts slowing, I won't be dissapointed. A cowboy hat style sunshade that attaches to a bike helmet known as Da Brim is available from the Internet. The sport model is sufficiently heavily constructed to be useful, whereas a lighter model flops about and detaches at normal riding speeds. A mirror known as SafeZone stays in adjustment in spite of bumpy roads.
Miles: 68 1768
Camp: Elkhorn Road 15 and Remington Road
Maps: GDMBR3B/S, GDMBR4A/N


Carving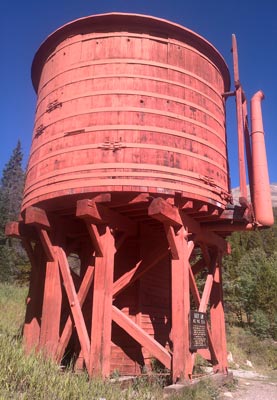 Baker Tank
Tuesday, September 6, 2016
While the morning was still bitterly cold, a ceramic sleeve shattered, jamming a derailleur idler sprocket. The sleeve serves as an axial spacer to torque the mounting screw against and as the inner plain bearing surface against which the cylindrical hole integral to the polymer sprocket rides. I jerry rigged the sprocket using the two metal dust caps against the screw as the bearing and torqueing the mounting screw to just allow rotation. A few hours later the mounting screw backed out. I searched the dirt road for the scattered parts and reassembled the derailleur, this time with Loctite in the threads. This repair held. I also made a complex adjustment to the front brakes to adjust for pad wear and to keep the steel cables off the tire tread knobs. The 2.2" tires were selected to just barely fit within the frame and brake calipers, and care with clearances is necessary. I had a leisurely breakfast of excellent hash browns and huevos rancheros with an 80 year old local retired rancher. Winds were so stiff I sometimes had to push the bike into them. There were a few cold, quick rain showers. I saw two Bison herds on ranches. A cow Elk and I spotted each others as we rounded a blind corner. She bolted, and I could hear sticks breaking for minutes after as she maneuvered to stay out of sight. A passing motorist gave me an ice cold beer to celebrate crossing the unnamed pass.
Miles: 57 1825
Camp: Santa Isabel NF Road 175 beyond FR 185, 182, and 181
Maps: GDMBR4A/N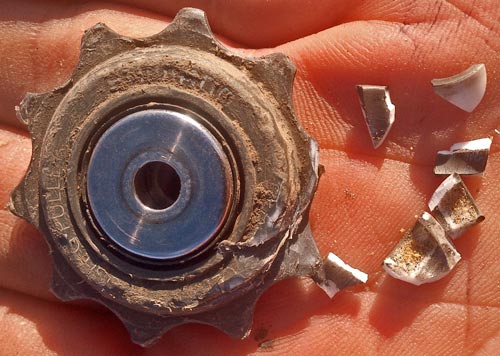 Idler Sprocket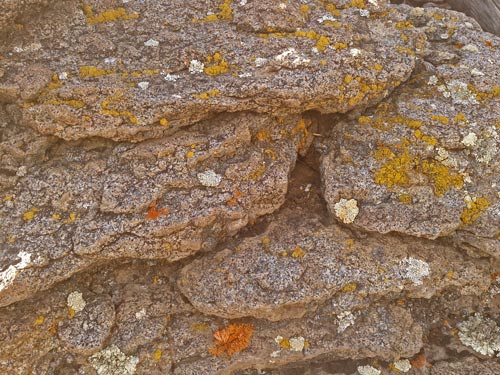 Lichen
Wednesday, September 7, 2016
I was able to buy a replacement idler for a few bucks and fix my derailleur in Salida. And that's where the Mule Deer have been hiding. Hundreds munched on pivot irrigated hay fields adjacent to Salida, and many even wandered the neighborhoods grazing lawns. I took the Poncha Creek Road 203 alternate and got a chance to observe a Marten for a while. From about 8' away, on the opposite side of the creek, I watched as he sniffed various rodent burrows for a few minutes. He never seemed concerned at my presence, and eventually hunted off out of sight. I also saw a Garter Snake and many beaver dams. Rail grade 243 descending from the pass, the CDT, and the CT, had iron rivets, rail spikes, coal, and other rail debris. I saw 5 Mule Deer and a Coyote.
Miles: 48 1873
Camp: Gunnison NF west of Sargents
Maps: GDMBR4A/N, GDMBR4B/S, NGTI139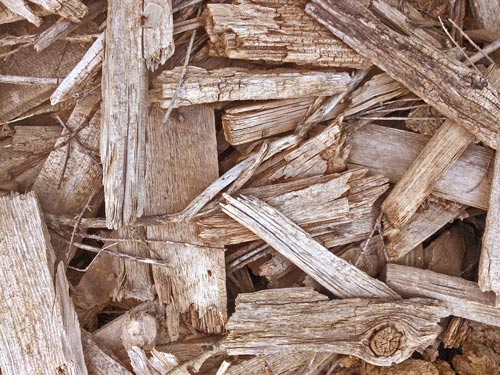 Wood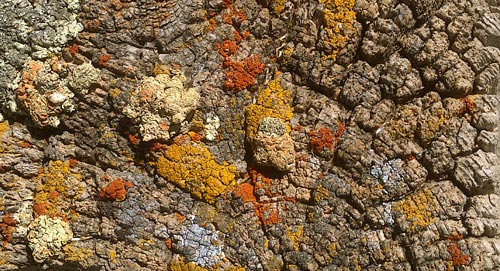 Lichen
Thursday, September 8, 2016
On this surprisingly wildlife free day, I saw one Bluebird, one Magpie, a couple of nondescript little brown birds, a couple of ground squirrels, and cattle. An old telephone line on peeled but not lathe cut poles and with insulators screwed to wooden brackets was clearly abandoned, with poles down and insulators taken, but was fairly recently hooked to a reasonably modern telephone junction box. In some places, the poles were not held up in augered holes but by rock filled baskets made of sawed poles with insulator brackets. There was a concrete livestock dipping trough with pole corral walls and a boiler on steel wheels. Many bats flew over the campsite, and there were many meteors and satellites to see.
Miles: 69 1942
Camp: Rio Grande NF a couple of miles north of Carnero Pass
Maps: GDMBR4B/S, NGTI139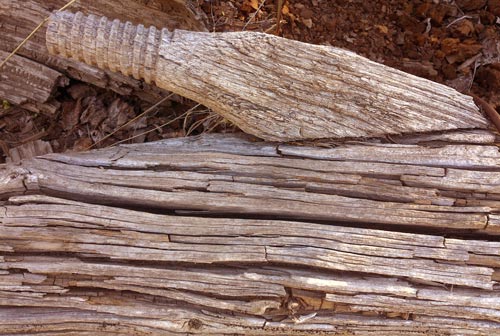 Old Telephone Pole and Insulator Screw Mount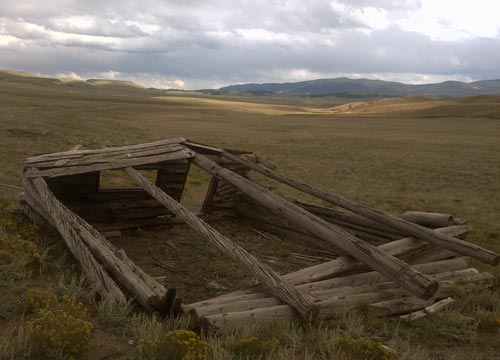 Log Cabin
Friday, September 9, 2016
I saw a Coyote, a couple of lone Pronghorn, many Gunnison's Prairie Dogs Cynomys gunnisoni, some Grey Jays, and some Magpies. Breakfast in La Garita was great, and two bike groups were there. A woman told tales of harassment of female cyclists: 1 - a guy in a moving car pinched her butt as she rode, 2 - as her friend rode, a guy masturbated as he drove alongside, and 3 - a guy swinging a long knife by a bike path scared 3 gals into returning to the parking lot, where several cops were waiting. When they told the police, they said "That's who we're looking for, he threatened a fisherman!"and all drove off down the bike path. Compared to that, my complaints of creepy weirdos harassing female hikers seem tame. In Del Norte, I met the same rancher in both the auto parts and food stores. He said ranching in the valley is great, with cattle growing big on relatively high protein grass. Prairie Dogs were easily enough controlled by shooting them or stuffing gunny sacking in the holes. (Cattle break legs in Prairie Dog tunnels.) The valley filled with civil war veterans and other displaced people in the early 1870s.
Miles: 57 1999
Camp: Rio Grande NF FR330 south of FR 332 Y junction, Coyotes howling
Maps: GDMBR4B/S, NGTI142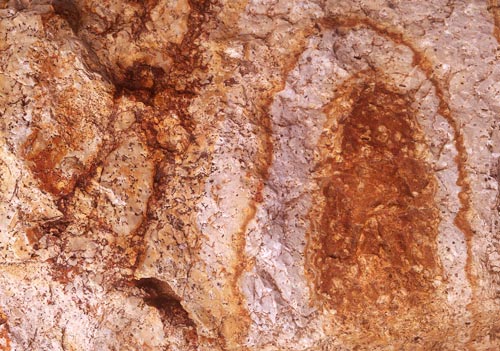 Stone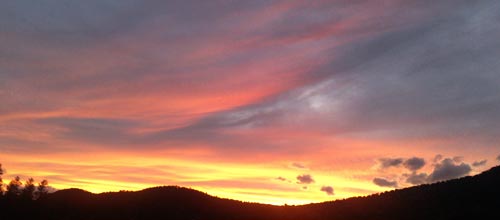 Sunset
Saturday, September 10, 2016
I saw a Coyote, a Mule Deer, a Redtail Hawk, some Grey Jays, and some Magpies. The Superfund Site at Summitville looked fairly active and other mimes nearby probably have similar problems. Much water today was visibly contaminated. Many hillsides and debris piles were brightly colored. In one rotting tree, the walls of insect tunnels had resisted dry rot that otherwise had consumed most of the wood.
Miles: 55 2054
Camp: Ascent to Mangus Pass, Colorado Highway 17
Maps: GDMBR4B/S, GDMBR5A/N, NGTI142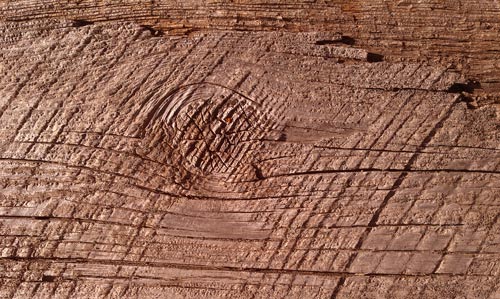 Wood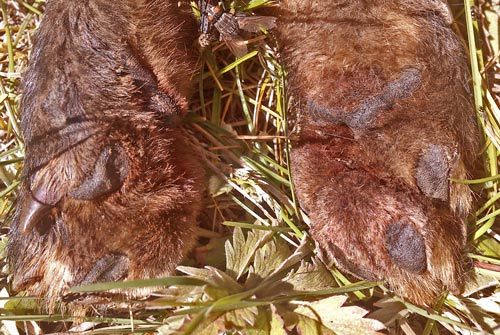 Red Fox Front Paws