Appalachian Trail, Rutland, Vermont thru Maine, 2016
Friday, June 10th, 2016
I zeroed in Rutland. I was in email contact with Garmin hoping to recover the ability to display the built in topo maps, something that made my device very expensive. The unit had also been turning itself on in the middle of the night, wasting battery charge and making me angry and worried instead of sleeping. A reset they recommended caused the 100k topo maps to not even be in the menu as an option. A new software version would require a computer, internet, and special Garmin software. Maybe a library computer in some upcoming town? This sort of stuff is not easy from the trail.
The iPod 4 I use to write this website has not been able to FTP the files to the server for some time. After many attempted cures, I gave up, emailed the files to myself, and FTPed them from a borrowed laptop computer.
I also helped a guy at the hostel who had dayhiked before and was contemplating hiking southbound on the AT. There are a million things that need to be explained in these cases. Before my flip to Canada I had helped another guy in similar circumstances. This hostel / Christian commune seems to attract people who don't know what to do with their lives.
I finished reading Linda Masterson's Living With Bears.
Miles: 0 1579
Camp: Rutland
Map: Long Trail Guide (book)
Long Trail Division: -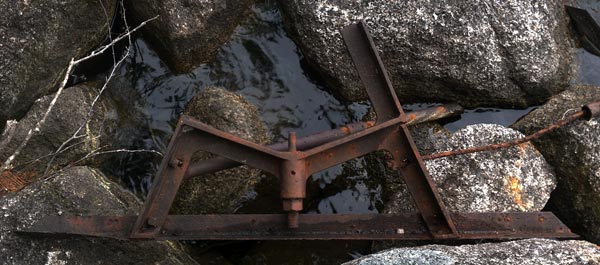 Saturday, June 11th, 2016
It rained all day. I saw a 3D spider web which was sort of a space frame above suspending ¾ of an oblong 3½" diameter ball shaped hollow, open to the bottom. (I saw just a few more of these on the rest of this trip.)
Miles: 18 1597
Camp: Winturi Shelter
Map: Long Trail Guide (book)
Long Trail Division: AT 1
Sunday, June 12th, 2016
It was cold, but didn't rain much. When I got to the White River, I and 3 others (Bumblebee, Tomahawk, and Young Gun) were invited in by the Hart family. We enjoyed beer, soda, a cooked dinner, nice pets, and wind protected beds above the garage.
Miles: 17 1614
Camp: Hart's
Map: Long Trail Guide (book)
Long Trail Division: AT 1, 2
New Hampshire
Monday, June 13th, 2016
No rain fell today, and clear weather should last a week at least. The Harts fed us eggs, toast, pancakes, muffins, and coffee. Many thanks. A day of big eating from various trail magic and business sources included sodas, watermelon, banana bread, wheat bread with avocado, a seafood salad sandwich, a breakfast sandwich, 2 bananas, a donut, a cheese pizza slice, a hard cider, and a candy bar, most free somehow. Norwich, the Connecticut River, the state border, and Hanover were highlights.
Miles: 21 1635
Camp: Moose Mountain Shelter
Map: Long Trail Guide (book)
Long Trail Division: AT 2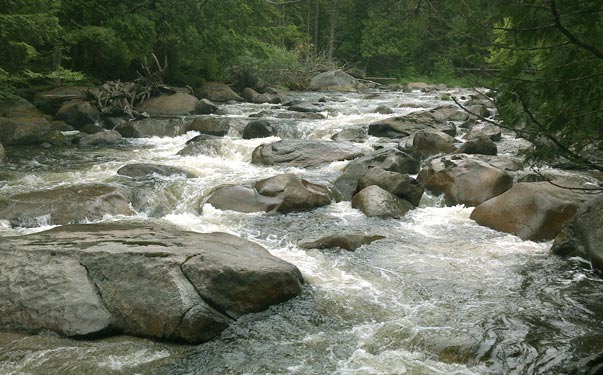 Tuesday, June 14th, 2016
The Fire Warden Trail had an old garage with a snarl of old ground loop telephone wire, and there were a few old poles supported by large piles of rocks. The bedrock was shallow and often exposed: Therefore holes for the poles would not have worked. There was a crew working on the cabin and lookout tower.
Miles: 18 1653
Camp: Hexacuba Shelter
Map: ATC 3/4
Triple Crown
Wednesday, June 15th, 2016
I finished the Triple Crown, or the Pacific Crest, Continental Divide, and Appalachian Trails, when I crossed Road 25C. I celebrated right there by eating a brownie and singing the Rocky theme song, and later at the hostel with a case of beer and sixteen chili dogs for everyone. Of the next 10 days, only Tuesday the 21st has scattered thundershowers predicted.
Miles: 15 1668
Camp: Hikers Welcome Hostel, Road 25
Map: ATC 3/4
Thursday, June 16th, 2016
From my 2010 hike here, all I've remembered so far are the rock wall windscreens on Mount Moosilauke and the trash cans and toilet at the Road 112 parking lot. It seems a shame I didn't remember the long series of waterfalls along Beaver Brook. A Moose was lounging in the heather a few feet from the trail just before entering the trees on descent from Moosilauke. I'm guessing he had been sunning himself there frequently enough to become inured to hikers walking within feet of him. That makes him a unique moose indeed.
Miles: 13 1681
Camp: Mount Wolf South Ridge
Map: ATC 3/4
Friday, June 17th, 2016
There was a live tree that had been hollowed and was home to a batch of noisy woodpecker chicks. On ascent to Liberty Springs Campsite, there were many more toads than I've been seeing lately. I could hear loud partying at the campsite from quite far away. In the site, an uncontrolled dog bared his teeth and barked and growled at me. The smell of marinated meat roasting over fires called to bears miles away. The cost to be awakened all night by vermin after spilled food, growling dogs, party people, and bears was $10. I hiked another half mile and camped. It rained lightly for a few minute before dark.
Miles: 15 1696
Camp: past junction Liberty Spring, Franconia Ridge Trails
Map: ATC 3/4

Saturday, June 18th, 2016
Long distance hiking friends had often recommended: 'Don't hike through the Whites without doing a work for stay.' So when I reached Galehead, I enquired and was accepted. Galehead sleeps 38 paying guests and has a half dozen Croo. My 'work' consisted of a Q&A session about hiking technique and my 23,000+ miles of hiking and sweeping the dorms in the morning. I would have happily done a lot more work. In return, a dinner of a whole lot of corn, turkey, bread, and pumpkin pie answered a burning thruhiker hunger, and a breakfast of sausage, eggs, pancakes and Oatmeal was a great start to the day. I had time to read 3 books on forestry and one on search and rescue, as I stayed from 3pm until almost 9am.
In 2010, my hike through the Whites was constantly compromised by atrocious weather. There were many miles I skipped or detoured around. This time, the weather is great. The sun is shining and there is a comfortable breeze. I hope it continues, as I am walking gorgeous alpine ridges with 360° views. The White Mountains are both famous as the playground of all of New England, and especially Boston, because when the weather is good, the beauty can't be beat, and also infamous because bad weather kills hikers here every year.
Miles: 10 1706
Camp: Galehead Hut
Map: ATC 3/4
Sunday, June 19th, 2016
I saw an American Marten Martes americana. The fur was dark chocolate in color and of uneven length, making it look fuzzy, like a kitten.
The trail was a high quality wide rail bed after Zealand Hut until the Shoal Pond area, and I wondered whether it had been built for mining, tourists, or etcetera.
Since Rutland, I've seen Young Gun, Tomahawk, and Bumblebee a few times a day. They are all nice, happy people, so every encounter is a real pleasure. Boots, who thru hiked the AT with Young Gun in 2015, drove us to a store and to a bar for burgers. Again, hunger pangs are great now, so Many Thanks.
Miles: 15 1721
Camp: Ascent from Crawford Notch
Map: ATC 3/4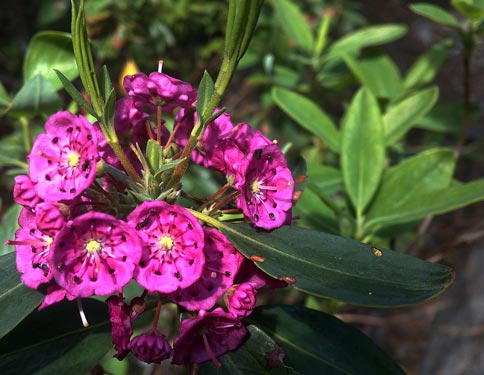 Monday, June 20th, 2016
Because I'd walked the AT north of Mount Washington in 2010, I asked a few people working on the ridge of the Presidentials what they thought would be the most beautiful way to Pinkham Notch. A trail maintainer said the Camel, Davis, and Boott Spur Trails from Lake of the Clouds to Pinkham Notch would offer little visited alpine ridges with great views. The trip down was very pleasant. There were many great views today.
Miles: 17 1738
Camp: Ascent from Pinkham Notch
Map: Map Adventures White Mountains
Tuesday, June 21st, 2016
The cook at Carter Notch Hut told me seeing Martens is not rare in the Whites, and that one often visits the hut area. It makes sense that a Marten might frequent high use areas to hunt the numerous fat incautious rodents feeding on dropped food scraps. I have been seeing many scats likely from Marten: placed prominently, ropey from a meat diet, of the right size, and horseshoe shaped.
Miles: 17 1755
Camp: Rattle River Canyon
Map: Map Adventures White Mountains
Wednesday, June 22nd, 2016
I took a near0 in Gorham, NH to clean up and resupply for the ~300 mile trip to Mount Katadyn, Maine. There were heavy rains through the afternoon. Movies included Blazing Saddles, The Way, Squatch's Camino movie, One Flew Over the Cuckoos Nest, and a documentary on the Boston Globe investigation of the Catholic Clergy sex scandal.
Miles: 3 1758
Camp: White Mountain Hostel, Gorham
Map: Map Adventures White Mountains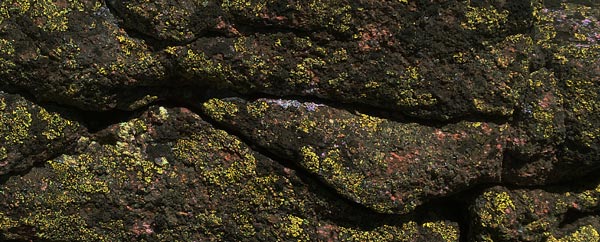 Thursday, June 23rd, 2016
Overnight and through the morning I was a little sick, with headache, slight fever, and nausea. I felt better by early afternoon and left after a couple of additional hours of feeling good. At the store, I saw canned brown bread, something I remembered from childhood trailer camping trips. I bought a can and I and a few other hikers sampled it. It was better than a lot of bread I've been forced to buy in tiny stores near trails, but neither I nor any other hiker wanted to pack steel cans around. It sprinkled a bit. Rain is not expected again until Monday night and the few days following, each with some chance of precipitation.
Miles: 5 1763
Camp: beyond Dream Lake
Map: NGTI 741
Maine
Friday, June 24th, 2016
There were Black Bear and Moose tracks on the trail. One family of Grouse flushed with the mother using the typical distress lead away, and another Grouse with bright red eye markings stayed in a dust bath hole right next to the trail, only standing as I passed. Piles of logs and planks had been helicoptered in for a bog bridge replacement project.
Miles: 12 1775
Camp: Full Goose Shelter
Map: NGTI 741, MATC 7
Saturday, June 25th, 2016
Highlights included the boulders and snow in Mahoosuc Notch, a swim in Speck Pond, trail magic of cinnamon swirl bread, fruit leather, cookies and strawberries, the view from the Old Speck Fire Tower, and finding $40 at Grafton Notch. Also, joking about the time we fire roasted stuffed apricots with Lord Snot Rocket and Lost Giggles in New York. I saw a 14" Garter Snake of more typical body thickness than the heavies I've noted earlier on this trip.
Miles: 13 1788
Camp: ~Baldpate Shelter
Map: NGTI 741, MATC 7
Sunday, June 26th, 2016
I saw an 8" Ringneck snake, very slender, with a cream orange ring. I flushed a grouse and saw bear scat, and Moose tracks and scat. It was very hot and humid: I walked shirtless and took several hiker swims.
Miles: 17 1805
Camp: Moody Mountain
Map: MATC 7
Monday, June 27th, 2016
For two days it has been very hot and humid. Though I've hiked shirtless, I'm often dripping in sweat. I rinsed and squeezed my hat 10 times and white salt was still exuding from it. I'm starting to develop friction rashes in unpleasant places. This afternoon, black clouds came in and just a few occasional drops came down. Though the temperatures dropped some, the humidity was quite high and the dripping sweat continued. I found a soda this morning.
Miles: 17 1822
Camp: Bates Ledge north of Long Pond
Map: MATC 7, 6
Tuesday, June 28th, 2016
I saw one of the thicker Garter Snakes, and later a very fast 6" one. In Long Pond, many 4" Leeches were swimming about, some finding and feeding on a 6" dead fish. There were several ponds I swam in. The day was a little cooler.
Miles: 15 1837
Camp: Ascent to Saddleback Mountain
Map: MATC 6
Wednesday, June 29th, 2016
It rained enough before dawn to saturate the overgrowth and slicken the rocks. The view from Saddleback was of fog in valleys, mist, and other rain effects. An afternoon electrical storm had close strikes, but I was in dense woods. SOBO Heart Attack gave me most of a huge brownie to top off my dinner.
Miles: 14 1851
Camp: Spaulding Mountain Lean To
Map: MATC 6
Thursday, June 30th, 2016
There was rain overnight, but today was clear and nice. My route: AT, Caribou Valley Road, 27, AT, Stratton Brook Pond Road, Fire Warden Trail, AT, Ol Man's Head, Safford Brook Trail, East Flagstaff Road. I took one nasty faceplant fall into a thicket of pine saplings. A stick poked me under the right eye and caused some swelling, and another poked into my nose a little and caused a lot of blood to flow for a very short time. Four vertebrae in my neck popped. It all happened so quickly I don't know the footing failure. The footing of the treadway of the AT is generally very poor. I hike slowly and with great caution, as any fall like this could have much worse consequences. Later I noticed the delaminated sole of the toe of my right boot snagged something. I may need to cut a slit in the sole toe so it can't hook things, or reglue the boot if I can find appropriate rubber cement. I saw three color schemes on garter snakes today: light green and copper, brown and speckled, and light beige and speckled. Several Ruffed Grouse hens displayed for me, two starting with aggression, but all ending with distress. There is a Northern Forest Canoe Trail across Flagstaff Lake, and perhaps much further?
Miles: 23 1874
Camp: East Flagstaff Road
Map: MATC 6, 5
Friday, July 1st, 2016
The weather was nice, but a little hot. Morning Loon calls were beautiful. Maine Hut System trails not on MATC 5 might make nice side hikes. The Great Carrying Place Portage Trail uses some of today's AT. Benedict Arnold used this trail to sneak up on Quebec in 1775. The portage trail is open to hiking today, but less clear is whether it conveniently connects with modem day canoeing routes. More info may be found on USGS Carry Pond Township and at arnoldsmarch.com.
Miles: 19 1893
Camp: Pierce Pond Lean To
Map: MATC 5
Saturday, July 2nd, 2016
Neither Tim Harrison's Pierce Pond Camp 12 pancake, eggs, and sausage breakfast, nor two burgers and a milkshake in Caratunk filled me up. Thru hiker hunger is on!! No rain is predicted until Thursday night. I took a short day at Pleasant Pond Shelter and repaired various equipment.
Miles: 10 1903
Camp: Pleasant Pond Lean-To
Map: MATC 5, 4
Sunday, July 3rd, 2016
I remember little of my 2010 hike in Maine an New Hampshire. But from September 4 and 5 of that year, I recall the River crossing, Ally's ankle issue, a hornet nest, and bagpiper Kris, all sites I passed today. A little rain fell in the afternoon.
Miles: 22 1925
Camp: Horseshoe Canyon Lean-To
Map: MATC 4
Monday, July 4th, 2016
Poet, the new proprietor of Shaw's, offered me a new pack, saying mine 'looked a little lobsided'. My pack probably had another couple thousand miles to go, but it certainly was not new. I tried out the pack, probably left by some other hiker, and it seems nice. So I'll walk out tomorrow in a shiny new pack rammed full of food.. There is some chance of rain every day through Saturday, with Sunday and Monday rain free.
Miles: 8 1933
Camp: Shaw's, Monson
Map: MATC 4
Tuesday, July 5th, 2016
With hiker box powdered milk and cocoa, and donuts from Pete's Bakery, I had chocolate milk and donuts or sandwiches several times today. I hadn't seen deer for weeks, but a White Tail gave an alarm call of "Chuf", and a raised tail, and ran off. Last nights dinner of burgers, bratwurst, Mac and Cheese, and Cole slaw, and a breakfast of eggs, potatoes, pancakes, and bacon, have cured my hiker hunger for a while. I think it helps that the hike has become easier after the Bigelowes. 100 miles from the end, I am entering the strange warp in time and space that comes when life is about to radically change. As I'm figuring out my travel home, it still seems unreal that the hike will end in just a week.
Miles: 15 1948
Camp: Long Pond Stream Lean To
Map: MATC 3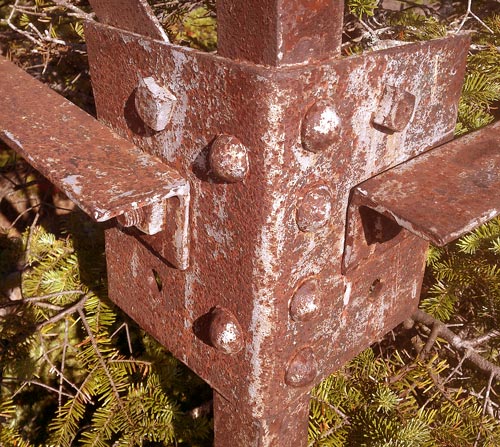 Wednesday, July 6th, 2016
The Barren Mountain Tower was a great memory from 2010. Lots of old hardware was interesting, including some hand forged eye bolts from some previous tower. Fourth Mountain Bog had nice Pitcher Plants and Sundews. Late in the night, a rodent bit my right index finger, to the thumb side of the nail.
Miles: 21 1969
Camp: Carl Newhall Lean To
Map: MATC 3, 2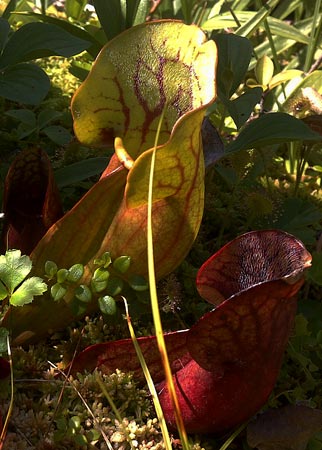 Thursday, July 7th, 2016
It rained all day, and views were obscured by mist. Everything was very slippery. I returned to 38 a pair of rain pants I found a week ago.
Miles: 19 1988
Camp: Cooper Brook Falls Lean To, falls very turbid / brown, 20 tents
Map: MATC 2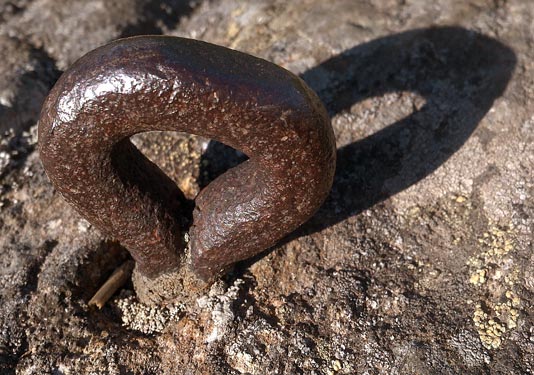 Friday, July 8th, 2016
It was cloudy and cool, with only a moment of drizzle. Section hikers gave me nuts and chocolate, 3 freeze dried dinners, and milk shake powder.
Miles: 22 2010
Camp: Wadleigh Stream Lean To
Map: MATC 2, 1
Saturday, July 9th, 2016
I met Thorny, who I had last met at the eastern intersection of the Tuscarora and Massanutten Trails. He didn't think the Massanutten connected to transportation easily and recommended using Harpers Ferry as an end to a future hike of the AT section paralleling the Tuscarora. I saw a fox, and heard him yip down the hill from where I'd seen him. I later heard howling, not like wolf or coyote, but perhaps a hybrid, or some type of domestic dogs. I met Seabass, now working as a guide for one of many summer camps running teen groups through the 100 mile wilderness. He and Nell, a British hand rolled chain smoker, hitched out of Etna last year on the PCT with me. The ride was the town fire chief, and we were let out on a curvy mountain road so he could respond to a call for a house fire and an old man having trouble breathing. He and I discussed the Mountains to Sea Trail, as he now works in North Carolina. He and Nell finished the PCT in 2015.
Miles: 20 2030
Camp: Hurd Brook Lean To
Map: MATC 1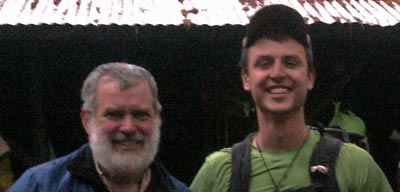 Sunday, July 10th, 2016
I saw a moose on the trail perhaps 75 yards away, but couldn't hear her walking away or see her through the forest from where she had been. Abol Bridge had an all you can eat breakfast and snack foods for tomorrow's Katadyn climb. I took pictures of the cascades and the toll dam on the hike into Baxter State Park. NGTI, Baxter SP, AMC, and others has topo maps of Baxter, but the Map Adventures trail map of the entire park was non topo, with topo details of popular areas. NGTI had also two maps of the lake park to the north. We met Shelob, often ahead of us recently, at The Birches. 38, Bumblebee, Tomahawk, and I have been camping together through the 100 mile wilderness so we can summit and terminate together. I've seen Bumblebee and Tomahawk regularly since Rutland. Bumblebee's mom will join us for the summit tomorrow.
Miles: 14 2044
Camp: The Birches Lean To
Map: MATC 1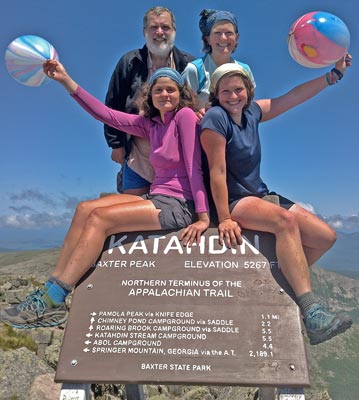 Monday, July 11th, 2016
Halfway up the Hunt Trail / AT 38 found that summiting together wasn't right for him and took off. The rest of us enjoyed a leisurely trip up the AT and down the Knife's Edge, over Pamola Peak, and down the Helon Taylor Trail. The weather was mostly clear, with a few picturesque clouds. Views were great. I stared longingly at the long canoe route lakes heading north. This region is famous as a long canoe trip destination. The views were savored all the more because inclement weather had blocked all the views of Katadyn from the 100 mile wilderness. Soon enough we enjoyed showers and dinners in Millinocket.
Miles: 10 2054
Camp: Hostel, Millinocket
Map: MATC 1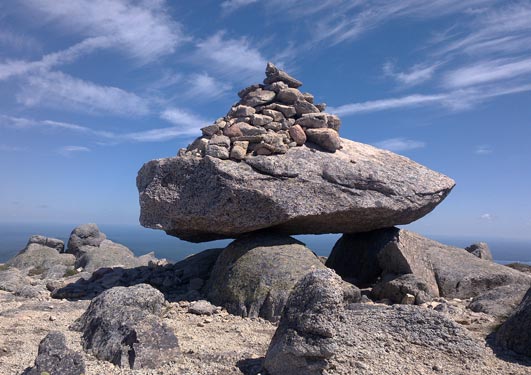 Post AT Thoughts
Heath Issues
Though I've never had knee issues before, my knees hurt a little through this trip. Many steep ascents included 2' steps which strained muscles, especially when the geometry of the rocks forced strange joint alignments. Steep descents including jumps or ending in unstable footing punished joints. The pain tapered down to nothing over a few days once I'd passed the Bigelowes, and returned briefly following Katadyn.
The skin in front of my thighs often had many small pustules. I suspect they were caused by bug bites, although why they would not form on other bitten body parts is a mystery. Perhaps my shorts riding there, and occasionally pushing my knees with my palms on tough upsteps are partly responsible.
My eyelids and sockets area developed a friction rash from repeatedly wiping black flies and other bugs, and sweat, from my eyes from Vermont onward. Groin friction rashes came and went with hiking wet due to sweat or rain.
After the north end of the Long Trail I briefly has athlete's foot, which I treated with a cream.
Tuscarora Bypass
Though I feel I've finished the AT with this trip, I'd like to hike the ~185 AT miles I skipped while on the Tuscarora. Perhaps before or after the ALDHA Gathering some year would be a good time.
Southeastern Traverse, Great Eastern, North Country, Maine Canoe Trails
The further north I got, the more wild the AT felt and the better time I had. I have ideas swimming in my head to hike in places near the AT that would feel less crowded and would more fully engage my hiking soul. I'm thinking that there are several spring seasons of little done hikes, and that for several years I could hike in the east from early spring until the snows clear out at high altitudes in the west.
Traveling away from the Appalachian Trail
Tuesday, July 12th, 2016
To connect various busses and trains, I stayed and zeroed in Millinocket. 38, Swiss Miss, Tomahawk, Bumblebee, Queen Bee, Thomas, Bean, SHELOB, and others joined in some souvenir and grocery shopping. We gorged on fruits, vegetables, and other items craved but unavailable on the trail. A good time was had by all.
Miles: 3 2057
Camp: Hostel, Millinocket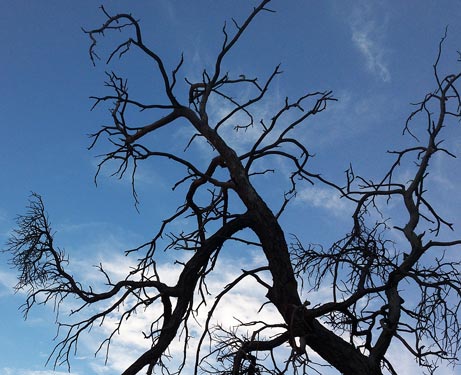 Wednesday, July 13th, 2016
Tomahawk, Bumblebee, Queen Bee, and I bussed to Bangor, picked up a car, and headed south.
Miles: 1 2058
Camp: Tomahawk's, Maynard, Massachusetts
Thursday, July 14th, 2016
I took commuter trains and the Lakeshore Limited Train through Boston towards Chicago. I walked to Boston Commons to relax during my layover, but a loud argument between two homeless made even other homeless nervous enough to start distancing themselves. I decided I would be better off waiting in the train station.
Miles: 1 2059
Camp: Train
Friday, July 15th, 2016
I arrived in Chicago and took a commuter train to Roselle, where I met Jim. After hanging around in the family machine shop for a while, we drove west on small highways through corn, soy, and alfalfa farms, eventually joining I80 westbound.
Miles: 0 2059
Camp: East of Des Moines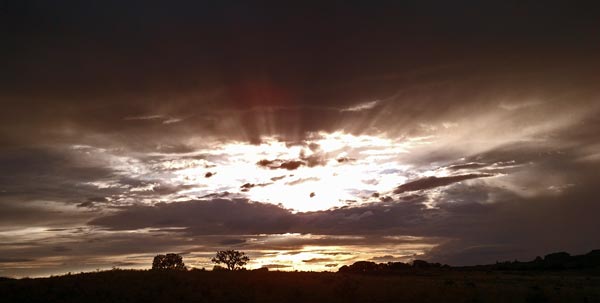 Saturday, July 16th, 2016
We crossed the Mormon and Lewis and Clark National Historic Trails near Council Bluffs. We visited the Strategic Air Command Aerospace Museum. The Mormon Pioneer, California, Oregon, Pony Express, and Sidney Deadwood Historic Trails all are near the North Platte River route of I80 we followed today. The Platte River beds were usually overgrown but sometimes I could see how wide and shallow the channels were.
Miles: 0 2059
Camp: Motel, Big Springs, east of I80 / I76 split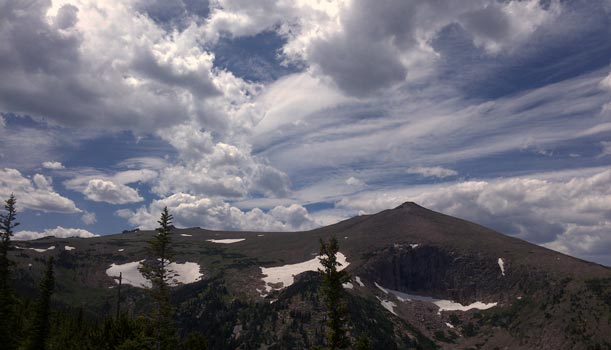 Sunday, July 17th, 2016
We visited the Pawnee National Grasslands. This land was bought up from failed farms by the Soil Conservation Service in the early 1930s Depression / Dustbowl era and today looks little different that the grazed private land interspersed with it. Working oil pumps are scattered about. We saw one Pronghorn on the east and several on the west low slopes on the Rockies. In Rocky Mountain National Park Elk were grazing and I saw a Yellow Bellied Marmot. From Glenwood a separated bike path runs east along the I70 freeway, and another runs southeast to Aspen.
Miles: 1 2060
Camp: Motel, Glenwood, Colorado
Northeast Colorado Area History
The South Platte Branch of the Overland, California, and Pony Express all had routes along the South Platte River. There was a Trapper's Trail along Crow Creek to Fort Laramie, Wyoming. Before they were massacred, the bison fed on the lush grasses of the shallow and wide South Platte River. Without them, trees today cover much of the river. In 1859, the Central Overland California and Pikes Peak Express Company used Jules Beni's trading post as a stage station. In 1860-1, the Pony Express dipped briefly into Colorado. The Union Pacific built tracks here for the first Transcontinental Railroad. There was a California Alternate Oregon Trail which dropped down from Nebraska and followed Lodgepole Creek. The Texas-Montana Cattle Trail passed through.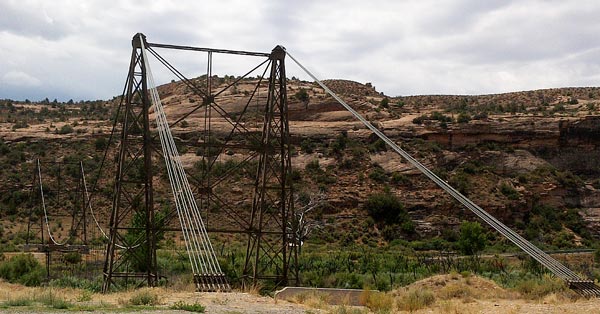 Monday, July 18th, 2016
We descended along the Colorado River on Highway 128, stopping for the historic Dewey Bridge and views. Our visit to Arches National Park was brief: We hiked from the road's end to OO Arch, but barely stopped otherwise. Evening rain and lightning was pretty and cooled the desert.
Miles: 4 2064
Camp: Motel, Beaver, Utah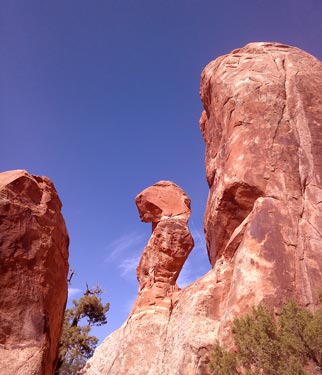 Tuesday, July 19th, 2016
We drove to San Diego on I15.
Miles: 0 2064
Camp: Mom's place, Vista