In winter of 2015-6 I took care of my parents and their house in Ocean Beach, San Diego, California. In February and early March I lived on Gene's ranch in Jamul, California. We fixed the hydraulic steering on the tractor, mowed weeds, fixed his travel trailer, rebuilt the well electrical panel, installed a reverse osmosis system, and trimmed trees. I worked on this website a lot. Gene is the original creator of this website, and still makes valuable comments.
On Saturday, March 5, after visiting the Santee swap meet with Gene and Don, I took an overnight flight to Atlanta. I arrived Sunday, March 6, and visited my sister Julie and her husband Michael.
Monday, March 7, 2016
Michael and I went to Costco, and bought pork jerky, nut clusters, granola and dates. At the Buford REI, we found PATC Tuscarora Trail maps G, F, L, and K, leaving me still needing J, the northern most sheet. I also bought map D, providing details of the C&O Canal section just northwest of Washington DC (Locks 8-21). I met John / Mother Nature's Son and drove west. On the way, at the Kennesaw REI, we saved Map J from the scrap bin. Between my morning shopping, when we checked the computer inventory, and this late afternoon visit, REI corporate had had the local store pull the map from the shelves and put it in the back room for the garage sale. But after hearing my sad story, the staff was nice enough to find the discarded map and sell it to me. It was great to see John and Sale in Leeds, Alabama again.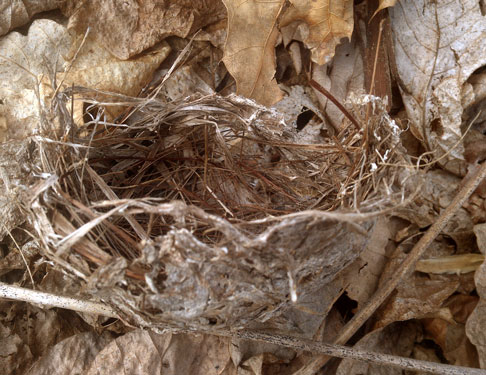 Tuesday, March 8, 2016
John and I schemed about various future hikes and I worked on this website. We gathered up maps and supplies to hike the Conecuh Trail, the Alabama Trail (Conecuh NF), and / or various western sections of the Florida Trail on our way to and from the Alabama Hiking Trail Society Conference at Gulf Shores, Alabama this weekend.
John, Sale, and I also made an under quilt for my hammock from an old yellow baby blanket I found while cleaning out the house. It was an isosceles triangle between the rings for the two side hammock guys and the head end main rope. Three elastic ties, one at each corner, completed the rigging. John suggested if I made the quilt in the shape of a quadrilateral kite with one more tie to the head end of the hammock bottom entry slit, I would get significantly more insulated area under my butt. I'll see how this one works and experiment more if necessary.
Wednesday, March 9, 2016
John and I drove to Andalusia and picked up maps and brochures at the USFS office. We then hiked the north loop of the Conecuh Trail, John the west side only. I had to detour around a trail closure due to a bridge washout near Camp Creek, and I ended the hike on 330e and 330 due to fading evening light. I saw a grasshopper, and for a short while at dusk bats were flying at treetop ±15'. The area was pine forest, sometimes longleaf, with understory varying from none to thick and above head level. There were creeks and ponds. Some ponds supported cypress domes. The soil was generally rolling sand hills, but one limestone outcrop area had a small sinkhole. Though clouds had covered the sky by evening, and a few drops of rain fell, it all cleared after sunset, and we saw Cassiopeia, and Ursa Major and Minor, and the rest of the stars in the sky at camp.
Miles: 13
Camp: Conecuh National Forest
Maps: USFS Conecuh Trail
| Name | Latitude | Longitude | Comment |
| --- | --- | --- | --- |
Appalachian Trail
North Carolina, Tennessee, Virginia
Tuesday, March 15, 2016
John and I drove to the AT at Iron Mountain Gap in time to walk in to Cherry Gap Shelter for the night. The Tennessee state highway map shows the BMT, the AT, and the Cumberland Trail. The CT is shown red where complete and blue where planned, about half and half. The CT is the Great Eastern Trail route through Tennessee.
Miles: 3 ∑31
Camp: Cherry Gap Shelter
Maps: Pocket Profile AT5 Erwin - Damascus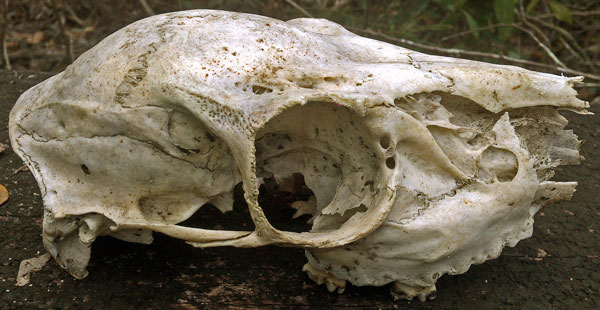 Wednesday, March 16, 2016
I walked to Indian Grave Gap, then John and I drove to various hostels he'd visited on his 2001 thru hike. Uncle Johnny is doing well at his Chestoa Bridge Hostel. We visited the Braemar Castle and Kinkora hostels, but neither the Browns nor Bob Peoples were around. John headed for home and I walked north from Iron Mountain Gap.
I weigh 230 pounds, down a few over the last couple of weeks. The stress, lack of exercise, and social eating of this winter has made me the fattest I've been in decades. I'm making decent time, so my hiking muscles and stamina seem intact. I hope I get down to my best hiking weight of 165-170 fairly quickly.
There are no leaves on the trees, and no flowers or herbs on the forest floor. But the weather is warm enough to sweat in shorts and t-shirt, so spring should arrive soon enough. I met 4 thru and 4 short distance hikers while southbound this morning. 4 hikers were camped at Greasy Gap.
Miles: 13 ∑44
Camp: Beyond Greasy Gap
Maps: Pocket Profile AT5 Erwin - Damascus
Thursday, March 17, 2016
I saw some Civil War battle trenches. I met Tattoo Man, PCT03, working on a fourth Triple Crow, doing 25-30 miles per day. I doubt I'll be doing that by the end. It was chilly enough to hike in a fleece jacket all day.
Miles: 13 ∑57
Camp: Beyond Stan Murray Shelter
Maps: Pocket Profile AT5 Erwin - Damascus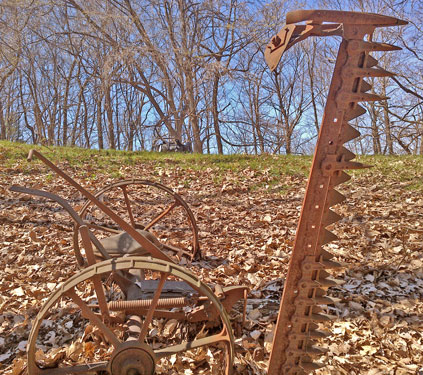 Friday, March 18, 2016
I passed the Overmountain Victory National Historic Trail early this morning. I saw two Whitetail Deer Odocoileus virginianus and two rabbits. Last night was cold enough to cause ¼" of frost heave in muddy areas. There were great views from balds. ATVs had torn up long muddy stretches of trail late today.
Miles: 17 ∑74
Camp: Before Mountaineers Shelter
Maps: Pocket Profile AT5 Erwin - Damascus
Overmountain Victory National Historic Trail
The OVNHT, 330 miles long, commemorates the route taken by militia in the pivotal Revolutionaly War King's Mountain Campaign of 1780. It crosses the AT near Overmountain Shelter, mile 378. The Birchfield Trail (Hampton Creek Cove State Natural Area, 3.5 Miles) and the Yellow Mountain Trail (Cherokee National Forest, 1.8 Miles) are accessible from the AT, and are some of the 87 miles of non continuous walkable OVNHT. There is also a car route.
Saturday, March 19, 2016
I camped early today when I came to a shelter just after rain started to get serious. There are rumors of snow tomorrow. I had not seen anyone all day, but soon after reaching the shelter a bunch of Army ROTC guys camped. Their stories are a little different than the usual hiker chatter, and so provided a few hours entertainment.
Miles: 11 ∑85
Camp: Moreland Gap Shelter
Maps: Pocket Profile AT5 Erwin - Damascus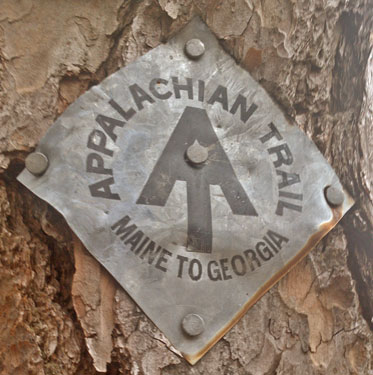 Sunday, March 20, 2016
I saw a 5' black rat snake even though the temperatures were near freezing. He responded appropriately to my tossing a few leaves in his direction, so I guess he was ok. The ROTC guys caught up with me mid afternoon. Rain and snow convinced me to camp at Watauga Shelter, before a big ascent. I saw a Great Blue Heron.
Miles: 17 ∑102
Camp: Watauga Shelter
Maps: Pocket Profile AT5 Erwin - Damascus
Monday, March 21, 2016
Many geese were flying over Watauga Dam. It was so cold at Vandeventer Shelter I had to rest in my sleeping bag though I only was staying 15 minutes. There was 3/8" snow accumulated and over an inch of frost heave. Redbuds are blooming, but all other deciduous trees are bare.
Miles: 21 ∑123
Camp: Double Spring Shelter
Maps: Pocket Profile AT5 Erwin - Damascus
Tuesday, March 22, 2016
With only 2 springs on the way, I was a little dehydrated. One trail magic beer did more than its share of work on me. I bought dinner and trail food at a supermarket and dollar store. My iPod locked up and I needed to look up restart instructions at the library. A shower, laundry, and wind free hard bunk were much appreciated luxuries. Damascus is a bike and trail town. Maybe 10 businesses in town rent and shuttle bikes for the 34.3 mile pea gravel Virginia Creeper bike rail trail, which travels from I81 at Abingdon to Whitetop Station near the Virginia - North Carolina border. It touches the AT at miles 16 (Damascus), 20.5-22 (Straight Branch), and 26-27 (Creek Junction). The line was originally built as the Abingdon Coal and Iron Railroad in the 1880s. The ACA bike route 76 also travels through town, and some hostels are limited to 76 bikers and AT hikers. A 67 mile Virginia Highlands Horse Trail is east of town and crosses the AT. It is open to motorcycles October-April 1 and to all non motorized traffic year round. Former AT tread leaving town eastbound is now a mountain bike trail known as the Iron Mountain Trail. A Daniel Boone auto trail runs through Damascus. There is a New River State Trail east of the AT which connects with the VHT. Asheville, with bus and air service, might be a good place to terminate a Mountains to Sea Trail Hike. Unknown is how much further east the trail would be out of urban and uncampable areas. When researching the Benton MacKaye Trail, I should look up the history of the Unicoi Turnpike Trail. Hostel caretaker Roy 'Bayou' Knight has hiked all over and attends the ALDHA Gathering regularly. He had much advice and information for me. Rain is predicted for next Monday (28th), but the 10 day forecast is otherwise clear.
Miles: 20 ∑143
Camp: The Place Hostel, Damascus
Maps: Pocket Profile AT5 Erwin - Damascus, 786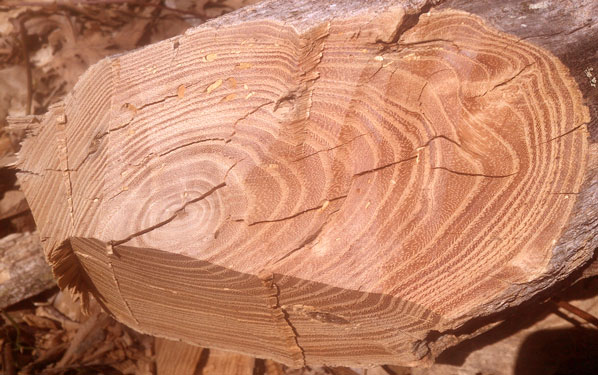 Wednesday, March 23, 2016
I saw a Bald Eagle, Canadian Geese, Mallards, and a Great Blue Heron. Chores were nowhere near done by 1 pm, and with an empty hostel to do them in, I decided on a busy zero day. With the cold weather, a day's rest seemed like a good idea anyway.
Miles: 3 ∑146
Camp: The Place Hostel, Damascus
Maps: 786, Damascus Town Map
Thursday, March 24, 2016
I reached Taylor Valley on the Virginia Creeper Trail right at lunchtime. I was pleasantly surprised to find a restaurant and had a truly excellent cheeseburger. The VCT runs along Whitetop Laurel Creek, a beautiful trout stream (pic). There were surprisingly few people on the VCT given its fame and the truckloads of bikes shuttling east from Damascus on parallel US58. The hostel keeper had predicted rain tonight, and increasing winds and dark clouds through the day turned to fairly heavy rain just as I set up my hammock. The newspaper this morning had a big article on dry conditions and wildfire danger locally. Indeed, my lips have been very chapped and my nose has been bleeding a little. So I hope the rain helps. There seems already to be plenty of water in the springs.
Miles: 19 ∑165
Camp: Whitetop Mtn, beyond FR89, in wind sheltered hollow, heavy rain
Maps: 786
Friday, March 25, 2016
It rained off and on through the night but stopped by 8 am. It was foggy, dreary, and slippery until Rhododendron Gap. Many people were hiking near the state park and Mount Rodgers, Virginia's highest peak. Some were lost and worried in the very chilly conditions. But the afternoon cleared to sun and there were good views. I saw some feral ponies on the Pine Mountain Trail, and their scat had been present miles west.
Miles: 19 ∑184
Camp: near Hurricane Campground
Maps: 786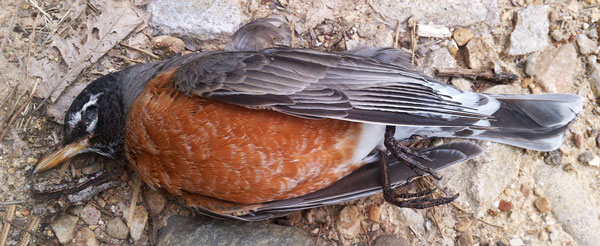 Saturday, March 26, 2016
I had a root beer, some crackers, an apple, and a big box of candy from a Baptist Missionary at a dirt road crossing. We had a long conversation, but when I estimated that only 2 or 3 long distance hikers a day were presently coming through, he packed up to go set up his church for Easter. Pizza delivery at the Partnership Shelter was too expensive at a $30 minimum plus a $5 delivery charge. I saw a grouse. In some areas there were many green plants and a few flowers on the forest floor. Typically, the floor has been brown leaves and duff, so this perhaps is a sign of spring. It's likely to rain from mid afternoon tomorrow through 8 Monday morning. There's a shelter 3 miles out and 21 miles out, so no really good options for sheltering out the storm starting mid afternoon. By mid morning I'll be at the freeway and consider a motel depending on what the sky looks like.
Miles: 21 ∑205
Camp: Between Locust Mountain and FR 86
Maps: 786
Sunday, March 27, 2016
I stopped at a motel short of I81 due to predicted rains overnight. I ate at The Barn, which John had recommended and had taken me to on one of our ALDHA trips. The afternoon buffet deal was great and allowed me to catch up on vegetables from the salad bar. From the hiker box I got MRE ravioli and tortellini, many bars, and more.
Miles: 7 ∑212
Camp: Atkins Motel
Maps: 786
Monday, March 28, 2016
Rain is predicted Thursday. My 2x4 breakfast was great. The trail was muddy from the rain I'd missed. I saw a hawk and a turkey vulture. On a few trees in low valleys there were some small green leaves. At a trail magic Easter egg hunt I scored a plastic egg filled with candy. I thought there were only a few, so I took some of the candy and put the egg back for another hiker, but along the trail that followed, there were many plastic eggs.
Miles: 15 ∑227
Camp: Lynn Camp Creek
Maps: 786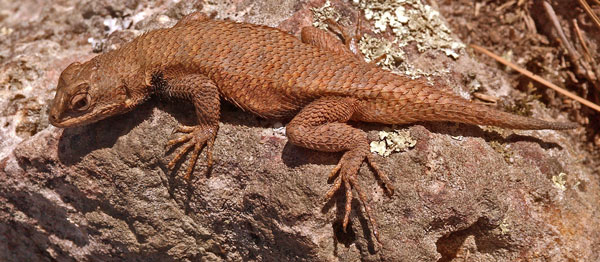 Tuesday, March 29, 2016
I saw a turkey and there were some turkey vultures soaring on my ridge. From the high balds there were views of the many parallel ridges and valleys of the region. Yesterday I was largely crossing ridges and valleys, where today I mostly ran one ridge. Perhaps a map displays this well. John had advised me that I would like the high balds of this section, but I most enjoy crossing the valleys, with their different ecosystems, big creeks, and old farmsteads.
Miles: 18 ∑245
Camp: Jenkins Shelter
Trip Schedule and Plans
There are some 93 days left before the end of June, my anticipated end date. I've been walking ~17 miles per day typically. There are 1200-1300 miles to go on the AT depending on whether I terminate in western New Hampshire or repeat the White Mountains, requiring 70-76 days. This leaves perhaps 17+ days for side trips, including my C&O Canal and Washington DC idea. Alternatives to the CO Canal might be crossing Maine to Katadyn on the AT, about 17 days, or doing the north part of Vermont's Long Trail. An argument against the CO Canal trip is that right now I meet 0-10 people per day on the AT. That is a very pleasant population. If I allow the pack to catch up with me, there will be little solitude or wildlife, the shelters will be full, and rodent problems will develop.
Wednesday, March 30, 2016
The sky was blue and sunny, with a thin layer of high ice clouds. The trails had easy slopes in long sections, so pacing was easy. Views of farms in nearby valleys were nice.
Miles: 24 ∑269
Camp: Jenny Knob Shelter
Thursday, March 31, 2016
The sky was grey and there was a little drizzle. The air was less frigid than it has been typically, and fairly humid. Rumor has it storming will be more intense tomorrow. I saw a White Tail Deer Odocoileus virginianus. I swam in Dismal Creek.
Miles: 24 ∑293
Camp: Doc's Knob Shelter
Friday, April 1, 2016
The weather included rain, sun, fog, and clouds. It rained fairly heavily overnight, leaving slippery trail conditions. Rain is predicted Monday, Thursday, and Friday. The Chinese Buffet provided some much appreciated vegetables and filling foods. Resupply and laundry done by early afternoon: I had plenty of time to relax.
Miles: 10 ∑303
Camp: Motel, Pearisburg

Saturday, April 2, 2016
Bitterly cold winds ruled the day: 50 mph gusts and freezing temperatures are predicted for tonight. Along the border between the Virginias White Tail Deer were tame enough that I walked less than 10' by one, and less than 30' from a couple more. Others just walked a few extra yards away. Views into West Virginia were great.
Miles: 23 ∑326
Camp: Bailey Gap Shelter
Allegheny Trail
Waiteville Road 12.7 miles

The Allegheny Trail is a partnership between the US Forest Service, the West Virginia Scenic Trail Association, the state of West Virginia, and private landowners. The 300 mile long trail runs south from the Mason-Dixon Line to the Appalachian Trail in Monroe County, West Virginia. Enjoy the Trail!

AT Junction / Sign
37° 26' 15.956" N
80° 37' 10.247" W

I later saw a 3 book guide to the Allegheny Trail: a book of turn by turn instructions, a book of black and white topo maps, and a nature guide. All three seemed pretty good.
Sunday, April 3, 2016
Bitter cold winds, an 1/8" of snow, and jelly beans cold enough to be crunchy told the tale of a cold night. Deer were again tame enough to approach within 30'. I walked well after dark to reach this shelter. It was surprisingly easy to spot the rocks and roots among the leaves and other debris. I enjoyed it. But the AT is often steep and precarious: It is not an ideal night hiking trail. This was my 5th consecutive night camping with Scorched Heels.
Miles: 27 ∑353
Camp: Niday Shelter

Monday, April 4, 2016
It was somewhat warmer today and drizzled a bit in the afternoon. I visited the Audie Murphy monument and the Dragon's Tooth. Views of farms from the ridges were excellent.
Miles: 19 ∑372
Camp: Ridge after Virginia 785, pretty city lights and stars, Ursa Major, Cassiopeia
Tuesday, April 5, 2016
A comfortable evening last night gave way to raging, freezing winds. My tarp was flapping quite loudly and I had to turn regularly to move the cold spot around my body. I didn't get enough sleep and spent the day tired. Lavender flowers on short trees were plentiful, and there were trees with white, and fewer with yellow flowers. A few trees were leafing. There were a few trees with small tent caterpillar tents. Some patches of flowers grew from the ground. Though it's stil cold, spring is on its way.
Miles: 19 ∑391
Camp: Ravine before Tinker Ridge
Wednesday, April 6, 2016
I got a good night's rest after my early stop last night. I resupplied in Daleville with 8 days of food (to Waynesboro). I picked up NGTI map 789, also good through Waynesboro, and a postcard for my mom. After a big breakfast out of my groceries and a lunch of Brunswick stew, and pork sliders of tomato, vinegar, and Jamaican jerk style, I waddled out of town and made regular stops to whittle down my supply of donuts, grapes, chocolate milk, etcetera.
Miles: 16 ∑407
Camp: Wilson Creek Shelter
Map: NGTI 789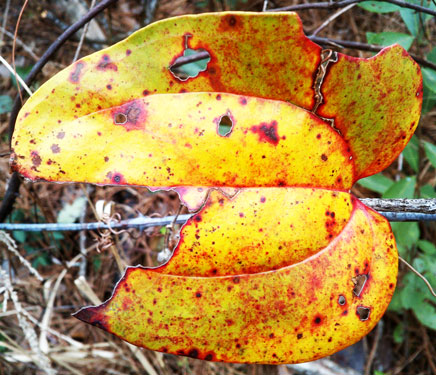 Thursday, April 7, 2016
It rained last night and today, making for a chilly, damp day. I hitched to Peaks of Otter for some excellent salad, fried chicken, and cobbler. After pondering the weather, I got a fairly expensive room, then watched heavy rain and lightning from my window through the afternoon. (Per other hikers, some of the rain was semi frozen, and the hotel room was certainly worth the cost.) Heavy rain is predicted for Tuesday night, otherwise days will be mostly dry with plenty of cold wind.
Miles: 10 ∑417
Camp: Peaks of Otter Lodge
Map: NGTI 789
Friday, April 8, 2016
Hitching in and out was time consuming: there's not much traffic on the parkway yet. I spent 35 minutes hitching from Bear Wallow and gave up and arranged a ride with hotel staff back to the trail after 80 minutes of thumbing.
Miles: 15 ∑432
Camp: Cornelius Creek Shelter
Map: NGTI 789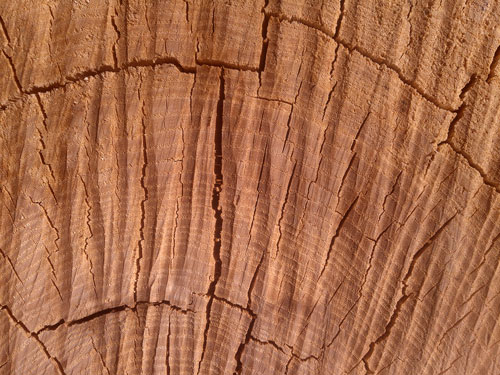 Comments for other Southeastern Hikes
Given that I'm thinking of doing a southeastern big hike and the Great Eastern Trail in about the same season of coming years, it seems wise to comment on this trip so far. Rainstorms have been infrequent and typically light. Other than yesterday, all rain heavier than light and short drizzle has been overnight. Bitterly cold winds are frequent: most days are in the 30s at least part of the day. It's easy enough to stay warm, but I've had slight issues with my respiratory tract. Mucus forms excessively, sometimes in my throat, other times in my sinuses. I can't tell whether this is due to allergies, cold, etcetera. I don't seem to have a virus. Occasionally I get some slight cold induced athsma. I've had some sinus and inner ear swelling and popping. Sometimes the nodes under the back of my jawbone swell. Friction rashes are large on my upper thighs and are also present nearby. My knees are starting to hurt, probably due to the large amount of steep descents and unstable rocks in the tread. That's the end of the issues that seem unique to this hike. Weather maps have shown much stronger rain storms south of Atlanta. In past hikes, heavy rains lasting a week or more caused boils in my armpits. I'll need to watch storms from the Gulf of Mexico during the southeastern hike. I remember plenty of ice on the Cumberland Trail when hiking it with John. I'll have to think about crampons and sticks if it will be icy in the season I'm there. I'll have to check what month we had the icy conditions. Since there will be less shelters by far on either hike, I may want a warmer shelter than my hammock. I may also want a stove and pot.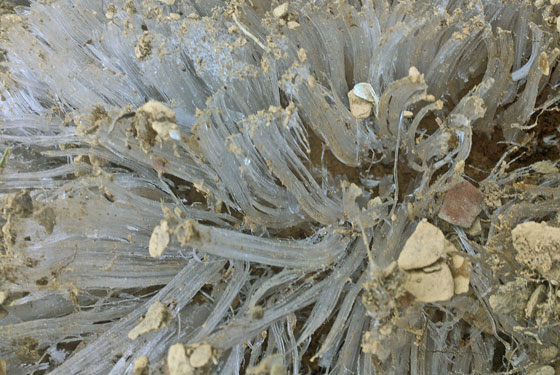 Saturday, April 9, 2016
It snowed perhaps a half inch overnight and another half inch through the day. After plenty of cold wind, D=RT, Hoho, Chicory, and I hitched into Glasgow for Philly Cheese Steaks and to reload on junk food to bump up our calorie intake. But with 25°F winds whipping through town, we all hitched back to the trail to camp in a more sheltered hollow. I saw a Coyote, came within 20' of a deer, and saw a dead Raccoon. I used my map to find several interesting alternates to the AT.
Miles: 22 ∑454
Camp: Johns Hollow Shelter
Map: NGTI 789 (812, 801?, Sulphur Ridge Closed Jeep Trail, Matts Creek, James River)
Sunday, April 10, 2016
This was a pleasant hiking day, not as cold as usual, and with the sky often clear. I found a bag of chili cheese corn chips. To the side of road 311 I saw a gate with many Navy SEAL and other special ops stickers. Later, there were sequentially numbered trees along the road, like one end of an orienteering course. Through the day, I found sequentially numbered plastic tags nailed to trees some several minutes apart. Perhaps they marked a long jogging or hiking course.
Miles: 26 ∑480
Camp: Hog Camp Gap
Map: NGTI 789 (311, 38, 594, 520, 48)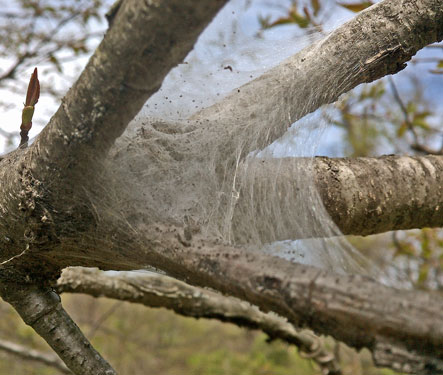 Monday, April 11, 2016
Another pleasant day, but without the corn chips. A few sprinkles overnight and mid morning.
Miles: 19 ∑499
Camp: beyond Tye River / Virginia 56
Map: NGTI 789 (Trail 731)
Tuesday, April 12, 2016
It rained a bit last night, but not today, and the skies cleared progressively. The predicted massive rainstorm has apparently blown by, with several days of nice weather rumored. I saw two deer and many waterfalls on the MAU HAR Trail. More types of forest floor flowers are now blooming. Phlatlander, a southbounder, filled me in on the many restaurants and stores through Shenandoah NP. Most are open and knowing which cafes are best and what each store stocks will be handy.
Miles: 22 ∑521
Camp: Paul Wolfe Shelter
Map: NGTI 789 (303 MauHar Trail)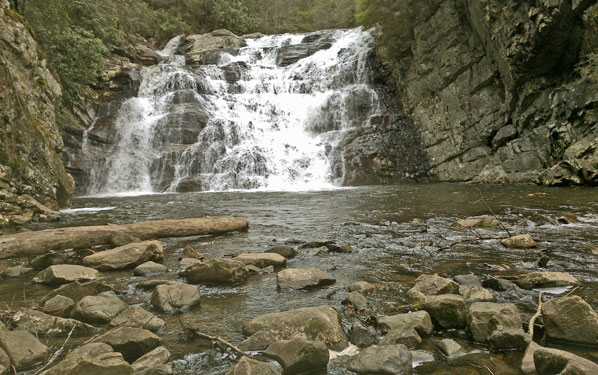 Wednesday, April 13, 2016
I walked to Rockfish Gap and hitched to Waynesboro for resupply. A full grocer filled my pack and Ming's Garden provided salad and Chinese food.
Miles: 6 ∑527
Camp: Waynesboro motel
Map: NGTI 789
Thursday, April 14, 2016
I walked out of Waynesboro with my stomach and pack both rammed full of food. I had trail snacks of 4 pieces of fruit, whole grain bread, and ravioli. Some long term staples are to last to the Potomac River, 230 miles. The NPS handout map showed many perpendicular trails but none paralleling the AT, so maybe I'll have to white blaze. I'll see about better maps at the Loft Mountain Visitor Center tomorrow. Clear and possibly warmer weather is predicted for the next week.
Miles: 18 ∑545
Camp: +AT RiprapTrail
Map: NPS Handout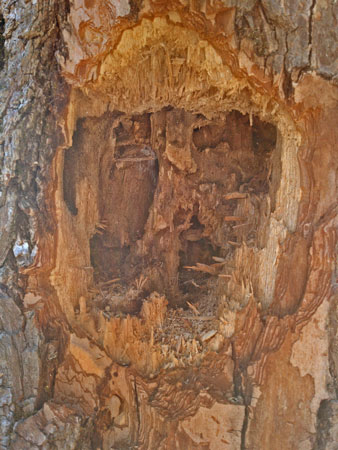 Friday, April 15, 2016
I watched the sunrise and the sunset from the trail: both were brilliant orange balls in a clear sky. A burger, some chips, a new map (228), and a postcard for mom made a side trip to Loft Mountain Wayside worthwhile. I saw 5 Whitetail Deer.
Miles: 23 ∑568
Camp: After Smith Roach Gap
Map: NPS Handout, NGTI 228 (Browns Gap Fire Road, Doyle River, Loft Wayside)
Saturday, April 16, 2016
At Lewis Mountain Store I had a microwave calzone and ice cream, followed by fried chicken, salad, mashed potatoes, cole slaw, ice cream, an apple, and a banana at Big Meadow. Many day and overnight hikers were out for the weekend. I saw 10 Whitetail Deer. Birds included robins, woodpeckers, and vultures. One sign said 10,000 CCC people worked in Shenandoah National Park. Many trail sections today had old moss and lichen covered retaining walls probably built by the CCC. There were many people and a huge bonfire at the shelter.
Miles: 25 ∑593
Camp: Rock Spring Hut
Map: NPS Handout, NGTI 228 (Lewis, Big Meadow Waysides)

Sunday, April 17, 2016
Skyland had an excellent buffet breakfast. All the typical stuff was present, but the flaky pastries, chopped fruit, sausages, and smoked salmon deserve mention. Wifi at the lodge was appreciated. I took an easy mileage day so I could study my maps of the Tuscarora Trail, which I will switch to tomorrow.
Miles: 15 ∑608
Camp: Pass Mountain Hut
Map: NPS Handout, NGTI 228 (Skyland Wayside)
| Name | Latitude | Longitude |
| --- | --- | --- |
| +AT SulphurRidgeTrail | 37.569957 | -79.441827 |
| +AT Skyline BrownGapFireRoad | 38.240508 | -78.710335 |
| +DoyleRiver CabinTrails PipeSp | 38.250665 | -78.682836 |