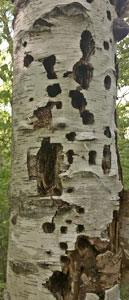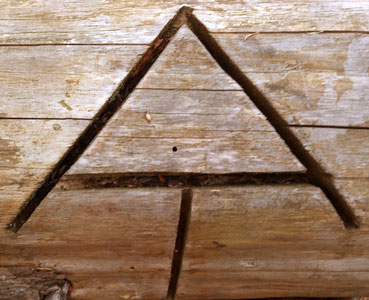 Appalachian Trail, Pennsylvania - Massachusetts, 2016
Saturday, April 30th, 2016
I walked into Duncannon and met Tin Cup, who I'd first met on the PCT in 2003. We toured Hershey, with all the trappings and charitable works the chocolate money brought. It's all astounding, and comes with a great story. We resupplied and had a wonderful dinner. I sent home some maps and cold weather gear.
Miles: 5 874
Camp: Tin Cup's Place, Harrisburg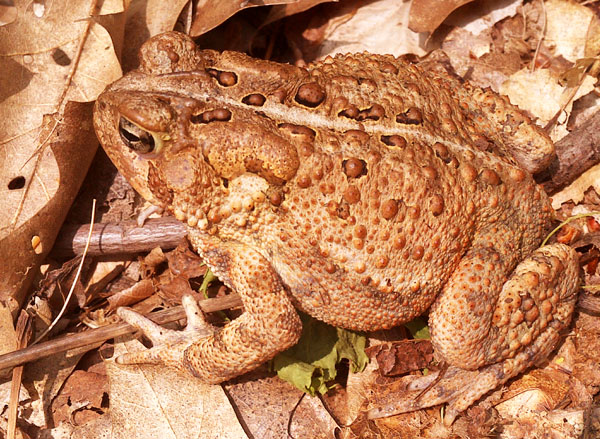 Sunday, May 1st, 2016
On this rainy day I took a zero and drove around Amish country near Lancaster with Dick and Joy.
Miles: 0 874
Camp: Tin Cup's Place, Harrisburg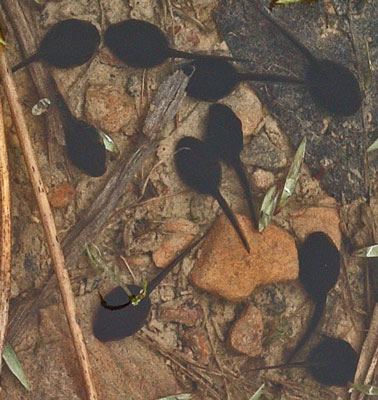 Mid State, Great Eastern Trail
Tin Cup loaned me the Mid State maps and book. The northernmost map is not in print and can be downloaded as a PDF, as can a town guide.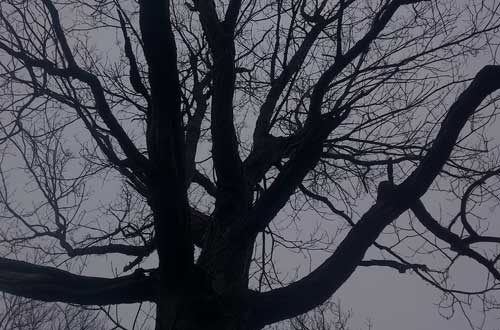 Monday, May 2nd, 2016
Though it rained early in the morning, by the time we drove to the Susquehanna River and I began my ascent, most of it was done. Three hikers have gotten sick over the last week in the current pack. I'll have to watch my hygiene and my water sources, and be selective about using using popular camps and shelters.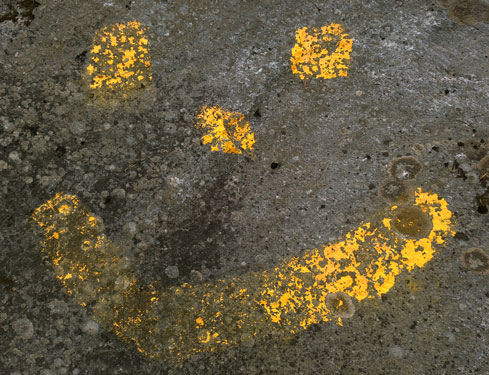 A 121 mile yellow blazed Horseshoe Trail terminated on the AT and travelled east to Valley Forge. Per a local hiker and maintainer, it is mostly on private / farm land, with few miles on roads, and camping or hoteling for a thru hike would be quite difficult. Local outfitters and the club sell the guide. I found an interesting rock with a ribbed circumference that might be a fossil or related to the historic coal mining district I was in this afternoon. I saw orange salamanders and a mouse.
Miles: 24 896
Camp: Beyond the Cold Spring Trail.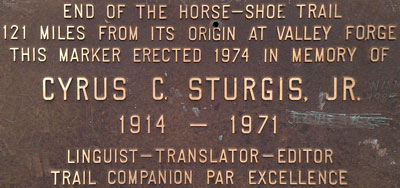 40° 27" 16.625'N
76° 43" 16.872'W
Tuesday, May 3rd, 2016
A very heavy rain fell from 1am through dawn. Though my tarp was well positioned, rain running down tree trucks ran down my tarp lines and soaked me, the hammock, the sleeping bag, etcetera. Through the morning much of the trail was flooded. There was never a warmup suitable for drying the gear. Highlights were a canal lock and an iron bridge in Swatara State Park.
Miles: 21 917
Camp: 501 Shelter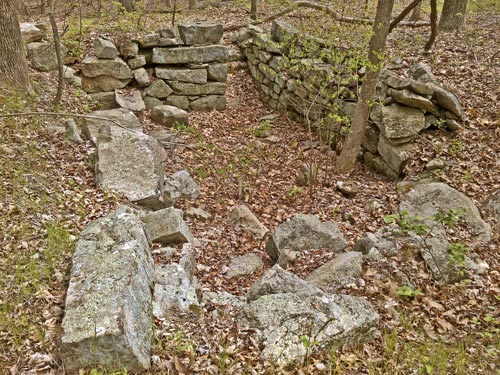 Wednesday, May 4th, 2016
I saw some neatly stacked rock piles that had been built to provide cavities for rabbits, etcetera, to live in. Soon, it became clear the stacked rocks were porous to snakes, who ate whatever tried to live in the rock piles. I had a good conversation with a local birder about hiking in the Tetons, Grand Canyon, and Yosemite. With relatively little climbing and some good tread, the miles went fast. I had dinner and a room in Port Clinton by 5pm.
Miles: 24 941
Camp: Hotel, Port Clinton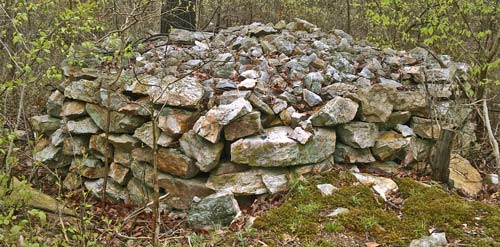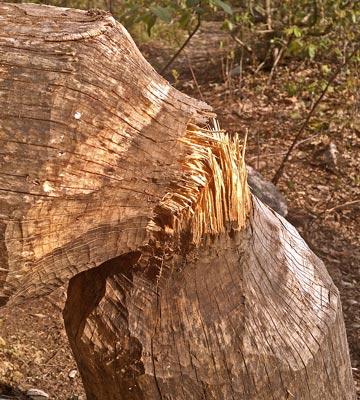 Thursday, May 5th, 2016
I got started at 11:30 because I couldn't get my deposit on my room key until 9 and then I had a very informative visit to the barber shop. The town has a Bartram Trail, a rail trail (Reading) and a tow path. There were many charcoal burning pits on ascent from Port Clinton.
Miles: 21 962
Camp: Allentown Hiking Club Shelter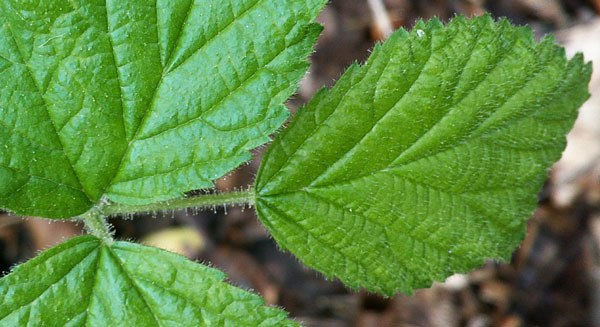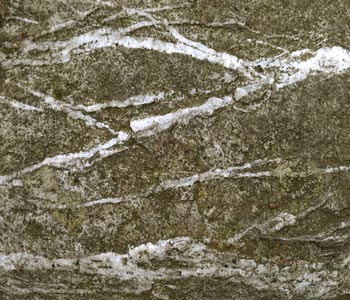 Friday, May 6th, 2016
With lots of rain and slippery boulder fields, 17 miles seemed like enough. The next shelter was another 17 miles, so I stayed out of the rain.
Miles: 17 977
Camp: Outerbridge Shelter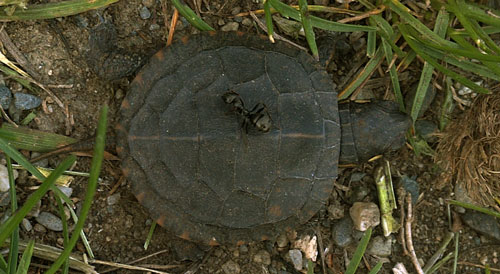 Saturday, May 7th, 2016
The rain slowed and stopped by midmorning. Through the day, the tread, the overgrowing plants, and my clothes slowly dried. After ten days of rain, it was a little funny to see a sign warning of fire danger due to dry conditions posted April 19. I heard and then saw a Barred Owl Strix varia late in the day. I may also have heard a Loon. The orange with red spots lizards I've been seeing frequently may be eff f newts, an early growth stage of ? It's been a while since I've seen Onions growing, but Poison Ivy is now almost everywhere.
Miles: 24 1001
Camp: a few miles past Wind Gap / 33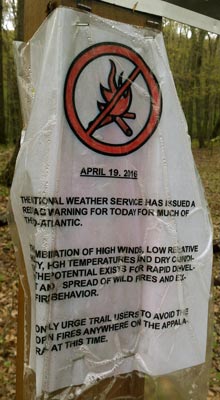 Sunday, May 8th, 2016
Clouds cleared overnight to show the first stars in quite some time. But a couple of hours of rain began at dawn. With clearer weather, the walk in to town was not too bad, and it included several great views of the Delaware River. Rain is predicted for Friday, but otherwise the coming week should have fair weather. A trail angel drove six of us to a grocer, so I have a long term resupply. I'll head into Mew Jersey tomorrow. I got in touch with Larry, who I hope to visit in Connecticut. A Pennsylvania state highway map shows quite a network of long trails, including the AT, Mid State, and North Country. My weight was 198, down 32 pounds from the start. If I continue to lose weight at this rate (.6 LB/day), I'll be at my ideal of 165-70 at the end of June, my target end date. I've been consuming my standard hiker high nutrition, high calorie diet.
Miles: 13 1014
Camp: Church of the Mountain Hostel, Delaware Water Gap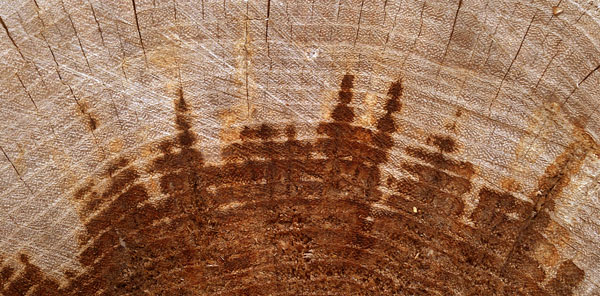 New Jersey
Monday, May 9th, 2016
The Dunnfield Creek and Rattlesnake Swamp Trails were pretty riparian alternates. I saw a Porcupine and two turkeys. Though I've been seeing 20-30 hikers per day since Duncannon, today I saw just one thruhiker and a few dayhikers. The weather was cool and dry, sometimes sunny. The sunset had an ice cloud sheen, perhaps with extra red tinting from wildfire smoke. The ridge in Delaware Water Gap NRA had rail grade roads, abandoned road grids like subdivisions, and many utility poles sawn down long enough ago that they are rotting. What is the history of this development?
Miles: 21 1035
Camp: Buttermilk Falls Trail Junction
Map: ATC New York New Jersey 4, Delaware Water Gap NRA NPS Handout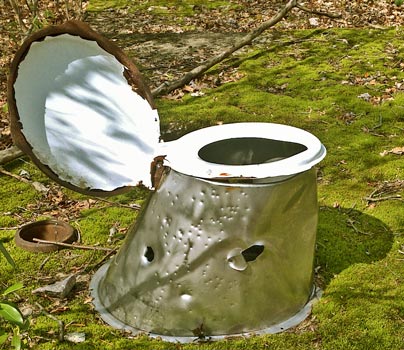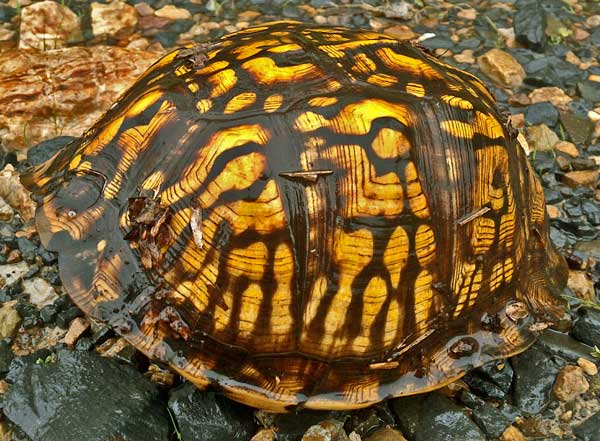 Tuesday, May 10th, 2016
A burger and onion rings at Gyp's in Culvers Gap / 206 was great. I saw Canada Geese and Deer. There were beaver ponds, dams, felled trees, and mound dens yesterday and today. High Point State Park had nice stone buildings and interpretive signs.
Miles: 24 1059
Camp: High Point
Map: ATC New York New Jersey 4, 3, Delaware Water Gap NRA NPS Handout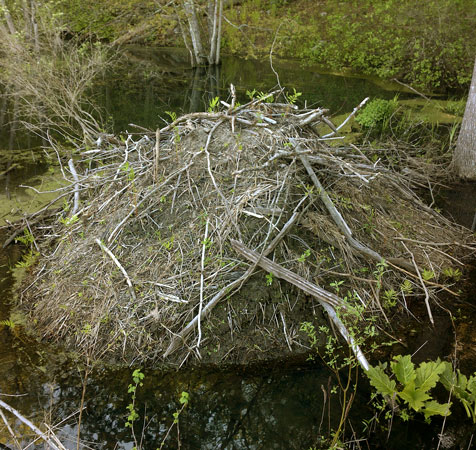 Wednesday, May 11th, 2016
Visits to Unionville and Glenwood both provided deli sandwiches, ice cream, fruit, drinks, etcetera. Wallkill NWR and the Pochuck Boardwalk both had nice wetlands. I saw turtles and a Great Blue Heron, and Redwing Blackbirds had especially brilliant red feathers. I met a trail maintainer out fixing privies: many thanks!!
Miles: 25 1084
Camp: Wawayanda Shelter
Map: ATC New York New Jersey 3, Pocket Profile 15
New York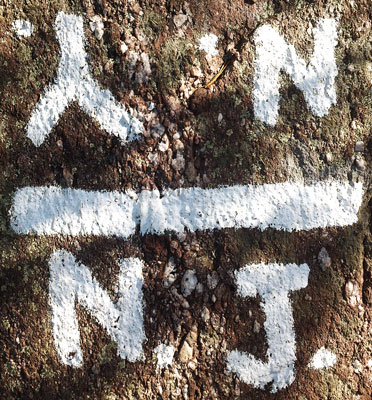 Thursday, May 12th, 2016
4 chili dogs at the pass on 17A were today's special lunch. I saw a toad and a Cardinal.
Miles: 20 1104
Camp: Little Dam Lake inlet
Map: ATC New York New Jersey 3, Pocket Profile 15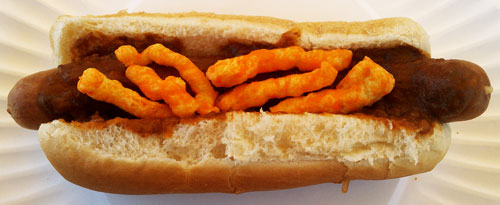 Friday, May 13th, 2016
A morning trail magic cache provided some rice for an extra breakfast. I stopped a little early due to a soaking afternoon rain. Well after dark the rain and fog lifted and the lights of New York City were quite pretty.
Miles: 18 1122
Camp: West Mountain Shelter
Map: NYNJTC 119 Northern Harriman Bear Mountain Trails, Pocket Profile 15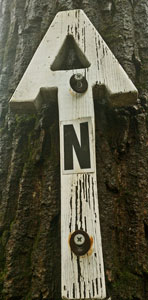 Saturday, May 14th, 2016
I saw 3 deer and two turkeys in the last mile. Pizza, ice cream, and soda from the store at the last highway went down nicely. A loaf of bread will be much appreciated in the next couple of days. Graymoor Monastery has two beautiful chapels on a hill overlooking the Hudson River. Laundry and a cold shower were very much appreciated. Much rain fell in the evening, so the shelter was well appreciated.
Miles: 12 1134
Camp: Graymoor Monastery ballfield picnic shelter
Map: NYNJTC 119 Northern Harriman Bear Mountain Trails, Pocket Profile 15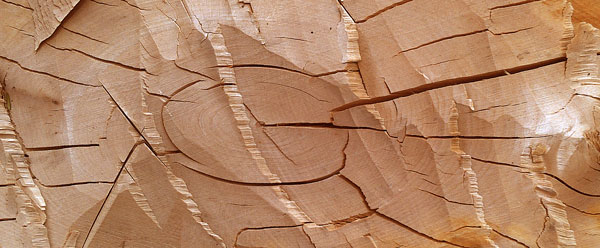 Sunday, May 15th, 2016
I saw a 2' garter snake, probably the thickest I've ever seen. A few drops of rain fell occasionally. The park had narrow gage rail and mining ruins.
Miles: 19 1153
Camp: RPH Shelter
Map: Pocket Profile 15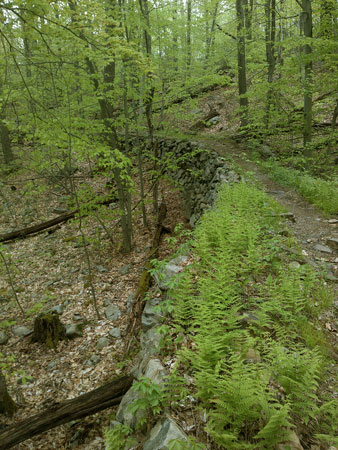 Monday, May 16th, 2016
The morning was very cold. I saw a 2' garter snake, a deer, and some Mallards and Canada Geese. A swim was nice.
Miles: 25 1178
Camp: Wiley Shelter
Map: Pocket Profile 15, some local maps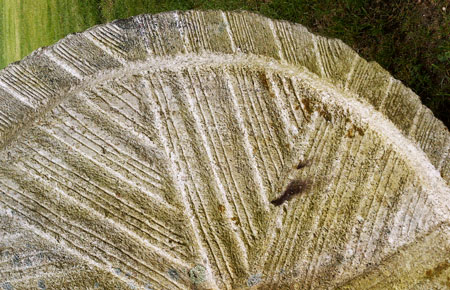 Connecticut
Tuesday, May 17th, 2016
I resupplied in Kent, Connecticut. An excellent shoe store stocked the extra wide Merrell Moab Ventilators 11W I prefer. Recent outfitters had little selection and no wide stock. The uppers had separated from the soles on my old boots in most of the toe area. In spite of this, they were comfortable to walk in, and only once did I kick something accurately enough to hurt. Sticks jamming in the side were a problem, and I was concerned about the shoes falling completely apart. I met my Marietta friend Larry H. mid afternoon and enjoyed old stories, beer, and pizza. We walked around town and out to the shelter.
Miles: 13 1191
Camp: Stewart Hollow Lean To
Map: some local maps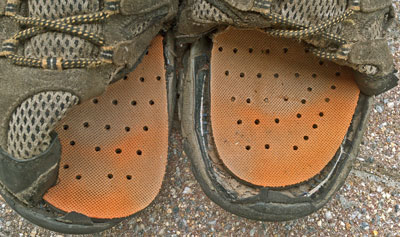 Wednesday, May 18th, 2016
Trail Angel Lisa gave me a heavy bag of apples, oranges, and bread mid afternoon to share with the other long distance hikers. I never saw another hiker all day.
Miles: 23 1214
Camp: beyond Billy's View
Map: some local maps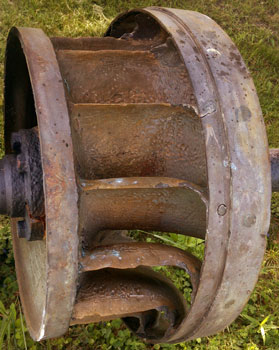 Massachusetts
Thursday, May 19th, 2016
There were good views from three peaks, and Sages Ravine had many waterfalls. I saw an Indian mortar hole. I stopped early due to possible rain.
Miles: 17 1231
Camp: Glen Brook Lean To
Map: some local maps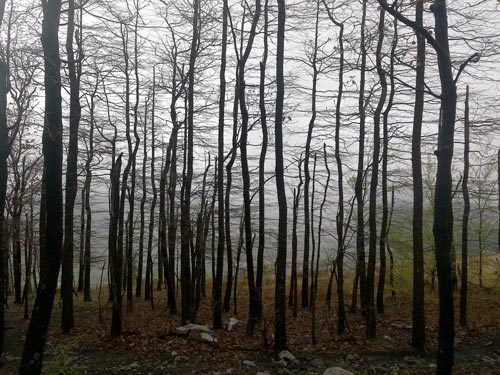 Friday, May 20th, 2016
I saw a Porcupine, a Beaver, some ducks and a hawk. The last couple of days have been swampy, and Mosquitos and other biting and bothersome bugs are coming out.
Miles: 22 1253
Camp: Beartown Mountain Road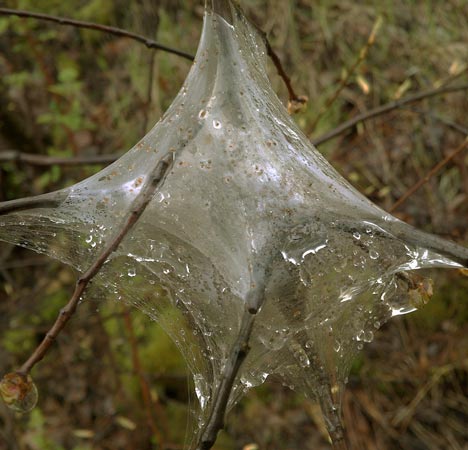 Saturday, May 21st, 2016
I saw a Beaver. I also helped a guy who had gotten turned around and was headed the wrong way on the AT.
Miles: 25 1278
Camp: short of Blotz Road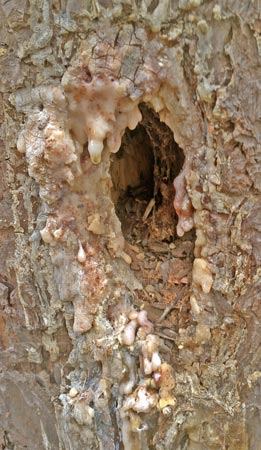 Sunday, May 22nd, 2016
It rained a few minutes last night and again this morning. I arrived I Dalton and checked into the Shamrock Inn. Larry H came out to visit again. He drove me for groceries, and maps for Vermont's Long Trail and New Hamphire's White Range. We did some hiking in Kennedy Park. Many thanks to Larry for visiting and helping me on the trail. Crane Paper makes currency paper here and has a museum.
Miles: 8 1286
Camp: Shamrock Inn, Dalton, Massachusetts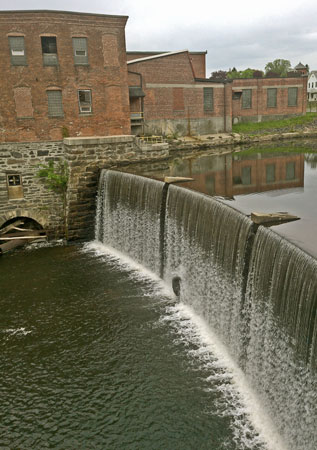 Monday, May 23rd, 2016
As I try to do when leaving trail towns to improve nutrition, I carried out fresh fruit and a sub sandwich from Dalton. Cheshire then provided ice cream. As I left Cheshire, I saw a gas station store and decided to look. Hiker Heaven!! I hauled out Green Salad, Potato Salad, 3 Fresh Fruits, a Roast Beef Sandwich, and Chips. In Cheshire the AT intersects a long rail trail on old Penn Central right of way. I saw a porcupine.
Miles: 14 1300
Camp: Mark Noepel Shelter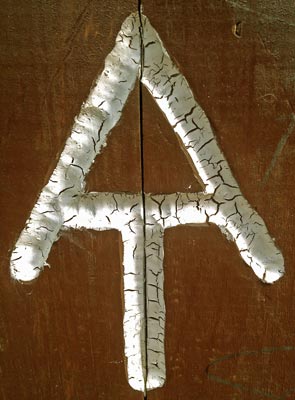 | Name | Latitude | Longitude |
| --- | --- | --- |
| +AT SchuykillRiverRailTrail | 40.576927 | -76.026085 |
| +AT StempaSpringTrail .6miles | 40.822732 | -75.424859 |
| +AT HorseTrail | 42.250246 | -73.214214 |
| BridgeSwapMeet | 42.250002 | -73.208841 |