| | |
| --- | --- |
| | |
| Dan, 2003 | Dan, 2015 |
Wednesday, August 12, 2015
I flushed a Grouse. There was a terraced hillside and some ridgetop buildings northwest of the junction of the PCT and 40S01 at mile 1693. I walked some roads parallel to the PCT today. Roads have less trip hazards than trails, so you can spend more time looking at the scenery, and less time looking at your footing. There were great views of Shasta and Pilot Knob. The smoke was much less problematic today.
Miles: 27 1045
Camp: A mile west of Mount Ashland
Maps: ½mile R/A
Route: PCT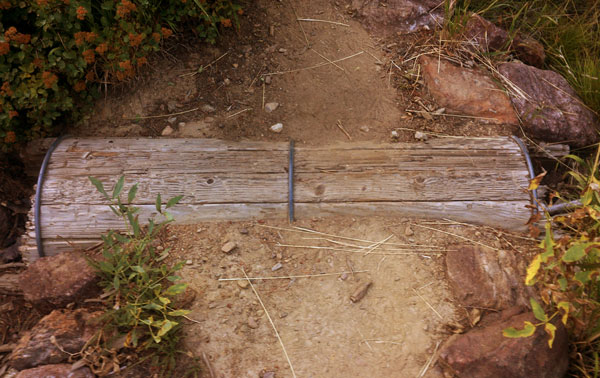 Wooden Culvert
Thursday, August 13, 2015
I followed roads and trails from the Mount Ashland Ski Area through Ashland's Ashland Creek watershed to town. The trails were well enough marked, there were several options, and the route was efficient, pretty, and enjoyable. Several free maps available in the city would make following them easier; perhaps a PDF is available. National Forest wilderness topo maps which may be of interest for the Castella to Seiad section might be available: Siskiyou, Trinity Alps, Russian, Castle Craggs, Marble Mountain. There are fires burning northwest of Crater Lake which don't affect the PCT now but may by the time I pass through. These are the National and Crescent fires, now being managed as the National Creek Complex. The highways north and east of Diamond Lake are closed due to smoke, but not the PCT. I had a good resupply in Ashland and enjoyed the good food. Soap had not hit my body or clothes since Drakesbad in Lassen, so showering and laundering were great luxuries.
Miles: 17 1062
Camp: Ashland Commons Hostel
Maps: ½mile R/A
Route: PCT, Bull Gap Trail, Road 200, Alice in Wonderland character trails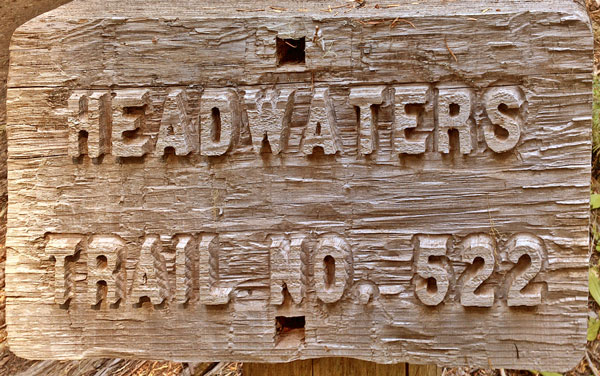 Bas Relief Sign
Friday, August 14, 2015
Southbounders told me the Rim Fire, being managed as part of the National Creek Complex, may soon cause closure of the official route which bypasses the rim of Crater Lake, but not the rim route, which most everyone takes anyway. I met 8 people who skipped from Castella to Ashland to get back on schedule - of course that means they are skipping Castle Craggs through Marble Mountain Wildernesses, my favorite part. There are multiple grocers, hostels, and hotels in Ashland. It's a big change from 2003. I climbed Pilot Rock, and got a great view. On March 30, 2009, the Soda Mountain BLM Wilderness was approved by Congress under Public Law 111-011 Section 1405. Some roads are now blocked and a spring that was once fenced from stock is now just a puddle along the trail. I think in 2003 I met a thru horsebacker there. I got Merrell Moab Ventilators at Ashland Outdoors, but they did not stock 11W, so I got 11½. Thanks to the lady who lives near Callahans and gave me a ride to the northbound Siskiyou Trailhead.
Miles: 14 1076
Camp: Northwest of Soda Mountain
Maps: ½mile B
Route: PCT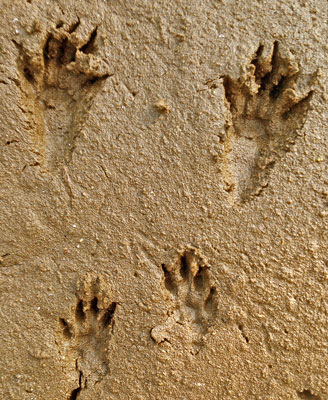 Bounding Track
Applegate Trail
In 1843, Charles, Jesse, and Lindsay Applegate led their families west on the Oregon Trail. Two children were lost descending the Columbia River, which then had many raging whitewater rapids. (The Cascade Ranges of Washington and Oregon are named after the Columbia River's Cascades). These and other Oregon Trail hardships convinced the Appletons to seek a better route to Oregon. In 1846, with the approval of the Oregon Provisional Legislature, Jesse and Lindsay Applegate, David Goff, John Owen, B. F. Burch, W. Sportsman, Robert Smith, Mr. Goodhue, J. Jones, B. Ausbuan, and Levi Scott explored east from La Creole to Fort Hall, Idaho and then returned guiding about 150 emmigrants. Today, this is known as the northernmost branch of the California NHT, and departs from other CNHT routes along the Humbolt river in Nevada for the Willamette Valley in Oregon, with branches to Northern California / Sacramento River Valley settling and mining areas. The Applegate Trail is sometimes known as the South Road, South Emigrant Trail or the Scott-Applegate Trail.
Saturday, August 15, 2015
I took short side trips to the Wildcat Hills Overlook and Klum Campground. At the latter, showers were hot, free, and much appreciated. I remembered the Little Hyatt Dam from 03 and saw a 2½' Garter snake there. I ran into a Paul from 2003, perhaps Just Paul, now southbound.
Miles: 23 1099
Camp: a mile past paved Keno Access Road
Maps: ½mile B
Route: PCT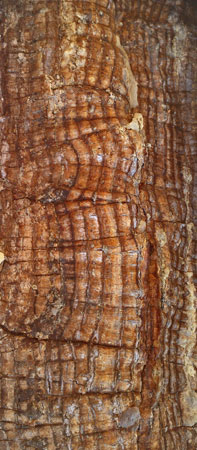 Healed Axe Blaze
Sunday, August 16, 2015
I found an unlisted spring ¼ mile south of the wood bridge over dry creek: The spring was clear and had good flow. Two SOBOs took the Sky Lakes Trail north of Lake of the Woods and enjoyed the many lakes: This may be similar to my 2003 route. Another SOBO had counted 51 NOBOs today by 5pm. The second shower stall from the left by Mazama store has free hot showers. A trail magic soda by Highway 140 was much appreciated.
Miles: 24 1123
Camp: Junction of PCT and McLouglin Mountain Trails
Maps: ½mile B, C
Route: PCT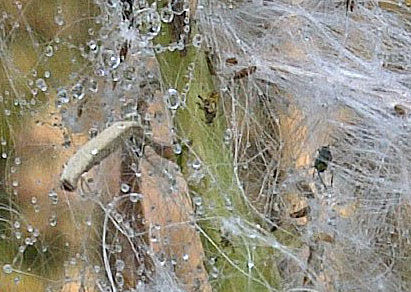 Monday, August 17, 2015
My climb of McLoughlin Mountain provided good views of many lakes. An inversion layer blocked many distant views, but once above it, I could see the top of Mount Adams quite clearly. Gray Jays followed me partway up, pecking at pine trees, but keeping an eye on me in case I should get generous. Christy Spring was my only water source today. There are several long water hauls in this section. There were many Huckleberries for a couple of hours this afternoon, making for some tasty snacking. A guy had a commercial paper topo map of the Sky Lakes Wilderness. There might be a waterproof USFS version. This would be a beautiful lake filled hiking area.
Miles: 23 1146
Camp: Notch West of Fly Lake
Maps: ½mile C
Route: PCT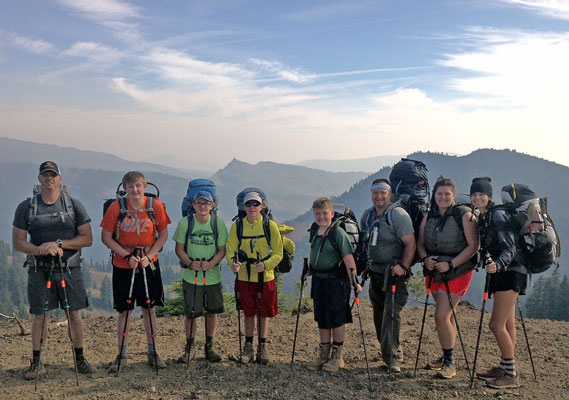 Troop 150, West Salem
Tuesday, August 18, 2015
Southbound hikers informed me that while the Dutton Creek and Rim Trails were open, all trails and roads in the north of Crater Lake NP, and the roads and PCT east of Diamond Lake were closed: Hikers were hitching south almost to Klamath Falls on 62, then north on 97 and 58 to Wilamette Pass. The north end of the closure is probably somewhat south of the pass, but that is the first highway access. Two rides got me to Klamath Falls in time to make a major resupply and check into a hotel just before dark. There are two bike paths in town, one along the A Canal, and the other the OC and E Woods Line State Park Trail, which may continnue out of town.
Miles: 20 1166
Camp: Klamath Falls motel
Maps: ½mile C
Route: PCT, Sevenmile Trail and Road, Hitchhiking West Side Road and 140, town roads
Wednesday, August 19, 2015
US97 was probably my toughest hitch ever, with over 7 hours of waiting and thousands of cars passing by. Heavy semi traffic and narrow shoulders make 97 scary for walking or biking. The guy who picked me up once picked up a guy who had been thumbing over 48 hours in a snowstorm on 97. Thanks from both of us. He recommended I see Salt Creek Falls, some miles west of Wilamette Pass and the PCT. The falls are the second tallest in Oregon and were quite nice. But no rides appeared to get me back to the PCT on busy 58, so I went up much less busy but paved 5897.
Miles: 12 1178
Camp: 1 mile northeast of 58 along FR5897
Maps: Highway, Forest, and GPS unit maps
Route: Washburn, US97, Hitchhiking, Salt Creek Falls, 58, 5897


Salt Creek Falls
The Metolius - Windigo Trail
The Metolius - Windigo Trail's southern terminus is Windigo Pass (FR60, Oregon D, ½Mile 1876) on the PCT, with the northern terminus just east of the PCT in the Mount Jefferson Wilderness, and connected by several trails at and north of Minto Pass, Oregon F, 2010. It crosses lower country and rivers east of the PCT, and is close enough to Sisters to walk in for resupply. At least parts of it are old Oregon Skyline Trail.
Thursday, August 20, 2015
There were many second generation (Short, wide) Pacific Crest Trail System stamped steel blazes along today's PCT. Starting today, I have wide corridor topo and trail maps to Canada. But I'm thinking of sticking to the PCT for a while. Probably the day after tomorrow, I'll get to McKenzie Pass and the section I skipped in 2003 due to the B and B Complex Fire. I'd like to hike that section for the first time, and see how the forests have recovered in 12 years. There are fires all over the west. There has not been any recent rain and the forests are dry. Staying on the PCT makes it easy to know whether I'm headed into fire. Most of the PCT I don't remember after 12 years, so it mostly seems new to me. Perhaps unique scenery will draw me off the trail, or rains wil reduce my concerns of fire... There was a recent fire near the junction of the PCT and Twin Peaks Trail, south of where I regained the trail. The fire seems to be out.
Miles: 24 1202
Camp: Horseshoe Lake
Maps: ½mile E, NGTI818, and GPS unit maps
Route: 5897, Charlton Lake, PCT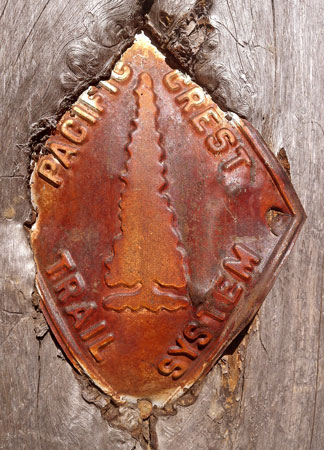 PCTS Stamped Blaze
Friday, August 21, 2015
I saw two Sandhill Cranes standing in grass near a lake. They were still and quiet as I approached, but as I left, they began to walk and trill. I could hear the trilling off and on for 10 minutes after. A bunch of hikers went to Elk Lake Resort and had lunch. The food was good, but quite expensive, and the service was slow. I had a pork sandwich, fries, a beer, two apples, and an ice cream bar for $38. The store had little in stock, and resupplying even for one day would be tough. there was a little fruit, but no cheese or bread, for example. But I got a few goodies from the hiker box. There were some frogs in creeks towards the end of the day.
Miles: 20 1222
Camp: Mesa Creek
Maps: ½mile E, NGTI818
Route: PCT, Island Meadow Trail, Elk Lake Resort, Horse Lake Trail, PCT
Saturday, August 22, 2015
The Obsidian area had much black glass. Obsidian Falls was pretty and just a few minutes upstream the entire 6' wide creek is fed by a massive spring. Much of the day was spent crossing big aa lava fields. The views from these almost treeless areas was great. but much of the footing was loose and uneven. Beyond the Lava Camp Lake Trail, in 2003 the trail was closed due to the B&B Complex. Today, there are areas of new trees and clusters of survivors, but huge swaths are standing snags with grass or ferns covering the ground.
Miles: 28 1250
Camp: Southwest of Mount Washington
Maps: ½mile E, F, NGTI818, 819
Route: PCT, Island Meadow Trail, Elk Lake Resort, Horse Lake Trail, PCT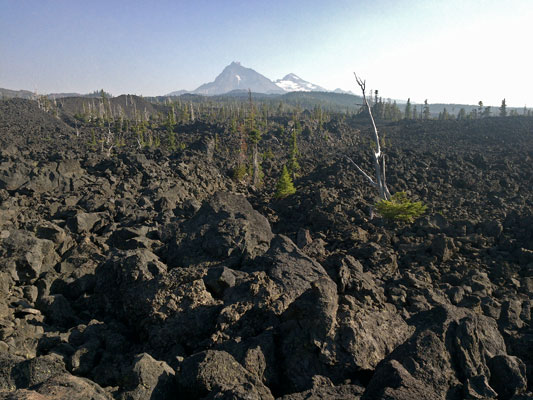 Aa Lava
Sunday, August 23, 2015
Big Lake Youth Camp was an excellent stop, with breakfast, water, wifi, a great hiker box, showers, and more had I wanted it. At breakfast, a 5 year old boy walked up and asked:

Why do you have cheese on your biscuits?
I like cheese and think it will taste good.
I don't like cheese.
Well... I like cheese, so maybe these will be good for me and you can eat yours some other way.
Why do you have 3 biscuits?
Well, I'm hungry so I'll eat 3.
But biscuits aren't good for you. They're just made of bread...

I guess at this point his mom realized he was missing and called him away... A trail magic raspberry wheat beer on ice at the highway was a great treat.
Miles: 21 1271
Camp: a mile north of Minto Pass
Maps: ½mile F, NGTI819
Route: PCT, Big Lake Trail and Road, Santiam Wagon Trail, PCT
The Santiam Wagon Road
The Santiam Wagon Road crosses the PCT just north of Big Lake Youth Camp. This historic route differs from the several emigrant trails as its purpose was allow settlers in the Willamette Valley to access grazing lands to the east in Central Oregon, and to markets as far east as Idaho. Exploration in 1859 consisted of linking existing Indian trails. It was an important route from 1865 until 1939, when US20 opened. It linked Albany with Ontario via Lebanon and Sisters. One could hike the present dirt road west to the McKenzie River NRT or east a half dozen miles in the Willamette or Deschutes National Forests before joining paved Highway 20.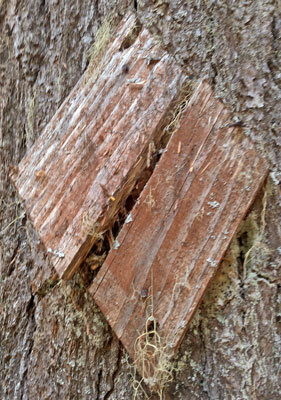 Wooden Diamond Blaze
Monday, August 24, 2015
At the pond east of the Woodpecker Trail, I swam with a 2' Garter Snake. Russell Creek was full of gacial silt, as were some of the following creeks on the way into Jefferson Park. Russel Creek was not too tough to cross, but it could be with a little more water. Brietenbush Trail could be used to travel 12 miles west to the town of Brietenbush, with hot springs and food. Some high icy clouds came through today, and a 50% chance of rain is predicted for the 27th and 8th. I felt a little sick: I hope this was due to allergies and will not continue.
Miles: 24 1295
Camp: north of Park Butte
Maps: ½mile F, NGTI819, 820
Route: PCT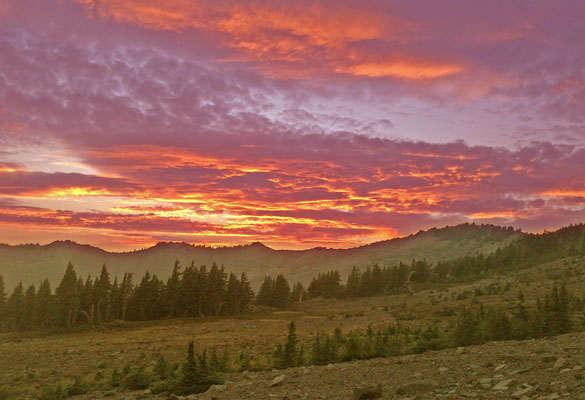 Tuesday, August 25, 2015
I saw a hornet's nest dug out by bears. The paper nest was about the size of a softball and 8" underground. The hornets are black and yellow striped and a bit more than a half inch long. One stung me yesterday morning and the sting bump and a 1" radius area are still pretty tender. There were salamanders in a pond this morning and toads singing this afternoon. In the hiker box at Olallie Lake I found a salad with mixed greens, carrots, and dressing; perhaps the best hiker box find ever. I've also been finding maps, long pants and shirts, and better than average food, perhaps as aresult of the prolonged hot weather. A squirrel ate through my pack and food bags for peanuts outside the store.
Miles: 22 1317
Camp: north of North Pinhead Butte
Maps: ½mile F, NGTI820
Route: PCT, 725, 719, Skyline Road 4220, PCT


Salamander
Wednesday, August 26, 2015
Another hornet stung me on my right pointing finger, causing pain and swelling of the entire finger. Immersion in cold water, say for washing or bottle filling, is quite painful. My left knee still hurts a little from a sting a couple of days ago. Little Crater Lake, a few minutes off trail, is a 45' deep spring so clean that you can clearly see the bottom. The water is 34°F year round.
Miles: 26 1343
Camp: east of Jackpot Meadow
Maps: ½mile F, NGTI820
Route: PCT, Little Crater Lake
The Barlow Road
The Barlow Road or Mount Hood Road was explored by Sam Barlow in 1845. Previously, emmigrants on the Oregon Trail had floated through the rapids on the Columbia River, which was both expensive and risky. When Barlow reached the Wascopam Mission, now The Dalles, he and others explored and built a rumored possible route over a pass south of Mount Hood (where the PCT today crosses the Barlow Road). From the Wascopam Mission the route followed the Tygh Valley, then the White River, Barlow Pass (PCT crossing), Camp Creek and the Sandy River, and ended at Oregon City. The Provisional Legislature of Oregon granted Barlow a concession to maintain and collect tolls until 1848, and others operated the road later. In 1849, a military wagon train of 400+ wagons and 250 tons of munitions used the road and camped west of the pass at a spot still known as the small town of Government Camp, sometimes used for PCT resupply. Near Barlow Pass, dirt roads approximate the old trail, but much is under modern highways US26 and Oregon 35.
Thursday, August 27, 2015
There were some high ice clouds and some early morning lenticulars over Mount Hood. But it didn't seem to me there would be precipitation today or tomorrow. Some chance of rain is still predicted. Highlights today included a trail magic iced soda, clear views of Mount Hood, and an excellent, huge buffet meal at Timberline Lodge.
Unfortunately, there I got word I was needed in San Diego to care for my parents. I jumped two busses, two trains, and a one stop flight to San Diego with surprising efficiency and speed. It felt bizzarre, after months of reveling in the beauty and peace of the trail, and with no mental preparation, to be making a relentlessly speedy trip off the PCT.
Miles: 14 1357
Camp: San Diego
Maps: ½mile F, G, NGTI820
Route : PCT
Timberline Lodge
Timberline Lodge, on the south flank of Mount Hood, was built from 1936 to 1938 by the Works Progress Administration. It is one of the truly outstanding Depression Era buildings. The movie The Shining features exterior shots of it as the Overlook Hotel.
Some Locations
Name
Comment
Latitude
°North
Longitude
°East
+20 BullGapTrail
MtAshlandSkiResort
42.081065
-122.706008
BullGap +Roads CreekToCrestTrl
42.095636
-122.684199
+NF200 C2C BullGapTr1017
2080 270
42.118797
-122.679920
+NF200 Trail
Trail brieflyJoinsRoad
42.131335
-122.684684
TrailTouchesRoad
42.137738
-122.689938
+Road 200AshlandLoopRoad
42.149932
-122.700551
+200 1010Toothpick 1004Caterpr
LambSaddle +LambMineTrail
42.155121
-122.701625
+RD200CaterpillarTrail1004
42.161132
-122.698793
+Caterpillar WhiteRabbit Alice
InWonderland
42.165722
-122.699765
+WhiteRabbit QueenOfHeartsTrls
42.165502
-122.697806
+WhiteRabbit MikeUhtoffTrails
42.166885
-122.690333
+WhiteRabbit TrailToParkStreet
42.167366
-122.681542
FlowingSpringByPCT
42.333791
-122.258046
+PCT SevenmileTrail
42.683250
-122.172071
+7MileTr3707 FR3334
42.699211
-122.148413
+FR3334,3384,3300
42.704794
-122.079450
+58 5897
43.617705
-122.082895
+PCT TrailEast
44.350662
-121.865229
+PCT BigLakeAccessTrail
NOBOleftTurnToBigLakeYouthCamp
44.361400
-121.871281
+Trails
44.365099
-121.868375
+PCT TrailDown
44.491343
-121.844625
150 WestSalem
Photo DSC00654
44.598492
-121.796575
+PCT Trail735DoublePeak
44.802007
-121.812308
+PCT Trail725TopLake
44.802515
-121.811357
+RedLakeTrail719 TopLakeTr725
AtTopLake
44.805250
-121.809249
+725 733TimberLakeTrail
44.806303
-121.802935
+RedLakeTr719 NWSkylineRd4220
44.811057
-121.794636
Name
Comment
Latitude
°North
Longitude
°East