Spanish Missions
Spanish Missions
I've decided to visit some of the Spanish Missions in the US. I will sometimes ride a bike or incorporate the visit into a hike. There will likely be mulitiple, unconnected, trips. I will need to acquire some books, etcetera, to know which to visit, to get directions, etcetera.
Some internet research showed people walking less than ideal routes. For example, they walked all four lane roads from the San Diego Mission to Campland by the Bay, at the north end of Mission Bay. Had they followed the San Diego River, they could have been on boardwalks separated from traffic most of the way, the scenery would have been much nicer, and there would have been fewer hills. Maybe they just didn't know the area or didn't plan thoroughly. Perhaps they felt legitimate pilgrims would walk the least enjoyable route possible. Whatever. I think I'll be trying to find a nice route...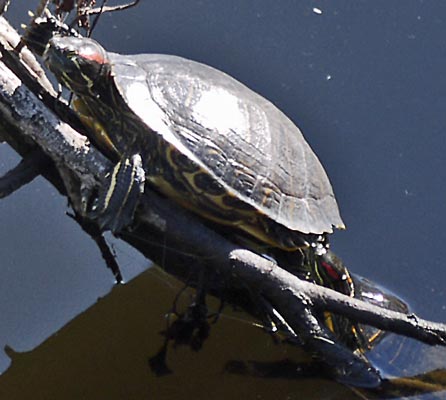 Feral Red Eared Sliders, Trachemys scripta live in the San Diego River. They compete with the Western Pond Turtle Emys marmorata, the only native pond turtle. In my fifty years living off and on in San Diego, the two pictured are the first aquatic turtles I've seen in the wild.
Friday, March 13, 2015
I walked along the San Diego River, to the San Diego Presidio site, and to the inlet between the Marine Corps Recruit Depot and the old Naval Training Center (now a shopping mall), off San Diego Bay. In the San Diego River, from the Morena Drive Bridge, I saw Red Eared Slider Turtles. they are escaped pets who have formed a stable feral population. The Presidio has long since collapsed and is today under ground in a grassy, hillside city park. The site has excellent views of the the Pacific Ocean to the south and west, and usually has water nearby at the San Diego River. Occasionally, an archaeological dig allows the casual visitor views of the old buildings, etcetera, but not today. A Mission style building is a modern museum, not remains of the Presidio. The museum is open on weekends, and has an entry fee. There is no bike rack, and many homeless people hang out in the park and nearby river, so you would have to keep an eye on your bike.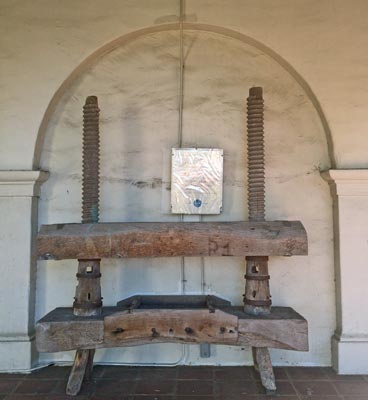 A Wine Press at the Presidio Museum
San Diego Missions Timeline
Year
Description
1542
Juan Rodríguez Cabrillo (Portuguese, but sailing for Spain) arrives by ship in San Diego Bay.
1602
Sebastián Vizcaíno arrives by ship in San Diego Bay.
1741
The Vitus Bering expedition and others cause Spain to consider developing better claims to western North America by settling the west coast.
1769
El Presidio Reál de San Diego established by Gaspar de Portolá. 2 ships and two overland parties converge to staff and supply this mission and presidio, and another to be established at Monterrey. A third ship sunk. Over 100 people died just coming to San Diego to establish the mission and presidio. Indians attacked within a month.
1770
The Presidio completes a stockade and mounts cannon.
1773
Adobe buildings start to replace temporary wood and brush huts at the presidio.
1774
The Mission moves away from the Presidio, up the San Diego River several miles.
1775
The Mission is attacked and burned by Indians.
1783
54 troops were stationed at the Presidio.
1795
Aqueduct projects are begun.
1813
Mission Dam completed.
1816
Flume completed.
1818
Santa Ysabel Asistencia established.
1821
Santa Ysabel Asistencia chapel, granary, adobe houses, and a cemetery completed.
1821
Mexico gains independence from Spain.
1825
1829
The presidio serves as the Mexican Governor's residence.
1831
Mission Dam damaged and no longer in use.
1833
The Mexican Congress passes An Act for the Secularization of the Missions of California.
1834
Governor Figueroa issues Decree of Confiscation.
1835
Presidio abandoned.
1846
Mission San Diego de Alcalá given to Santiago Argüello by Governor Pío Pico.
1846
The "Army of the West", commanded by General Stephen Watts Kearny, made camp on the Santa Ysabel rancho on their way to the Battle of San Pasqual.
1847
Jean Baptiste Charbonneau, son of Sacagawea of Lewis and Clark fame, camped at the Santa Ysabel Mission and San Luis Rey Mission in 1847 after guiding the Mormon Battalion from New Mexico to San Diego.
1849
A.W. Whipple, U.S. Army Lieutenant, United States and Mexican Boundary Survey, finds the Santa Ysabel Mission in ruins.
1846
1862
US Military uses San Diego Mission and lands.
1862
President Abraham Lincoln returns just the San Diego Mission to the Roman Catholic Church.
1880
1907
Father Anthony Ubach restores San Diego Mission Buildings.
1907
1929
George Marston buys Presidio Hill, builds park and museum, and donates it to the City of San Diego.
1941
San Diego Mission becomes an active parish church.
1976
Pope Paul VI makes San Diego Mission a minor basilica.
Saturday, March 14, 2015
I rode a bike to the San Diego Mission and to the Mission Dam. The Mission is a current Catholic Church and charges a $5 admission. There were no bike racks at either place, but it would probably be ok to lock the bike to something and explore for an hour or two.
Monday, April 20, 2015
I stumbled across a display of items dug up at the San Diego Mission at the public library on Zion Avenue. I need to return with a better camera.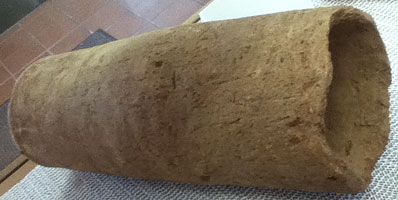 Fired Clay Pipe, Mission San Diego
San Luis Rey de Francia



Mission San Luis Rey de Francia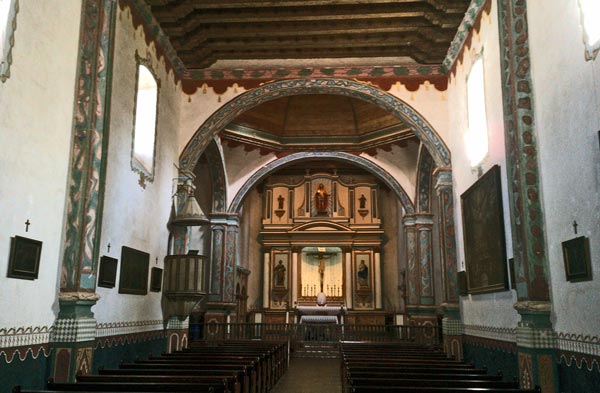 View towards Main Altar
March 20 - 25, 2015
I rode a bike to the San Luis Rey de Francia Mission. Along the way, I stayed at Jim's place and cut a granite countertop (amazingly easy with the right diamond abrasive blades / cooling water and standard power tools), and at my sister's place where I helped put in a big vegetable garden.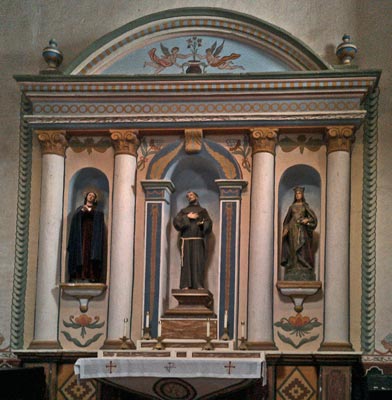 Side Altar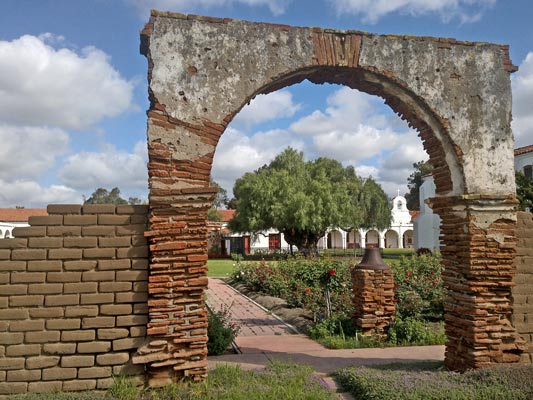 The oldest Pepper Tree in California, planted by missionaries.
The Mission is a current Catholic Parish and Franciscan Monastery. The museum charges admission, but visiting the public areas, including the church, graveyard, laundry, baracks, and kiln is free. There were no bike racks, but the lady watching the old church let me park there while I walked the grounds.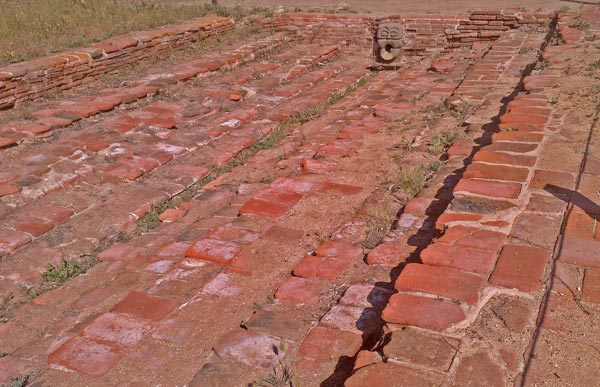 Laundry Area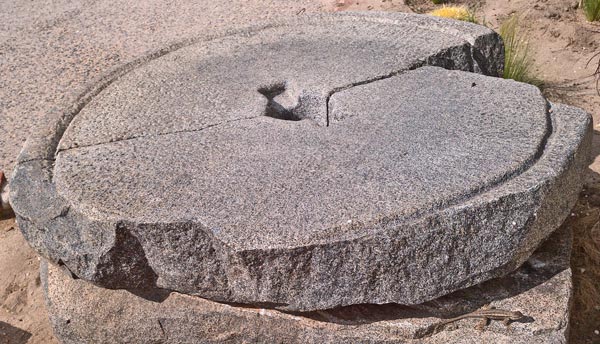 Mill Stone
Locations of California Missions
Mission
Address
Order1
Longitude
Latitude
San Diego Presidio
-

-
-117.19476
32.75957
San Diego de Alcala
10818 San Diego Mission Rd
San Diego, California 92108
1st
-117.105838
32.783901
San Diego Mission Dam
-

-
-117.043180
32.839565
Santa Ysabel Asistencia
23013 Highway 79
55 miles by bike
1818
-116.678133
33.130707
San Carlos Borromeo de Carmelo
3080 Rio Rd
Carmel, California 93923
2nd
-121.919274
36.543368
San Antonia de Padua
Mission Creek Rd
Jolon, California 93928
3rd
-121.179064
35.998209
San Gabriel Arcangel
537 W Mission Dr
San Gabriel, California 91776
4th
-118.107719
34.09662
San Luis Obispo de Tolosa
782 Monterey St
San Luis Obispo, California 93401
5th
-120.664884
35.2801
San Francisco de Asis Mission Dolores
3321 16th St
San Francisco, California 94114
6th
-122.426927
37.764475
San Juan Capistrano
Ortega Hwy at Camino Capistrano
San Juan Capistrano, California 92693
7th
-117.662799
33.50185
Santa Clara de Asis
500 El Camino Real
Santa Clara, California 95953
8th
-121.93704
37.351537
San Buenaventura
225 E Main St
Ventura, California 93001
9th
-119.297274
34.280993
Santa Barbara
2201 Laguna St
Santa Barbara, California 93105
10th
-119.712625
34.437286
La Purisima Conception
2295 Purisima Rd
Lompoc, California 93436
11th
-120.421338
34.66967
Santa Cruz
126 High St
Santa Cruz, California 95060
12th
-122.029682
36.978361
Nuestra Senora de la Soledad
36641 Fort Romie Rd
Soledad, California 93960
13th
-121.353156
36.40549
San Jose
43300 Mission Blvd
Fremont, California 94539
14th
-121.92001
37.533787
San Juan Bautista
Second and Mariposa Sts
San Juan Bautista, California 95045
15th
-121.536129
36.84514
San Miguel Arcangel
801 Mission St
San Miguel, California 93451
16th
-120.697431
35.745475
San Fernando Rey de Espana
15151 San Fernando Mission Blvd
Mission Hills, California 91345
17th
-118.461682
34.272892
San Luis Rey de Francia
4050 Mission Ave
San Luis Rey, California 92068
18th
-117.319708
33.232097
Santa Ines
1760 Mission Dr
Solvang, California 93463
19th
-120.136322
34.595833
San Rafael Arcangel
1104 Fifth Ave
San Rafael, California 94901
20th
-122.528207
37.974267
San Francisco Solano
20 E. Spain St
Sonoma, California 95476
21st
-122.45711
38.293761
1 - Order of First Establishment
These coordinates were not taken by me and may not be accurate.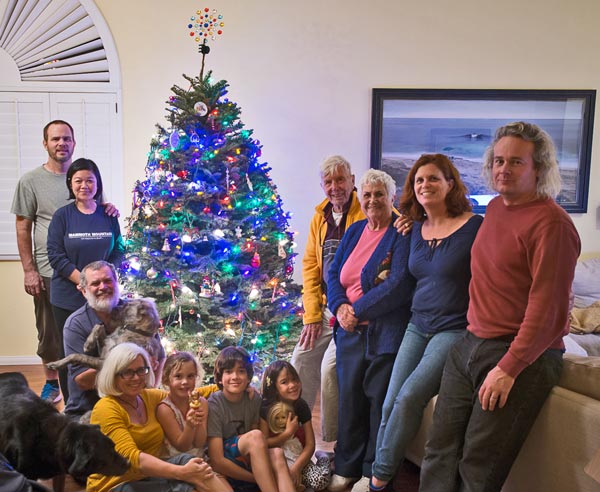 My Family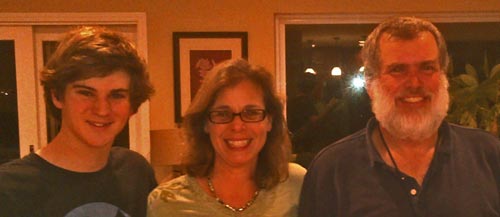 Fletcher, Cousin Vicki, Dan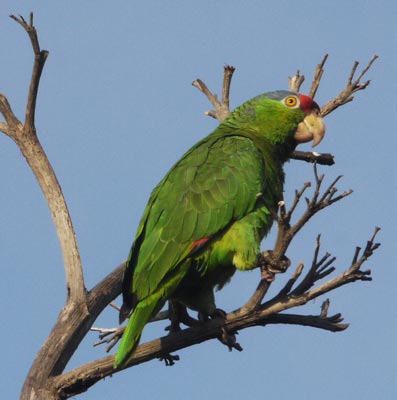 Feral Red-Crowned Amazon Parrots, Amazona viridigenalis live in Ocean Beach and Point Loma, and as far away as Lakeside and Escondido. The wild population may be only a couple thousand, so feral flocks in some US cities may benefit the survival of the species.