14 April, 2015
Introduction
I was recently given the bike that Roni rode from Portland, Maine to Portland, Oregon. It's in pretty good condition.
I intend to eventually ride it on the Great Divide Mountain Bike Route. The GDMBR often crosses, but is rarely the same route as, the CDT. It is mostly on dirt roads, but is occasionally on paved roads or trails. I plan to often ride off the route to interesting things near the Continental Divide.
In the meantime, it's been 17 years since I owned a bike. Generations of technology have passed, and my muscles have adapted to Long Distance Hiking. For conditioning, and in the interest of understanding the abilities and limitations of the bike, and of myself, I've taken several 35 mile rides around San Diego. I also took a 130 mile ride to the San Luis Rey de Francia Mission in Oceanside, visiting Jim and my sister along the way. In all, I pedaled about 400 miles in spring of 2015.
As an additional Shakedown Cruise, I'm thinking of riding to all the California Missions in the fall.
The bike is a Diamondback Cross, Serial Number 7FC8111.
Tools to Carry on the GDMBR
Tool
Size
Note
Hex Key
Allen Wrench
3mm
General
4mm
5mm
6mm
1/8"
Front Fork Rack Attachment
Phillips Screwdriver
#0
Blinky Headlight Battery
#1
Adjustable Bottle Rack
#2
Spoke Magnet for Odometer
Derailleur Stop Adjustments
Flat / Regular Screwdriver
Large
Shifters
Medium
Small
Not Used on Bike
Open End Wrench
15mm
Pedals - see Chain Whip
13mm
Front Brakes
Box End Wrench or Socket
10mm
General
5/16"
Socket
14mm
Crank Retention Screw
Crank Puller
?
Park CWP-7 15mm hex drive.
Bottom Bracket Spline Wrench
1.25"x20
Park BBT-22 3/8" Socket Drive, or 32mm or 1" hex drive.
Head Tube Wrench
1.25x8
Need
Spoke Wrench
Green
-
Tire Irons
-
-
Pump
Presta
Converts to Schraeder
Pressure Gauge
Presta /
Schraeder
0-160psig
Adaptor
Presta Stem to Schraeder Pump
Tube Patches
-
-
Tire Patches
-
-
Chain Rivet Press
Park CT-5
-
Cassette 12 Spline Wrench
Park FR-5
-
Multi Tool
2, 2½, 3, 4, 5, 6, 8mm Hex Key, #1 Phillips, T25, T30 Torx, Chain Rivet Press, .127, .130, .136" Spoke Wrenches.
Spin Doctor
I greatly prefer individual wrenches, screwdrivers, etcetera, as they fit in tight spaces and are easier to use than multitools. So I'll also take some real tools duplicated in the multi tool.
Chain Whip
15mm
Park HCW-16 Chain Whip and 15mm Open End Pedal Wrench
8" Crescent Wrench
1 1/8" Jaws
I may braze a 3/8" socket adapter and 1/4" hex bit adaptor to the handle end to make this wrench more versatile. I selected the tightest jaws from several copies each of several brands at the hardware store. The jaws are marked to serve as crude calipers in inch and millimeter sizes.
Cable Cutter
-
Spin Doctor
Schwinn 12 Function Computer

The display is not readable in bright sunlight. Displayed and undisplayed segments of the 7 segment LCD displays are indistinguishable in bright conditions. Additionally, in mildly hot (90°F) conditions, the entire LCD display turns black. Other than that, it functions correctly. I found and downloaded images of the instruction book.

A functioning Odometer is needed to navigate the GDMBR. It would be nice if the odometer were displayed in a larger size. The speedometer function is mildy entertaining. No other function seems useful to me.

Part
Size
Note
Coin Cell
AG12 386
-
NiteIze Spoke Lights
Part
Size
Note
Coin Cell
CR927 3 Volt
-
Bottom Bracket

As given to me, the plastic left side splined nut was cracked and deformed.

Per a bike mechanic, the nuts are not available individually. An entire bottom bracket must be bought at ~$21. Diamondback bottom brackets usually have English threading. The axle is extra long and does not seem to be stocked in local stores.

After disassembling and inspecting, the nut acts only as an annular shim. It was not as deformed when I reassembled it. This probably does not require replacement.

Part
Size
Note
Chainrings
Sprockets
48, 33, 28
Shimano Biopace. Tab aligns to right crank.
Cranks
170mm
Shimano FC MT60. 170mm moment arm.
Bottom Bracket

Annular Shim Cracked at Red Arrow. Corroded patch on matching surface from distortion in former warped installation trapping water. The shim does not warp as I reinstalled it.

SEALED
CARTRIDGE
UNIT
SHIMANO
BB-UN53
68
BC1.37x24
JAPAN VIA
L←D-NL→R
Wheels

The bike has 26" wheels. As given to me, it has a 1¼" tire on the front and a 1½" tire on the rear. The tires are fairly smooth, and are suitable for riding on pavement most of the time. The front tire sinks in sand, gravel, and mud very quickly. The front tire visibly squashes excessively on normal bumps and pavement cracks. Wider tires will be required before I do much travel on dirt roads. The tightest restriction on tire width is behind the bottom bracket, where the gap between tubes is about 2¼". The rear tire spins while climbing steep dirt inclines: A knobbier tire will be needed. Update: I changed the tires and tubes per below April 16, 2015, as the sidewall of the rear tire was failing. The inner tubes were patch free, so I saved them and the front tire. Perhaps it will offer lower rolling resistance on the Missions trip. I had to remove my second market fenders to fit the larger tires, but I think they will fit if I modify the mounting scheme. I will need to tap some holes already drilled in the frame and drill new holes in the fenders and rear rack. The rear rim was drilled larger than the Presta valve and might fit a Schraeder valve: I'll have to check.

On the wheels I can see about 10¼" of spoke. The bike has a brazed on rack to carry 3 10¾" spokes. One 11" and 3 10½" spare spokes are taped to the frame. I need to figure out what spares are appropriate, and fix this situation.

Part
Size
Note
Front Rim
26"
Matrix 26" Heat Treated
Front Hub
-
Shimano Diore XTM 14G HB-M730
Rear Rim
26"
AlexRims Racers Edge Adventurer ETRTO 559x18 6061H-T6
Rear Hub
-
Shimano FH-RM40-8 8S
Freewheel
-
8 Speed
Tires
26"x2.2"
Forte Tsali MTB Tire Folding Bead, 60 TPI 585 grams
Inner Tubes
26x1.75-2.125
Slime Self Sealing Presta valve
Shoes and Pedals
Part
Size
Note
Pedals
Shimano M530
Shimano SPD cleats click in top or bottom of these pedals.
Cleats
SPD
I have SM-SH51 (Black) cleats which only disconnect by rotating the ankle horizontally around the cleat at the ball of the foot. Silver or gold cleats (SM-SH56) release by pulling up, or by other rotations. The black cleats are easy enough to release and allow pulling on the pedals, so I'll stick with them.
Shoes
Shimano
SH-MT43B
46
11.2
29.2
Per a salesman, these shoes run wider than other mountain bike shoes (important for me) and are among the stiffer shoes. Under the cheap looking insole, the sole looks like it would be very rough on my feet, with its many holes and ridges. On the GDMBR, I'll probably carry hiking shoes for hiking away from the bike for more than 10 minutes or so.
February, 2016
Jamul / Deerhorn Valley
I'm staying with Gene in Jamul / Deerhorn Valley for February and early March. I've been riding a counter clockwise loop of Deerhorn Valley Road, Cinnamon Drive, 17S10, Barber Mountain Road, Honey Springs Road, Mother Grundy Truck Trail, and Deerhorn Valley Road. The route is about 15 miles and gains and looses about 1900 feet per Google Maps. 17S10 and Barber Mountain Road have enough rocks, ruts, and mud to build some mountain bike skills. All but Deerhorn Valley Road and Honey Springs Road are dirt. I'm guessing the route is as technical as most of the GDMBR, with much more climbing, making it pretty good training. I expect to build mountain bike skills and stamina, and shake out the gear I plan to use on the GDMBR.
R2E
R3E
T17S
T17S
R2E
R3E
Deerhorn Valley Training Loop
15 Miles Long, 1900 Feet of Loss and Gain
El Cajon 30'x60' Quad
1979
1:100,000
Major Contour 250 Meters
Minor Contour 50 Meters
Name
Latitude
Longitude
Comment
CinimonRoad+HiTensionLine
32.679243
-116.695861
-
+17S10 HiTensionLine
32.685669
-116.696535
-
+17S10 PowerLineRoad Gate
32.685802
-116.706781
ToWilsonCreek? ToDeerhorn?
-
BarberMtnRd Gate NFboundary
70.888370
-116.736850
-
+MotherGrundyTT ViaPamela
32.657323
-116.740527
-
+MotherGrundyTT HarveyHomestea
32.655748
-116.731515
-
Name
Latitude
Longitude
Comment


Bicycle Equipment, March 2016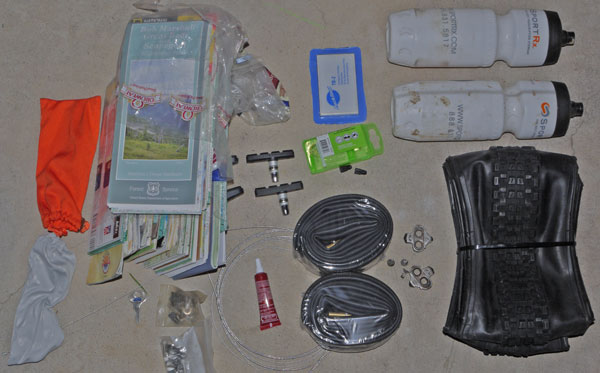 Bicycle Spares, March 2016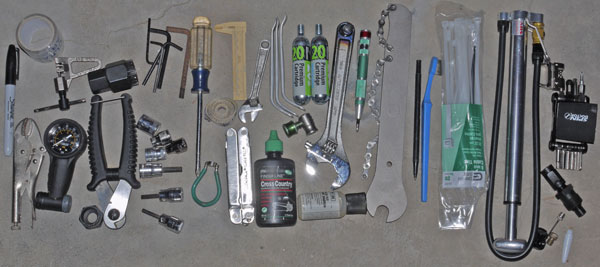 Bicycle Equipment, March 2016
August 2016 Wyoming GDMBR Notes
My Left Kneecap
My left Kneecap hurts when I am pedaling hard and when I rotate my foot out of the clip pedals. I loosened the pedal tension a half turn at Polebridge and that helped a lot. One 325 mg Aspirin per day helps too. The same pain occurred before the trip, when training. After the Wind River hiking break, this issue was much improved, though there were occasions when it returned briefly.
Clip Pedals
There are many times I'd rather not be clipped in. Technical terrain and steep gravel or sand ascents are two examples. It would be nice to have some way of not clipping by accident in these cases. Some pedals are platform on one side and clip on the other. Rotating my feet out of the clips was one of the actions that made my knee hurt.
Chain wraps around Chainring
When I am pedaling very hard, as on steepascents with deep soft soil, the chain sometimes wraps entirely around the chainring and locks up. With sufficient forward momentum, one can backpedal and unjam the chain. But often this happens at very slow speeds, requiring stops. This may be due to too long spacers for the smallest ring. I need to measure / fix this after the trip.
Panniers
Even though the saddlebag type panniers that came with the bike have a hard backing, sometimes, after a big bump, the lower rear corner ends up in the spokes. On both sides, this has torn the back panel to side and bottom stitching out for several inches. Packing the bags tight so the back is convex helps, and so does tying a shock cord around the bag, again forcing a convex back.
Packing
I would consider skipping the panniers and packing everything in stuff sacks. Then I would tie the bags to various bike parts with lengths of raw bungee cord. Some bikes have small racks various places for this purpose. But a rack made of heavy wire mesh or expanded sheet metal would keep things out of the spokes and other moving parts and provide convenient lashing points. 5mm shock cord has held knots well and kept bags in place. A rain cover I made from a heavy garbage bag has kept everything on the back rack dry without causing many other issues.
Socks
One pair of cheap plastic socks is still going strong after Montana. Perhaps less dirt in the socks and less pounding helps socks last much longer than while hiking.
GDMBR
The GDMBR is in sage plains and farms or ranches much more often than the CDT. There is little shade and there are few wind sheltered or off right of way places to rest. Sunburn has been a significant issue. Resupply is often daily, or much more frequent than for hiking. Bathrooms and potable water are often available more than daily. Gas stations provide high calorie snack opportunities. The route is usually fairly obvious: I've needed to backtrack only twice, though I don't use the recommended odometer.
Vision
On dirt roads, the road surface must be watched at all times. Bright sun increases eye strain. My eyes get very tired after long stretches. Dark rooms or shade feel great. In hiking, there is less eye strain and rests are more frequent. A baseball cap under the helmet has helped significantly. Da Brim is a brand of cowboy hat rim that attaches to bike helmets. A light version performs poorly, while a sport version doesn't flop about or work its way off the helmet.
Schraeder versus Presta tube valves
Schraeder inner tubes are available in many more stores than Presta. My rear rim has been reamed to accept Schraeder stems. I would ream the front rim too so that either Schraeder or Presta tubes could be used.
2017 Rebuild
While reassembling the bike, I replaced the chain, cranks and chainrings, cassette or rear sprockets, and rear deraileur, or most of the transmission. I tossed the rear rack and panniers as one of the rack bolt tabs had broken off by fatigue and the bag had several each holes from ripping and wearing through. The handlebar tape and front inner tube were beyond repair and were replaced. The cost was about $150, with the rack and bag not replaced.