Pacific Northwest Trail
PNT Map - Dwell cursor for area names.


Saturday, June 21 - Sunday, June 29, 2014
Visiting Family in Georgia
I had a family reunion in Sautee Nacoochee, north Georgia. We hiked to Anna Ruby Falls and Raven Cliffs Falls, tubed the Chatahoochee River in Helen, and rode the water slides there. We saw ringneck snakes, Eastern Box Turtles, Frogs, Fireflies, etcetera.
Attendees: Mom, Dad, Lisa, Jorge junior, Julie, Michael, Jenny, Dan, Marie, Roy, Kate, Rob, Chette, Jodie, and Bodie.
Sunday, June 29 - Wednesday, July 2, 2014
Train, Atlanta to East Glacier
My train left Atlanta Sunday evening, June 29th. Monday, I stopped in Washington DC 9:53AM-4:05PM. Tuesday, July 1st, I stopped in Chicago noon-2:15PM. Wednesday, July 2nd, I arrived in East Glacier after midnight.
Route: Crescent 20, Capitol Limited 29, Empire Builder 7
Wildlife: Red Wing Blackbirds, Great Egrets, White Pelicans, Common Grackles, White Tail Deer, Mule Deer, Bison, Corn, Hay, Alfalfa
Glacier NP Predicted Weather:
Wednesday, July 2 - 82-53F, Sunny, 0%, ESE at 4 mph
Thursday, July 3 - 81-52F, Partly Cloudy, 20%, S at 7 mph
Friday, July 4 - 79-51F, Isolated Thunderstorms, 30%, WSW at 10 mph
Saturday, July 5 - 78-49F, Sunny, 10%, WSW at 11 mph
Sunday, July 6 - 72-50F, Partly Cloudy, 10%, WSW at 12 mph
Monday, July 7 - 72-48F, Mostly Sunny, 0%, WSW at 12 mph
Tuesday, July 8 - 73-47F, Sunny, 0%, WSW at 11 mph
Wednesday, July 9 - 72-44F, Sunny, 0%, WSW at 12 mph
Thursday, July 3, 2014
I arrived in the wee hours, and camped away from East Glacier. At 1AM, I could see bright satellites, though what was illuminating them I don't know. There were a few shooting stars.
Later, I hiked to Two Medicine via the CDT / Mount Henry Trail. At the high ridge, I saw perhaps 20 Bighorn Sheep about 300 yards away. I sat on my pack and quietly watched them. They came within 20 yards of me and grazed. The sheep dispersed and stayed further away after people hiking up from the 2 Medicine area talked and moved around.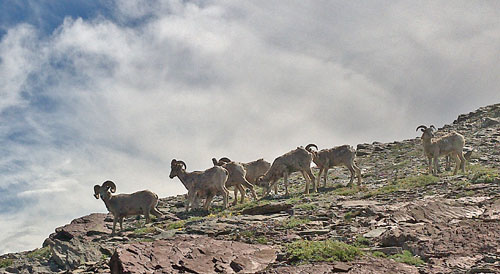 Steep, hard snow and deep, swift stream fords convinced me to set aside my plan to hike alternates to my last CDT hike. I hitched to Rising Sun Campground with permits for a new route.
Miles: 10
Friday, July 4, 2014
I took the free shuttle to Apgar on the west side to see more of Glacier NP. I liked the river and Lake McDonald. I then took the Flattop Mountain Trail from The Loop parking area to Fifty Mountain and camped. I saw a toad and Bighorn Sheep, and tracks of Grizzly Bears, Badgers or perhaps Wolverines, and Rabbits.
Miles: 12 23
Camp: 50 Mile Mountain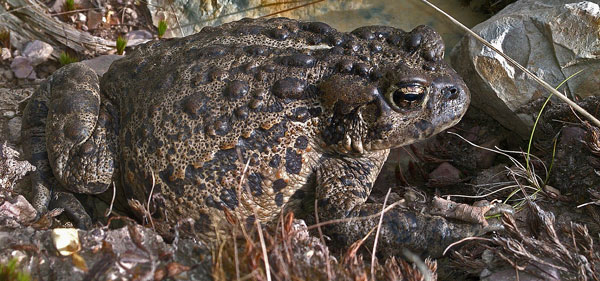 Saturday, July 5, 2014
I saw a Mule Deer, a Marmot, and much green, fiberous Grizzly scat.
Miles: 17 40
Camp: Lake Frances
Sunday, July 6, 2014
I watched a Mule Deer buck, with small antlers in velvet, chew up a hiker's shirt for salt while the ranger chased it away. There were two specled garter snakes near Bowman Lake. I joined some great divide mountain bikers for food and beer in Polebridge.
Miles: 18 58
Camp: Polebridge
Monday, July 7, 2014
A wolf walked by my camp as I was waking up. He was used to people enough that when I said Hey! he looked at me for a few seconds before trotting off. There were 3 striped garter snakes on ascent up Hay Creek Road. There were dust bath holes in the closed road, and one grouse hen put on a great distress / distract display to draw me away from her several very small chicks.
Miles: 22 80
Camp: West of Whitefish Mountain
Tuesday, July 8, 2014
I left the Whitefish Divide and walked down the closed Stillwater River Road. The valley was lush; I saw many snakes. I hitched into Eureka along US93. The weather has been quite hot and will continue to be. The heat is making the many ascents grueling.
Miles: 20 100
Motel: Eureka, Montana
Metaline Falls, Washington, Predicted Weather:
Wednesday, July 9 - 92-57F, Partly Cloudy, 0%, SW at 9 mph
Thursday, July 10 - 88-56F, Sunny, 0%, NW at 7 mph
Friday, July 11 - 90-58F, Sunny, 0%, SE at 6 mph
Saturday, July 12 - 95-60F, Sunny, 0%, NW at 5 mph
Sunday, July 13 - 97-62F, Mostly Sunny, 0%, WSW at 4 mph
Monday, July - 14 96-61F, Mostly Sunny, 0%, NE at 6 mph
Tuesday, July 15 - 96-64F, Sunny, 0%, E at 5 mph
Wednesday, July 16 - 97-64F, Sunny, 0%, SW at 6 mph
Thursday, July 17 - 95-61F, Mostly Sunny, 0%, S at 6 mph
Friday, July 18 - 92-60F, Sunny, 0%, S at 8 mph
Wednesday, July 9, 2014
After resupplying, etcetera, I hitched west along Highway 37 to the Tobacco River and followed paths to the Rexford Marina. Prices were good, so I tanked up on soda and ice cream and carried a big frozen burrito out on the trail. I hitched 37 again across the bridge over the lake and walked down that road and up the Webb Mountain Lookout switchbacks. The long ascent was improved by a lazy attitude, huckleberries, and just a few strawberries. I had found a few strawberries previously, and yesterday I ate huckleberry flowers: today's were the first huckleberries I've found. A family had rented the Webb Mountain Lookout Tower for a campout: I enjoyed the conversation, the kids, a s'more, a sausage sandwich, some fruit, and some water. It seems like this would be an unforgettable family campout!
Miles: 10 110
Camp: ½ mile east of Thirsty Mountain
Thursday, July 10, 2014
I saw a Grizzly Bear and a Rabbit.
Miles: 16 126
Camp: beyond Fish Lakes
Friday, July 11, 2014
I saw some Rabbits.
Miles: 26 152
Camp: North of Black Top
Saturday, July 12, 2014
I met another westbound PNT hiker.
Miles: 15 167
Camp: ½ mile into Idaho
Sunday, July 13, 2014
I ate many Huckleberries, and a few Strawberries and Thimbleberries. I met the other hiker again.
Miles: 21 188
Camp: South of Bethlehem Mountain
Monday, July 14, 2014
There was some rain. I saw Whitetail Deer and rabbits. Though someone had chainsawed up the Parker Ridge Trail 221 this year, there are many dead trees and enough had fallen since the trailwork to be a nuisance.
Miles: 21 209
Camp: Parker Ridge
Tuesday, July 15, 2014
This ridgewalk had many beautiful views of rocky, snowy peaks. However, all of the up and down at 7,000 feet was exhausting. I think the PNT is not for me.
Miles: 12 221
Camp: Lower Ball Lake
Wednesday, July 16, 2014
I mostly walked and camped with Michael, the thruhiker I've seen off and on for a few days. A bushwhack in the morning was tough; later walking was easy.
Miles: 18 239
Camp: Upper Priest Lake beach, campfire.
Thursday, July 17, 2014
There was much easy trail and roadwalking, but also a tremendously tough bushwhack up an overgrown road and trail.
Miles: 23 262
Camp: Shedroof Mountain, Washington
Friday, July 18, 2014
I hiked down into Metaline Falls, Washington and got a motel room. While BSing with the manager, I found out he was heading to Spokane in the morning and set up a ride. I've decided that the PNT is so physically demanding that I have little time or energy left over to enjoy myself.
Miles: 15 277
Motel: Metaline Falls
Some GPS Locations
+GraniteParkTr TrToTheLoopTHed
48.757142
-113.807859
Off PNT
No Water
-
+FlattopMtnTr GraniteParkTrail
48.749533
-113.796795
Off PNT
No Water
PackersRoost1 FlattopCG4 FiftyMtnCG111.4miles
FlattopTr at FlattopCampsite
48.786309
-113.844494
Off PNT
Water Source
-
+CDT TrailUpWatertonRiver
48.884897
-113.911249
Off PNT
Water Source
-
CDT RangerCabin Bridge
48.896230
-113.906870
Off PNT
Water Source
-
+CDT StoneyIndianPassTrail
48.897717
-113.905000
Off PNT
Water
StoneyIndianPssCG2.6 GoatHaunt4.9 50MtnCG5.6miles
+CDT PorcupineLookoutTrail
48.908587
-113.905948
Off PNT
No Water
5.4toLookout .9toStoneyIndianPassTrailJunction
CDT atKootenaiLakesCG
48.926361
-113.896989
Off PNT
Water Source
-
+CDT PNT GoatHaunt
48.958040
-113.892159
On PNT
Water Source
-
+CDT/PNT RainbowFallsTrail
48.953616
-113.900559
On PNT
No Water
-
+PNT CDT BoulderPassTr Watertn
48.958095
-113.903717
On PNT
No Water
-
+PNT/BowmanLkTr NumaRidgeLOtr
48.837635
-114.195070
On PNT
No Water
-
+PNT Tr26WhitefishDivide
48.738471
-114.554999
On PNT
No Water
-
+PNT26 FR115
48.747697
-114.571265
On PNT
No Water
-
+PNTWebbMtnT435CliffPtThirstyM
48.818512
-115.359802
On PNT
No Water
CliffPtThirstyMtnT436 Rd751 4.2m Rd228 10miles
+PNT TrailSouth
48.814203
-115.385967
On PNT
No Water
South of Thirsty Mountain
+PNT7183L/7229 7183
48.828646
-115.409057
On PNT
No Water
-
+PNT BoulderLakeSpurTrail
48.837193
-115.444891
On PNT
No Water
-
+PNT BoulderMtnTr337
48.836123
-115.453568
On PNT
No Water
1MileSouth to BoulderMtn
+PNT Purcell/LostHorseTrail
48.845350
-115.520070
On PNT
No Water
-
+PNT/PurcellNRT 233 161TurnerC
48.851852
-115.518240
On PNT
No Water
-
+PNT BunkerCreekTieTrail
48.871227
-115.583863
On PNT
No Water
+VinalLakeRoad746 6miles
Pacific Northwest Trail Pre Trip Planning Info
I used the following information to plan my trip.
Hike across Glacier NP to PNT
I'll follow the CDT north to Two Medicine and pick up permits for Glacier NP. Whereas in 2013 I walked the Pitamakin Trail north of 2 Medicine, I'll follow the Dawson Pass Trail through Bighorn Basin. To Saint Mary Lake I'll be on the CDT and my 2013 route, but I could hike east on the Red Eagle Trail to Saint Mary, have a nice lunch, and bus back up the Going to the Sun Road to the CDT. These busses are free, so it might be possible to explore along the road for a day, so long as I can figure out the overnight stay. In 2013, I took the Highline Trail, so I'll take the CDT / Piegan Pass Road north from the Going to the Sun Road. At Many Glacier, I'll leave the on the Ptarmigan Trail to the Cosley Lake and Gros Ventre Falls area. There I would pick up the PNT on its access route from the Chief Mountain Border Crossing Trailhead.
Glacier National Park notes from 2013
My 2013 hike through Glacier was nice, with lush green valleys and rocky passes. The rocks are sedimentary, so distant views all feature layering, and fossils are often seen. There were many Stromalyte fossils throughout Glacier NP. The backcountry campground system was ok, but one day a lack of unreserved sites forced a 30 mile day on the official CDT. I had concluded that 20-25 was all I could handle, as understory plants overgrow the trail for miles, slowing travel. So I hiked a shorter route. I noticed that several other parties had permits to camp out of the designated sites. A hammock would be ideal for such off trail camping in the lush pine and understory forests here. My permit cost $20. Hitching from East Glacier to Waterton was easy enough and took me 4½ hours. I could also just hike north out of East Glacier, pick up permits at Two Medicine, and keep hiking north. Alternatively, I could hike north out of West Glacier and repeat almost nothing. There are parallel routes often enough that it would not all be a repeat. I may use the Going To The Sun Road Shuttles to explore and resupply in Saint Mary's for a day.
PNT Overview Maps, Detailed Printable Hiking Maps, Data Book
Pacific Northwest Trail Planning Table

#
Name
Miles
Difficulty
Route
Finding
Visitation
Supplies
West Glacier To Cape Alava: 1212.6 Miles
Opt2
1-3
Map
Access Via West Glacier
62
West Glacier, CDT at Deadwood Falls (Supplies in Saint Mary Via Going to Sun Road), Many Glacier (Restaurant), Goat Haunt
Chief Mountain Border Crossing To Cape Alava: 1172.6 Miles
Opt1
1-1
Access Via Chief Mountain
22
Long Hitch to Chief Mountain, Hike over Stoney Indian Pass, Goat Haunt
Waterton Lake / Goat Haunt To Cape Alava: 1150.6 Miles
MT1
1-8
Glacier National Park
31.7
Moderate
Moderate
High
Polebridge Grocer Restaurant
Kishenehn Trailhead Glacier Route 7 To Cape Alava: 1118.9 Miles
1MT2
North Fork Flathead River
9.2
Easy
Easy to Moderate
Light
Thoma Trailhead To Cape Alava: 1109.7 Miles
1MT3
Thoma Lookout
13.6
Moderate
Moderate
Light
Tuchuck Pass To Cape Alava: 1096.1 Miles
1MT4
West Tuchuck Traverse
6.9
Easy to Moderate
Moderate
Light
Camp Creek Trailhead To Cape Alava: 1089.2 Miles
1MT5
Mount Wam
11.7
Moderate
Moderate
Light
Theriault Lakes Road 319 To Cape Alava: 1077.5 Miles
1MT6
Ten Lakes Scenic Area
20.1
Moderate
Moderate
Light
Sinclair Creek Road 864 To Cape Alava: 1057.4 Miles
1MT7
1-17
Eureka US93
5.8
Easy
Easy
High
All Services
Riverside Park To Cape Alava: 1051.6 Miles
1MT8
Koocanusa Country
11.0
Easy
Easy
Light to Heavy
Koocanusa Bridge To Cape Alava: 1040.6 Miles
2MT9
Webb Mountain
12.2
Moderate
Easy
Light to Moderate
Yaak Grocer Restaurant
Boulder Lakes Trailhead To Cape Alava: 1028.4 Miles
2MT10
Vinal - Mount Henry - Boulder National Recreation Trail
25.9
Moderate
Moderate to Difficult
Light
Yaak River Road 92 To Cape Alava: 1002.5 Miles
2MT11
Garver Mountain Lookout
26.8
Easy to Moderate
Easy
Light
Northwest Peak Trailhead To Cape Alava: 975.7 Miles
2MT12
Northwest Peak Scenic Area
10.5
Strenuous
Moderate
Light
Spread Creek Road 435 at Kounkel Pass To Cape Alava: 965.2 Miles
2ID1
Alpine Ridge Trail
3.1
Moderate
Moderate
Light
Canuck Pass To Cape Alava: 962.1 Miles
2ID2
Moyie River
10.4
Easy to Moderate
Easy to Moderate
Light
Moyie River Crossing To Cape Alava: 951.7 Miles
2ID3
The Lost Mines
18.3
Moderate to Strenuous
Moderate to Difficult
Light
Bonner's Ferry Grocer
Copeland Bridge To Cape Alava: 933.4 Miles
3ID4
Dikes, Farms and Views
6.3
Easy
Easy
Light
Parker Ridge Trailhead To Cape Alava: 927.1 Miles
3ID5
Parker Peak
15.4
Moderate to Strenuous
Easy
Light
Ball Lakes Trailhead To Cape Alava: 911.7 Miles
3ID6
Selkirk Crest High Route
12.0
Strenuous
Difficult
Light
Road 423 To Cape Alava: 899.7 Miles
3ID7
Lookout Mountain
12.3
Moderate to Difficult
Easy to Difficult
Light
Road 1 To Cape Alava: 887.4 Miles
3ID8
Upper Priest Lake
14.3
Easy
Easy
Light to Heavy
Nordman Grocer Restaurant Coolin Resort
Upper Priest River Trailhead To Cape Alava: 873.1 Miles
3WA1
Salmo - Priest Wilderness
18.1
Moderate
Easy
Moderate
Sullivan Lake Resort
Sullivan Lake Road 2220 To Cape Alava: 855 Miles
3WA2
3-11
Pend Oreille River SR31
40.5
Moderate
Easy
Light
Metaline Grocer Restaurant
Flume Creek Trailhead To Cape Alava: 814.5 Miles
3WA3
Abercrombie - Columbia
30.4
Moderate
Moderate
Light
Northport All Services
Northport Columbia River Bridge To Cape Alava: 784.1 Miles
4WA4
Kettle River Country
34.2
Easy
Easy
Light
Orient Restaurant Grocer
Green Mountain To Cape Alava: 749.9 Miles
4WA5
North Kettle Range
8.5
Moderate
Easy
Light
Deer Creek Summit To Cape Alava: 741.4 Miles
4WA6
Central Kettle Range
28.6
Moderate
Easy
Moderate
Sherman Pass To Cape Alava: 712.8 Miles
4WA7
South Kettle Range
12.3
Moderate to Strenuous
Easy to Difficult
Light
Thirteen Mile Trailhead To Cape Alava: 700.5 Miles
4WA8
Grand Canyon of the Sanpoil
14.5
Moderate to Strenuous
Moderate to Difficult
Light
Republic All Services
Tenmile Campground To Cape Alava: 686 Miles
4WA9
Swan Lake
7.2
Moderate
Moderate to Difficult
Light
Swan Lake To Cape Alava: 678.8 Miles
4WA10
Aeneas Highlands
17.5
Easy
Easy
Light
Sweat Lake Campground To Cape Alava: 661.3 Miles
5WA11
The Clackamas
19.6
Easy
Easy
Light
Bonaparte Lake Campground To Cape Alava: 641.7 Miles
5WA12
Mount Bonaparte
16.4
Moderate
Easy
Light on the Trails
Bonaparte Lake Resort Burgers small store
Swanson Mill County Road 4662 To Cape Alava: 625.3 Miles
5WA13
Okanogan Highlands
12.8
Easy
Easy
Light Gravel Roads
No Supplies
Whistler Canyon Road 3525 To Cape Alava: 612.5 Miles
5WA14
Whistler Canyon
14.8
Easy
Easy
Light in Backcountry
US14 Oroville Groceries Laundry PO Motels
Oroville To Cape Alava: 597.7 Miles
5WA15
Similkameen Grade
12.9
Easy
Easy
Light
No Supplies
Nighthawk To Cape Alava: 584.8 Miles
5WA16
Chopakas Cascades Approach
22.1
Easy
Easy
Light Vehicular Traffic
No Supplies
Cold Springs Campground To Cape Alava: 562.7 Miles
6WA17
Eastern Pasayten
9.8
Moderate
Moderate
Light
Winthrop Mazama All Supplies Far Off Route Would Need Maps
Horseshoe Pass To Cape Alava: 552.9 Miles
6WA18
High Pasayten
79.6
Moderate
Easy
Light to Moderate
No Supplies
Holman Pass / Pacific Crest Trail To Cape Alava: 473.3 Miles
6WA19
Western Pasayten
36.5
Strenuous (Radical Elevation Gain and Loss)
Easy
Moderate
No Supplies
Ross Dam To Cape Alava: 436.8 Miles
7WA20
North Cascades
47.0
Moderate
Easy
Moderate
No Supplies
Ruth Creek Road 32 To Cape Alava: 389.8 Miles
7WA21
North Mount Baker
15.2
Easy
Easy
Heavy
No Supplies
Austin Pass To Cape Alava: 374.6 Miles
7WA22
Swift Creek
17.5
Easy Roads and Strenuous Swift Creek Trail
Easy - Difficult
Heavy
No Supplies
Baker Lake Trailhead To Cape Alava: 357.1 Miles
7WA23
Baker Lake
23.6
Easy
Easy
Light - Heavy
No Supplies
Grandy Lake To Cape Alava: 333.5 Miles
7WA24
North Skagit Ridges
21.0
Easy
Easy
Light
No Supplies
Main Line Road 100 To Cape Alava: 312.5 Miles
7WA25
Lyman Hill
22.6
Easy
Easy
Light
No Supplies
Bloedel Timberlands Gate on State Highway 9 To Cape Alava: 289.9 Miles
7WA26
Anderson Mountain
14.6
Easy
Easy
Light
No Supplies
Mount Baldy Trailhead To Cape Alava: 275.3 Miles
7WA27
Little Baldy
5.7
Easy
Easy
Light
No Supplies
Bloedel Timberlands Gate on Summerland road To Cape Alava: 269.6 Miles
7WA28
Chuckanuts
10.9
Easy
Easy
Light to Heavy
No Supplies
Colony Creek Bridge To Cape Alava: 258.7 Miles
8WA29
Samish and Padilla Bays
12.4
Easy
Easy
Moderate
No Supplies
La Conner and Samish Road To Cape Alava: 246.3 Miles
8WA30
Fidalgo Island
14.9
Easy
Easy
Moderate
No Supplies
Whistle Lake Trailhead To Cape Alava: 231.4 Miles
8WA31
Mount Erie Highlands and Deception Pass
10.7
Easy
Easy
Moderate
No Supplies
Deception Pass Bridge To Cape Alava: 220.7 Miles
8WA32
North Whidbey Island
12.4
Easy
Easy
Moderate
No Supplies
Joseph Whidbey State Park To Cape Alava: 208.3 Miles
8WA33
Strait of Juan de Fuca
11.9
Easy
Easy
Moderate
Oak Harbor
Admiralty Head Ferry To Cape Alava: 195.4 Miles
Port Townsend Ferry Terminal
9WA34
Quimper Peninsula
13.0
Easy
Easy
Moderate
Port Townsend Full
West Uncas Road To Cape Alava: 182.4 Miles
9WA35
Olympic Foothills
15.5
Easy
Easy
Light
No Supplies
Gray Wolf River Trailhead To Cape Alava: 166.9 Miles
9WA36
Gray Wolf and Deer Park
12.8
Easy
Easy
Light
No Supplies
Deer Park To Cape Alava: 154.1 Miles
9WA37
Hurricane Ridge
15.9
Easy
Easy
Moderate
Port Angeles
Hurricane Ridge Visitors Center To Cape Alava: 138.2 Miles
9WA38
Hurricane Hill
7.9
Easy
Easy
Low
No Supplies
Olympic Hot Springs Road To Cape Alava: 130.3 Miles
9WA39
Hot Springs
19.7
Easy
Easy
Moderate
No Supplies
High Divide To Cape Alava: 110.6 Miles
9WA40
Seven Lakes Basin
12.8
Moderate
Easy
Moderate
No Supplies
Slide Pass To Cape Alava: 97.8 Miles
9WA41
Bogie
27.7
Easy
Easy
Light
No Supplies
Bogachiel State Park To Cape Alava: 70.1 Miles
10WA42
Hoh
27.9
Easy
Easy
Light
Forks
Hoh River Mouth To Cape Alava: 42.2 Miles
10WA43
Wilderness Sands
19.9
Moderate
Easy
Light
No Supplies
La Push To Cape Alava: 22.3 Miles
10WA44
Lands End
22.3
Moderate
Easy
Light to Moderate
No Supplies
Cape Alava
#
Name
Miles
Difficulty
Route
Finding
Visitation
Supplies