Oregon Coast
Seaside, Oregon Predicted Weather
Sunday, July 20 - 62-54F, AM Clouds / PM Sun, 20%, WNW at 10 mph
Monday, July 21 - 64-52F, Partly Cloudy, 10%, NW at 9 mph
Tuesday, July 22 - 63-54F, Partly Cloudy, 20%, W at 9 mph
Wednesday, July 23 - 61-55F, Showers, 40%, SW at 11 mph
Thursday, July 24 - 63-52F, Partly Cloudy, 10%, W at 12 mph
Friday, July 25 - 65-53F, AM Clouds / PM Sun, 10%, NNW at 13 mph
Saturday, July 26 - 67-55F, AM Clouds / PM Sun, 0%, NNW at 14 mph
Sunday, July 27 - 68-56F, Sunny, 0%, NNW at 13 mph
Monday, July 28 - 67-55F, Sunny, 0%, NNW at 13 mph
Tuesday, July 29 - 68-56F, Mostly Sunny, 0%, NNW at 13 mph
Sunday, July 20, 2014
I took a bus to Warrenton and walked roads, bike paths, and the beach to the Columbia River mouth, then hiked the beach south. I saw some of Fort Stephens and ate Blackberries and Thimbleberries. I saw 4 Elk.
Miles: 14
Camp: South of Fort Stephens State Park.
Monday, July 21, 2014
I saw a fawn and had lunch in Gearhart and Seaside. I walked all day through the area of the Lewis and Clark winter camp, visiting the salt making site and climbing Tillamook Head, which the party climbed on the way to see the dead whale, and from which Clark was very impressed with the view.
Miles: 21 35
Camp: Tillamook Head / Ecola State Park Hike in Camp Site
Tuesday, July 22, 2014
I saw some anemones as I rounded rocky heads.
Miles: 20 55
Motel: Manzanita
Wednesday, July 23, 2014
I took a zero on a rainy day, and watched a bunch of movies.
I have Plantar Fasciitis which is quite painful, and I lost the feeling in the middle toes of my right foot, probably a neuroma due to swelling. I regained the feeling in my foot after over 18 hours of rest in the hotel room.
Miles: 0 55
Motel: Manzanita
Thursday, July 24, 2014
Drizzle continued until mid afternoon. There were many Jellyfish and a starfish on the beach.
Miles: 15 70
Camp: South of Rockaway Beach
Friday, July 25, 2014
I visited the Tillamook Cheese factory and the town museum. I then took a bus to Portland, to connect tomorrow with the train home.
My foot problems are serious enough that I'm ending this trip early. I feel that my problems are worsening, and that this trip is worse on my feet that others because trails and off trail hiking cause my feet to land a little differently with each step. Most of the walking on the beaches and roads here is on flat, hard surfaces.
Miles: 10 80
Motel: Portland, Oregon
The West or Pacific Coast Trail
This hike was originally planned to cover most of the west coast (Washington, Oregon, California). Foot problems ended that effort early, but I don't think I'll try to do the whole coast in one long hike again. There's just too much development and highway walking for my tastes. I will likely someday return with a car and cherry pick the best parts of the coast. Below, however, are my collected notes on a whole coast walk. Let's hope your walk works out better than mine...
Washington
There are 200 miles on the Washington west coast route from Cape Flattery on the Strait of San Juan de Fuca to Cape Disappointment on the Columbia River. Gray's Harbor has a commercial ferry service from Ocean Shores to Westport, but I would have to arrange transportation across Willapa Bay from Tokeland Marina to the Long Beach Peninsula. The Makah Indian Nation and the Quinault Indian Nation occupy parts of the route. It might be possible to walk inland around the reservations, or each has permits for sale on the reservation. Neither Indian website mentions walking all the way across in terms of feasible routes or permissions. For access, ferries run from Seattle to several points on the Olympic Peninsula, and Clallam Transit runs between Forks, Port Angeles, and the Makah Reservation, but I don't know of any transportation to Cape Disappointment. Were I to continue to Oregon, the Columbia River would also need to be crossed.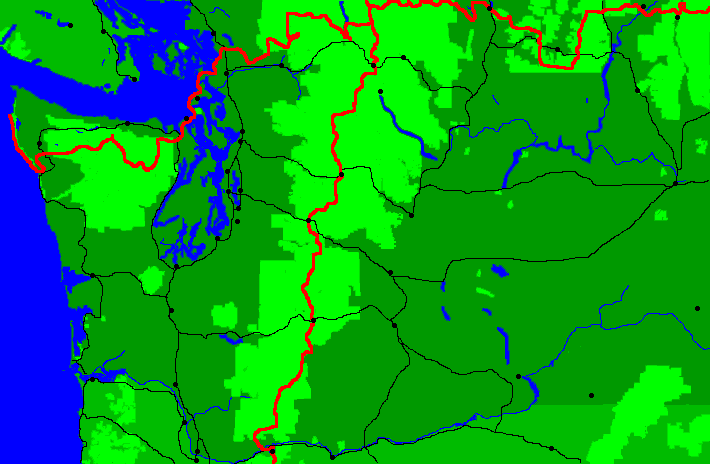 These publications are critical to planning and hiking this PNT and Washington Coast combined walk:
Custom Correct Maps
Little River Enterprises
3492 Little River Road
Port Angeles, WA 98363
North Olympic Coast (2005)
South Olympic Coast (2005)
Alternatively, Trails Illustrated 216 Olympic National Park covers almost the full width of the north end of the peninsula, including all of the west end of the PNT. Green Trails also sells topo maps of the Olympic Peninsula, and beaches.

Pacific Northwest Trail Guide: The Official Guidebook for Long Distance and Day Hikers (Paperback)
Oregon
The Oregon Coast Trail runs the full length of the state's Pacific Coast and is 425 miles long. There are maps on the web, but no published guidebook for Oregon. Portland has all transportation modes but one still needs to travel west to the northern terminus at Fort Stephens State Park. 13 miles from the northern terminus is the city of Astoria.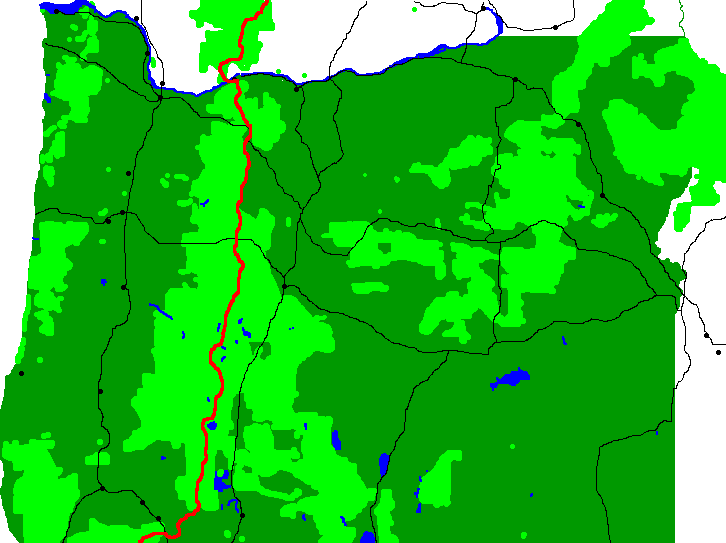 Oregon Coast, Lewis and Clark, and Columbia Gorge Trails
When I discussed a potential future OCT hike, So Far, of Portland and PCT 2003, suggested rather than riding to Astoria to start, I walk down the Columbia River from The Dalles to the coast via either the Lewis and Clark Trail (not LC Highway) or the new Columbia Gorge Bike Path, which uses abandoned sections of highway built in the 1910s. Doing so would add the Columbia River, the transition from chaparral through coastal ranges to coast ecosystem types, and various historical sites to the overall journey. I should stop at reconstructed Fort Clatsop for its excellent visitor center. The Breeze is a bus I might take to the coast from Portland. To The Dalles, I might fly to Portland, take the Max light rail to the Amtrak and Greyhound stations, across the street from each others, and ride one to The Dalles (My source, not So Far, said his understanding of all this was sketchy and I should research it thoroughly). I remember Portland to be a pleasant place to visit, so perhaps some days there might be good.
Fort Stevens State Park
Fort at Point Adams was built in 1863-4. An earthwork battery, it protected the south side of the mouth of the Columbia River. In 1865 it was renamed Fort Stevens after the former territorial governor of Washington, Isaac I. Stevens, killed in the war. It was built to protect against British attack in the Pig War of 1859-70, and again defended against the British during the Alaska Boundary Dispute of 1896-1903. On June 21 and 22, 1942, Japanese Submarine I-25 fired 17 shells at the fort, making it the only continental US military installation shelled, though non-military oil fields in Santa Barbara were also shelled. The fort was decommisioned in 1947.
Oregon Dunes National Recreation Area
The Oregon Dunes NRA stretches about 40 miles from the Siuslaw River in Florence to the Coos River in North Bend. It is administered by the Siuslaw National Forest. Some dunes are 500 feet high. They have been forming for millions of years, and are the largest area of coastal sand dunes in North America. Dune Buggies are used in the NRA.
From Bandon to Port Orford there is little development, so solitude and easy camping are the rule.
Umpqua River Light
The Umpqua River Light is at the mouth of Winchester Bay. The first lighthouse was built in 1855 and lit in 1857. By 1863, regular flooding had brought it to collapse.
In 1892 a new lighthouse was built. It was 100' above the river to protect against flooding and for visibility further out to sea. It was built from the same plans as the Heceta Head Light and is almost identical.
Oregon Lighthouses
Tillamook Rock Light
Cannon Beach/Seaside
Deactivated 1957
Cape Meares Light
Oceanside/Tillamook
1890 - 1963
Yaquina Head Light
Newport
Yaquina Bay Light
Newport
Cleft of the Rock Light
Yachats
Private
Heceta Head Light
Florence
Umpqua River Light
Winchester Bay
Cape Arago Light
Coos Bay
Deactivated
Coquille River Light
Bandon
Deactivated
Cape Blanco Light
Port Orford
Port of Brookings Light
(Pelican Bay Light)
Brookings
Private
Bigfoot Trail
The Bigfoot Trail leaves the coast at Crescent City, and travels east then south through Redwood State and National Parks and then 6 federal wildernesses. It is sometimes on the Pacific Crest Trail.
Bigfoot Trail
Mile
Note
0
Crescent City, on Coast, Full Resupply
4-15
Redwood State and National Parks
45-105
Siskiyou Wilderness
105-120
Oregon
111-127
Red Butte Wilderness
147
Seiad Valley, Resupply
162-207
Marble Mountain Wilderness
215-219
Russian Wilderness
225-275
Trinity Alps Wilderness
302
Junction City, Small Grocer
315
Hayfork, Resupply
333
Road 36, 60 mile hitch back to coast
California Coastal Trail
I have a 2 volume guidebook entitled "Hiking the California Coastal Trail" by Lorentzen and Nichols. It describes a 1200 mile route from the Oregon to the Mexican border, with 62% on beaches and trails, 20% on back roads, and 18% on highway shoulders. Due to dense cities, I would probably not want to backpack south of Santa Barbara, leaving about 900 California miles. Vandenberg Air Base and private lands to the north of Santa Barbara require long walks below the high tide line, perhaps further shortening the desirable walking distance. San Francisco has all types of transportation. Santa Barbara has Amtrak.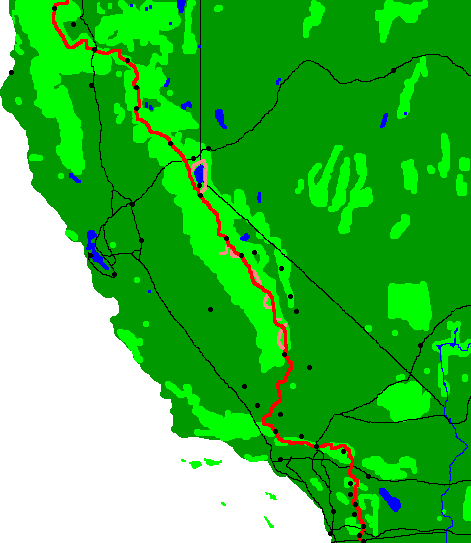 General
Walking southbound is recommended, since prevailing winds would be at your back.
I may want:
A cheap camera, as I assume the salt air will ruin whatever camera I carry
Tide Tables
A coastal nature guide
To print the Oregon Coast maps
(I already have the two volume guidebook to walk the California coast.)
National Coast Trail Association
Greyhound Service
I may go to Port Angeles at the end of the PNT, Take the bus to Warrenton, Oregon, and start there. I Oregon and California, busses run on US101. Here are some stations that may be useful:
Port Angeles
Sequim
Discovery Bay
Port Townsend
Seattle
Seattle Amtrak
Tacoma
Tacoma Amtrak
Olympia
Washington - Oregon Border
Astoria On Columbia River inland
Warrenton Northernmost on Beach
Cannon Bch Oci
Coos Bay
Oregon - California Border
Crescent City
Arcata
Eureka
Lost Coast
Garberville
Willits
Ukiah
Santa Rosa
San Rafael
San Francisco
Watsonville
Salinas
Grover Beach Amtrak
Vandenberg AFB
Amtrak Train Stations
Salinas
Paso Robles
San Luis Obispo
Grover Beach
Guadelupe-Santa Maria
Soap and Salt Water
Many soap molecules consist of a sodium atom attached to a long fatty acid. In function, the fatty acid end grabs oily molecules while the sodium end helps dissolve. Since since sea water has a lot of dissolved sodium, sodium based soaps don't dissolve dirt into the water as well. Some soaps substitute potassium for sodium, so they dissolve dirt into seawater better. Seawater soaps work this way. Joy works well in seawater.