Continental Divide Trail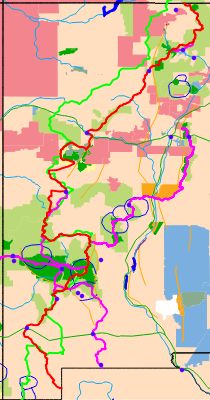 Wednesday, April 9th, 2014
I walked along the San Diego River and by Famosa Slough. I boarded the train bound for Los Angeles at 7pm and the train to Lordsburg, NM at 10pm.
I noticed the Pacific Surfliner Amtrak Train runs all the way from Lompoc Surf Station, Guadelupe-Santa Maria, Grover Beach, and San Luis Obispo to San Diego. This may be useful this fall when I finish hiking the Pacific Coast.
Lordsburg Predicted Weather:
Thursday, April 10, 87-59F, Partly Cloudy, 0%, WNW at 13 mph
Friday, April 11, 85-54F, Partly Cloudy,0%, WNW at 14 mph
Saturday, April 12, 85-48F, Mostly Sunny, Windy, 0%, SW at 22 mph
Sunday, April 13, 78-48F, Sunny, 0%, W at 18 mph
Monday, April 14, 76-46F, Sunny, 0%, S at 12 mph
Tuesday, April 15, 79-50F, Partly Cloudy, 10%, SE at 18 mph
Wednesday, April 16, 79-46F, Partly Cloudy, Windy, 0%, WSW at 22 mph
Thursday, April 17, 76-48F, Partly Cloudy, 10%, W at 15 mph
Friday, April 18 - 81-51F, Mostly Sunny, 0%, W at 10 mph
Thursday, April 10th, 2014
I arrived in Lordsburg, New Mexico at 1 pm, and shuttled up to Trail Angels Martin's house near Silver City with Theresa/TBurger of the Continental Divide Trail Coalition, Craig/Highlife, Alder, and Kermit for the night.
In Lordsburg, as soon as I stepped off the train and was looking around to get my bearings, a couple stopped to offer me directions. When I mentioned the hotel where I was to meet my shuttle, they said 'hop in', and gave me a ride there. The hotel gave me wifi and water even though I wasn't staying. And the shuttling is really nice. So this hike is off to an auspicious start.
At the second road past Mud Spring, one can walk right to the Martin's and avoid part of the road walk into Silver City.
Friday, April 11th, 2014
We were up before dawn and shuttled to the border at Crazy Cook by 10:30 am. In the early morning there were the best mirages I've ever seen, with whole valleys mirroring and mountain ranges disappearing and reappearing. It was a nice, comfortable, cloudy day. There were many flies. I stopped briefly at the Lead Queen Mine to explore its corral, collapsed shack, tunnel and tailings.
Camp: a few miles past the Sheridan Canyon Water Cache.
Miles: 17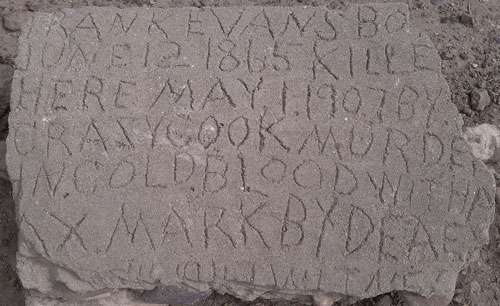 Crazy Cook Memorial Marker
Saturday, April 12th, 2014
There were a few drops of rain before dawn. I saw a black snake with yellow stripes and a Western Diamondback Rattlesnake, both about 2 feet long. There were many lizards and birds. Ocotillo and some small barrel cacti were in bloom. The day was cloudy with gusty winds. I saw no one all day.
Camp: East of Howells Ridge.
Miles: 24 41
Sunday, April 13th, 2014
I saw another Western Diamondback Rattlesnake, about 3 feet long and very unhappy. I visited the Old Hachita ghost town, with nice stone and adobe ruins, and some very deep mine shafts.
Camp: A mile north of New Mexico Highway 113
Miles: 23 64
Monday, April 14th, 2014
I saw Mule Deer and Black Tail Jackrabbits. I got a ride to Lordsburg from the Animas Road Water Cache from Radar and Snorkel.
Motel: Lordsburg
Miles: 19 83
Tuesday, April 15th, 2014
I slack packed from Animas Road to Lordsburg, then restocked the water caches at Highways 81, 9, and 113 with Radar.
Motel: Lordsburg
Miles: 7 90
Silver City Predicted Weather:
Wednesday, April 16 - 74-46F, Sunny, 0%, WNW at 19 mph
Thursday, April 17 - 75-49F, Mostly Sunny, 0%, WSW at 9 mph
Friday, April 18 - 66-47F, Mostly Cloudy, 0%, SSE at 14 mph
Saturday, April 19 - 70-45F, Partly Cloudy, 0%, W at 15 mph
Sunday, April 20 - 75-46F, Mostly Sunny, 10%, WNW at 11 mph
Monday, April 21 - 79-54F, Sunny, 0%, W at 11 mph
Tuesday, April 22 - 81-49F, Sunny, 0%, WSW at 19 mph
Wednesday, April 23 - 68-38F, Sunny / Windy, 0%, WSW at 24 mph
Thursday, April 24 - 71-40F, Sunny, 0%, WNW at 18 mph
Friday, April 25 - 76-43F, Sunny, 0%, WNW at 14 mph
Wednesday, April 16th, 2014
Radar gave me a ride past the 2 mile highway walk. I saw 2 packrat nests in the mile before Highway 90.
New Zealand Hiking
I walked a while with Tom and Jill. They had gone to New Zealand twice, six months each time, 10 years ago, hiking. Each time they bought a car and just camped anywhere along the road, which was legal except where signs prohibited. At the end, they sold the cars for about what they paid. Some tracks looped back within miles of where they had parked. Lesser used tracks always had space in the huts, and they and others didn't carry tents. Boots were left on the porch, so foam sandals kept the feet warm on the cold floors.
Camp: a mile north of Highway 90
Miles: 22 112
Thursday, April 17th, 2014
I saw Prickly Pear pads eaten probably by Javalina. That made me wonder if javalina had dug up the roots under prickly pear plants earlier in the trip. I also saw a big group of Mule Deer. I continued north on new CDT tread north of Mud Spring though it is not yet built through to Silver City.
Camp: Willow Creek
Miles: 23 135
Friday, April 18th, 2014
I hiked out to Shrine Mine Road and spent the day with the Martins, Trail Angels, hiking bits of the new CDT, and seeing the Shrine Mine and some Indian Ruins. There were hikers, CDTC folks, the Martins, and their neighbors for conversation. Many thanks to the Martins.
Camp: Martins' Place
Miles: 7 142
Saturday, April 19th, 2014
It rained off and on through the night, totaling ~1/3". The rain soaked in well, and didn't run off much, so perhaps it will bring a flower burst. The soft, moist dirt was a pleasure to walk on. I hiked from Red Rock Road north to Grassy Flats Tank. I had seen old, dry bear scat all day, and saw a Black Bear Ursus americanus at Grassy Flats Tank
Camp: Grassy Flats Tank
Miles: 14 156
Sunday, April 20th, 2014
I saw Black Tail Jackrabbits and Mule Deer. I had a tough cross country day across NM180 and the Mangus Valley, a CDT section yet to be finished. Most hikers are leaving the CDT at Mud Spring, walking east on dirt roads south of the Tyrone Copper Mine, and walking 15 miles of highway into Silver City. I took this route to avoid the highway walk and start a water report history so that when the new section opens, the water situation will be available.
Camp: Just inside the Gila NF
Miles: 20 176
Monday, April 21st, 2014
I walked to Walnut Creek Road 858 and exited for resupply to Silver City. I heard Turkeys and got a ride to town from turkey hunters.
Motek: Silver City
Miles: 10 186
Silver City Predicted Weather:
Tuesday, April 22 - 78-49F, Sunny, 0%, SSE at 17 mph
Wednesday, April 23 - 72-44F, Sunny, 0%, W at 22 mph
Thursday, April 24 - 73-48F, Sunny, 0%, W at 13 mph
Friday, April 25 - 76-49F, Partly Cloudy, Windy, 0%, W at 27 mph
Saturday, April 26 - 67-41F, Partly Cloudy, Windy, 0%, WSW at 25 mph
Sunday, April 27 - 63-40F, Sunny, Windy, 0%, W at 25 mph
Monday, April 28 - 69-43F, Partly Cloudy, Windy, 0%, WNW at 21 mph
Tuesday, April 29 - 75-46F, Partly Cloudy, 0%, N at 10 mph
Wednesday, April 30 - 75-48F, Sunny, 0%, ESE at 12 mph
Thursday, May 1 - 76-51F, Sunny, 0%, SE at 11 mph
Tuesday, April 22nd, 2014
I walked from Little Walnut Creek Road to the Our Lady of Guadalupe Benedictine Monastery. I was invited by Brother Santiago from the CDT. Among other topics, we discussed the Camino de Santiago, as he and the other monks had walked it in a cloistered group, staying in monasteries. My conversations with him were interesting, and I attended the Vespers, Rosary, and dinner there. He gave me permission to list the hospitality of the Monastery in the water report.
Slept: Monastery
Miles: 5 191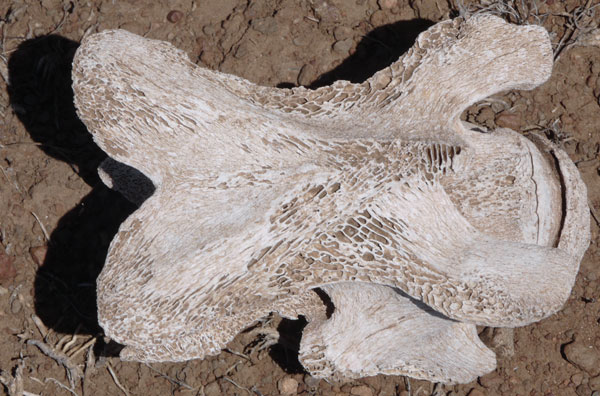 Wednesday, April 23rd, 2014
After morning services and breakfast in the refectory, I headed out. I saw a Turkey and much Turkey scat, old Coyote scat, two small Horned Lizards, a Gopher Snake, and wild Strawberries in bloom.
Camp: West of West Skates Canyon, north of two dirt roads.
Miles: 17 208
Thursday, April 24th, 2014
I saw 3 Mule Deer, glimpsed a Bobcat, and saw bear tracks. Other than 2 women who had walked a few miles northbound from Highway 35, I met no one and saw no boot prints on the trail. I found the ascents from 15 and 35 yesterday exhausting and slow: I hope I adjust to the altitude soon.
Camp: Brannon Spring Area
Miles: 12 220
Friday, April 25th, 2014
I saw no one and no fresh boot prints. There were bear and large deer tracks. Much of the route was burned by a fire so intense that the duff is gone, all trees are dead, boulders are spalling off layers, and barb wire is oxidized in odd colors. The trailbed is washed out and full of sticks and rocks. I found no water since early this morning, and am quite thirsty.
Camp: 3 miles west of Reed's Peak
Miles: 18 238
Saturday, April 26th, 2014
I saw no one and no fresh boot prints. I visited Reeds Peak and Diamond Peak. The wood in the fire tower stairs is old and splitting, and the buildings on Reeds Peak are decrepit, and full of rodent scat, but there was an interesting collection of tools. I saw three big Turkeys in Reeds Meadow. It snowed a little in the afternoon, and was cold and windy all day.
Camp: North of Diamond Peak
Miles: 17 255
Sunday, April 27th, 2014
An 1/8" of snow accumulated on my tarp overnight. I saw no one, but there were some fresh boot prints. It was very cold and in the morning so I walked in full foul weather gear.
Camp: 2 miles south of FR46
Miles: 20 275
Monday, April 28th, 2014
I saw a Turkey Vulture. I saw no one, but there were some fresh boot prints near Highway 59. It was again very cold in the morning: I walked in full foul weather gear.
Camp: beyond Dry Time Tank and the Wahoo Peak Trail
Miles: 28 303
Tuesday, April 29th, 2014
From the register at the north end of Adobe Ranch, the following hikers are ahead of me on the Black Range Official CDT Route this season:
4/15 Bandana NOBO
4/17 ATV, Mr Wizard
4/25 MM and KC

MM and KC must have walked during and after a light rain, as there were 2 types of boot prints that were between being soft and dusty like those left in dry soil and hard and crusty as would be left in fully moistened mud. Occasionally, the prints were lightly spattered with rain, but with enough detail left know they were the same two few day old boot prints.
Camp: beyond Boulevard Tank
Miles: 29 332
Wednesday, April 30th, 2014
There must have been some allergen on the wind, as my nose was stuffed and I felt tired all day. I got lost, continuing where the CDT turned off good tread for a while. As a result, I found a bottle of rum and a nice first aid kit. Needing neither, I cursed and backtracked to the CDT. But there're still out there... Towards the evening, there were heavy grey clouds and a few drops, but it didn't rain overnight. So ended 6 days seeing no one on the Black Range route.
Camp: Mouth of West Canyon, South end of Plains of San Augustin
Miles: 22 354
My Cancelled Loop through the Gila NF
I had planned to spend an extra week doing a loop hike in the Gila, and bought USFS topographic maps of the Aldo Leopold and Gila Wildernesses while in Silver City. But I twice went more than a day without finding water on the Black Range. And the CDT maps have notes discussing the location, reliability, and quality of water sources, whereas I knew little about the water conditions on my proposed hike. I came to believe that my loop hike would have been very dry indeed. And I could see that vast areas had burned severely, so hiking through might have been quite tough, and not so pretty. I decided to leave the extra Gila hiking for some future year.
Thursday, May 1st, 2014
Had I continued on the CDT, in a day I would have been on the same route I walked in 2011. Instead, I opted to walk north on the dirt county road through the Plains of San Augustin. It was a huge ranching valley. After a half dozen miles, though I was not hitching, a rancher's wife stopped and offered a ride to another ranch she was visiting. People who stop without being asked are usually kind and interesting, so I took the ride and chatted with her a while. Again, after crossing Highway 12 and walking a couple of hours, and again without hitching, a couple stopped and offered a ride. When I told them my goal for the present was to water up at the springs at Valle Tio Vinces, they said they thought the springs were probably fairly dry and offered to give me water at their home 5 miles further in the little inholding community of Mangas. That worked out well as the new route of the CDT ran about a half mile west of their property. I hiked a few miles down that, felt completely exhausted, and camped.
Camp: 2 miles past Erman Well
Miles: 30 384
Friday, May 2nd, 2014
This section of trail is little used because it dumps you onto US60 a dozen miles west of Pietown, leaving you to walk the highway half a day. So there is deep, soft dust, slightly rain crusted, in the trailbed. This held animal tracks for perhaps weeks. There were no details of the foot, but grouping after grouping of gait were clear. Rodents, rabbits, coyotes, various birds, ungulates large and small, snakes, lizards and bugs all had left their marks. On US60 I hitched east to the Top of the World store to do laundry and have lunch. From one conversation there I learned a new well drilled and cased is $24/foot, and a new solar well pump system is about $6000. I then proceeded to Pietown and had stew and pie at the Pie-O-Neer and talked until 2am with various hikers at the Toaster House. Someone had dropped off a huge elk roast, so we enjoyed another stew there: Thanks to Chili and Pepper for cooking the stew on the Toaster House wood stove!
Camp: Toaster House - Thanks Nita!
Miles: 15 399
Saturday, May 3rd, 2014
I zeroed in Pie Town today. I finished up and posted my water, trail condition, and daily journal reports - all behind because my iPod battery had died days ago. We attended a spaghetti dinner fundraiser for a local lady whose house had burnt down. The Clevis Pins that hold my external frame pack together have been falling out, so I replaced some by scavenging from a pack in the hiker box, and improved or replaced several wire retaining rings.
Camp: Toaster House - Thanks Nita!
Miles: 1 400
Grants, I40 Predicted Weather:
Saturday, May 3 - 77-41F, Mostly Sunny, 0%, WNW at 6 mph
Sunday, May 4 - 80-40F, Sunny, 0%, W at 18 mph
Monday, May 5 - 77-43F, Sunny, 0%, W at 13 mph
Tuesday, May 6 - 75-39F, Mostly Sunny, Windy, 10%, WSW at 20 mph
Wednesday, May 7 - 67-36F, Partly Cloudy, 0%, WSW at 17 mph
Thursday, May 8 - 66-37F, Partly Cloudy, 0%, W at 11 mph
Friday, May 9 - 69-39F, Partly Cloudy, 0%, NNW at 13 mph
Saturday, May 10 - 73-42F, Mostly Sunny, 0%, NW at 15 mph
Sunday, May 11 - 76-45F, Sunny, 0%, WNW at 12 mph
Monday, May 12 - 78-44F, Sunny, 0%, W at 13 mph
Sunday, May 4th, 2014
After walking 20 miles on the flat, hard, baked mud surface of the dirt road to the north of Pie Town, the balls of my feet hurt and were blistering. So I stopped at 6pm and mended my camera bag and Lycra shorts. I saw some antelope. For a few days afterward, I was mad that I hadn't hitched most of the York Ranch Road walk, as it's boring and hard on the feet. Later, I thought - Hey, if I'm going to cheat, why not hitch the Highway 117 part of the official route, and then walk all the good parts of El Malpais?
Camp: South of Wild Horse Ranch Road CR A079
Miles: 20 420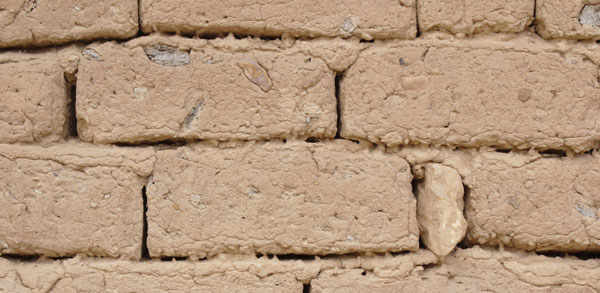 Monday, May 5th, 2014
I walked the York Ranch, Armijo Canyon, Sand Canyon, and Cebolla Canyon roads today. I saw a dusky green rattlesnake (Mojave Green, very potent neurotoxic venom), many lizards, a huge flock of bluebirds, and bear prints. Armijo Spring was interesting, with a springhouse that had a shrine in it. Armijo was one of the last homesteaders to leave the area, probably because his spring provided nearly year round water. The shrine is for his daughter, who disappeared one winter day, never to be seen or heard from again.
Camp: A mile before NM117, beyond Henderson Number 2 Windmill
Miles: 24 444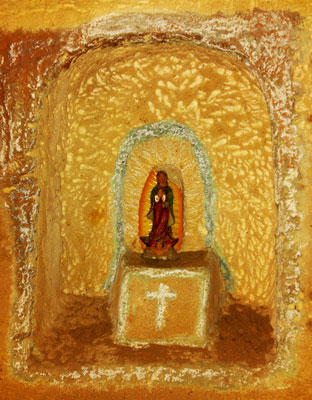 Tuesday, May 6th, 2014
I walked the Narrows Rim and Zuni-Acoma Trails today. Unfortunately, it seems the NPS has removed the concrete historic Escalante Expedition markers from the pahoehoe fields. I ran into Hugo and Carole at the cache north of the lava fields and talked a while.
Camp: across Bonita Canyon from the southernmost windmill.
Miles: 18 462
The Dominguez-Escalante Expedition
In 1776, in order to find an overland route from Santa Fe, New Mexico to their Catholic mission in Monterey, California, Francisco Atanasio Domínguez and Silvestre Vélez de Escalante, Franciscan priests, Don Bernardo Miera y Pacheco, a cartographer, and eight other men travelled from Santa Fe through present day western Colorado to Utah Valley, (Utah). They had three Timpanog Ute guides. Because of difficulties, the group did not reach California, but returned to Santa Fe via Arizona.
El Malpais National Monument
El Malpais is a part of the Zuni - Bandera Volcanic Field, which is the second largest volcanic field in the Basin and Range Province. Pahoehoe, ropey lava, and Aa, blocky lava, fill a vast valley. There are cinder cones and lava tubes. Douglas Firs and cacti grow in cracks in the lava. The Zuni Acoma Trail and the Dominguez Escalante route pass through the monument.
Wednesday, May 7th, 2014
I walked up Bonita Canyon Road 447 and then took Ley alternative route NM21.1, consisting in part of roads 02343, 02345, and 02344. I saw rabbit and coyote tracks. An old homestead with almost rotted away log cabins was interesting. I resupplied in Grants. It snowed a few minutes in mid afternoon. I had great conversations with Hugo and Carole and helped stock their Mount Taylor Route water cache.
Camp: Grants, with Hugo and Carole
Miles: 17 479
Cuba Predicted Weather:
Wednesday, May 7 - 57-36F, 30%
Thursday, May 8 - 57-37F, 30%
Friday, May 9 - 66-44F, 0%
Saturday, May 10 - 72-44F, 0%
Sunday, May 11 - 73-38F, 0%
Monday, May 12 - 65-34F, 0%
Tuesday, May 13 - 67-43F, 0%
Wednesday, May 14 - 75-47F, 0%
Thursday, May 15 - 79-49F, 0%
Friday, May 16 - 79-50F, 0%
Thursday, May 8th, 2014
I walked over Horace Mesa and Mount Taylor. It snowed off and on and at one point a 1/2" accumulated. The snow falling and accumulating on trees and duff was quite pretty. I GPSd a new water cache location and sent it to Grants by text.
Camp: Saddle between Taylor and Mosqua.
Miles: 16 495
Friday, May 9th, 2014
I walked mostly with Ben from Switzerland. We saw four bull Elk with antlers in velvet and bear and turkey prints. There were a few turkey hunters out: The season ends tomorrow. We found many wild onions to eat.
Camp: Between Ranger Tank and Ojo de Dado.
Miles: 21 516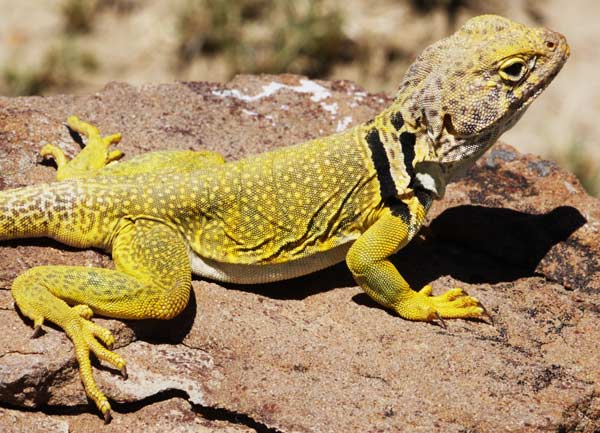 Saturday, May 10th, 2014
Ojo del Dado, del Indio, and Frio all had water, as did a stock pond visible on descent into Arroyo Chico. A controlled burn on the mesa in the Ignacio Chavez area had been ignited by helicopter Tuesday. There were many unburned ping-pong ball igniters along the CDT. Several times I walked out into the burn areas and watched the slow burning of duff and downed wood. A few places the fire had crowned and burnt out small areas of woods. I briefly chatted with a couple of firefighters about the burn and hiking the CDT. I saw three beautiful lizards descending into Arroyo Chico, and one outcrop of seashell fossils on ascent.
Camp: on ascent from Arroyo Chico
Miles: 24 540
Ping Pong Ball Controlled Burn Ignitors
There are guns which can shoot ignitors to start controlled burns. The ignitors are white plastic balls which are about the same diameter and look much like ping pong balls. The guns can be mounted on helicopters, ATVs, etcetera, and can shoot the balls a couple of hundred feet. The balls contain a bit of potassium permanganate crystals, and the gun has a hollow needle which punctures the sphere and injects a bit of ethylene glycol-water solution (automotive antifreeze). The two chemicals mix and begin an exothermic (heat generating) reaction which causes the polystyrene ball to catch fire after perhaps 20-40 seconds. By then, the sphere is probably sitting in the duff on the forest floor. The plastic ball, much thicker than a ping pong ball, burns for a few minutes and gets the duff ignited.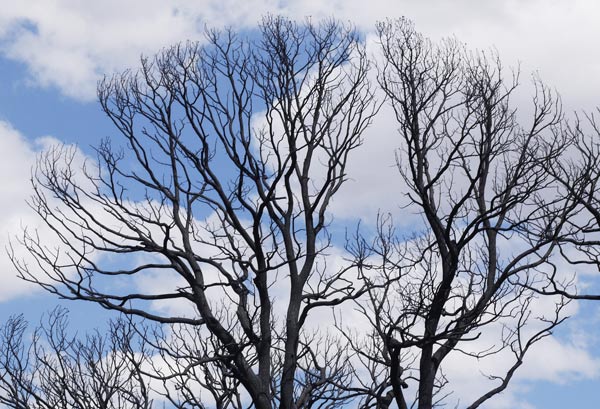 Sunday, May 11th, 2014
There was a lot of interesting and beautiful geology, and much cliff walking, with associated great views. It was windy and gusty, with much airborne dust and haze.
Camp: La Ventana Mesa
Miles: 21 561
Monday, May 12th, 2014
There was more of interesting and beautiful geology, and much cliff walking, with associated great views. It was windy and gusty, with a couple of short snow falls. I resupplied in Cuba for nine days of hiking to Chama, though I also plan to spend extra days in the San Pedro Parks Wilderness and at Ghost Ranch. Ben from Maine hiked and stayed at Circle A with me.
Camp: Circle A Hostel, Cuba
Miles: 18 579
Chama Predicted Weather:
Monday, May 12 - 25F, 80%
Tuesday, May 13 - 43-23F, 80%
Wednesday, May 14 - 52-27F, 10%
Thursday, May 15 - 60-33F, 20%
Friday, May 16 - 64-38F, 20%
Saturday, May 17, 68-42F, 20%
Sunday, May 18, 69-38F, 0%
Monday, May 19 - 68-37F, 0%
Tuesday, May 20 - 65-36F, 0%
Wednesday, May 21 - 65-35F, 0%
Tuesday, May 13th, 2014
Ben and I stayed at Circle A for most of the day, resting up, reading, and finishing overdue chores. After an afternoon trip to Cuba for laundry (Owner Herman of Cuba Laundry entertained us.) and to fuel up on fried chicken, onion rings, and ice cream, we headed out. One of the Circle A dogs wanted to hike out with me. Up high, a half inch of snow had accumulated in shaded areas, and there were fresh Bear, weasel, and elk, but no hiker, tracks. In honor of my friend John, I had Fritos for dinner. In lower elevations, Aspens are beginning to leaf, whereas at higher elevations, they are still bare.
Camp: Junction of the CDT with the Lucero and Anastacio trails, with Maine Ben.
Miles: 6 585
Wednesday, May 14th, 2014
I left some gear in camp and took a long day hike loop south and east. I saw elk and turkeys. The fresh snow had tracks of Turkey, rabbit, weasel, rodent, birds, and elk. I returned to camp mid afternoon and hiked onward. There was more snow, but less standing water, and no ice, as compared to my crossing of the San Pedro Parks in 2011. Frogs sang in the meadows. From bootprints, I could see that Swiss Ben, Maine Ben, and several other hikers were less than a day ahead of me.
Camp: On descent from the San Pedro Parks.
Miles: 22 607
Route of my extra hike in San Pedro Parks Wilderness

| | |
| --- | --- |
| Lucero Trail | 44 |
| Upper Clear Creek Trail | 417 |
| Las Vacas Trail | 51 |
| Damian Trail | 436 |
| Palomas Trail | 50 |
| Las Vacas Trail | 51 |
| Anastacio Trail | 435 |
Thursday, May 15th, 2014
I surprised some cow Elk browsing in dense forest, and one running tripped and fell on her chest just in front of me. There was quite a bit of noise and commotion. I also saw a grouse and some colorful songbirds. From a couple of hills I climbed, I could see quite a bit of snow on mountains north of here. I hope and think this is freshly fallen snow, and will melt out over the next few days. But there's no hurry, and I'll try and hang out at Ghost Ranch for a day or two.
Camp: North of CDT / Skull Bridge, along the Rio Chama, Oak Point
Miles: 25 632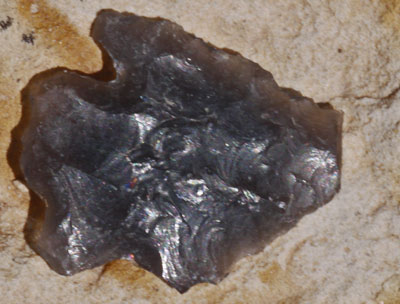 Friday, May 16th, 2014
After a brief morning visit to the Monastery of Christ in the Desert, several miles up the Rio Chama from Skull Bridge and the CDT, I walked back to Skull Bridge and headed up the official CDT, ascending to the mesa. There were excellent views from the mesa rim, at first into Ojitos Canyon and the canyon of the Rio Chama, and later to the open valley, Abiquiu Reservoir, and Ghost Ranch. I found an arrowhead and many obsidian flakes on the mesa. There were some elk. No recent bootprints were on the official CDT. I took the Rim Vista Trail, Ley alternate NM7.4, down to FR151, the general Ghost Ranch Alternate Route. From the highway, I hitched, as I would not otherwise have arrived at Ghost Ranch before dinner. 5 other CDT hikers were there: the two Bens, Chili and Pepper, and Atlas. I listened to a bluegrass student performance after dinner.
Camp: Ghost Ranch Campground
Miles: 20 652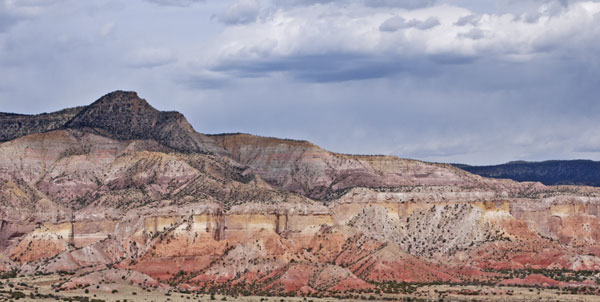 Saturday, May 17th, 2014
I took a lazy day at Ghost Ranch, and walked out after dinner and another bluegrass concert. The concert was great, but since it ended well after dark, I walked only a little past the ranch. Many thanks to the Ghost Ranchers and the bluegrass class for a great visit.
Camp: Beyond Ghost Ranch
Miles: 1 653
Chama Predicted Weather:
Saturday, May 17 - 70-41F, Mostly Sunny, 10%, W at 17 mph
Sunday, May 18 - 72-40F, Partly Cloudy, 0%, SW at 18 mph
Monday, May 19 - 70-39F, Mostly Sunny, Windy, 0%, SW at 21 mph
Tuesday, May 20 - 69-39F, Mostly Sunny, 0%, SW at 15 mph
Wednesday, May 21 - 68-38F, Partly Cloudy, 20%, SSW at 13 mph
Thursday, May 22 - 68-32F, Partly Cloudy, 0%, SSW at 13 mph
Friday, May 23 - 66-36F, Scattered Thunder Storms, 30%, SSW at 10 mph
Saturday, May 24 - 67-33F, Partly Cloudy, 10%, W at 7 mph
Sunday, May 25 - 68-37F, Mostly Sunny, 0%, WNW at 9 mph
Monday, May 26 - 68-39F, Mostly Sunny, 0%, WNW at 11 mph
Sunday, May 18th, 2014
I rose early and began a tiring day of mostly ascents. I saw a Black Bear cub, many ravens soaring, and some cow Elk.
Camp: Beyond County Road 280
Miles: 24 677
Monday, May 19th, 2014
Overnight, a rodent ate many holes through my pack, but didn't go after the food or anything else inside. Last night and this afternoon I had headaches, which were fairly rare on this trip. I was also tired and out of breath often. I decided I needed to recover from some minor ailment and took it easy today. There was a fair amount of mud and snow, and I saw a grouse and some Stellar Jays and cow Elk.
Camp: Between Vallecitos Ranch and Deer Park Tank
Miles: 18 695
Tuesday, May 20th, 2014
After going to bed early and sleeping in, I guess I recovered from whatever I had. I saw Elk, Mule Deer, Grouse, Prairie Dogs, many small birds, and bear scat.
Camp: A Mile before the Rio San Antonio
Miles: 21 716
Wednesday, May 21st, 2014
I saw many cow Elk, Mule Deer, Pronghorn Antelope, and woodpeckers. I found a broken off arrowhead tip, an obsidian flake that functioned nicely as a knife when pinched between the thumb and forefinger, and a complete arrowhead.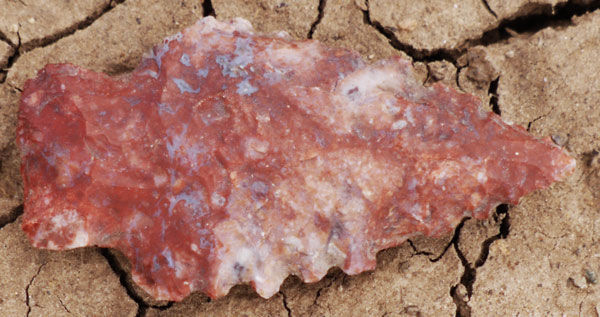 Today's hike went to ~11,000 feet. Although when I started at Mexico there was little snowpack, much spring snow has fallen since. All of the snowpack is poorly consolidated, meaning one can't stand or walk on it. The snow is deep enough that postholing through it is quite exhausting. And there is lots of snow, mud, and meltwater. Furthermore, I don't have warm, waterproof winter boots, so cold feet and frostbite could be an issue. If I continue, I'll climb to 12,000 feet and stay there for a couple of weeks. Tomorrow, I'll be deciding whether to continue, turn around and hike southbound, buy a bike and ride to San Diego, or quit.
Camp: A mile before Highway 17, in Colorado
Miles: 21 737
Thursday, May 22nd, 2014
I walked to Cumbres Pass, and got a ride to the airstrip just north of Chama. So I walked all the way through town to the highway junction area before finding an open motel - a pretty good tour. Later I walked back uptown to socialize with the NOBO hikers.
Motel: Chama
Miles: 5 742
Cuba Predicted Weather:
Saturday, May 24 - 62-40F, Scattered Thunder Storms, 40%, SSE at 13 mph
Sunday, May 25 - 59-41F, Scattered Thunder Storms, 40%, S at 9 mph
Monday, May 26 - 65-46F, Isolated Thunder Storms, 30%, NNW at 11 mph
Tuesday, May 27 - 77-50F, Mostly Sunny, 0%, NNW at 12 mph
Wednesday, May 28 - 80-52F, Partly Cloudy, 0%, SE at 9 mph
Thursday, May 29 - 81-53F, Isolated Thunder Storms, 30%, SSE at 8 mph
Friday, May 30 - 71-51F, Isolated Thunder Storms, 30%, S at 8 mph
Saturday, May 31 - 75-54F, Scattered Thunder Storms, 40%, SSW at 8 mph
Sunday, June 1 - 78-55F, Mostly Sunny, 0%, S at 10 mph
Monday, June 2 - 77-51F, Sunny, 0%, SSW at 11 mph
Friday, May 23rd, 2014
I plan to hike south from the area of Ghost Ranch to Grants on the CDT, and end this hike there. I hitched to Ghost Ranch with many short rides and much walking. Along the way I had some excellent huevos rancheros at a diner. A very nice lady stopped when I wasn't hitching and gave me an iced tea, string cheese, and Corn Nuts. There were perhaps 10 NOBOs at Ghost Ranch. A cook at Ghost Ranch who wants to hike the PCT in the near future this year stocked a freezer full of large ice cream tubs for long distance hikers: Yeehaw!!!
Camp: Near Ghost Ranch
Miles: 10 752
Saturday, May 24th, 2014
Most of the day I read and talked with hikers in the library. I hiked out of Ghost Ranch towards Skull Bridge, over the Rio Chama, after dinner. The clouds were pretty and the were a few distant lightning flashes.
Camp: ½ mile before the Rio Chama
Miles: 6 758
Sunday, May 25th, 2014
I met perhaps 15 NOBOs. There was some hail and rain.
Fireweed told me that if I searched the internet for "Conifer Country" I would find a trail from the southern Oregon Coast to Ashland through various rare conifers, and a book on the conifers. Later research showed a bunch of individual hikes in the area, and the Bigfoot Trail, from the coast to Seiad Valley and south, perhaps partly on the PCT, including about 400 miles. This area, the Marble Mountain Wilderness, was one of my favorites on the PCT. Perhaps I can incorporate some of it on my coast walk later this summer.
Camp: beyond FR103
Miles: 24 782
Monday, May 26th, 2014
I took a mostly off CDT route over the San Pedro Parks Wilderness and hitched into Cuba. I surprised many cow Elk and Grouse. The Aspens had all leafed and were a brilliant green. Corn Lillies were sprouting everywhere. There were a few minutes of drizzle and hail. Per Mrs. Yang of the Del Prado Motel, about 10 hikers are staying tonight and 10 walked out this morning.
Motel: Cuba
Miles: 19 801
Route of my hike across the San Pedro Parks Wilderness

CDT
813
Cecelia Canyon Trail
451
Corralitos Trail
452
Rio Capulin Trail / CDT
31
Cienega San Gregorio Reservoir Trailhead
Hitched to Cuba along FR70 and NM126
Grants Predicted Weather:
Tuesday, May 27 - 83-50F, Mostly Sunny, 0%, N at 12 mph
Wednesday, May 28 - 85-55F, Mostly Sunny, 0%, SE at 9 mph
Thursday, May 29 - 79-52F, Isolated Thunder Storms, 30%, S at 11 mph
Friday, May 30 - 76-50F, Isolated Thunder Storms, 30%, WSW at 8 mph
Saturday, May 31 - 81-50F, Isolated Thunder Storms, 30%, SSW at 11 mph
Sunday, June 1 - 85-46F, Partly Cloudy, 10%, SW at 18 mph
Monday, June 2 - 83-45F, Sunny, 0%, WSW at 16 mph
Tuesday, June 3 - 83-48F, Sunny, 0%, W at 12 mph
Wednesday, June 4 - 87-50F, Sunny, 0%, W at 13 mph
Thursday, June 5 - 84-49F, Mostly Sunny, 0%, W at 10 mph
Tuesday, May 27th, 2014
Though I left Cuba mid-morning, I saw no NOBOs until 6pm, and then only 3. And there were no tracks newer than yesterday's early afternoon rainstorms. It's interesting that there is a more than 24 hour gap in hikers with so many on the CDT. I saw another of the big lizards I saw May 10th.
Camp: 5 miles south of Jones Canyon Spring, same protected wind gap as May 11th
Miles: 21 822
Wednesday, May 28th, 2014
I saw one six foot, 2½" diameter Western Diamondback Rattlesnake, making lots of noise and threatening moves. There were 3 NOBO hikers. The multi hued badlands on descent into Arroyo Chico were pretty. The day was hot and dry, and I ended up dehydrated even after drinking 7 quarts of water. Most days on this hike, I've been drinking 3.
Camp: ½ mile south of Ojo Frio
Miles: 23 845
Thursday, May 29th, 2014
I took CR25 and BLM1103 rather than the CDT to Ojo de los Indios.
I met 5 NOBOs.
There was a small brown bird harassing a Raven away from its nest, landing on the back and grabbing the raven in flight, etcetera.
The burn I walked through a couple of weeks ago seems done: The needle duff under tree stands to the north of 1103 is burnt to mineral soil, with a few areas where the fire crowned and burnt a tree or stand of trees. The grass between stands was generally not burned. To the south of the road, a similar burn occurred a year or two ago: a thin layer of needles partially covered the blackened mineral soil under trees.
Along BLM1103, I heard what I thought were elk bugling, though it was not the right season. As I approached, I left the road to observe the commotion. An Elk calf was lying below a tree, with two coyotes nipping. The cow was chasing one, then the other Coyote away from the calf, and both elk were calling continuously. I chased the Coyotes away, and examined the calf. It was breathing very heavily, had some bloody stuff dripping from its mouth, and a skinned left rear knee. Otherwise, it was fine, but perhaps too exhausted to run away or defend itself from me. Or maybe it didn't consider me a threat. I sat down as far away as I could while still keeping the calf in sight, so I could chase the coyotes again if required. I hoped to guard the calf and mother for 20 minutes, to give them a good rest, but the cow would not return while I was there. So I left as soon as the calf was breathing easily. I hope I bought the little calf enough rest time to save him, but it's possible I just delayed the inevitable for a while. I guess you can only do your best...

Later, I was sitting at the edge of a meadow when a coyote came along. At a relaxed pace, he was sniffing various rodent holes and bushes, just making his daily rounds. After a few minutes, he noticed me quietly observing, and picked up the pace a bit, heading far across the opening. From Cuba to Grants, I heard coyote packs calling several times a day: This is a very high population density area for coyotes.
At another meadow, I had just finished brushing my teeth when a Turkey came out of the bushes, and crossed the clearing pecking at some things and examining others. He never noticed me and disappeared into the bushes on the opposite side of the meadow.
I found 2 broken arrowheads and a hiking pole.
Camp: 3 miles south of Ranger Tank
Miles: 28 873
Friday, May 30th, 2014
I saw seven wild Horses, a Turkey, and 4 NOBOs. Though it rained fairly hard last night, today was cloudy, warm, and pleasant. The views from Mount Taylor and La Mosque were excellent.
Camp: intersection of Horace Mesa Road 193 and road to Big Spring, off CDT
Miles: 23 896
Saturday, May 31st, 2014
I walked and hitched to Grants, had breakfast, and went to the seedy US66 hotel which served as a bus stop. After verifying the bus to San Diego left later in the evening, I sat out front doing emails and making calls.
I was making a call to Grants Trail Angel Carole to report that the Mount Taylor route water cache was in good shape when a homeless, alcoholic looking guy approached. Both his hands were quite swollen and he had a filthy, bloody bandage around one forearm. When I tried to wave him away, he said "I don't want a dollar, I want you to call the paramedics for my friend." With Carole hearing my side of this conversation, I verified - "You're sure you want me to call 911 - you'll have cops and firemen and everyone else here..." "Yes, please call - my friend is bleeding a lot from cuts on the face - he needs the medics..." So I cut Carole off, dialed 911, and headed next door. They were holed up in an old motor court motel, in which every window and door, as well as many walls, had been smashed. I didn't feel safe enough to enter the room and examine the cut up guy, and the cops, medics, and firemen were on the way, so I waited by Route 66 and waved them in. With the first cop on scene, I looked into the room - a mess of broken glass, furniture, and garbage and clothes left by transients. The cut up guy was lying motionless in the filthy and dark room, and the other guy was explaining what he could to the cop. I went out to brief the paramedics on the two patients they would be meeting once the cop cleared them to enter the room. When the cop got some time, I excused myself from the whole scene, wandered down 66, and called Carole.
She was at the nail salon, and the ladies all knew that a hiker had abruptly excused himself from a call to summon paramedics, cops, and whatever else. So all were relieved to know I was ok.
I spent the rest of the day with Hugo and Carole: Thanks for the conversation, dinner, shower, etcetera.
The bus was 2½ hours late, and later missed connections made the ride much longer than it would normally be.
Camp: All night bus to San Diego
Miles: 15 911
Sunday, June 1st, 2014
The bus got me to San Diego at 3:30pm. Don got me home and I told many new stories to him and my parents.
Camp: San Diego
External Frame Back Pack
For this hike, I used an external frame back pack: Here are some comments:
External Frame Packs seem to be out of fashion in backpacking circles. It is generally agreed that they suspend more weight more comfortably than internal frame and frameless packs, and they allow air to circulate across the hiker's back, allowing cooling and drying. However, they are generally heavier than internal frame and frameless packs. With the general trend towards ultra light weight backpacking, most hikers are choosing much lighter weight packs. External frame packs are still sold at hiking retailers, but seem to be favored mostly by old school die hards.
I am not an ultralight backpacker. I use a limited set of lightweight clothes, and don't typically carry cooking equipment. These techniques and more I have adapted from the ultralight school. However, I carry a µ4/3 interchangeable lens manual camera because I want to take higher quality photos. I carry some nature guidebooks because I want to understand the ecosystems I walk through. And I carry maps for my whole trip and food for a week or two because I don't want to spend excessive amounts of time hitchhiking and hanging around in towns. So I use a hybrid system, in which I carry as much stuff as I want to enjoy my time in the woods, while reducing its weight as much as my enjoyment allows. My extra weight in cameras and books, etcetera, would quickly destroy an ultralight frameless pack. So I would use a pack with some type of frame and with heavier fabrics anyway.
External Frame Packs traditionally have several roomy external zippered compartments to help organize gear. Internal Frame and frameless packs typically have a few elastic mesh external pockets to dry wet gear. There's no reason why these pocket types can't be switched, it's just the way things are. There are two disadvantages of roomy zippered external pockets. In rainy environments and where deep water bodies must be forded, lining the inside of one compartment with a big plastic garbage bag keeps the contents dry. External shower cap type pack covers are supposed to keep the entire pack, including external pockets, dry. However, driving winds and rain, and bushwhacking through wet brush prove too much for external covers. So expensive electronics, or paper maps and books, or other water sensitive items, can't be left in the external pockets in wet weather. While bushwhacking, the external zipper pulls may snag and open, thereby spilling some critical gear. Also, if you drop your pack or slip in rough country, you may crush some delicate gear in an external pocket, whereas if it were among the gear in an internal frame pack, it would have more protection. So storing gear in an external pocket may be a bad idea in wet or rough environments.
The CDT in southern New Mexico crosses hundreds of barbed wire fences, many without the benefit of gates or stiles. In some cases, it's possible to slide a pack under the lowest wire. However, it's often necesary to drop the pack over the fence. Carefully lowering the pack to ground on the other side would likely snag your skin and clothing on the wire barbs, and would put an improper load on your shoulder sockets, so the pack is often dropped from fairly high up. In internal frame and frameless packs, I pack soft items in the bottom, so dropping the pack so it hits bottom first protects delicate gear. External frame packs can be dropped back down, landing on gear, or in any other orientation, landing on the pack frame. After hundreds of drops, I bent some aluminum tubes on the external frame. That made the straps attach in the wrong place, making the pack less comfortable, and occasionally allowing the straps to break free, requiring immediate repair. It also cracked some welds. These welds did not break through, but if they had, on trail repair would have been quite difficult.
The bag was attached to the frame with Clevis Pins, which were secured with wire rings. The wire rings often snagged my cloths, making holes. The rings also detached, resulting in the loss of the Clevis Pin and the bag hanging akwardly off the frame, requiring immediate repair. I recommend replacing all Clevis Pins with screws secured with nuts incorporating a nylon lock ring.
Packs can cost several hundred dollars. I backpack about 3,000 miles per year, with perhaps a thousand more miles in day hikes. Replacing packs is a significant expense for me. I have bought a few nearly unused external frame packs for $5-10 each at swap meets. I plan to use them for long distance hikes where I don't expect much rain and I expect I won't be bushwhacking much. I find them to be practical and comfortable so long as I take their weaknesses in consideration.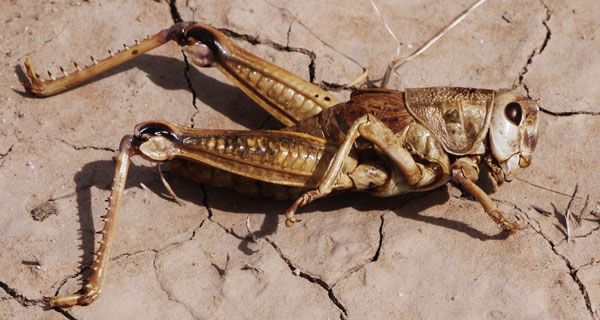 Some GPS Locations
OldTownSanDiegoAmtrak
32.754062
-117.199569
Off CDT
Water
LordsburgEconoLodge
32.340433
-108.713920
On CDT
Water
TankPondFull
31.765552
-108.420592
On CDT
Water
TireTrough3
32.018039
-108.493036
On CDT
Water
TroughFull
32.289710
-108.748735
On CDT
Water
Seep, Pools 300 off CDT
32.548475
-108.435174
Off CDT
Water
Burrow Mountain Rd + CDT
32.618816
-108.445809
On CDT
Dry
SpringInWillowCreek at CDT
32.630288
-108.462716
On CDT
Water
+Cdt South Ridge Road
32.629978
-108.480722
On CDT
Dry
DryStockPondonCDT
32.665664
-108.506336
On CDT
Dry
Bar Six Tank
32.670078
-108.513422
Off CDT
Dry
Dry Stream Catch Stock Pond Dam Breached
Grassy Flat Tank
32.778910
-108.526890
Off CDT
Dry
Dry StockPondStreamImpound
CDT gate
32.667106
-108.508241
On CDT
Dry
CDT
32.670713
-108.510430
On CDT
Dry
CDT Gate
32.675702
-108.509794
On CDT
Dry
CDT SingleTrack+Road
32.676158
-108.509648
On CDT
Dry
BlackhawkTank
32.689720
-108.523890
On CDT
Dry
Dry StreamCatchStockPond
+CDT4243N Road
32.695099
-108.528157
On CDT
Dry
CDT Gate
32.703776
-108.542312
On CDT
Dry
CDT74 Sign: FR118 2 1/2M RedrockRd852 7m
32.712825
-108.548912
On CDT
Dry
DirtRoadToNorth
CDT Sign
32.749156
-108.540714
On CDT
Dry
CDT74 FR118 3.5 MilesSouth (250ft S Saddlerock CynR
SignCDNST74 GrassyFlats3.5mN
32.750979
-108.540767
On CDT
Dry
NM Hwy180 8.5mN (Sign N of SaddleRock Canyon Road
CDT Gate
32.757225
-108.540968
On CDT
Dry
CDT74 SingleTrack+ATV Track
32.776508
-108.532261
On CDT
Dry
CDT Gate
32.790876
-108.538323
On CDT
Dry
StockPondStreamImpound
32.812933
-108.531754
SchoolHouseWindmillNowSolarWel
32.815404
-108.529751
Off CDT
Water
CDT Gate GilaNF Boundary
32.866879
-108.389373
On CDT
Dry
+CDT FR172
32.863213
-108.383128
On CDT
Dry
+CDT Allen Springs Road
32.863154
-108.381318
On CDT
Dry
+CDT Road
32.856840
-108.371183
On CDT
Dry
+CDT Road
32.853487
-108.368278
On CDT
Dry
TankTroughWindmill
32.851175
-108.337366
Off CDT
Water
WalnutCreekRoad Full
+CDT WalnutCreekRoad858
32.836526
-108.336009
On CDT
Dry
+CDT74 LittleWalnutRoad506
32.862793
-108.289863
On CDT
Dry
Highway 15 7.5miles
CDT Water in Creek ArroyoRico
32.879794
-108.282032
On CDT
Water
Very Small Clear Pool In Rock LeyNM37.5
ArroyoRico, more Pools, loflo
32.880262
-108.280826
On CDT
Water
CDT TurnToOLGBMonastery
32.881977
-108.275316
On CDT
Dry
MonasteryRestroomsDormsShowers
32.880443
-108.265109
Off CDT
Water
+CDT74 RoadWestToMonastery
32.880924
-108.248617
On CDT
Dry
TurnRightAtGateWestAlongRidge
+CDT74 Highway15 BearCreekWest
32.886247
-108.226965
On CDT
Dry
NoSurfaceWaterNearBearCreekCrossing
+CDT74 LittleCherryCreekTrail
32.898549
-108.175410
On CDT
Dry
ToFR855 2.5miles
+CDT SawmillWagonRdTr243 ToFtB
32.899009
-108.174621
On CDT
Dry
ToFtBayard9 NtoFR154 2.5 SignalPk3.5 StoPinosAltos
+CDT74 Signal/BlackPeakTr742
32.909910
-108.160880
On CDT
Dry
SignalLookout2miles Highway15 CherryCreek 4miles
+CDT AllieCanyonTrailRoad
32.918864
-108.164565
On CDT
Dry
+CDT74 AllieCanyonTr100 BearCy
32.922272
-108.135437
On CDT
Dry
Bear Canyon Road AlsoRoad4255A
+CDT74 Road
32.947060
-108.151484
On CDT
Dry
Cdt spring
33.074605
-108.075060
On CDT
Water
CDT WaterInCreek
33.094462
-108.049234
On CDT
Water
+CDT TrailToApacheCrk4mDeadEnd
33.095352
-108.048217
On CDT
Dry
SOBO 8m Highway35 NOBO3mStateRoad61
+CDT Trail700toRockyCanyonCamp
33.106431
-108.029841
On CDT
Dry
+CDT76 74 75 SignboardSaddle
33.103306
-107.962582
On CDT
Dry
CDT Piped Spring Dry
33.114665
-107.911055
On CDT
Dry
+CDT ReedsLookoutTr
33.142528
-107.857850
On CDT
Dry
S11mToHighway35 N16mToReedsPeak
SqueakySpringCDT
33.145873
-107.855961
On CDT
Water
+CDT Lookout Trail
33.149846
-107.855505
On CDT
Dry
ReedsPeakLookoutTower,Cabin
33.142975
-107.854394
Off CDT
Dry
+CDT FallsCanyonTrail73
33.150592
-107.855454
On CDT
Dry
CDT Seep
33.160020
-107.854978
On CDT
Water
SpringOnCDTinReedsMeadow
33.176849
-107.850209
On CDT
Water
4'Diameter pool, some flow
2ndSpringReedsMeadow CDT
33.177107
-107.851778
On CDT
Water
+CDT74 BurntCanyonTrail69GET
33.216777
-107.858739
On CDT
Dry
FR150 12.5m ReedsPeak7.5m DiamondPeak1.5m
DiamondPeakSpringCDT
33.231889
-107.844711
On CDT
Water
+CDT NorthForkPalomasTrail
33.264664
-107.827593
On CDT
Dry
Road500-3miles DiamondPeak-3miles
+CDT Trail42 toTurkeyRun
33.304509
-107.831015
On CDT
Dry
CDT WaterInPools
33.314341
-107.828761
On CDT
Water
FiberglassTankOffCDTNorthF226A
33.361044
-107.835677
Off CDT
Water
ClearFullTroughOffCDT NoRoad46
33.398330
-107.844491
Off CDT
Water
LeaveCDTeastbound4Water@Saddle
33.398854
-107.849401
On CDT
Dry
There is no Road 46 as indicated on maps!!
StockPondDry CDT
33.588841
-107.802687
On CDT
Dry
TurnOffCDTsoutheastToDryTimeTank
Wahoo Tanks
33.631039
-107.810640
On CDT
Water
MuddyWaterInStockPond,LogCabin
CDT GilaNFboundary
33.648518
-107.812139
On CDT
Dry
NorthAdobeRanchGateRegister
33.685460
-107.849052
On CDT
Dry
NorthGarciaWindmill NM30d.1
33.682971
-107.950088
Off CDT
Water
Spaniard Tank
33.676443
-107.850122
On CDT
Dry
CDT2stockPondsDry
33.698837
-107.972044
On CDT
Dry
L B Tank
33.699188
-107.987709
On CDT
Dry
Boulevard Tank
33.678160
-108.058262
On CDT
Dry
Batton Pond
33.687687
-108.185720
On CDT
Water
Full,Clear
Green Tank NM30B.1
33.703308
-108.213959
On CDT
Water
WaterOK,aLittleGreen
StockPondInWestCanyon NM30b.1
33.693553
-108.223929
On CDT
Water
PlentyOfOKgreenishWater Nm30B.1
TwoSteelTanksAtBrokenWindmill
33.694336
-108.257761
Off CDT
Water
NM30B PlentyOfGoodWater
TireTroughDry
34.111847
-108.362945
On CDT
Dry
RinconWell WindmillNowSolar
34.122674
-108.366229
On CDT
Water
HighClearFlow2FullTroughs
CDT DryTankAndTrough
34.135797
-108.362253
On CDT
Dry
CDT ErmanWellWindmill
34.142900
-108.352430
On CDT
Water
CDT RainCollectorAndTrough
34.204340
-108.397987
On CDT
Dry
Dry TroughBroken NoAccessToCollector
WellTroughTankGoodWater
34.241896
-108.374555
Off CDT
Water
Allen Tank
34.365664
-108.110361
Off CDT
Water
Full,Beige
Well,ElectriMeterInPlace,PondsDry
34.433905
-108.069151
On CDT
Dry
SolarWellTank NM25.1
34.609377
-108.014080
Off CDT
Water
WaterInTank,DifficultAccess
ArmijoSpringhouse
34.660328
-107.934326
Off CDT
Water
SpringhouseDry,ShrineInside,PipeOutsideSeepsWater
StockPondOnCDTarmijoCanyonRoad
34.659677
-107.924968
On CDT
Water
Full Beige
CDT +Sand/ArmijoCanyonRoads
34.662899
-107.920731
On CDT
Dry
StockPondOnCDTsandCanyonRoad
34.674718
-107.928670
On CDT
Water
Full Beige
SandCanyonWindmillNM24.8
34.736554
-107.920992
Off CDT
Water
PumpingInHighGusts,FullTroughsTurbidSalty
SolarWellDry
34.782399
-107.935120
Off CDT
Water
HugoCaroleWaterCache
34.956437
-107.943072
On CDT
Water
SouthernmostBonitaCanyonWindml
34.991234
-107.951067
Off CDT
Water
22.7 FullTrough ShinyNewTurbine
+CDT447 02343 LeyAlternateRout
35.058969
-108.003175
On CDT
Dry
West Trail Lake
35.066686
-107.991250
On CDT
Water
Mudd yWater,Plenty,LeyAltRouteNM21.1
+Alt02343 02342
35.068019
-107.991096
On CDT
Dry
+02343 02345 Turn
35.098051
-107.981765
On CDT
Dry
Near Old Homestead DrySteelTrough 2LogCabinRuins
+Roads
35.109456
-107.978561
On CDT
Dry
+Roads
35.122026
-107.961571
On CDT
Dry
+Roads
35.130492
-107.943207
On CDT
Dry
+CDT HoraceMesaRoad193
35.217804
-107.656541
On CDT
Dry
NorthToGooseberryTrail77toMountTaylorSummit
NewCache
35.218779
-107.636575
On CDT
Water
+ATVtrack Trail77toMtTaylor2mi
35.222496
-107.630108
On CDT
Dry
MountTaylor
35.238757
-107.608500
On CDT
Dry
+CDT BLM1102
35.681299
-107.175664
On CDT
Dry
StockTroughNearlyDry
35.683144
-107.174661
Off CDT
Dry
JonesSpr20.9mNB Trough2.3mSB SignedOnCDT
Below: Off CDT Loop in San Pedro Parks Wilderness
+UpperClearCreekTr417 VacasT51
36.060553
-106.848562
Off CDT
Water
+LasVacasTr51 DamianTr436
36.047614
-106.839688
Off CDT
Water
+PalomasTr50 DamianTrail436
36.055700
-106.806151
Off CDT
Water
+PalomasTrail VacasTrail
36.081203
-106.824925
Off CDT
Water
+AnatacioTr435 LasVacasTr51
36.084959
-106.824670
Off CDT
Water
+AnastacioTr UpperClearCreekTr
36.094222
-106.839467
Off CDT
Water
+CDT AnastacioTr LuceroTrail
36.099809
-106.866970
On CDT
Dry
+CDTLosPinosT SanJoseTr VacasT
36.116179
-106.838509
On CDT
Dry
+CDT PenasNegrasTr RioCapulinT
36.107075
-106.814388
On CDT
Dry
+CDT CeciliaCreekTrail451
36.185198
-106.791065
On CDT
Water
+CDT131 RimVistaTr LeyAltNM7.4/FR131A
36.353397
-106.550099
On CDT
Dry
1/4MileNOBOofRimTank
SouthTheadRimVistaTr Ley7.4
36.335697
-106.528476
Off CDT
Dry
+FR677 636A 636
36.415974
-106.330873
On CDT
Dry
LivingDesertMuseumTrEastEnd
36.327905
-106.482791
On CDT
Dry
+CDTRioCapulin31 Corralitos452
36.129322
-106.813096
On CDT
Water
At Sign SAN PEDRO PEAKS
CDT TopOfCrazySwitchbacks
35.893990
-107.039074
On CDT
Dry
CDT Jones Canyon Spring
35.854331
-107.016113
Off CDT
Water
CattleTrough
35.656324
-107.187733
Off CDT
Water
SignedOnCDT640' OjoFrio6.4mSOBO Trough2.3mNOBO
+BLM1103GuadelupeRd CR25
35.582025
-107.223599
Off CDT
Dry
+OldCDT1103GuadalupeRd RtToBar
35.569361
-107.245265
Off CDT
Dry
CrossCountryRouteToBarrelSpring
BarrelSpring DidNotVisit LocationFromGPS
35.571241
-107.251539
Off CDT
Water
+OldCDT1103 ClosedRdToSecoTank
35.548137
-107.301220
Off CDT
Dry
+OldCDT1103 ClosedRdToMedioTnk
35.538690
-107.307286
Off CDT
Dry
+OldCDT1103 RdToToroTank
35.534050
-107.312255
Off CDT
Dry
+BLM1103 FR239 FR239A
35.526092
-107.343648
Off CDT
Dry
FR239A ToLosIndiosSpring3miles
+ClosedRoadToHeiferTank
35.526477
-107.344647
Off CDT
Dry
OjoDeLosIndiosTroughs
35.525809
-107.386954
Off CDT
Water
TopOfSwitchbacksOjoDeLosIndios
35.525467
-107.385615
Off CDT
Dry
+CDT 2roadsCalledFR239A
35.515104
-107.384576
On CDT
Dry
CDT239+239A HeadLosIndiosCnyn
35.506321
-107.388291
On CDT
Dry
+CDT RoadEast
35.479826
-107.413693
On CDT
Dry
+CDT239A Road
35.457960
-107.425094
On CDT
Dry
+CDT239 198 SouthOfRangerTank
35.416938
-107.491658
On CDT
Dry
+CDT239 555
35.359331
-107.555054
On CDT
Dry
San Mateo 9miles on 239
AmericanCanyonSpring
35.278223
-107.560712
On CDT
Water
+CDT453 WaterCanyonTrail0276 G
35.246564
-107.600332
On CDT
Dry
GooseberryTrailOverMountTaylor
Gila National Forest Trail Condition Reports
CDT74 Engineer Canyon to Highway 90
Good. Motorcycle ruts in north few miles
CDT74 Highway 90 to Burro Peak
Good. Fresh Motorcycle ruts entire section
CDT74 Burro Peak to Shrine Mine Road
Good. Old Motorcycle ruts
CDT74 Red Rock Road to 118
Good.
CDT74 118 to Saddle Rock Road
Good. Motorcycle ruts
CDT74 Saddle Rock Road to Schoolhouse Windmill
Good.
CDT74 Schoolhouse Windmill north
Overgrown with weeds.

April 23
CDT74 Benedictine Monastery to Highway 15
Good. South of the road intersection at 32.88701, 108.22960, within 5 minutes, are 4 6" blowdowns; within 5 minutes north are 2 8" blowdowns.
CDT74 Highway 15 to Little Cherry Trail
Good. North of twin Peaks an 18" blowdown is across the trail on a steep slope. At Little Cherry intersection is an abandoned tent which needs to be hauled out as trash.
CDT74 Little Cherry Trail to Black / Signal Peak Trail
Good.
CDT74 Black / Signal Peak Trail to Allie Canyon Tr
Good. 2*10", 1*5" blowdowns
CDT74 Allie Canyon Tr to jeep trails at 32.94706, 108.15148
21*6", 7*12", 1*24" blowdowns, some weed overgrowth

April 24
CDT74 jeep trails to Highway 35
5*6", 10*12", blowdowns, some overgrowth

April 25
CDT74 Highway 35 to FR105
17*6", 10*12", 2*18" blowdowns, some overgrowth, indistinct in washes
CDT FR105 to Signboard Saddle
36*6", 17*12", blowdowns, some overgrowth

April 26
CDT Signboard Saddle to Reeds Peak Trail
110*6", 69*12", 15*18" blowdowns, some overgrowth, trailbed obliterated in some areas
Reeds Peak Trail to Trail 73
5*6", 1*24" blowdowns, some overgrowth,
Reeds Peak North to CDT
Totally covered in blowdowns and overgrowth, easier to walk cross country
CDT tr73 to Reeds Meadow
In the south, blowdowns, growth, and rocks make the CDT difficult to follow. Further north, the trail is easily followed but blocked by many blowdowns and overgrown with thorn bushes
CDT Reeds Meadow to Diamond Peak
The CDT is easily followed but blocked by many blowdowns with some overgrowth

April 27
CDT Diamond Peak to Trail 42 to Turkey Run
Many blowdowns, tread in poor condition
CDT Trail 42 to FR226A
Easy to follow, few enough blowdowns not to slow travel

April 28
CDT FR226A to Highway 59
Trail occasionally not obvious. A few blowdowns per mile. Occasional poor footing in tread. Hiking generally is not significantly slowed by these problems.

April 29
Highway 59 to Wahoo Peak Trail
Trail occasionally not obvious. A few blowdowns.

May 2
CDT FR93 to Trailhead near East and Surprise Tanks
A few blowdowns. This trail dips straight into ravines without switchbacks, waterbars, or other erosion control features. In these steeper areas, the tread soil is washing away, leaving a deeper groove filled with rocks. There are insufficient blazes, leaving some confusing intersections.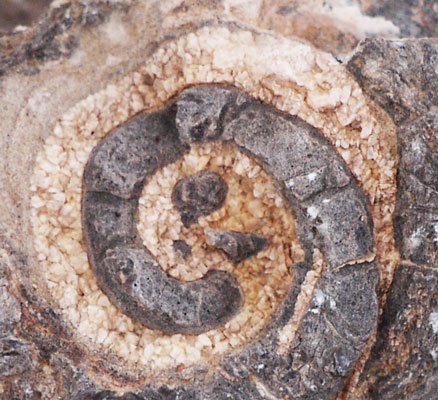 My 2014 CDT Water Report Updates
CRAZY COOK TO SILVER CITY:
NM40B.1
Mengus Tank, Windmill
Broken Windmill / Dry Tank
11 April
Mile 2, 31.50141,108.24031
NM41.8 / NM41a.8
Sheridan Canyon - water cache box
8 gallons
11 April
NM41a.5
Windmill north of CDT.
Broken windmill is now a high flow, clean Solar Well with green buggy tank
12 April
Mile 23, 31.69920, 108.37875 Corrected May 2 thanks to Radar
NM40b.2
Highway 81 water cache box
26 gallons
14 April
NM40B
water tank
Pond full, Tank Full but tank water is inaccessible.
12 April
NM40a.1
Earthen tank with electric pump
High Flow, Clear
13 April
NM39g.10
Hwy 9 water cache box
~25 Gallons. After gate to west south of highway.
14 April
NM39g.9
tire tank at well head
Full
13 April
NM39g.1
Vista Tank
Dry
13 April
NM39g.2
water tank
Full
13 April
NM39f
Hwy 113 water cache box
~25 gallons
13 April
NM39e.1c
Lower Camp Tank
Full
14 April
NM39e
pond
Dry
14 April
NM39e.1e
trough near Williams Tank shown on Ley
Dry
14April
NM39e
water tank
Dry
14 April
NM39e.1a
2 troughs
Full, heavy Algae
14 April
NM39e.2
solar steel tank and troughs
Full
14April
NM39d.7a
water tank
Dry
14 April
NM39d.3
windmill/solar pump
Full, dribbling clean well water
14 April
NM39c.3
water cache box
30+
14 April
NM39c
Solar Well
No water access
April 15
32.28434, 108.75075
NM39c
Cattle Trough
Full, fairly clear
April 15
32.28971,108.74873
NM39a.4a
water tank
6 inches in float control tank
16 April
NM39a.4b
water tank
6 inches in trough
16 April
NM39a.3
Engineer windmill
Trough Full
16 April
NM39a.1
Co-op windmill (solar)
Spigot flows clear well water
16 April
NM39a
Juniper Spring Tank (450' SW)
Dry and probably defunct
16 April
NM38b.1
Goat Camp Windmill (solar)
Full
17 April
NM38a.6
Seep, pools in unnamed creek 300' upstream from CDT crossing
3 inches of good water
17 April
32.54847,108.43517
NM38a.1
Mud Springs
Full
17 April
?
Seep, pools in Willow Creek at CDT crossing
2 inches of good water
17 April
32.63029,108.46272
?
Stock Pond on CDT
Dry
19 April
32.66566, 108.50633
?
Bar Six Tank
Dry, Stock Pond, Stream Impound, Dam Breached
19 April
32.67008, 108.51342
?
Blackhawk Tank
Dry, Stock Pond, Stream Impound
19 April
32.68972, 108.52389
?
Creekbeds in Blackhawk Canyon
Puddles from rain last night, perhaps not reliable
19 April
32.68972, 108.52389
?
Grassy Flat Tank
Dry, Stock Pond, Stream Impound
19 April
32.77891, 108.52689
?
Stock Pond
Dry, Stream Impound
20 April
32.81293, 108.53175
?
Schoolhouse Windmill now Solar Well
Dribbling Clean Well Water
20 April
32.81540, 108.52975
SILVER CITY NORTH via GILA
NM37?
Little Walnut Picnic Area
Spigots Dry
22 April
SILVER CITY NORTH via BLACK RANGE:
?
Windmill Tank Trough
Full Green Trough, tough to climb tank, down Walnut Creek Road 858
21 April
32.85117, 108.33736
NM37.5
Arroyo Rico
Clear Pools in Bedrock in Main and Side Arroyo
22 April
32.88026, 108.28082, 32.87980, 108.28203
NM37
Our Lady of Guadelupe Benedictine Monastery
Potable Water, Restrooms, Showers, Catholic Services. Leave CDT at 32.88198, 108.27531 ESE on blocked road, walk .6 miles to 4 arched building with restrooms at 32.88044, 108.26511. The chapel is down the hill. The Monastery is cloistered, so everyone, especially females, should ask before going elsewhere.
22 April
NM37.1
Bear Creek
Dry
23 April
NM30j
Sapillo Campground
Spigots off, toilet and trash cans available
24 April
NM30i
Rocky Canyon Stock Pond
dry
24 April
33.01941, 108.11564
NM30i.2
Rocky Canyon Creek
high flow, clear
24 April
33.04449, 108.09888
NM30i.3
Spring, Stream along CDT
high flow, clear
24 April
33.07460, 108.07506, 33.09446, 108.04923
NM30h.3
Signboard Saddle, Aspen CreekTrail 75
Dry within 1/4 mile of CDT
25 April
NM30h
Piped Spring along CDT
Dry
25 April
33.11467, 107.91106
NM30h.2
Squeaky Spring along CDT
Two small pools, much floating matter
26 April
33.14587, 107.85596
NM30h
Seep along CDT
no pools, might be hard to collect
26 April
33.16002, 107.85498
NM30h.5
Spring pool in Reeds Meadow along CDT
much floating matter, another pool a few minutes northbound
26 April
33.17685, 107.85021
NM30g.5
Diamond Peak Spring
seep over mud, would be hard to collect
27 April
33.23189, 107.84471
NM30g.1
Pools in creek
many clear pools downstream/north of given point
27 April
33.31434, 107.82876
NM30f
fiberglass tank off CDT just north of FR226A
lots of good water
27 April
33.36105, 107.83568
NM30f.2
Spring fed Trough, water in creek
trough full of clear water, more in creek. Leave CDT at nondescript saddle 33.39885, 108.84940 eastbound through gate down use trail .3 miles to trough
28 April
33.39833, 107.84449
NM30e
Stock Pond in saddle where one would leave the CDT for Dry Time Tank
Dry
28 April
33.58884, 107.80269
NM30d.3
Wahoo Tanks
Muddy Water, no water in Wahoo Creek
29 April
33.63104, 107.81064
NM30d
Spaniard Tank
Dry
29 April
33.67644, 107.85012
NM30d.1
North Garcia Windmill
pump gushes Clear water, full clear tank
29 April
33.68297, 107.95009
NM30c
2 Stock Ponds
Dry
29 April
33.69884, 107.97205
NM30c
LB Tank
Dry
29 April
33.69919, 107.98771
NM30c.2
Boulevard Tank
Dry
29 April
33.67816, 108.05827
NM30b.1
Batton Pond
Full, Clear
30 April
33.68769, 108.18572
NM30b.1
Green Tank
Full, OK, a little green
30 April
33.70331, 108.21396
NM30b.1
Stock Pond in West Canyon
Full, OK, a little green
30 April
33.69355, 108.22393
NM30b
2 steel Tanks at broken windmill west of West Canyon mouth
Full, Clear
1 May
33.69434, 108.25776
PIE TOWN via WEST ROUTE (official route):
?
Tire Trough
Dry
1 May
34.11185, 108.36295
?
Rincon Well Windmill now solar
High clear pump flow, two full troughs
1 May
34.12267, 108.36623
?
Tank and Trough
Dry
1 May
34.13580, 108.36225
?
Erman Well
Full Tank and trough, clear, not much flow when windmill is spinning
1 May
34.14290, 108.35243
?
Rain collector and trough
Dry, generally broken
2 May
34.20434, 108.39799
?
Well, Tank and trough
good water from tank or float tank of trough
2 May
34.24190, 108.37456
PIE TOWN to El MALPAIS via Cebolla Wilderness
NM26
Allen Tank
Full, Slightly Muddy Water
4 May
34.36567, 108.11036
NM26.4
Thomas Mtn Ranch
Great Water
4 May
NM25.2
solar well
Good Water in Trough
4 May
NM25.1
solar well
Good Water in Tank, Difficult to Reach
4 May
34.60938,108.01408
NM24.2
Armijo Spring
Springhouse Dry, water seeps from 4" pipe 20' lower
5 May
34.66033,107.93433
NM24
Stock Pond on Armijo Canyon Road
Full, Muddy Water
5 May
34.65968,107.92496
NM24.3
Stock Pond on Sand Canyon Road
Full, Muddy Water
5 May
34.67472,107.92867
NM24.8
Sand Canyon Windmill
Full Trough, pumps during Gusts
5 May
34.73655,107.92099
NM24.6
Henderson No 2 Windmill
Full Trough, Windmill Disabled, no Pumping
NM23.1
Mumm's cache
Full
6 May
El MALPAIS to GRANTS via Bonita/Zuni Canyon
NM22
Mumm's cache
Full, New Location north side of pinyon tree 20' north of pit toilet at Zuni-Acoma Trailhead
6 May
New GPS: 34.95644, 107.94307
NM22.7
Southernmost windmill in Bonita Canyon
Full Trough, Shiny new Turbine
6 May
34.99123, 107.95107
NM22.5
well
Dry, Electric Meter Removed
7 May
NM21.1
West Trail Lake
Full, Muddy Water
7 May
35.06668, 107.99125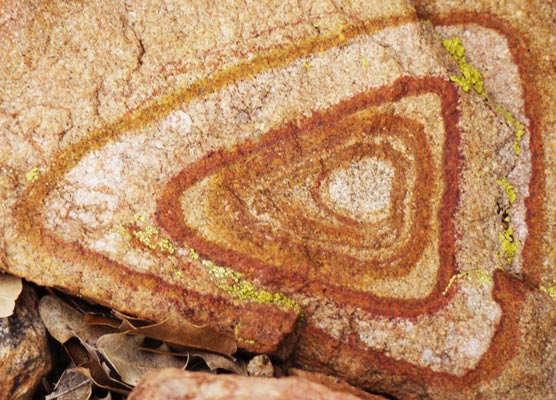 New Mexico's Continental Divide National Scenic Trail
Pre-Hike Thoughts and Plans
I will hike northbound on the official Continental Divide Trail from Crazy Cook, on the Mexican Border, to Silverton or Durango, Colorado.
My train leaves Old Town San Diego at 6:21pm Wednesday April 9th and arrives in Lordsburg 12:15pm Thursday, April 10. I will buy 5 bottles of water to cache in the bootheel of New Mexico and the CDTC shuttle will pick me up at 6pm. I will overnight in Hachita and hike from the Mexican Border at Crazy Cook Friday, April 11th.
The Lordsburg area is in the Chihuahuan Desert.
In 2011 I hiked the Jim Wolf route, starting in Columbus, on the Mexican Border, and ending just inside Colorado. My 2014 hike would be on an almost entirely different route through the end of the Gila National Forest. The official route also differs from the Wolf route in the El Malpais area, near Ghost Ranch, and in other places. During my 2011 hike, I noted that the Gila NF, the fossil and volcanic area south of Cuba, and the San Pedro Parks area were so beautiful and interesting that I wanted to return and explore them more fully. It is my intention to take a very long loop in the Gila NF, to take extra days in the fossil areas, and to take another long loop in the San Pedro Parks area. I plan to acquire extra maps and pack extra food to enable me to make these side explorations.
Silverton is near the western tip of the CDT in Colorado. Durango is perhaps another week further west and south along the Colorado Trail. Durango has commercial flights and is connected to Silverton by a tourist railroad.
I felt the best part of the CDT was this section, all of New Mexico and southern Colorado to Silverton. This hike will allow me to repeat my favorites and see much I did not see in 2011.
Based on earlier hikes, the CDT portion alone should take 56 days, or until June 6th. The extra side hikes will take some extra days. I'd like to terminate the trip by approximately June 14th for family visits.
Frontier, United, and American have 1 stop service from Durango to Atlanta for $2-300. Tickets to San Diego are about $200
Maps
For the CDT, I will use Jonathan Ley maps. Where I will deviate from the CDT, I will need other maps.
In Silver City, I hope to pick up maps to do an extra week's worth of hiking in the Gila NF. The NF sells its standard NF maps plus topo maps of the Gila, Aldo Leopold, and Blue Range Wildernesses. There may be other maps available. Having not seen them in person, I don't know whether they have enough detail for my purposes. Therefore, I plan to look at these, and perhaps maps further along my route, in Silver City. In particular, I'm interested in maps of El Malpais NP, the fossil and volcanic area south of Cuba, and the San Pedro Parks Wilderness. The intereting fossil / volcanic area starts at Arroyo Chico. The USGS 7½' Topo Map there is Guadalupe, and to the north Arroyo Empadrado. These maps are available digitally online, and although they can be printed more clearly than Ley maps, they are otherwise the same. BLM Quad maps cover a larger area, so would be readable when presenting big picture views. Digital on line files don't have the best of resolution, but are available. Some BLM Quads of areas of particular interest to me:
| | |
| --- | --- |
| Chaco Mesa | Fossil & Volcanic Area South of Cuba |
| Abiquiu | San Pedro Parks W, Ghost Ranch |
| Mogollon Mountains | Gila Wilderness |
| Truth or Consequences | Aldo Leopold Wilderness |
The Ranger Station in Cuba may have maps of interest for the San Pedro PW and northern New Mexico in general. There may also be maps available at El Malpais NP and in Grants.
I have National Geographic Trails Illustrated Map (NGTI) 140 Weminuche Wilderness. It shows many trails parallel to the CDT just off the divide. I may want to hike these because I hiked the CDT there just a few years ago, and variety is nice, and also to avoid the frequent electrical storms.
NGTI maps 144 Durango, Cortez, and 141 Telluride, Silverton, Ouray, Lake City cover the Colorado Trail from Durango northeast to about 5 miles short of Molas Pass. The Weminuche 140 map covers from there to from the junction of the CDT and CT and well beyond / east. Since I hiked this CT section in 2011, I'll probably continue north on the CDT to a few miles and hike Whitehead Trail 674 and Deer Park Trail (Road) to Silverton for resupply and a hostel, then hitch to Molas Pass and hike the CT west from there.
New Mexico - Colorado CDT Planning Table

2014 Official Route plus side routes in the Gila NF, the San Pedro Parks Wilderness, and the Colorado Trail to Durango
Book / Map
Segment
Miles
Crazy Cook To Durango: 861.3
39, 40, 41, 41a, 41b
Bootheel
78
I10 Lordsburg All Services To Durango: 783.3
37-40
Gila National Forest
41
US180 Silver City All Services To Durango: 742.3
US180 Alma, 52 Winston, 15 Doc Campbells, Additional Stores
26-37
Gila, Apache - Sitgreaves National Forests
170
US60 Pietown Restaurants To Durango: 572.3
20-26
El Malpaise NM Cibola NF
91
I40 Grants All Services To Durango: 481.3
V6 N New Mexico, 14a-20
Mount Taylor
66.4
Arroyo Chico To Durango: 414.9
V6 N New Mexico, 11-14
Piedra Lumbra
42.2
US550 Cuba All Services To Durango: 372.7
V6 N New Mexico, 7-11
Santa Fe National Forest
51.3
US84 To Durango: 321.4
V6 N New Mexico, 1-7
Carson National Forest
90.1
Cumbres Pass Colorado 17 Chama All Services To Durango: 231.3
140 Weminuche, 42-46
South San Juan
64.5
Wolf Creek Pass US160 To Durango: 166.8
140 Weminuche, 37-42
San Juan Mountains
74.9
Junction Colorado Trail To Durango: 91.9 Ley Map CO37
140 Weminuche Wilderness
Colorado Trail Section 24
15
Molas Pass Silverton All Services To Durango: 76.9
141 Telluride, Silverton
Colorado Trail Section 25
20.9
Bolam Pass Road To Durango: 56
141 Telluride, Silverton
Colorado Trail Section 26
10.9
Hotel Draw Road To Durango: 45.1
NGTI 144 Durango, Cortez
Colorado Trail Section 27
20.6
Cumberland Basin To Durango: 24.5
NGTI 144 Durango, Cortez
Colorado Trail Section 28
21.5
Kennebeck Trailhead Terminus To Durango: 3
NGTI 144 Durango, Cortez
Road to Durango
3.0
Durango All Services